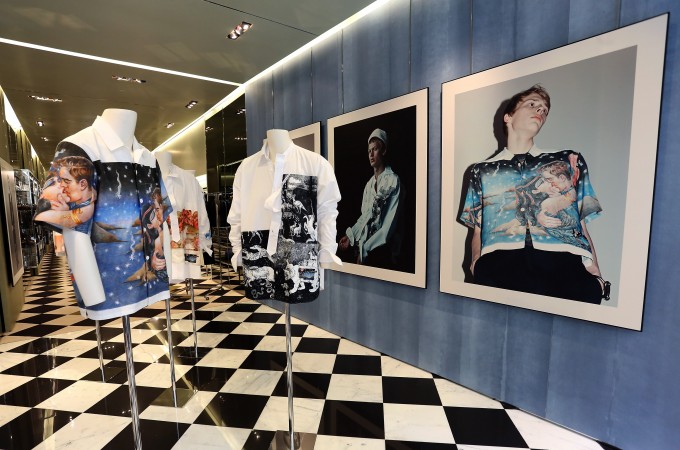 Florence, Paris & Milan – PRADA MEN'S SPECIAL DISPLAYS
Prada presents three special displays in its Florence, Milan and Paris stores, on the occasion of three iconic Men's Fashion Weeks for the 2017 Spring/Summer collection. This is a set in three acts on three prestigious stages and each mounted with a different approach.
FLORENCE
The first act is staged in the Florence store, in Via Tornabuoni. In a sophisticated presentation of the dis-dressed project, a series of exclusive photographs shot by Willy Vanderperre take us behind the scenes of the Prada Uomo and Donna 2016 Autumn/Winter collections to examine, with unusual intensity, their aesthetic world and the points of contact between the two collections.
The photos are a constant, deliberately indiscreet presence throughout the store. On this occasion, every part of the store has a new layout and is restyled with carpets that give a 3D twist – and also introduce shades of green, red and grey – to the classic black-and-white chequer pattern, and new seating. (14-26 June)
MILAN
Created by OMA (Rem Koolhaas's Office for Metropolitan Architecture) and Michael Rock, creative director of New York 2X4, the decoration of Prada Men's Monte Napoleone store in Milan draws inspiration from the video and digital world. In this case the main features in the windows and every part of the three-floor store are giant LED screens showing Chronicle and dis-dressed image loops. A contemporary, modern and innovative layout, particularly in keeping with the spirit of the collection. (16-26 June)
PARIS
The final act, staged in the privacy of an exclusive apartment on the top floor of the Prada Faubourg Saint-Honoré store in Paris, presents a preview of the Prada Uomo 2016 Autumn/Winter collection advertising campaign. Posters of a modern masculinity in step with the times, the present moment shown as a theatre of history through a series of haunting portraits of the lead actor, Eddie Redmayne (The Theory of Everything, The Danish Girl), taken by photographer Craig McDean and evocative of the atmosphere of 19th-century paintings. (22 June-8 July)
photocredits: PRADA
Recommended