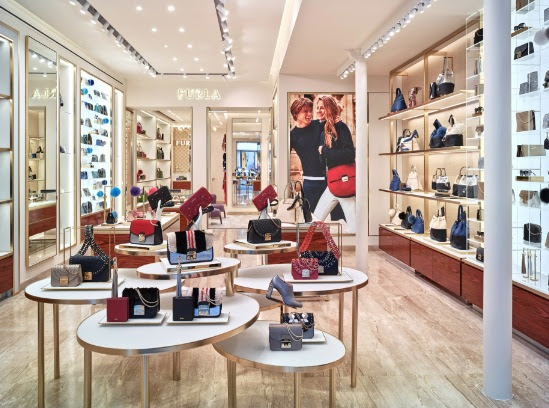 FURLA Reinforces Its Presence In PARIS at Rue St. Honoré
The Furla Group is delighted to announce the opening of a new boutique in Paris, Rue St. Honoré 414.
Stretching over 100sqm, this distinguished location characterized by a refined atmosphere encompasses the charm of the past and the magic of the present day. The design of the new boutique reflects both traditional and modern elements: a luminous space that is both functional and welcoming, looking directly onto a prestigious street thanks to two large and symmetrical windows.
Natural color tones and pastel hues, mixed in with refined materials such as rosewood and Italian travertine marble, opalescent glass and champagne-colored glazed finishings have been chosen for this boutique.
The Brand's historical boutique located on Rue St. Honoré 281 will be transformed into a Pop-Up store entirely dedicated to the Men's Collection and will be the first of its kind for the Furla Group in Europe. It will be a wonderful window looking into the Men's lifestyle universe of Furla, ranging from bags to shoe wear.
"With the new boutique in Paris Rue St. Honoré 414, that comes right after our recent opening in Nice, we are continuing to pursue a strategy of redefinition for our mono-brand stores" said the General Manager, Alberto Camerlengo. "This space has been revisited with a more refined and sophisticated image that will allow us to implement our sell-out targets, thanks to the special focus on our bags and also thanks to the optimization and valorization of the display area. Indeed, the display area will centralize attention not only on our bags, but also on the perimetral categories we are investing on such as our accessories, shoe wear, textile, eyewear, watch and small leather goods categories".
www.furla.com
Recommended