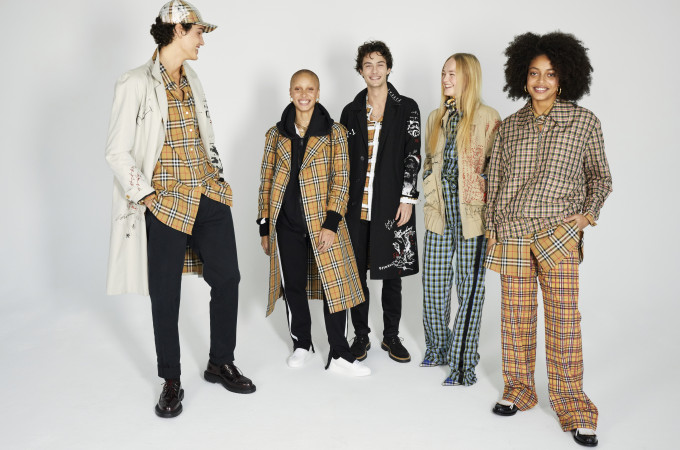 JUERGEN X ADWOA PART TWO: NEW YORK
5 MARCH 2018
Revealing the latest portfolio of images from a series photographed by Juergen Teller in collaboration with British model and artistic director Adwoa Aboah.
Shot in New York, the images feature
candid moments between Adwoa and her close friends and family. The cast includes Jean Campbell, Oli Green, Adwoa's sister
and artist Kesewa Aboah, photographer, lmmaker and writer Jonah Freud, and Riccardo Ambrosio, all captured in Manhattan's Bowery neighbourhood.
The content coincides with the launch of the Burberry summer collection, which features classic pieces disrupted with defaced checks on trench and car coats, dresses and shirts. British landmarks and postcard prints decorate jackets, shirts and sweaters while tulle and lace are layered with mohair and jersey in new, playful proportions.
The rst portfolio of images captured by Juergen along Regent's Canal in London was released in December 2017, featuring Adwoa together with her cousins Al e Husband, George Husband, Richard Theodore-Aboah and Kwame N'Dow, as well as friends Montell Martin and Mae Muller.
The third and nal portfolio will be unveiled in May 2018.
'New York is my second home. I have made a nest here and created a community of the bestest friends in the world. Most of them are Londoners on a rite of passage, living away from home for the rst time.
New York is exciting, o ering something day and night. It has skylines that go on forever, intimidating and su ocating but always beautiful and never boring.' Adwoa Aboah

Adwoa Aboah photographed by Juergen Teller for Burberry © Courtesy of Burberry/Juergen Teller

'To me, friendship means killing time with your chosen family.'
Riccardo Ambrosio

Kesewa Aboah photographed by Juergen Teller for Burberry © Courtesy of Burberry/Juergen Teller

'I met Adwoa through my cousin, Tyrone. I love
her sweetness and her class and her knowledge and her kindness.'

Oli Green

Riccardo Ambrosio, Adwoa Aboah, Oli Green, Jean Campbell, Kesewa Aboah, photographed by Juergen Teller for Burberry © Courtesy of Burberry/Juergen Teller

'I have known Adwoa since I was ve when we used
to play dolphins on the sofa. Her sensitivity means that she has a deeper understanding of others and she has a great sense of humour so we always have fun.'
Jean Campbell

Jean Campbell photographed by Juergen Teller for Burberry © Courtesy of Burberry/Juergen Teller

'Adwoa and I went from being sisters to being best friends who happen to be sisters. We laugh about everything and anything and when we ght it's usually over the remote. My favourite memories of us together include road tripping, dancing, cosy Sundays, long phone conversations, big hugs when we haven't seen other in ages and bigger hugs when we're about to leave each other for a while.'

Kesewa Aboah
 Adwoa Aboah wearing BURBERRY
Recommended