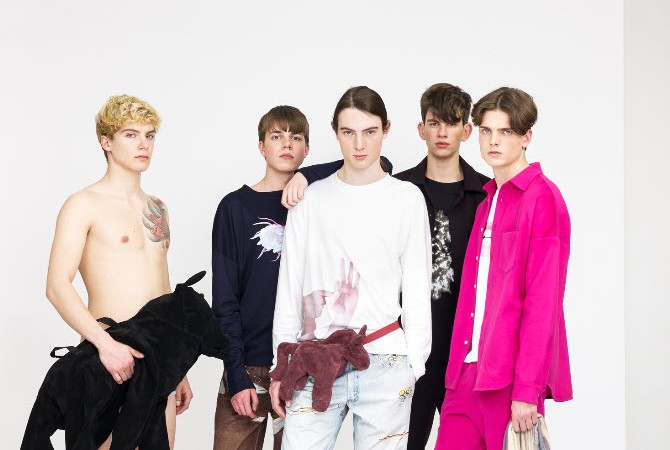 Julian Zigerli AW16 – 'Larger Than Life'
Fresh, Cool, Innovative.
Swiss menswear designer Julian Zigerli releases his AW16 lookbook to accompany the 'Larger Than Life' collection as shown in Paris.
ABOUT THE COLLECTION
The Julian Zigerli AW16 collection 'Larger Than Life' is an intimate insight into Julian's life – largely inspired by the nostalgia of early family memories from his childhood in the late 80's and early 90's. Playing on the mood of this prevalent time period, Julian has worked from a broad selection of references and sources – personal clothing items, family photographs and familiar cartoon characters have all featured as inspiration.
Recognisable colours and shapes of the era are translated via vibrantly rich wools in primary colours and deconstructed digital prints originating from vintage garments – all offering a direct window into a warm family environment.
As a result, the 'Larger Than Life' collection emphasises the importance family and friends have for us all, completed with a nod to everyone harbouring a kind fondness of the not so distant past.
ABOUT JULIAN
Born and bred in Switzerland, Julian Zigerli graduated in 2010 from the prestigious Berlin University of the Arts (UdK). Wasting no time after his debut, he returned home to launch his eponymous label in Zurich.
He enjoyed almost instant success with his work gaining him multiple nominations for the Design Preis Schweiz and the Swiss Design Award which he won twice, both in 2012 and 2014.
As a result Julian went on to show "THE ONE AND ONLY" collection at Teatro Armani during Milan Fashion Week by invitation from Giorgio Armani himself. Zigerli now shows in Paris – featuring on the official Fashion Week schedule as of 2015.
 photocredits: Julian Zigerli
Recommended