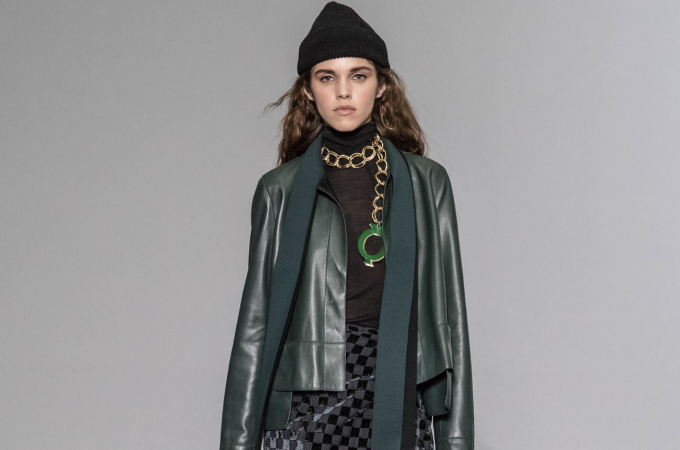 NOBI TALAI – FALL WINTER 2018-19 COLLECTION
NT.06 for Autumn/Winter 2018 is about rediscovering minimalism – in all its richness and complexity – while exploring new fashion territory along the way.
A key orientation can be found in the forms, patterns and colors of traditional kilim rugs which designer Nobieh Talaei reinterprets and translates in a modern European context. Creative textile techniques, unexpected contrasts, a relaxed whiff of the street combined with sophisticated cuts and a heightened awareness of signature elements leave tradition behind for a timely yet timeless approach to individual style.
Fabric development always drives the Nobi Talai vision, and this season's progressive assortment works with knife, sunray, box and slightly rippled 'tin roof' pleats on all kind of materials, including modern vegan leather. Textural contrasts abound, from both short and long-haired Steiff textile fur to high sheen techno materials; devorés with velvety dots or fancy checks on wool. Bright, heavy mohair is embossed in an abstract diamond motif, while ultra-sleek nappa leather is bonded for a two-tone, double-face effect.
Lambskin goes shaggy, as do heavy weight coatings, where some sections have been brushed up by hand for a contrasting hairy texture. The same technique is used on this season's newly introduced Nobi Talai knits, styled as collared plastrons, ribbed leg warmers and gauntlets, little caps and belts, not to mention the integrated ribbed sleeves that accent many of autumn's jackets and coats.
Prints also make their debut, starring Nobi Talai's new signature pomegranate motif. This elegantly abstract design appears in constructed pieces on soft wool twill and as fine wool jacquard on layed styles. For another Nobi Talai first this season: soft accessories including big shawls to wear like ponchos or wrapped to function as a shirt or skirt. Also not to be overlooked: graphic pomegranate earrings or pendants to lend yet another dimension.
The Nobi Talai way of dressing is innately flexible. Both in general use and specific design, where hoods unbutton to become striking shawl collars or detach completely to offer another mood and silhouette. Layers are effortless yet distinct, simple but precisely detailed, the look soft or more sharply structured as with this season's new accentuated shoulder.
NT.06 offers a wardrobe of options to be combined at will and as one will, inviting us all to embark on our own personal journey.
Recommended