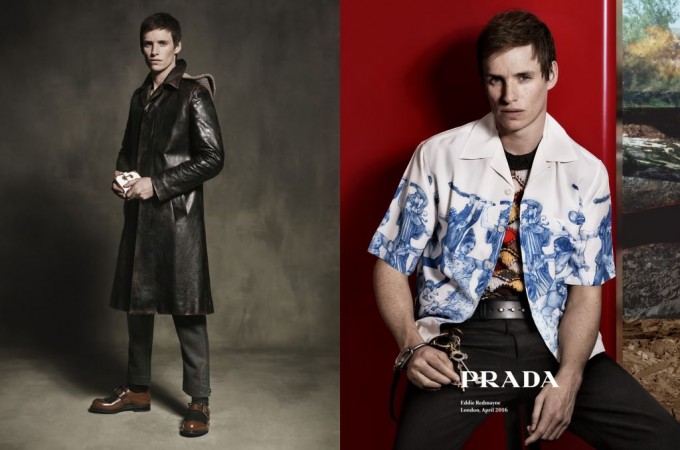 Prada Menswear Fall/Winter 2016 Advertising Campaign
The present moment presents itself as a theatre of history.
Prada's Fall/Winter 2016 Menswear campaign performs this idea in a suite of striking portrait allusions. One of contemporary cinema's most celebrated actors Eddie Redmayne takes centre stage. Redmayne is no stranger to immersing himself in historically significant characters. His lead roles have won him Tony and Olivier awards for the play Red and an Oscar for The Theory of Everything. Following his Oscar-nominated role in The Danish Girl, later this year sees the anticipated release of JK Rowling's Fantastic Beasts and Where to Find Them, in which Redmayne stars.
Craig McDean's pictures invoke 19th century neo-classical paintings, which famously played with surface and depth, illusion and reality. Redmayne, here, assumes a number of roles hero, villain, revolutionary either against a neutral grey background, or a rich red split by a romanticist view of idealized nature. The poses are strident and statuesque. They echo the mannerisms of protagonists in great museum collections or epic literature, makers of history and cultural memory. These photographs continue the spirit of the Prada Fall/Winter 2016 Menswear show, which presented an excursus through times past as a reflection on time present.
The collection revels in Romantic references. It intentionally juxtaposes looks and countless materials into a kind of effortless irrationality. Overall, the result is a contemporary masculinity that aligns worldly travel with intrepid self-knowledge and oblique, original thinking.
Photo credits:
Photographer: Craig McDean
Talent: Eddie Redmayne
Dates: April, 2016
Location: London
www.prada.com
Recommended