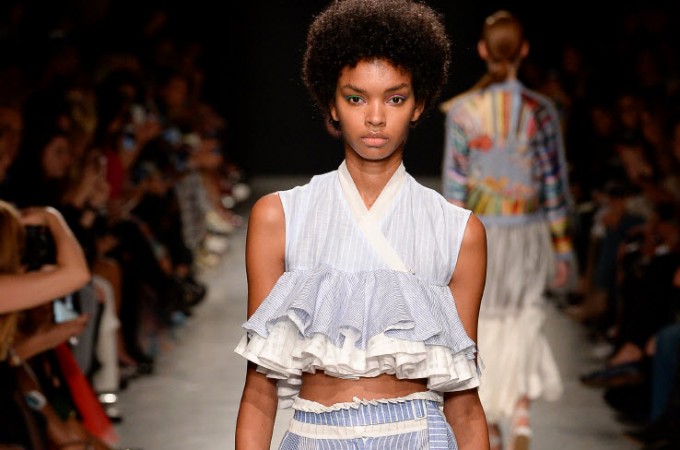 RAHUL MISHRA – LIGHT IN THE SKY – SS18 COLLECTION
In your light I learn how to love.
In your beauty how to make poems.
You dance inside my chest where no one sees you, But sometimes I do, and that sight becomes this art. -Rumi
There is science. There is philosophy. And art. Then there is Light.
In the science of all things, visible light is the small part within the electromagnetic spectrum that human eyes are sensitive to and can detect, and the colours we see are the wavelengths that are reflected or transmitted. The 'colour less' light emits all the colours that the human eye can discover and find the beauty in. In the fast-paced technology controlled world, Rahul Mishra creates his Spring Summer 2018 collection that prisms through a spectrum of colours captured in the intrinsic details, hand stitched and made with the slowness of time that human eye can behold, and hands can painstakingly produce.
The prismatic nature of light that gives rise to saccadic masking becomes the core inspiration. The designer weaves his signature bringing to life craft techniques that defy time. The kaleidoscopic light that emerges from the chronostasis creates illusionary visuals of fast paced blurs of colour in spite of the detailing deep within it that can be seen reflecting in the finer details of each garment. The beam of light attracts a bee or a butterfly to a flower as much as its colour or fragrance. The photo-tactic element that the insect sees is far different from that of a human eye. The blurry of light that you see when you whizz past on the road, or the spectrum that is visible in the rainbow, born of nothingness but a light that is colourless is the beauty of it all.
The balanced existence of nature and mankind, traditional and modern is blended to create fine work of art on textiles that forms the collection bearing testimony to the inherent finer details of Indian craft, the hallmark of the brand, Rahul Mishra.
The SS18 collection delves into interventions that treats hand embroidery to blend seamlessly not restricting the fall and flow of the fabric and consists of finer details like ruffles, tie-ups, pleating, patchwork and playing the volumes with beautiful, eclectic checks and stripes, 3D embellishments to create a new pallet that combines jersey with linen, new age denim satin, cotton, silk blends to create the tailored outfits that can be used multiple ways as separates creating each wearers unique persona.
Recommended