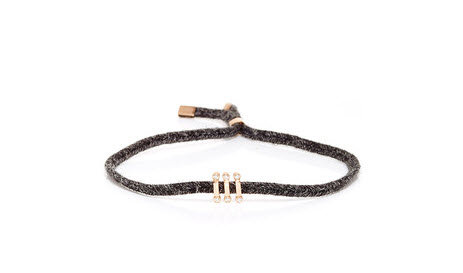 Unique Women Need A GRACELET – by Yannis Sergakis
When it comes to jewellery, every women is looking for something unique…
Yannis Sergakis makes it possible.
He gives unique women the possibility to create their very own bracelet: the GRACELET.
Made with linen bracelet finely hand woven, and accessorized by multiple gold or diamond & gold pieces allowing end-less possibilities and compositions. Just as a musical stave, the GRACELET is a melody composed with its rose, yellow and rhodium-plated gold charms that subtly adorn the colorful linen string (blue, brown, black, green, caramel or grey). A lovely way to brighten up your wrist, bringing a sparkling, trendy and refined touch to the gesture of the hand.
Unisex and casual, the GRACELET desacralize the diamond while maintaning it beauty and sparkle. By itself or in abundance, the GRACELET are worn without any contraindication, but with a jubilant risk of addiction…
YANNIS SERGAKIS ADORNMENT
Gemology graduate, Yannis Sergakis acquired an extensive experience in the negotiation of precious stones through the family company, and in jewellery design as he worked for numerous houses before launching his own brand, YANNIS SERGAKIS ADORNMENTS in 2014. A collection of contemporary pieces exclusively in diamond and gold, combining the respect of ornamental traditions of his nqtive Greece, a,d a sensitively graphical spirit. A dazzling success and an international recognition, which lead him to open hisown store in Kolonali. Athens golden triangle, a boutique reflecting the futuristic and classic design seen is his collections.
Recommended