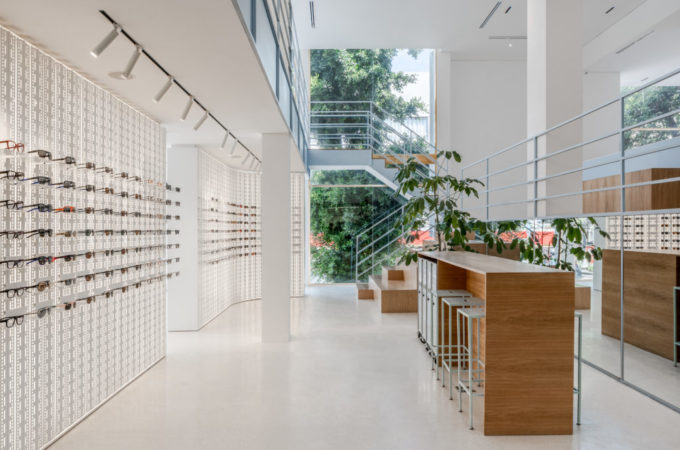 MYKITA – ¡HOLA CIUDAD DE MÉXICO!

Opening its first shop in the Mexican capital, MYKITA welcomes locals and visitors to experience award-winning handcrafted eyewear and optical expertise at its spacious premises in Roma Norte.
Colima 112, Roma Norte, Mexico City – On arguably one of the most beautiful streets in Mexico City, a tree-lined boulevard interspersed with Art Deco houses, the MYKITA Shop Mexico City has moved into a 1950s Bauhaus-inspired building, where a truly immersive MYKITA experience awaits, spread over three levels and 700 square metres. Alongside established design classics and latest eyewear novelties handcrafted at the MYKITA HAUS in Berlin, the shop offers a comprehensive optical service with state-of-the-art instruments and lenses by ZEISS.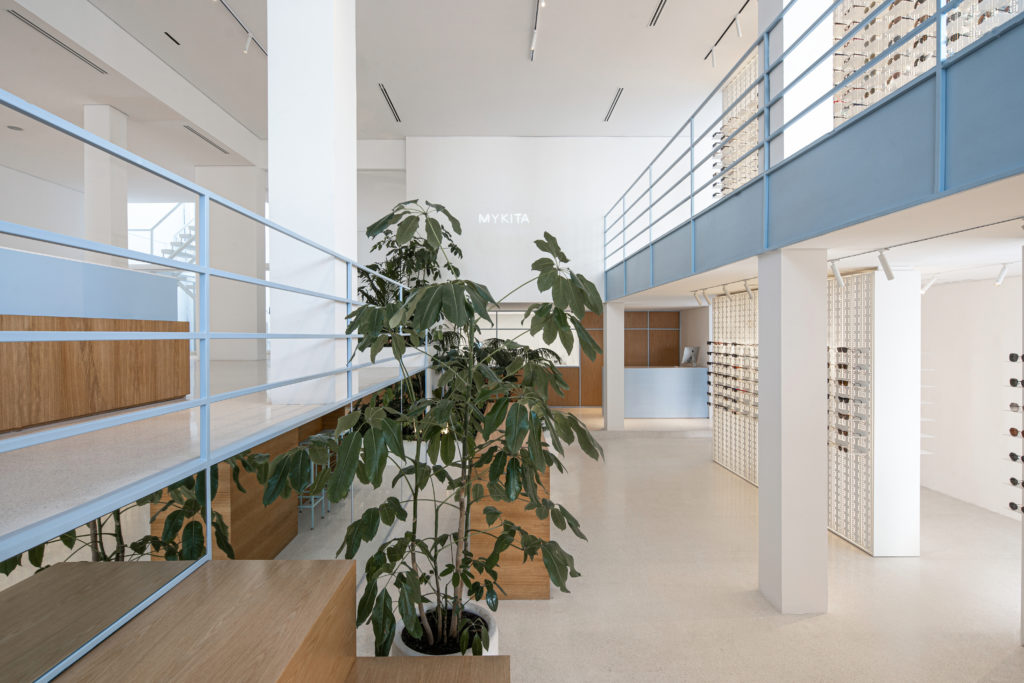 "The MYKITA Shop Mexico City is a show of our bold spirit," says MYKITA founder Moritz Krueger. "We recognised the great potential of this freestanding building, and with much hard work and dedication together with our local team, we were able to realise a retail dream. Since our arrival in 2011, the MYKITA story and aesthetic has resonated strongly with the local scene, and Mexico City came to play an unexpected big role in our growth and development. This beautiful new space in the inspiring, laidback Colonia Roma Norte is a worthy expression of our meaningful history with the city."
The local team consists of partners Cory Crespo, Javier Linares, Jorge Mondragón and renowned actor Diego Boneta:
"I've long been a fan of collecting different styles of eyewear and also wear prescription lenses, which has led me to look for quality lenses and innovative design. MYKITA represents high quality standards and a modernist sensibility, but the standout characteristic for me is the design and production philosophy of its Modern Manufactory – it's an honour for me to share the brand story and be a part of the MYKITA world." –Diego Boneta
The interior architectural concept by MYKITA was simply to preserve the open, airy character of the building, originally conceived as a flower shop with large-scale windows and two interior fountains now repurposed as large planters. Visitors access the first floor directly via the external stairs and are welcomed into a spacious eyewear gallery with consultation areas. The current collections are displayed on the freestanding curved MYKITA WALL; a fully equipped laboratory used for lens cutting and fitting, frame adjustments and repairs sits just behind the reception desk. White terrazzo flooring meets with oak furniture and pastel blue powder-coated steel furnishings, a clean and effortless composition of colour and surfaces that is characteristic of the MYKITA aesthetic.
On the split level, an eye-opening experience of Mexican speciality coffee awaits: Inspired by the sensory world of MYKITA and Colonia Roma, the Laboratorio coffee bar is the latest brainchild from the makers behind the third-wave coffee institution Rompeolas – a specialist team of coffee experts dedicated to exploring, recovering, conserving and valuing the flavours of the best coffee beans produced in Mexico.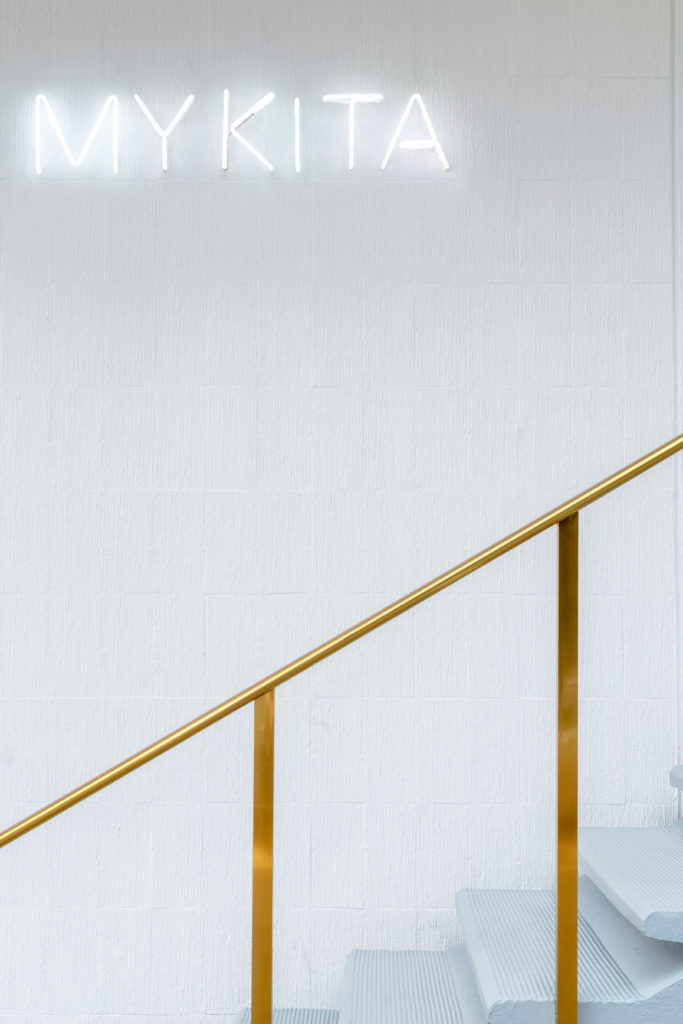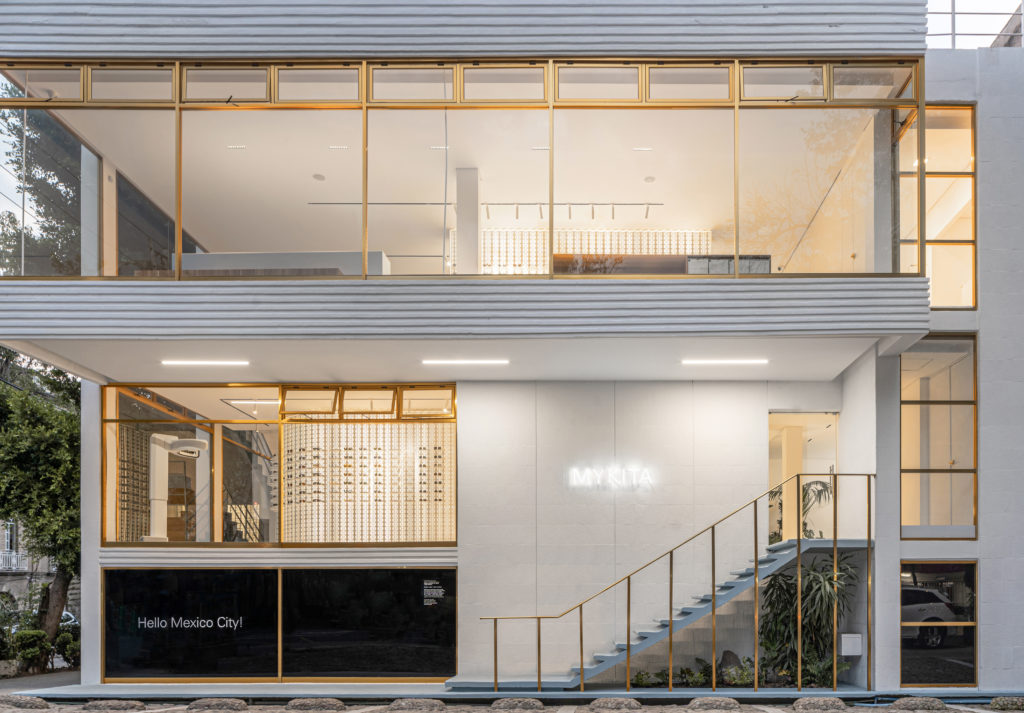 The eyewear gallery continues on the second floor, alongside a dedicated space for eye health with state-of-the-art instruments by optical partner ZEISS. In addition to established MYKITA design classics, such as the signature ultra-light stainless-steel glasses, finely composed mixed material models, and award-winning MYKITA MYLON collection made with 3D printing technology, the MYKITA Shop Mexico City also carries the coveted design collaborations with Maison Margiela, Bernhard Willhelm, and Leica. The shop team offers a comprehensive optical service, including professional eye examination, style consultation, frame fittings and adjustments, small repairs, as well as prescription lenses by leading optical brand, ZEISS.
MYKITA currently has 16 shops worldwide, including locations in Bangkok, Barcelona, Berlin, Hamburg, Los Angeles, Munich, New York, Osaka, Paris, Taipei, Tokyo, Washington and Zurich.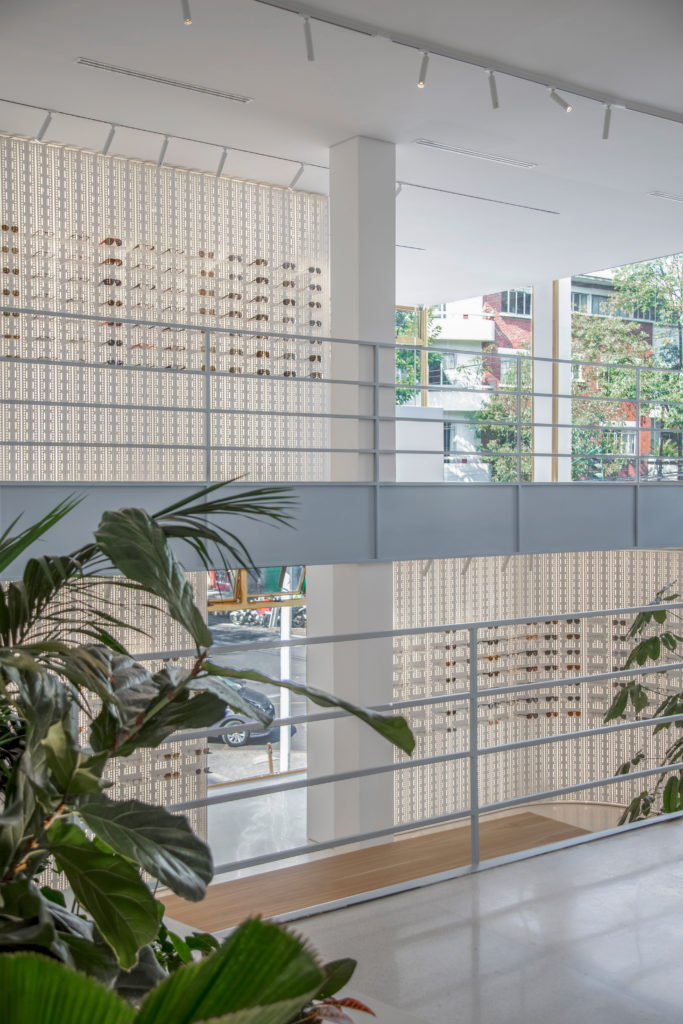 About MYKITA
Established in 2003, MYKITA takes an independent approach to eyewear design and production, bringing together all departments under one roof to form the Modern Manufactory. At the MYKITA HAUS in Berlin, the team sees the product through every stage, from conception to the shop floor. The unmistakable MYKITA aesthetic demonstrates integrity towards materials and construction, as well as the individual artistry of the craftsmen. Headed by founder and creative director Moritz Krueger, MYKITA remains committed to innovation and a course at once enterprising and authentic. In addition to its own shops in cities across the globe, including Los Angeles, New York, Paris and Tokyo, MYKITA is available at selected optical and fashion stores in over 80 countries.
Address:
MYKITA Shop Mexico City Colima 112
Colonia Roma Norte
06700 Ciudad de México, MX
Tel: +52 5523452121
shopmexicocity@mykita.com
Recommended