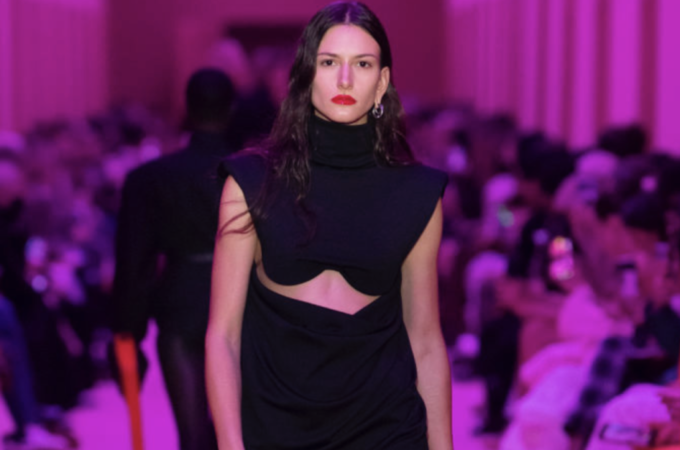 "Dial 'S' for…" SPORTMAX FALL-WINTER 2022 RUNWAY SHOW
"Dial 'S' for…" is a hotline to the Seduction and Sensuality of powerful, body conscious, erotic Silhouettes that transcend all and any clichés. The Sportmax Fall-Winter 2022 collection is a manifesto of empowerment and a sartorial deconstruction of deeply-engrained fetishist ideals of the femme fatale. By reconfiguring archetypes such as Lilith, the primordial "she demon" and first wife of Adam; Kim Novak, the Hitchcockian muse of Vertigo; Catherine Deneuve, the female predator of The Hunger; the retro-futuristic portrayal of Sean Young in the Blade Runner and the legacy of pin-up cartoon character Jessica Rabbit, in Who framed Roger Rabbit, new sex symbols are born.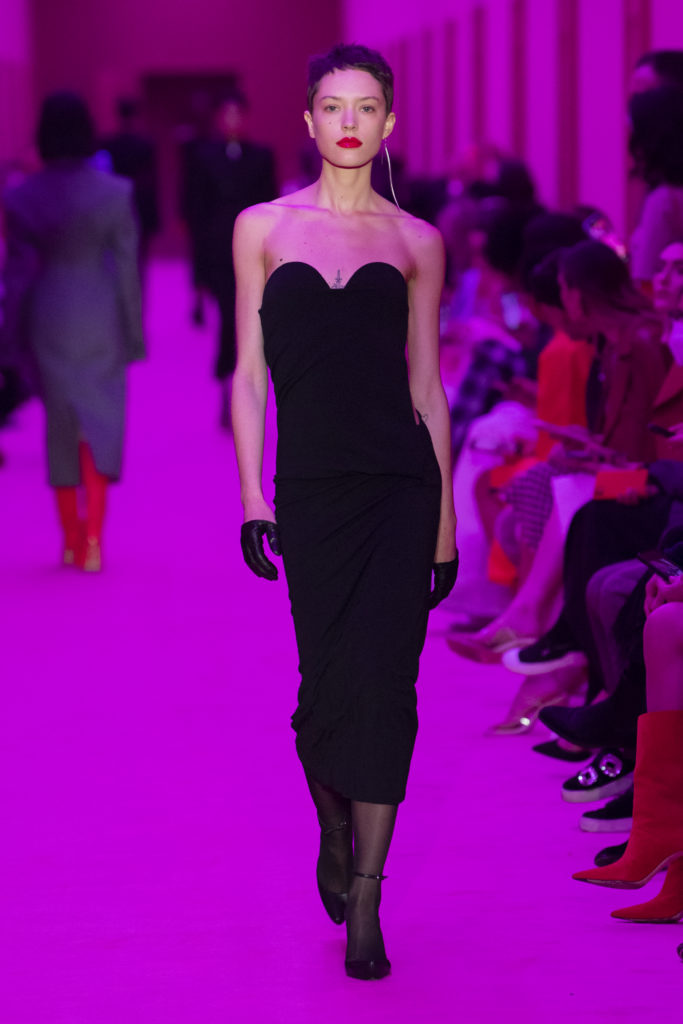 Tailored construction and exploration of the body come together, reviving three golden decades of power dressing: the hourglass jackets of the 40s, the exaggerated shoulders with body-hugging pencil skirts of the 80s and the porn-chic, androgynous minimalism that emerged from the 90s. Throughout, the hourglass figure is accentuated by untamed lines, outlined by bodycon materials that adhere like second skin and define new erogenous zones. Noir undertones are woven into the collection, setting off the perfect short circuit of deliberate contrasts that temper provocative, liberating gestures with strokes of monastic restraint. As in the photographic legacy of Helmut Newton, Guy Bourdin or Cheyco Leidmann, sophisticated eroticism explodes in surprising necklines, slits and pronounced waistlines. Bold structures are tailored into ensembles to enhance their shape: contemporary reinterpretations of bodices and padding artfully embrace the female curves. A twilight palette is awashed in black, midnight blue, hints of coffee and nude, as well as penetrating splashes of fuchsia and red.
Fluorescent accents enliven double-faced ensembles crafted with techno fabrics.
Materials range from structured, typical of tailoring, to soft leather for a curated contrast against looks covered in luminescent rhinestones. This season, wool has been rendered so elastic it resembles jersey. Jersey is another key element, as the focus turns to enhancing body shapes with iconic pieces like the Impossible Dress, whose edges are held together by thin PVC strips. Accessories come to life in an impulsive language of tribal references. Footwear also draws attention to the fetish associated with the décolletés which come to the fore in sharp tip and hyper-slim heels. Bags are sculpted in forms of micro and macro clutches, available in an array that ranges from animal print to solid color and glossy patent leather. The narrative is told in a scenario of other-worldliness: a hallway of doors set the stage for a surreal dreamscape, a ritualistic "corridor" of initiation into an enigmatic yet seductive path of discovery. This balance of the sophistication and the perverse, results in an alternative display and runway show for which the soundtrack was composed by Teho Teardo and interpreted by the voices of J.G. Thirlwell and Olwen Fouéré.
Recommended