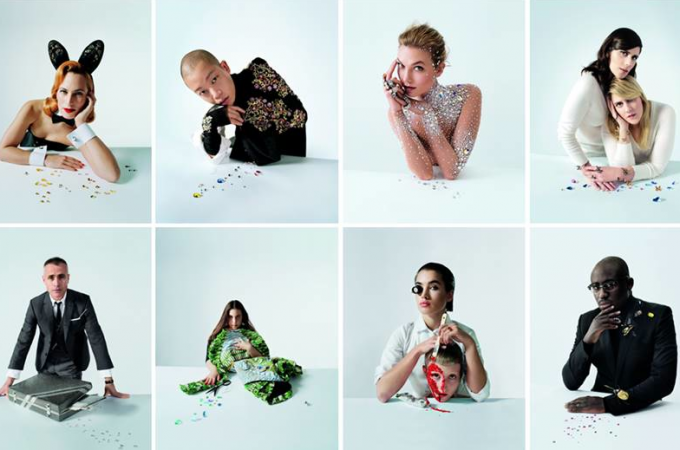 SWAROVSKI LAUNCHES 'BRILLIANT INSPIRATION' CAMPAIGN
12 August 2016
Swarovski, the world leader in cut crystal and fashion jewelry, is set to launch an inspiring new brand campaign promoting crystals from Swarovski, titled Brilliant Inspiration. Starring eight brilliant talents from the worlds of art, design and style, it was shot by internationally renowned photographer, Tim Walker.
Swarovski has had brilliance at its core since 1895, beginning with finely cut crystals, and in 1976, extending its offer to include fashion jewelry, accessories, interiors and lighting. The company's signature artistic and innovative spirit has led to famous collaborations with international designers across the creative spectrum. Swarovski's Brilliant Inspiration campaign, which launches in September 2016, signals a new chapter in this story. Consisting of eight striking portraits shot by Tim Walker, the images represent an anthem for creativity, designed to break through boundaries and open up a world of possibilities beyond. Brilliant Inspiration brings to public attention a roll call of brilliant and inspiring talent that redefines cool: the images are bold, artistic and cleverly staged, underpinned by a visual narrative that captures the strength of each individual, along with the essence of their métier.
 ______
Exemplars of brilliance
The portraits in the Brilliant Inspiration campaign include the ever-innovative Mary Katrantzou, the 'maximalist' fashion designer famous for her explosive prints, who dramatically clutches a richly embroidered creation to her chest. Shoe and accessories designer Charlotte Olympia Dellal, with her distinctive nostalgic take on contemporary styling, sports her famous Kitty flats as Playboy Bunny ears. Image-maker Edward Enninful, OBE, W magazine's Creative and Fashion Director and the visionary behind many runway shows, campaigns and shoots for fashion's global players, wears an immaculate suit crawling with bejeweled insects. Makeup artist Isamaya Ffrench, who has elevated her unconventional craft to an art form, stares defiantly at the camera, paintbrush in hand and a palette of scarlet crystals, next to a disembodied model's head. Alongside them are Rodarte's Kate and Laura Mulleavy, champions of exquisite and original American fashion, surrounded by their delicately crystallized butterflies. Thom Browne, the master of impeccable tailoring is captured with an extravagantly crystal-encrusted
briefcase, giving him a distinctly 007 air; while Jason Wu displays his refined, modern take on old world feminine glamour, from fashion to furniture, by draping himself in breathtaking, intricately embellished embroideries. From the upper echelons of the modeling world comes Karlie Kloss—philanthropist and businesswoman, fashion and lifestyle inspiration, and the new face of Swarovski's consumer campaign.
Collectively, they share an appreciation of the light-reflective brilliance of crystals from Swarovski, with which they illuminate and refine their work, sometimes in unexpected ways: "Crystals from Swarovski bring an extra dimension to makeup, adding light to the face," says Isamaya Ffrench, while Thom Browne believes that using crystals "can be provocative in a man's world." Rodarte, Charlotte Olympia and Mary Katrantzou are already known for their collaborations with the company on specific artistic projects: "Every print comes to life more vividly with Swarovski crystals," explains Mary Katrantzou, echoed by Charlotte Olympia, who observes: "I believe more is more… Every woman loves a shoe covered in sparkling Swarovski crystals." Describing their impact on a runway, Karlie Kloss adds: "When you wear products with Swarovski crystals you feel like you're illuminated—like you truly shine."
"Brilliant Inspiration is the perfect title for this portrait exhibition," says Markus Langes-Swarovski, Member of the Executive and Advisory Board of the Swarovski Group. "It's a fantastic visual representation of Swarovski's symbiotic relationships with the world's top design talents. Swarovski crystals are made with passion, perfection and expertise, and we are so proud that it inspires these modern icons, enabling collaborations that produce a brilliant creative alchemy."
The 'Brilliant Inspiration' campaign was developed by leading creative agency Laird+Partners, whose Chief Executive and Chief Creative Officer Trey Laird described their vision for the campaign: "We wanted to capture the endless inspiration Swarovski crystals provide for creative forces. It was exciting to see how these incredibly talented individuals incorporate the crystals into their work. They each bring the spirit of the brand to life and help convey the possibilities that can be created with Swarovski."
Recommended