An extraordinary new dining destination in London Mount St. Restaurant & Rooms

London, October 2022 – Mount St. Restaurant & Rooms has opened its doors. This modern London restaurant and its four beautifully designed spaces create a meeting of fine dining, craft, culture and contemporary art.
Artfarm, the hospitality company behind The Fife Arms in Braemar, Roth Bar & Grill in Somerset and the recently opened The Audley Public House, has transformed this iconic building, under the direction of Parisian architecture and design practice Laplace, founded by Luis Laplace and Christophe Comoy. A long-time collaborator with Artfarm and known for its bold yet timeless signature, Laplace intuitively integrated architecture, art and design into the project, working closely with artists and craftspeople.
As CEO Ewan Venters explains, "Mount St. Restaurant is dedicated to food, Mayfair history and art. We want guests to leave feeling that they have experienced something unique. It's not just a restaurant, it's an experience. Art is central to this inspiring and delightful place."
Luis Laplace added: "The celebration of London, art and food is key to understanding the concept of The Audley. Using the much-loved Kronenhalle in Zurich as a reference, we set out to design a contemporary interpretation for Manuela and Iwan in London, which was both a challenge and a privilege. By collectively sharing our language and world with the artists involved, we have created coherent spaces in which art and design meet naturally, avoiding the pitfalls of outdated artistic or aesthetic statements."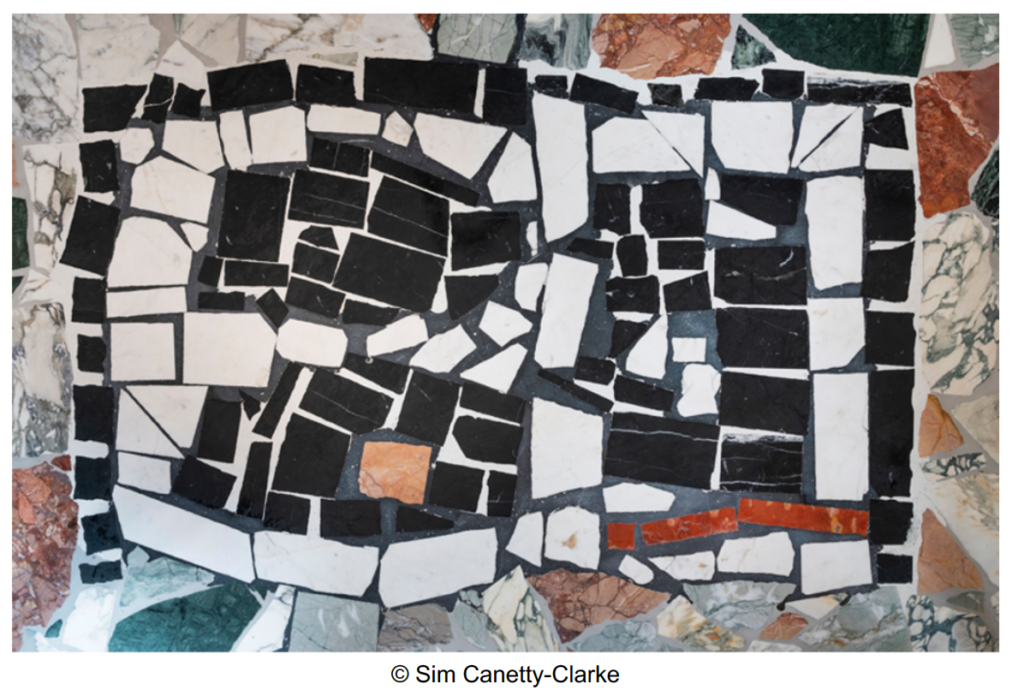 Open every day of the week for breakfast, lunch and dinner, Mount St. Restaurant offers a menu inspired by the capital's culinary history, as well as revisited classics of London cuisine, such as the smoked eel and horseradish cream salad and the lobster pie to share. The result is a sophisticated, simple menu, inspired by the past but served in a contemporary way. In addition to a section devoted to caviar and oysters, the menu includes a mock turtle croquette, a fillet of Highland venison and Pimlico pigeon.
As well as working with farmers, local producers and artisans to ensure the freshest seasonal produce in the UK, our Somerset farm and Durslade Farm Shop supply the beef and lamb. Mount St. Restaurant is also pleased to support We are Grow, Totteridge Academy's agri-ecological farm and outdoor learning centre in North London.
When guests enter the first floor, with its floor-to-ceiling windows, their eyes are immediately drawn to the floor, to a commission by American artist Rashid Johnson entitled Broken Floor (2022). This Palladian-style mosaic, composed of different types of marble, allows guests to "explore it, stand on it, physically interact with it… in a totally new way "1*. The walls are filled with artworks, including three pieces by Lucian Freud, Self Portrait: Reflection (1996), A Plate of Prawns (1958) and Child Portrait (1962); but also Andy Warhol's Lobster (1982), Henri Matisse's Éperlans (1920, made in Étretat), Frank Auerbach's Primrose Hill, Summer (1968), Giorgio Morandi's Natura morta (1946), and Keith Tyson's Still life with White Carbs (1946).
The integration of art and design continues throughout the space: the lamps on the tables are inspired by Swiss artist Sophie Taeuber-Arp's iconic Powder Box (1918), while the salt and pepper shakers are inspired by Tree (2014), the controversial sculpture by American Paul McCarthy. Dining room chairs by American artist Matthew Day Jackson sit alongside custom-made leather table tops by the craftsmen of Bill Amberg Studio. Custom banquettes designed by George Smith provide additional intimacy to the space. At the heart of the restaurant is the bar, which features a towering, crackle-finish enamelled lava stone, curved glass panels and custom ceiling lights.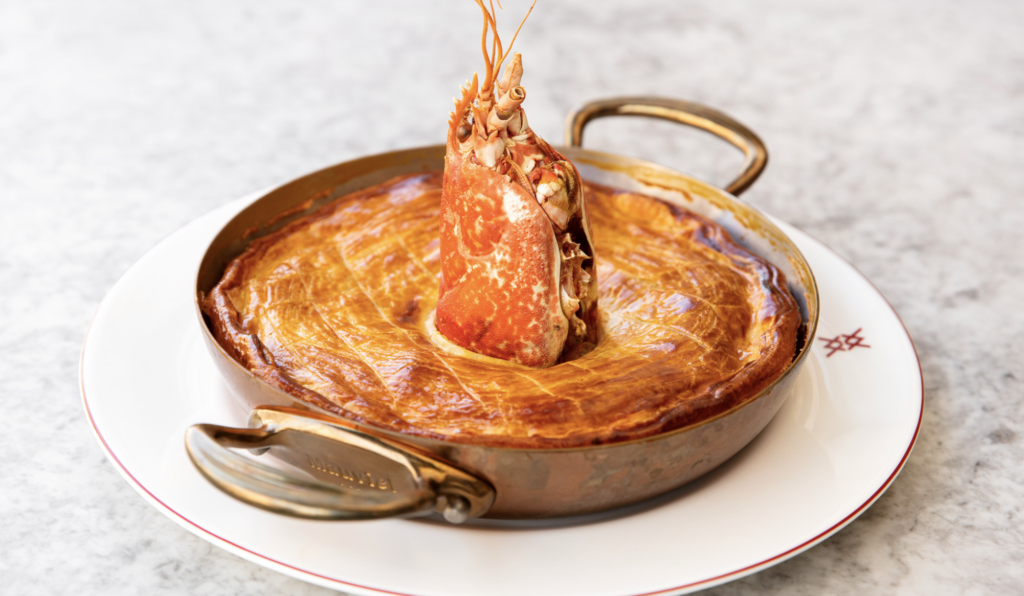 The Mount St. Restaurant's uniforms were designed by Savile Row master tailor Kathryn Sargent from fine English wool. Richard Brendon, a British designer based in Stoke-on-Trent, designed the tableware and the wine glasses are a collaboration between Richard Brendon and Jancis Robinson. Loxley, a small family business based in Sheffield, designed the steak knives, while all hardware was supplied by Frank Allart.
The three floors above the Mount St. Restaurant house a suite of 'Curious Rooms'. The four beautiful spaces, all unique, are bookable for private events:
On the second floor is the Swiss Suite, celebrating both the nationality of Iwan and Manuela Wirth and the rich history of Swiss art and design. This elegant room features handcrafted European oak flooring by craftsman Ian Harper to recall a watercolour by artist Sophie Taeuber-Arp (1889-1943), originally from the (1889-1943), a native of Davos. The artworks in the suite include paintings by Ferdinand Hodler.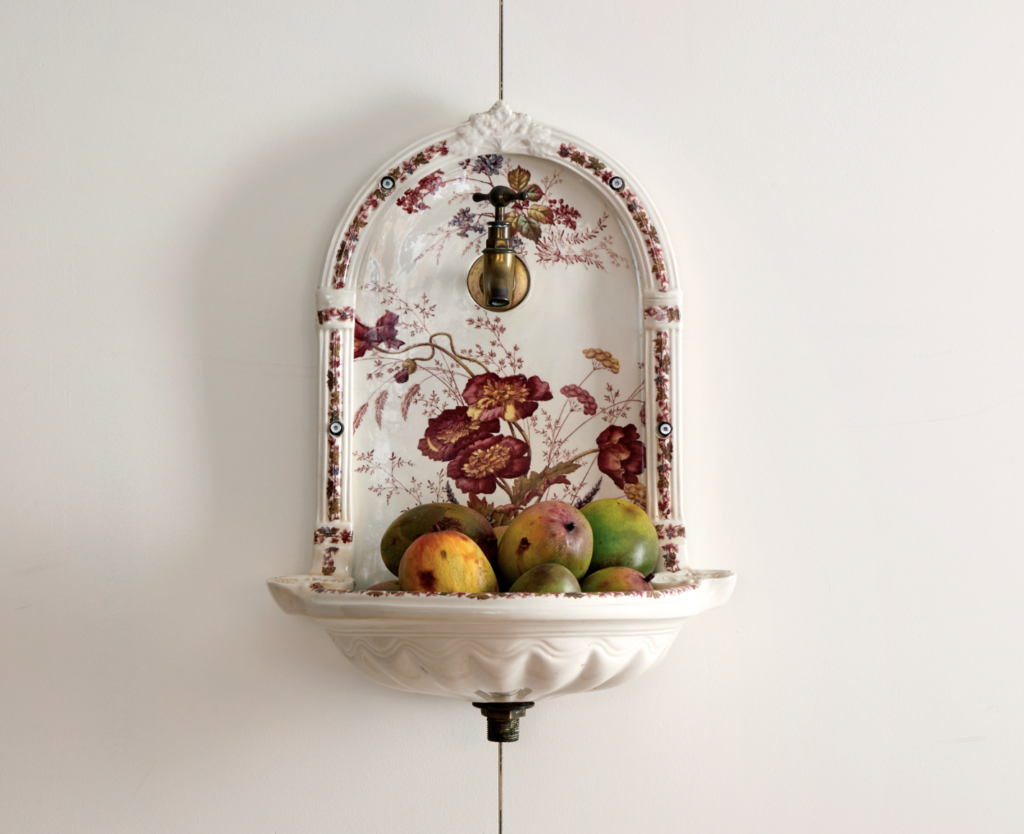 The Bar and the Italian Suite are adjacent to the Swiss Suite. With a resplendent Venetian design, inspired by Palazzo interiors, the floors and central bar have been made from Italian "Verde Api" marble and the artwork is by De Chirico. The Scottish Suite is inspired by the history of the Highlands and the Fife Arms. Located on the third floor of the building, guests will be amazed at the sight of a spectacular deer antler chandelier, designed by Laplace and made by Gareth Guy of the McLean Horn Shop in Braemar, which sits above a 9 metre long hand carved Scottish oak table with 38 Jacobite ornaments in memory of the Glen Coe massacre of 1692. Weaver Araminta Campbell has created a unique three-colour tartan using pigments from natural vegetable dyes; an ancient skill that is highly valued. Mention should be made of Kelvin Murray of Transition Character, the Scottish company that produced the furniture.
The Games Room on the fourth floor is a secret enclave with a bar, games table and lounge. A tribute to the French-born American artist Louise Bourgeois (1911-2010) takes the form of a rug made by Laplace in association with the artist's long-time assistant Jerry Gorovoy, while remaining true to her style. Hand-painted directly onto the circular ceiling of the iconic Audley Turret, Anj Smith's work reinterprets the eroticism of tentacles
Mount St. Restaurant is open daily for breakfast, lunch and dinner from 8am to 10pm.
For more information, please visit
www.mountstrestaurant.com
SOCIAL MEDIA
Mount St. Restaurant
Recommended