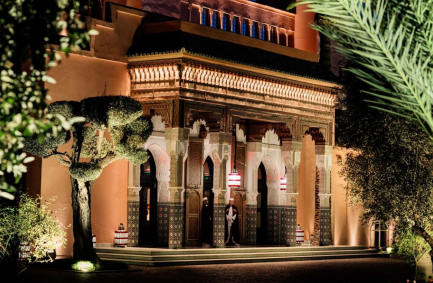 1:54 Contemporary African Art Fair Announces New Edition in Marrakech, February 2018
Marrakech, Morocco
1:54 Contemporary African Art Fair, the leading international art fair dedicated to promoting contemporary art from a diverse set of African perspectives, is pleased to announce a new edition to be held in Marrakech, Morocco. After successful editions in London since 2013 and in New York since 2015, 1:54 is thrilled to add a third location to its global roster of art fairs. 1:54 Marrakech will take place from February 24-25, 2018, with a press and collectors previews on February 23, 2018. The Marrakech edition of 1:54 Contemporary African Art Fair will take place at La Mamounia, one of Morocco's most esteemed hotels. The 2018 Marrakech edition of 1:54 will welcome leading galleries from Africa and around the world, and will feature an ambitious program of talks and events in partnership with local institutions.
This new edition will broaden the reach of the fair and further diversify its portfolio of exhibiting and promoting gallerists and artists that are connected to Africa and its diaspora, adding to the global network 1:54 has cultivated through the London and New York fairs for nearly five years. "We are thrilled to announce the newest edition of 1:54 in Marrakech," notes 1:54 Founding Director Touria El Glaoui. "This third edition of 1:54 has been in the works since our first edition in London, and we look forward to continuing to expand and support our network of galleries, artists, collectors and partners with this new fair. It has been an important goal of 1:54 to host an edition on the African continent, and we could not think of a better place than Morocco to host this inaugural edition outside of London and New York. Morocco has one of the continent's most dynamic art scenes, not to mention the incredibly significant Biennale de Marrakech, which made our decision on where to expand the fair easy for us. "
About 1:54 Contemporary African Art Fair
With semiannual editions in London and New York, 1:54 is the leading international art fair dedicated to contemporary art from Africa and its diaspora. Drawing reference to the fifty-four countries that constitute Africa, 1:54 is a sustainable and dynamic platform that is engaged in broadening contemporary dialogue and exchange in relation to the continent. Initiated by Touria El Glaoui in 2013, October 2017 will mark its fifth consecutive edition at Somerset House, while the third New York edition will be held May 5-7, 2016. 1:54 New York 2017 will showcase 19 exhibitors and present over 60 African and African diaspora artists at Brooklyn's Pioneer Works.
About Touria El Glaoui, 1:54 Founding Director Touria El Glaoui is the Founding Director of the leading international art fair dedicated to contemporary African art, 1:54 Contemporary African Art Fair, which takes place annually in London, New York and Marrakech. Born and raised in Morocco, El Glaoui completed her education in New York before beginning a career in the banking industry as a wealth management consultant. After 10 years, she relocated to London, where prior to initiating 1:54 in 2013, she occupied various business development positions in the Telecom/IT industry in the Middle East and Africa. Parallel to her career, Touria has organized and co-curated exhibitions of her father's work, Moroccan artist Hassan El Glaoui in London and Morocco. She has spoken widely and chaired numerous discussions on contemporary African art and women in leadership at international organizations. In 2016, Touria El Glaoui was listed amongst the 100 most powerful women in Africa by Forbes; amongst the 50 most powerful women in Africa by Jeune Afrique in 2015; and the 100 most influential Africans in business by NewAfrican in 2013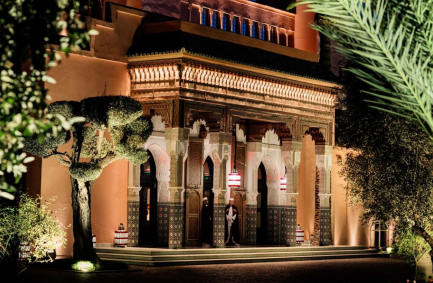 About La Mamounia
Since 1923, La Mamounia has welcomed travellers from all over the world, both unknown and famous. The history of the establishment stretches as far back as the 12th century, when it stood protected behind the medieval ramparts of Marrakech. The hotel is inseparably attached to its magnificent gardens, which were gifted to Prince Al Mamoun as a wedding present in the 18th century. The passing centuries have brought ever more culture, refinement and know-how to the hotel. La Mamounia carries with it this prestigious past and its Arabic-Andalusian culture, rich with splendid colours, shapes and materials, which it nurtures and celebrates.
Recommended