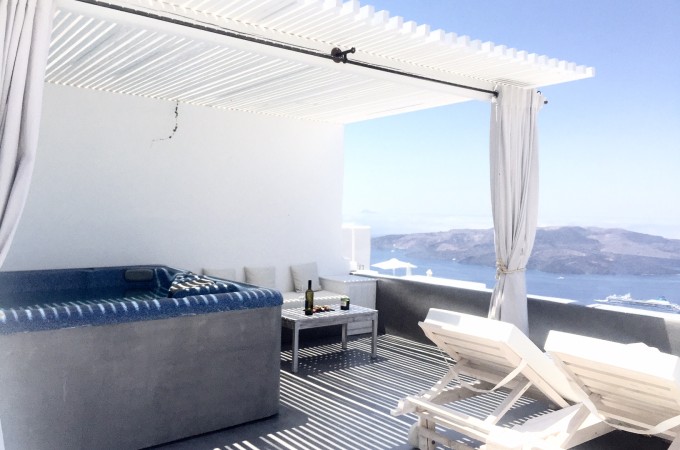 Andronis Honeymoon Suites in Santorini – What Else?
Best Honeymoon Destination
#Santorini
If you're just about to search for the best honeymoon destinations, this is something you should not miss…
For an absolute intimate and relaxing atmosphere with stunning sunsets and an impeccable service, the Andronis Honeymoon Suites are the perfect match, a place of true beauty and serenity. Luxurious and pampering amenities are there to offer the ideal backdrop to the most important: your love.
This charming, luxurious hotel, consisting of 5 exquisite suites in a stylish Greek cave design built in traditional Cycladic style on a Cliffside in Fira Town, the cosmopolitan capital of Santorini, is, overlooking the Aegean Sea and the Volcano. Close to Skaros point, the renowned place where the most magical sunsets can be witnessed in Imerovigli and in the proximity the Picturesque Old Port of Santorini.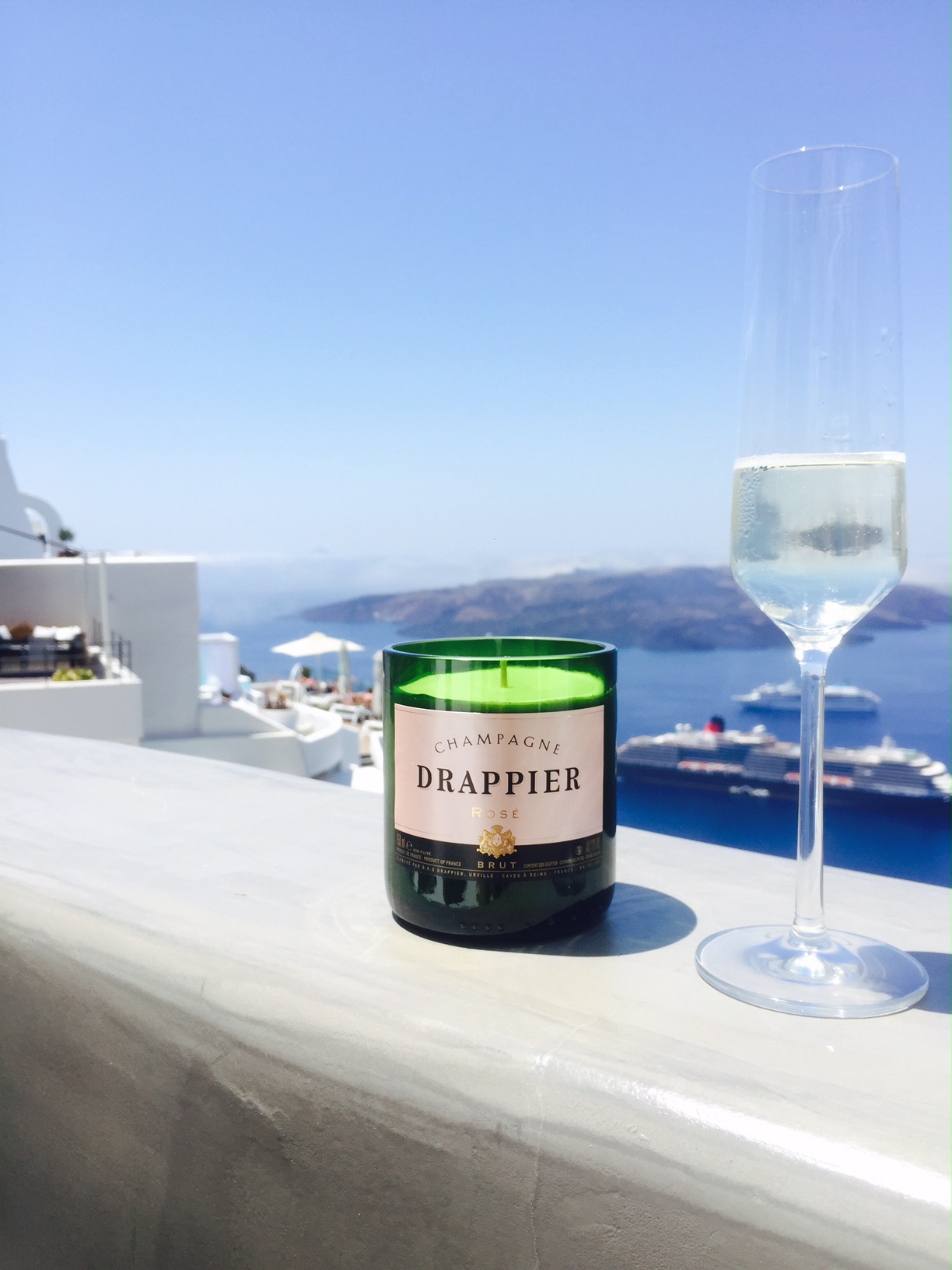 Upon our arrival we were welcomed with a glass of Champagne and a platter with Greek cheese and fruits by the lovely Manager Andrea, who made our stay even more fantastic. He guided us to our breathtaking, spacious terrace with Jacuzzi, sunloungers and a view over the Caldera (the cliff that was formed after the volcanic eruption), that will stay in our minds forever. While sipping our Champagne, Andrea would explain us the history of the island and he also gave us the best tips where to swim (Perissa Beach) and where to have a beautiful, romantic walk (Oia).
In order to make every wish come true, he gave us our own cellphone (yes, very VIP!), where we were able to reach him or the reception at any time, which was very useful when we had to order taxis for example. We felt pampered all over with the best service we could have asked for.
At first, we thought our terrace might be to share, as it was so big and there were 2 chairs with a little table, two sunloungers and a cosy bench with table. No. It was just for the 2 of us…
The curtains next to the Jacuzzi allowed as to have even more privacy, but our excitement did not stop there…
Our room was so beautiful in white with high ceilings and a Greek mosaic bathroom, that I considered this place as my personal SPA. I have seen pictures of our room before, but they can hardly describe the beauty and atmosphere of our suite.
The sun was shining bright and there wasn't any cloud in the sky, when we were sunbathing or rlaxing in our Jacuzzi for a little refreshment.
Welcome to cloud 7…
 Andrea would even offer us a bottle of wine to enjoy the breathtaking sunset with a majestic view, which was ridiculously good! Afterwards, I was getting ready for dinner and I just lost the time under that shower, it made me feel like I'm in a SPA using their natural products for hair & body with honey, citrus, bergamot and green tea.
I put on my comfortable bathrobe and slippers, jumped on the bed and relaxed for a few minutes before we headed to the most amazing restaurant on the island, Selene…
Waking up at the Andronis Suites
You get to choose your complimentary breakfast, which means that you will choose at what time you would like to have your breakfast delivered to your terrace, and what you wish to eat.
First of all, the selection is outstanding! But even more the quality of the products. We had fantastic omelets with vegetables, salmon, local Greek cheese, salad and delicious Greek yoghurt with honey, the best cappuccino we had in Greece, turkey sausages, fresh fruit salad and fresh squeezed orange juice.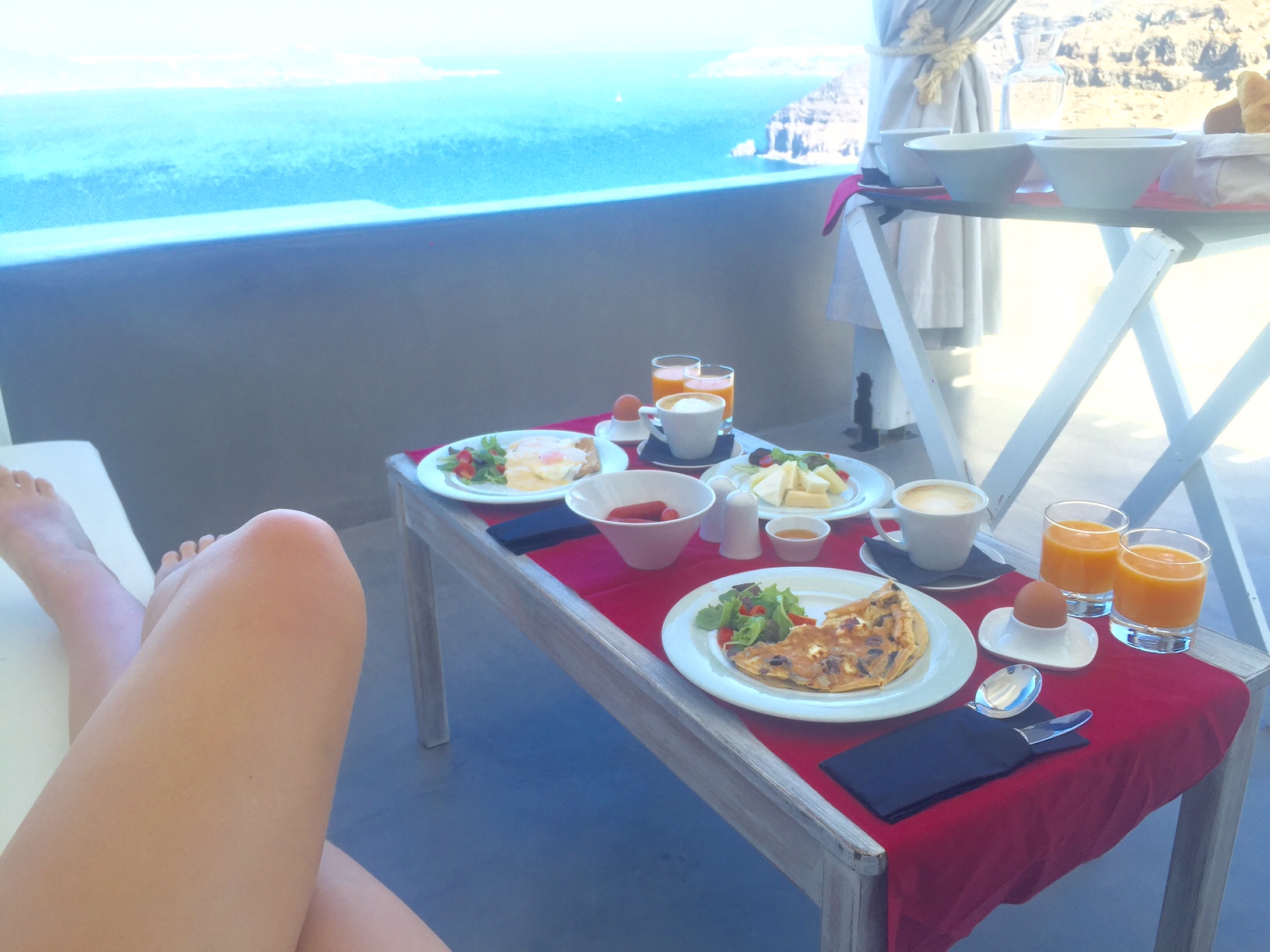 WHAT ELSE?!
Even if this place is perfectly situated in the Fira town and ideal to explore the town by foot, our suite was such a dream that we spent most of the time there. Every single detail was perfect during our memorable stay. We highly recommend this place for an outstanding honeymoon experience!
Thank you to the great staff for the splendide accomondation and unforgettable moments Andronis Honeymoon Suites.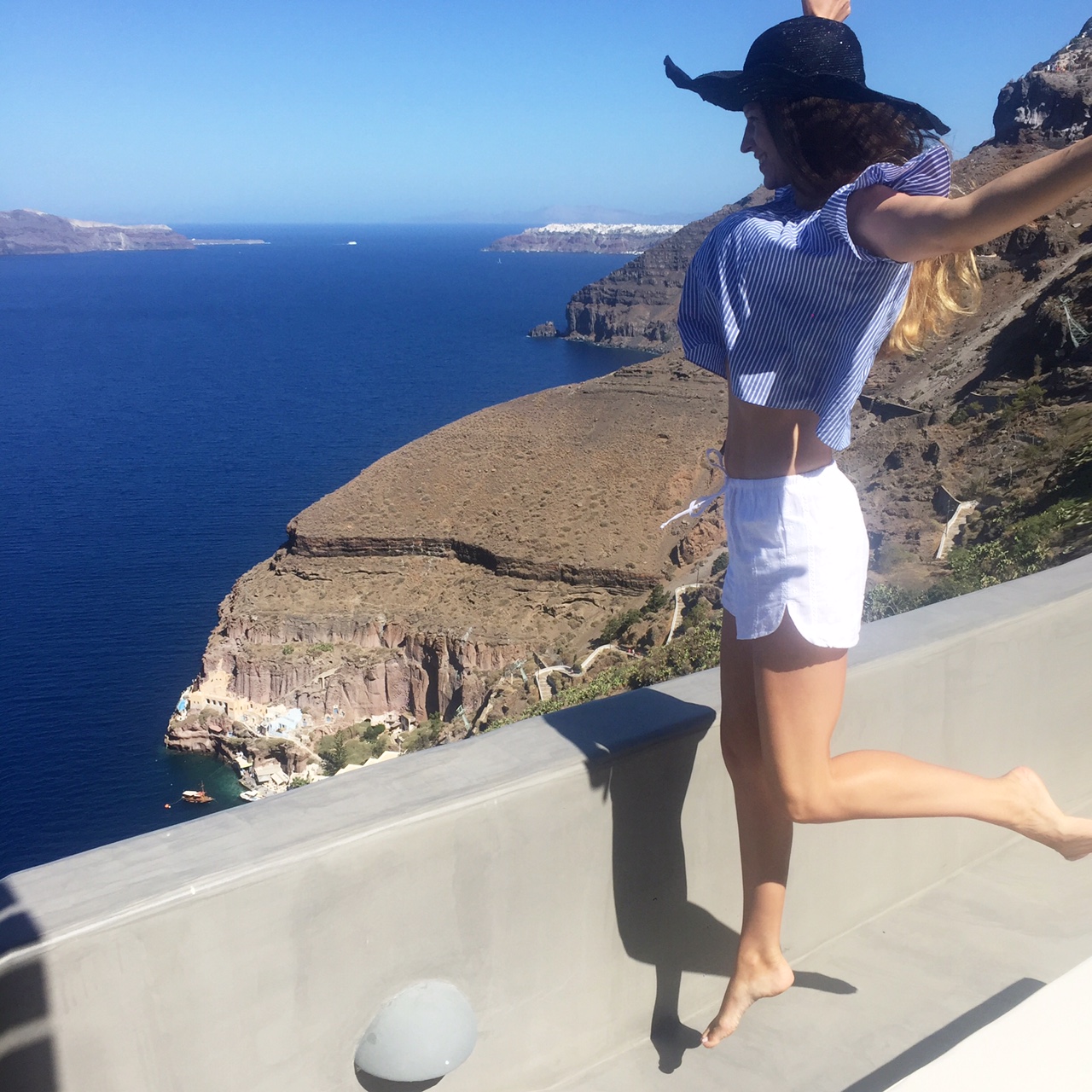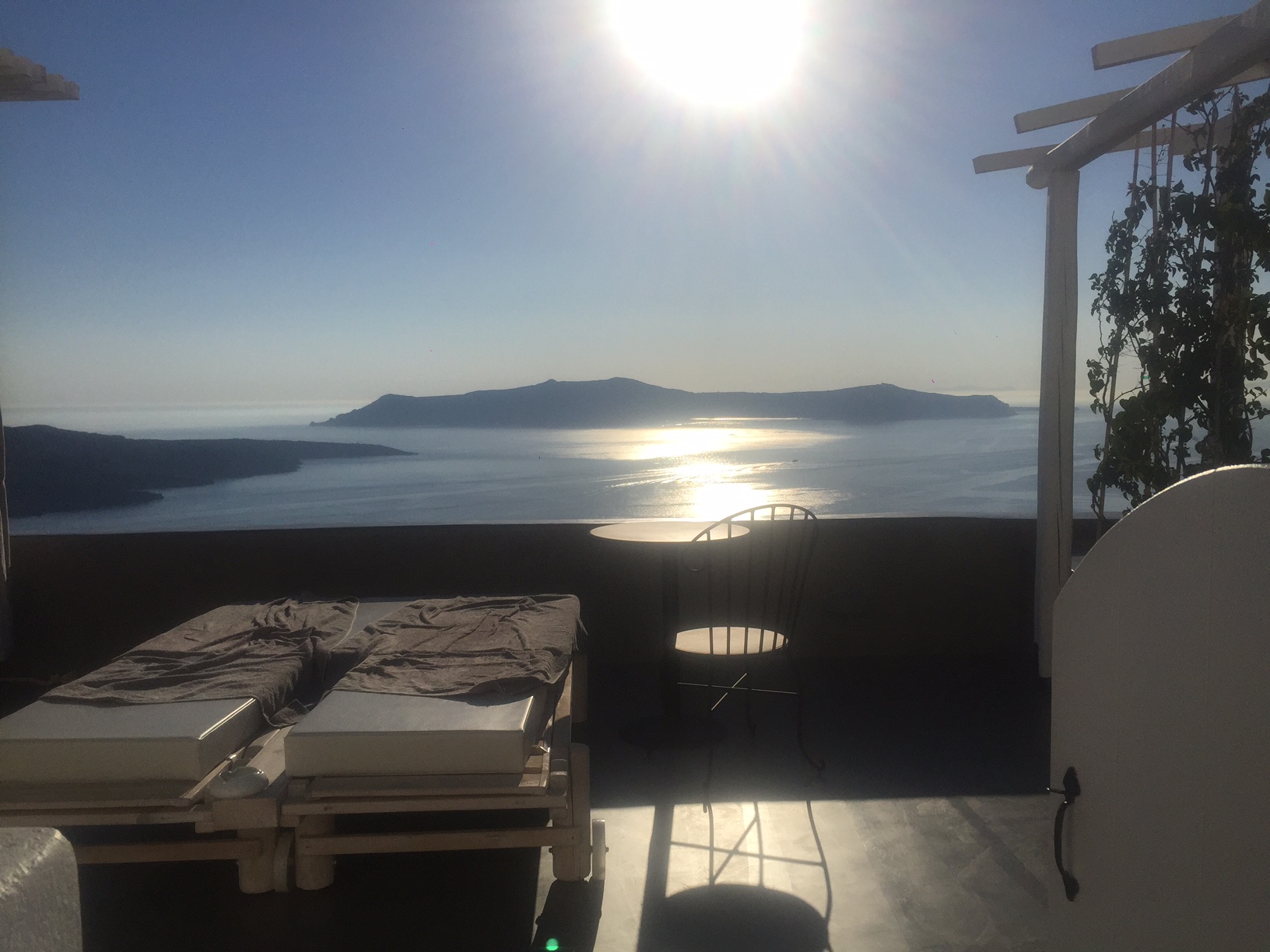 Facilities
Andronis Bar – a cosy hot spot offering elegant cocktails and wellness fresh juices all day long along with quick delicious dishes. ·
Concierge service – arrangement of excursions, transfers, private dining, chartering of helicopters, yachts or other requests to satisfy needs of our experienced travellers
Additional guest services – free Wi-Fi connection throughout the hotel premises, use of laptop with Wi-Fi connection, business center services, wedding coordination, library, DVD library, laundry and ironing services
Note: On tripadvisor.com this place has only excellent rates!
For bookings, click here.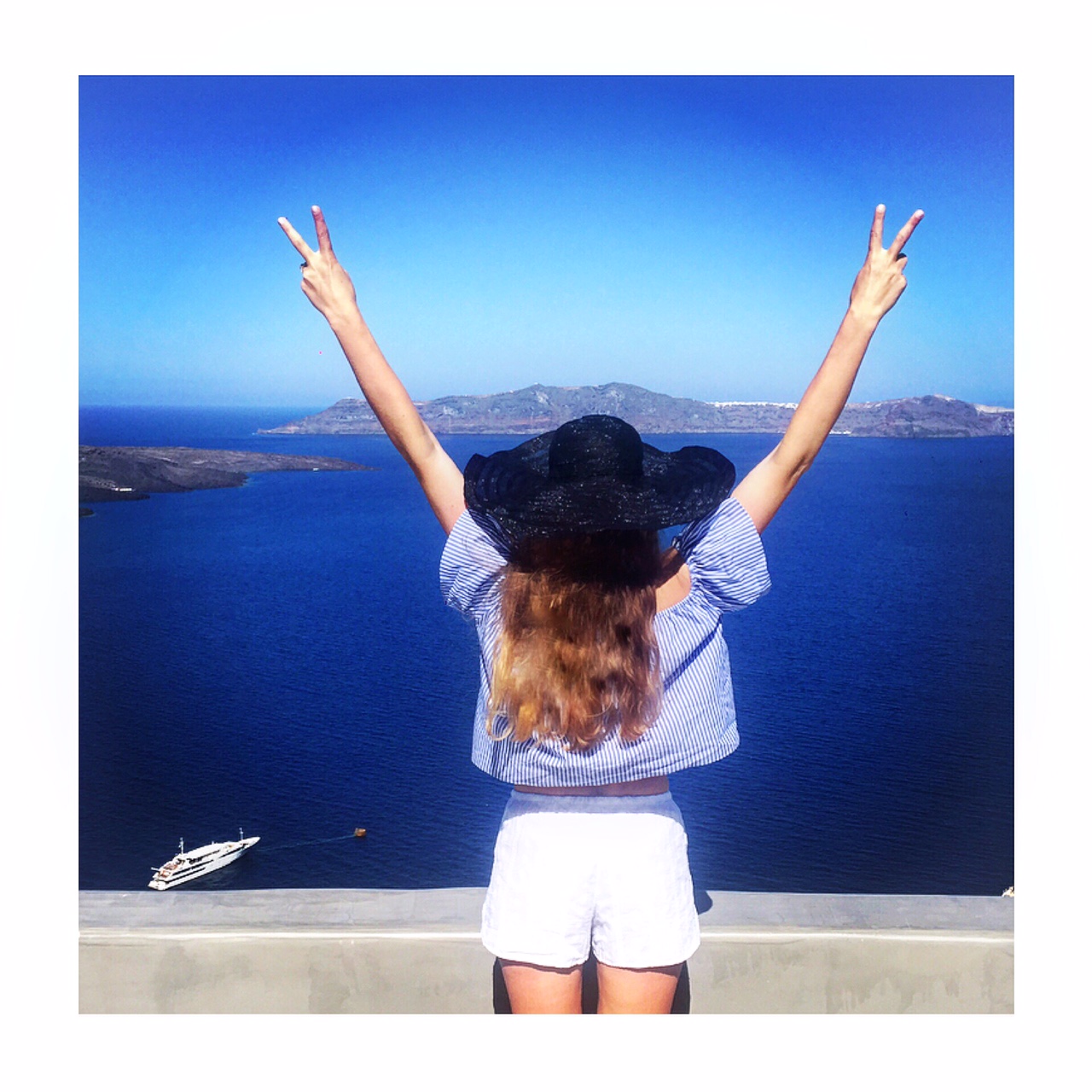 Recommended