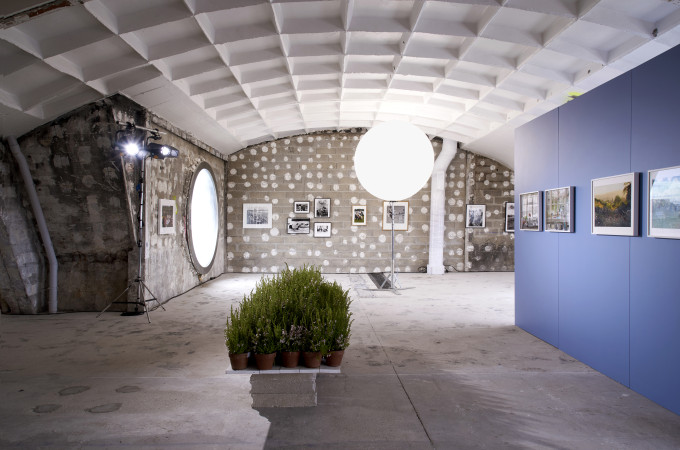 BURBERRY CELEBRATES THE OPENING OF ITS 'HERE WE ARE' PHOTOGRAPHY EXHIBITION
BURBERRY HOSTS A PRIVATE VIEW TO CELEBRATE THE OPENING
OF ITS 'HERE WE ARE' PHOTOGRAPHY EXHIBITION IN PARIS
Burberry brings its 'Here We Are' photography exhibition to Paris from 26 January – 4 February 2018 at 11 rue Béranger. 'Here We Are' features a curated showcase of works by over 30 of the 20th century's most celebrated social and documentary photographers. Set across two floors of the former offices of the French newspaper Libération close to Place de La République in the 3rd arrondissement, the exhibition is divided into themes exploring the British way of life and character through discrete, monographic presentations, alongside thematic displays. Curated by Christopher Bailey (Burberry's President and Chief Creative Officer), Lucy Kumara Moore (writer, curator and Director of Claire de Rouen) and British photographer Alasdair McLellan, the exhibition was first presented at Old Sessions House in London in September and subsequently travelled to Hong Kong in November.
'Here We Are' Paris will feature over 90 works by photographers including Janette Beckman, Jane Bown, Brian Griffin, Dafydd Jones, Karen Knorr, Martin Parr, Charlie Phillips, Andy Sewell and Jo Spence. Inspired by the spirit captured in British social portraiture, Burberry's September 2017 collection also features as part of the exhibition.
Works exhibited in France for the first time include: – Photographs by Shirley Baker, Ken Russell,
Colin Jones, Daniel Meadows
– A presentation of work by photographer Alasdair McLellan,
featuring four bodies of work taken in England,
Northern Ireland, Scotland and Wales
– Photographic prints and projections captured exclusively
for Burberry by Russian fashion designer, photographer and film maker Gosha Rubchinskiy, alongside his
Gosha x Burberry collection for spring 2018
The exhibition opens to the public on Friday 26 January for 10 days.
Christopher Bailey, curator of 'Here We Are'
Bailey (b.Yorkshire) is the President and Chief Creative Officer of British luxury fashion brand Burberry,having joined the company in 2001. Bailey is a long-standing supporter and mentor of creative talent from institutions around the UK, including the Royal College of Art, Chelsea College of Art and Design and the University of Huddersfield. Prior to his appointment at Burberry, he was the Senior Designer of Womenswear at Gucci in Milan and the Womenswear Designer at Donna Karan.
'When we started thinking about curating "Here We Are", I knew I wanted it to celebrate a certain strand of British photography that I have always loved – one which documents the many and varied tribes and clans and classes that make up this island of ours.

It has been an extraordinary privilege to gather together this collection of photographs that have in uenced me so much over the years. They provide a portrait of British life, in all its nuances, both exceptional and mundane, beautiful and harsh.

It's the spirit of those photographs – sometimes ironic, sometimes tender, always truthful – that has guided our September collection'.
Christopher Bailey, President and Chief Creative Officer, Burberry
Burberry hosts a private view of 'Here We Are' in Paris
'Here We Are' Paris
26 January – 4 February 2018
11 rue Béranger
75003 Paris
Free entry
Recommended