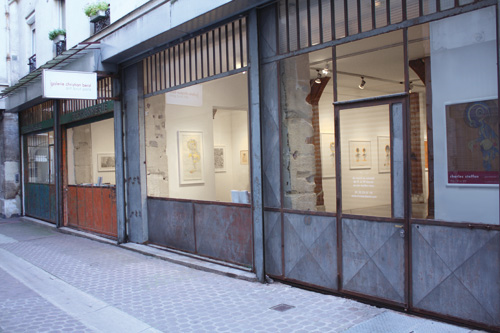 Champagne and Art at Christian Berst Galerie in Paris
Tuesday took us the 'Champagne and Art' event at the Christian Berst Galerie in 5 Rue Passage des Gravilliers, Paris.
Champagne is always a good idea…
Especially while in a Galerie on one of those beautiful little streets of the 'Arts et Métiers' in Paris.
The Galerie Christian Berst first opened its doors in 2005. Since then, as Paris's only specialist Art Brut gallery, it has worked tirelessly to promote creators of exceptional talent, exhibiting the "classic" names of Art Brut already featured in museums and collections and discovering the stars of the future.
The gallery, a short walk from the Pompidou Centre, holds regular exhibitions and is present at major international art fairs. It offers a wide range of publications as well as hosting numerous conferences, screenings, and other cultural events with the aim of initiating an ever wider audience into the mysteries of Art Brut.
Many artists represented by the gallery recently joined prestigious public collections: Centre Pompidou, MOMA, Tate Modern, National Museum of Modern Art in Paris and several of them were also included in the selection of the Venice Biennale 2013.
In 2014, the gallery opened a new space in New York, 95 Rivington street (lower east side), directed by Phillip March Jones.
Christian Berst – who is a member of the Comité professionnel des galeries d'art – is also curator, lecturer and author of numerous articles in international reference publications.
This time there was an exhibition of "August Walla – ecce wala", where photographs, letters and drawings by August Walla were shown. We could also admire the excellent big artwork VATER! GUTHMAYER!
August Walla, born in 1936 near Vienna, was fascinated by the materiality of the words and by their plastic quality, so she collected dictionaries of foreign languages, from which she was drawing terms. She also invents personal idioms by combining various words…
The price range went from 1.900€-18.000€.
When in Paris, you should take a look.
Many thanks to ASW and the Christian Berst Galerie !
x
by Shari
Recommended