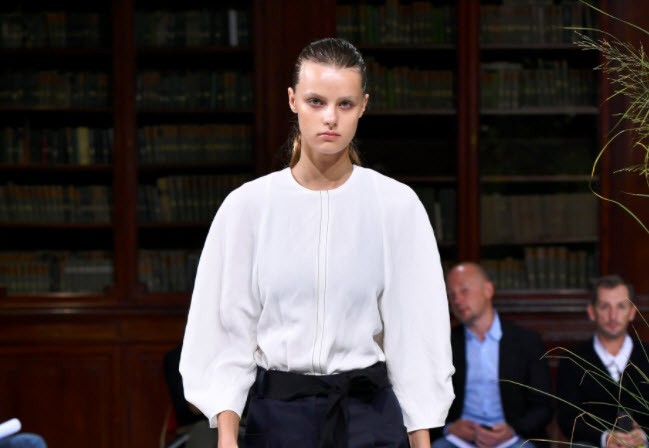 CYCLAS Spring Summer 2018 – Romance and Reassurance
If you haven't heard of CYCLAS yet, you better note this one for the future. It's the perfect answer when it comes to fashion for confident women with a fondness for luxury.
Romance and Reassurance
CYCLAS embodies timeless luxury interwoven with a refined femininity that expresses today's values and simple elegance.
In the current-day climate of conflict and anxiety, one of the most important contributions of contemporary fashion is a sense of reassurance and the expression of something romantic and pure.
Materials that are light and comfortable to the touch make women feel confident. These qualities are a tactile and visual thread that run through the new collection.
The silky smoothness of compact jersey creates a harmonious contrast to crisp viscose twill and transparent silk organza.
These different textures are employed to sculptural effect, as in the sheer viscose dress that is artfully draped and gathered to recall the classical line of Persephone's robe. New cowl sleeves enhance the shoulders, pleats create dynamic movement and fluid silhouettes hint at multi-dimensional aspects of the modern woman's inner life which is further intimated by colour and pattern.
Soft pastel tones such as light blue, soft pink and nude beige convey a romantic delicacy that affords an interesting contrast to the more vibrant and evocative yellows, purples and reds. Prints that remind us of light dancing on the water's surface, paired with the translucence of organza, complete the altogether unique look of the new CYCLAS collection.
This vision of timeless luxury and pursuit of quality is accessorised by a collaboration with MYRIAM SCHAEFER over the CYCLAS bag collection, adding a touch of innovation.
Recommended