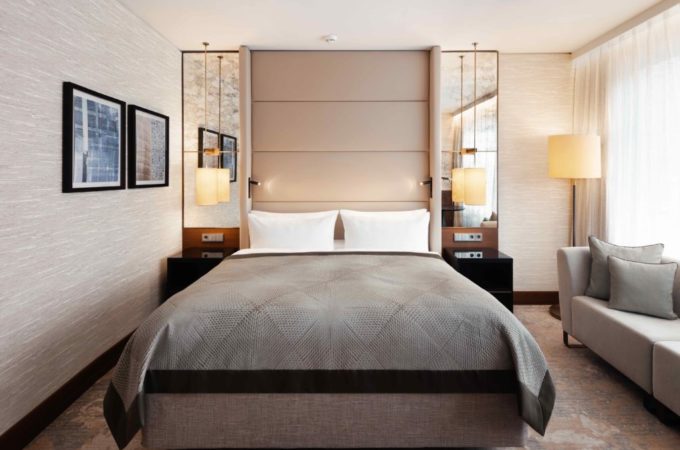 Experience the future at the InterContinental Berlin: Modernisation with style and 61 million investment

The renovation of Berlin's iconic hotel hits the finishing line
Berlin, 23 January 2023 – The InterContinental Berlin is not only a hotel with a tradition stretching back almost 65 years, but also a luxury hotel of the future following extensive modernisation. With an investment of almost 61 million from IHG ® Hotels & Resorts and Union Investment, the InterContinental Berlin, which is considered one of the highest-turnover hotels in Germany, has been undergoing renovation and redesign since May 2019 while the hotel continues to operate. While work in the west wing will continue until the end of 2023, the rest of the approximately 70,000 m2 hotel is already presenting itself in fresh splendour under the leadership of the new general manager Sebastian Germershausen.
Germershausen, who began his career right here at the InterContinental Berlin in 2006 as deputy front office manager, is taking over the final phase of the modernisation as an experienced executive after holding international positions in order to lead the Berlin hotel icon into a new era.
The rooms in the south and east wings of the hotel already serve as flagships of the modern design concept, as does the new Club InterContinental Lounge. This completes the renovation for the majority of the guest rooms, and the remaining rooms in the West Wing will also be available in the new look by spring 2023. Guests will enjoy the special flair in the Marlene Bar and the associated restaurant after the redesign. The event areas are not only visually but also technically state of the art. The refurbishment work in the ballroom, one of the largest halls in the capital, and in the lobby has also been successfully completed. The gourmet restaurant Hugos, which has held a Michelin star since 1999, impresses with new interior details, but above all continues to offer creative cuisine.
Sebastian Germershausen, General Manager, InterContinental Berlin, says: "The InterContinental Berlin is a heart project for me – and I am very happy to have such an excellent team by my side. With the modernisation, we are preserving the soul and magic of the hotel, but bringing it up to date in terms of design, user-friendliness and sustainability." This will ensure that the InterContinental Berlin remains Berlin's hotel icon for years to come.
About InterContinental Berlin
Centrally located in the Tiergarten, the modern InterContinental offers 558 rooms – including 60 suites. With 55 event rooms in various sizes on a total area of 6,200 sqm, the luxury hotel is considered one of the largest conference hotels in Europe. The renowned hotel, which has been a success story in the capital for 65 years, combines tradition with a contemporary design concept and climate-friendly management. The Hugos restaurant has been meeting the highest gourmet standards since 1999 and is honoured for this every year with the Michelin star and other awards. Thanks also to the first-class security standards, the InterContinental regularly hosts high-ranking politicians, business leaders and stars. For more information, visit www.berlin.intercontinental.com.
Recommended