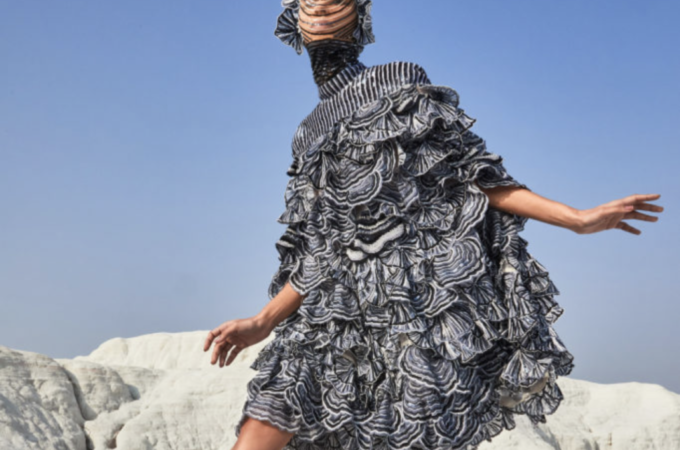 FASTEN YOUR SEATBELTS FOR RAHUL MISHRA COUTURE SPRING 2021
RAHUL MISHRA
COUTURE SPRING 2021
The Dawn
In nature, nothing is perfect and everything is perfect.
— Alice Walker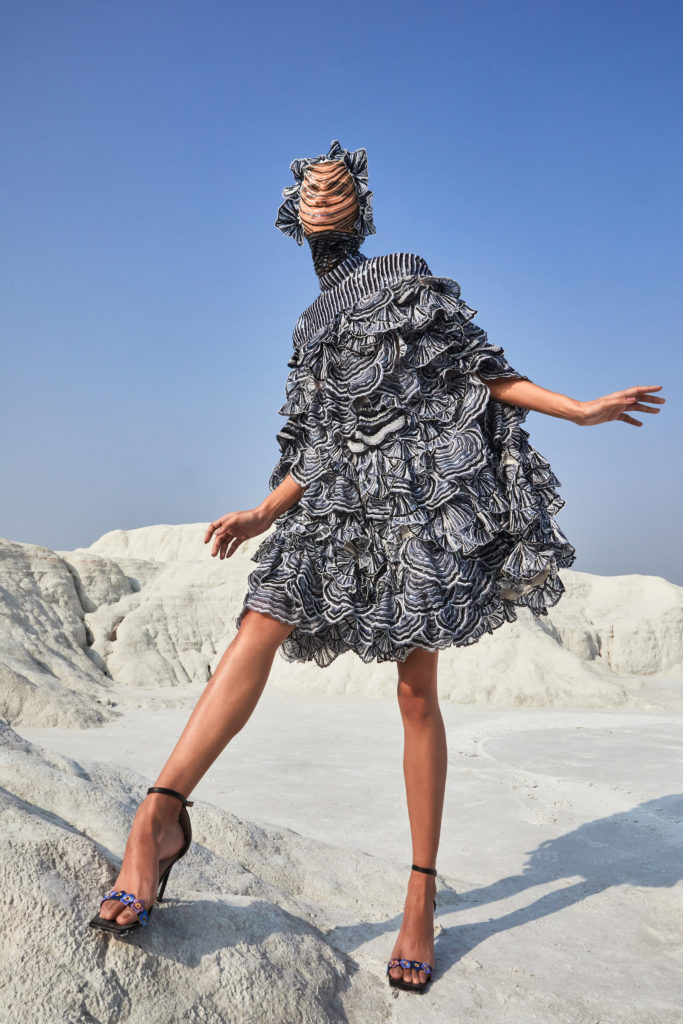 In its incomprehensible ways, nature knows how to sustain herself. When the last tree is felled, life
will sprout from the cracks and blanket what is left behind. The starry night will conspire with
crystal dew drops and concoct an array of bright hued mushrooms. Rings of magic will emerge.
Entrapments of old souls, akin to a billion years ago, frilling in layers and ornamented with wildflowers
— will be penchants of a new dawn.
Death will translate into life. Like a beautiful beginning veiled in a painful ending, weed, lichens
& 'the mushroom'— shall render old to new. Perhaps the growth circles of a tree will re-form
themselves on the skin of a mushroom only to say, that the soul lives on. The utopian
aftermath due to human deeds where life will refill the planet after we are gone.
'The Dawn' contemplates the state of environmental damage and imagines the world that shall
live beyond the interference of the human species.
It emerges from an intensified realisation
during the lockdown that the humans may not have to save the planet, but themselves. The
planet perhaps shall survive regardless and the human species may succumb to their weakness.
Filmed in a pristine marble dump-yard situated in the state of Rajasthan in India, the collection
represents a flush of life.
A retrieval of colour to a world drained of its natural resources, abundance and animation
through years of piling marble dust.
The models, as nature herself, wear exotic mushrooms separately hand tacked over the
glimmering tree-bark-texture hand embroidered on tulle and silk organza that is further
embellished with wildflowers. As says the botanist, Nicholas P. Money, 'Mushrooms are
masterpieces of natural engineering, the most wondrous inventions in evolutionary history.' Each
of the mushroom forms is individually engineered through a unique pattern making process
assisted by novel hand embroidery techniques, in order to achieve a realistic fall and movement.
Shapeshifting silhouettes constructed with meticulous placement of these forms aim to replicate
life in convergence with human imagination. A coming together of hands to lay the
quintessential craft of hand embroidery alongside design intervention and contemporary
application of our core values of slow, ethical & sustainable couture. Garments that wish to
propose to its viewer, a simple question—do we wish to continue witnessing the marvels of
nature present to us on this planet? Because we may be required to
dig within ourselves for wisdom and realise the change.
"What mushrooms have taught me about the meaning of life"
— Nicholas P Money, Professor of Botany and Western Program Director at Miami University in Oxford, Ohio
"Mushrooms are masterpieces of natural engineering. The overnight appearance of the fruit body is
a pneumatic process, with the inflation of millions of preformed cells extending the stem, pushing earth
aside, and unfolding the cap. Once exposed, the gills of a meadow mushroom shed an astonishing 30,000
spores per second, delivering billions of allergenic particles into the air every day. A minority of spores
alights and germinates on fertile ground and some species are capable of spawning the largest and
longest-lived organisms on the planet. Mushroom colonies burrow through soil and rotting wood. Some
hook into the roots of forest trees and engage in mutually supportive symbioses; others are pathogens that
decorate their food sources with hardened hooves and fleshy shelves. Mushrooms work with insects too,
fed by and feeding leaf-cutter ants in the New World and termites in the Old World. Among the staggering
diversity of mushroom-forming fungi we also find strange apparitions including gigantic puffballs, phallic
eruptions with revolting aromas, and tiny "bird's nests" whose spore-filled eggs are splashed out by raindrops.
Mushrooms have been around for tens of millions of years and their activities are indispensable for the
operation of the biosphere. Through their relationships with plants and animals, mushrooms are essential for
forest and grassland ecology, climate control and atmospheric chemistry, water purification, and the
maintenance of biodiversity. This first point, about the ecological significance of mushrooms, is obvious, yet
the 16,000 described species of mushroom-forming fungi are members of the most poorly understood
kingdom of life. The second point requires a dash of lateral thinking. Because humans evolved in
ecosystems dependent upon mushrooms there would be no us without mushrooms. And no matter how
superior we feel, humans remain dependent upon the continual activity of these fungi. The relationship isn't
reciprocal: without us there would definitely be mushrooms. Judged against the rest of life (and, so often,
we do place ourselves against the rest of nature) humans can be considered as a recent and damaging afterthought."
Photography by Hormis Antony Tharakan & Taha Ahmad
Styling by Priyanka Yadav
Shoes by Rahul Mishra X OCEEDEE Shoes
Location Kishangarh Marble Dumpyard, Rajasthan, India
Models
Laura Gavrilenko
Mansi
Nitin Baranwal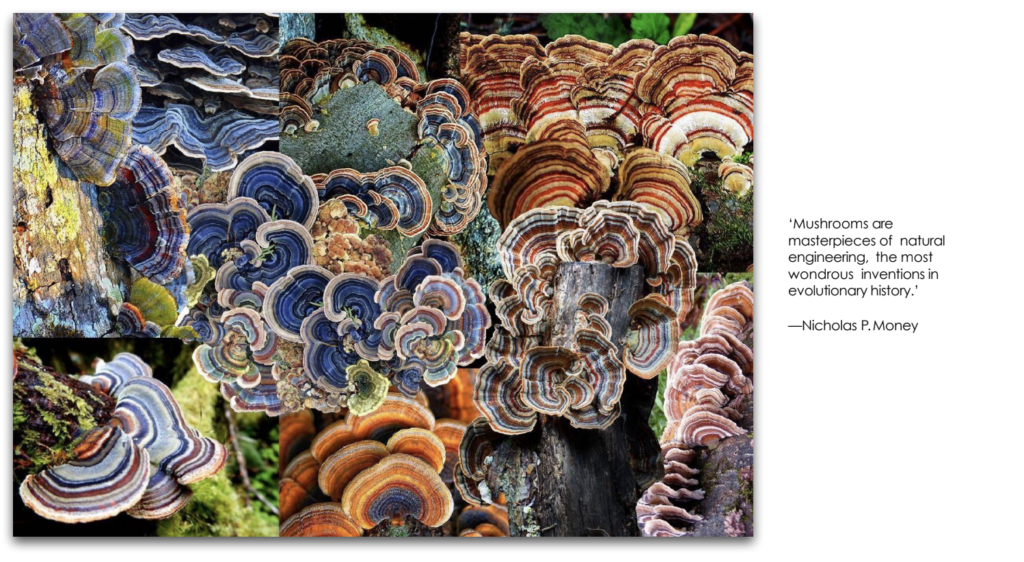 Rahul Mishra – About
Rahul Mishra, the first Indian designer to showcase at the Paris Haute Couture Week and the first Indian to
win the International Woolmark Prize (in 2014) champions slow fashion with traditional Indian textiles. His
eponymous label with two flagship stores in India and a thriving national and international distribution
channel finds its genesis in the ideas of sustainability that present fashion as a tool to create participation
and empower the local craft community of India.
The brand's purpose defines the process. The achingly slowed down process of hand-weaving and hand
embroidery allows to build sustainable livelihoods for more than 1000 artisans. International fashion critic,
Suzy Menkes, an avid follower of the brand's work, regards Rahul as a "national treasure" while the late
Franca Sozzani has praised him as "successfully highlighting the best and most peculiar features of his
homeland." Rahul has also been featured on the global influential list of 'BoF 500' since 2014 and in 2019,
was graced by the 'Rare Talent of the Year' award at the Centre du Luxe Summit, Paris.
The design house that works on the philosophy of the 3 E's – Environment, Employment, and Empowerment,
aims to look at luxury from the lens of participation and not just consumption.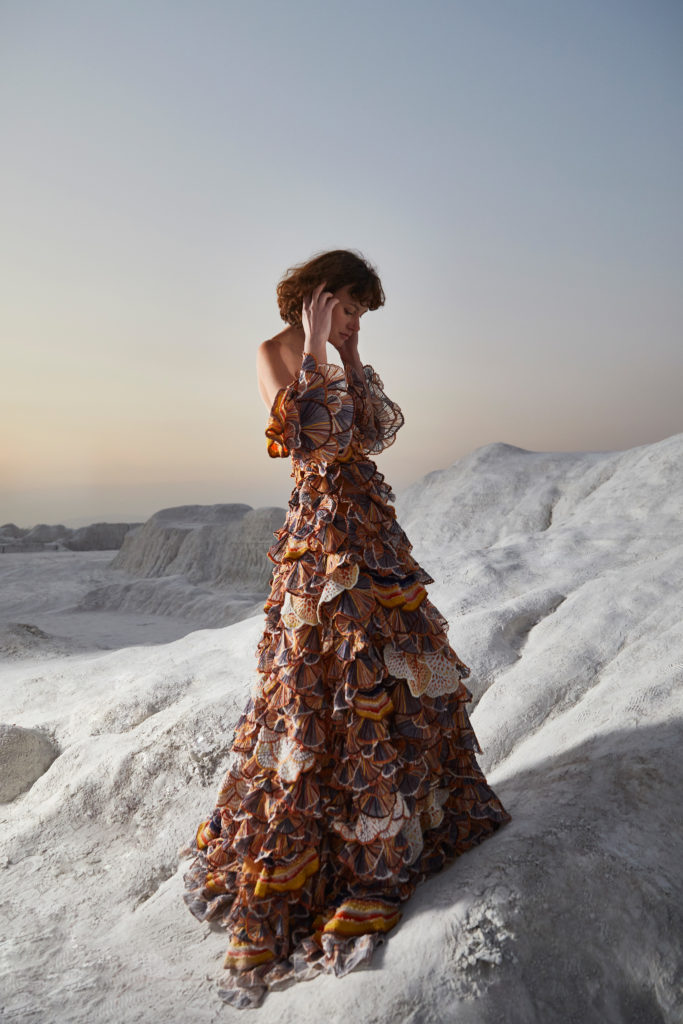 WHAT WE ADORE has known Rahul Mishra and his collections for years now. This one tops everything in its beauty, details and philosophy. Thank you Rahul for this strong but soft collection. We adore the tribal vibe, the free spirit and the ecological aspect but especially the connection to nature and its beauty. For us, real beauty can only be found in nature.
BRAVO RAHUL MISHRA for this fantastic, creative, positive, elegant
and outstanding collection and campaign.
Recommended