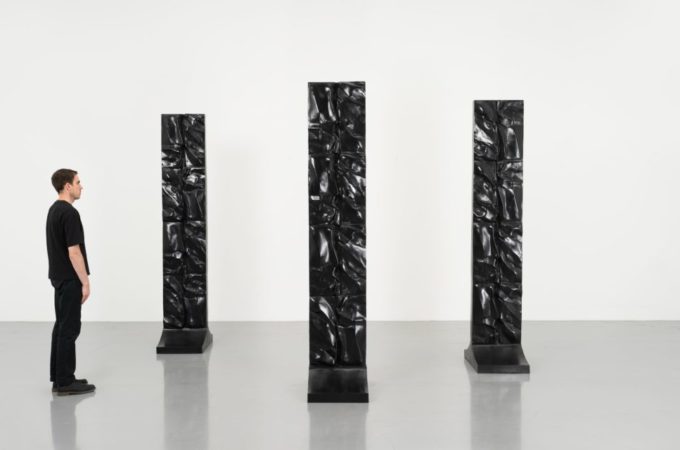 HAUSER & WIRTH: Frieze London – 11-15 OCT 23 – Barbara Chase-Riboud 'Standing Black Women of Venice'

This year at Frieze London, Hauser & Wirth proudly presents a solo booth of work by the acclaimed Paris-based, American artist Barbara Chase-Riboud. The presentation features three bronze sculptures from the series Standing Black Woman of Venice (1969-2020), as well as six recent works made from silk pierced on paper in her signature automatic writing. Over the course of her seven-decade career, Chase-Riboud has established herself as one of the most prolific, boundary-breaking artists and writers of her generation. She has created a revolutionary body of work which is defined equally by its inventiveness, technical prowess andfearless engagement with transcultural histories. This presentation at Frieze is Chase-Riboud's first with the gallery since Hauser & Wirth announced representation of the artist earlier this year and will precede an exhibition inaugurating the gallery's new location in New York on Wooster Street, opening 7 November 2023.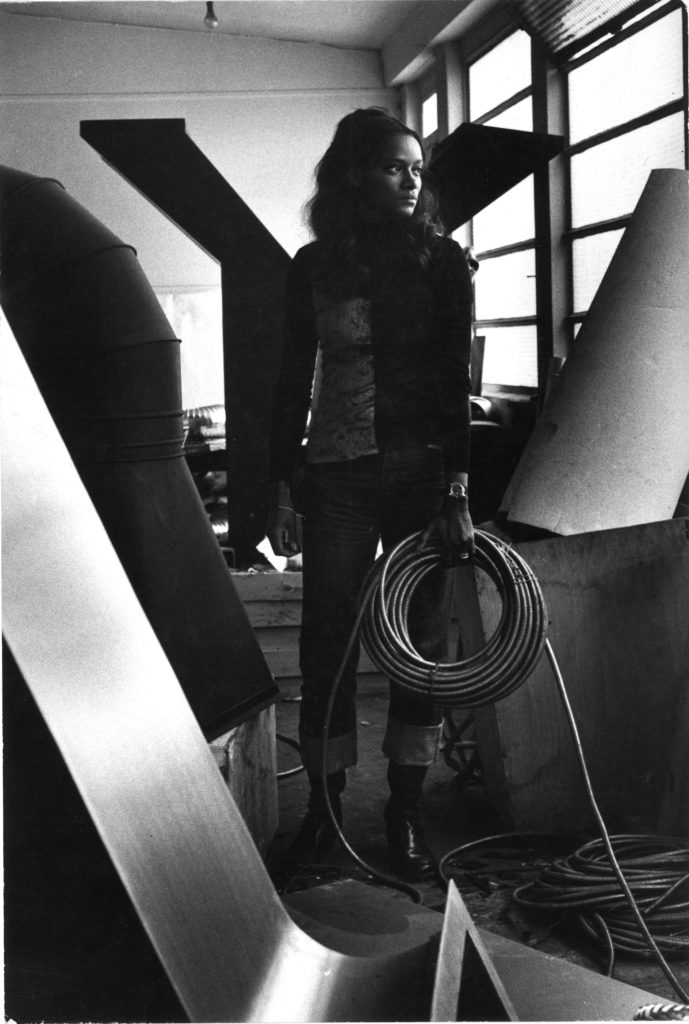 The Museum of Modern Art (MoMA), New York is now offering 'The Encounter: Barbara Chase-Riboud/Alberto Giacometti'. On view through 9 October, this landmark exhibition pairs the pioneering work of two international artists whose breakthroughs have shaped the course of modern sculpture. On view in the center of the booth are three sculptures from Chase-Riboud's Standing Black Woman of Venice series, consisting of four rectangles cast in black bronze stacked vertically with seemingly molten, undulating and shimmering surfaces.
Chase-Riboud individually titled each work after the first known female poets: 'Standing Black Woman of Venice X, Vijja (BBBA)' (1969-2020) takes its name from Vijja, an 8th-century Sanskrit poet from present-day India; 'Standing Black Woman of Venice IV, Praxilla (BABA)' (1969-2020) from Praxilla of Sicyon, a Greek lyric poet from the 5th Century BC; and Standing Black Woman of Venice V, Nossis (AABB) (1969-2020) from Nossis, a Hellenistic Greek poet. Classical and ancient monuments and sculptural traditions have long influenced Chase-Riboud's practice; the artist lived, worked and travelled across Africa, Europe, as well as China throughout her career. Chase-Riboud's travels and tireless immersions in different cultures continued to shape her vision and would come to transform the artist's attitudes toward both sculpture and materials, inspiring her to move beyond conventional Western art historical modes of representation. Committed to foregrounding diasporic or transcultural narratives, Chase-Riboud memorializes powerful or at times marginalized women in history. As curator Stephanie Weissberg writes on Standing Black Woman in Venice, 'The elemental form harkens back to her longtime passion for the sublime order of ancient Egyptian statuary, while the title makes reference to Giacometti's 1956 Woman of Venice series, modifying it to acknowledge the descendants of Africa's great civilizations.'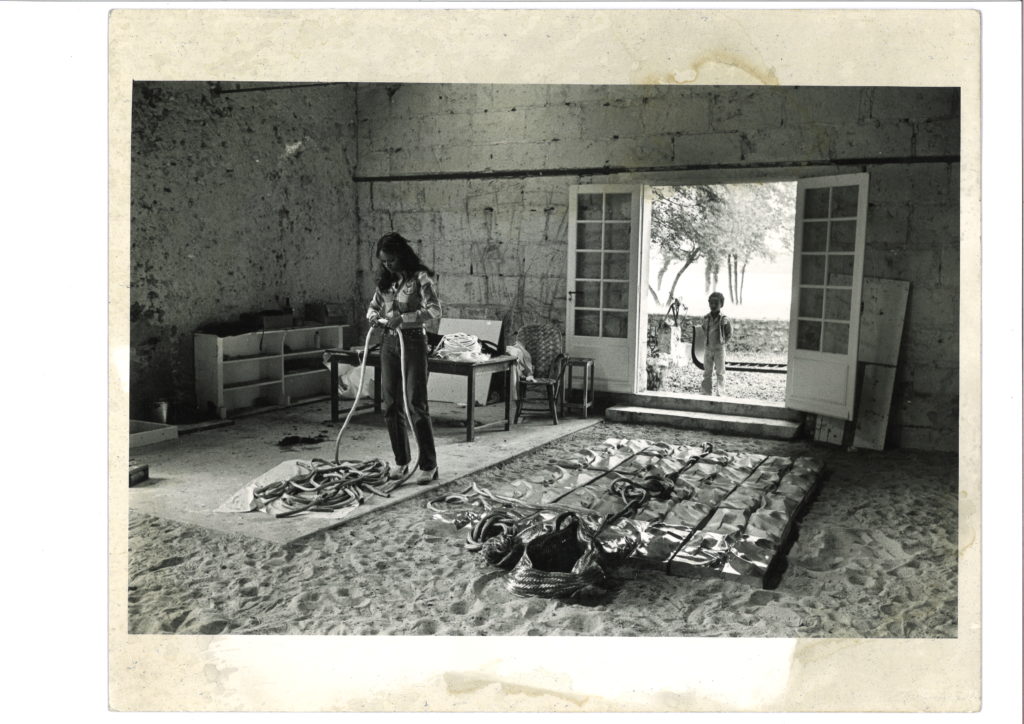 These large-scale, abstract sculptures are made using two modules created in 1967, reconstructed mathematically into 16 different configurations, that were originally created for Chase-Riboud's horizontal floorwork 'Bathers' (1969-72). Reorientating the work vertically, the artist reassembled the resulting bronze plaques into various grid configurations, making 16 unique sculptures from this series in total. The artist employed a sand-casting method to produce a glossy and polished bronze alloy surface, its folds and creases evoking the sense of suspended water. By working against traditional oppositions of weight and volume, space and depth, Chase-Riboud masterfully creates the impression of constant movement and the interplay of surface, material and light. Standing tall in the booth, the bronze sculptures embody the monumental women that Chase-Riboud memorializes, whilst subverting traditional binaries.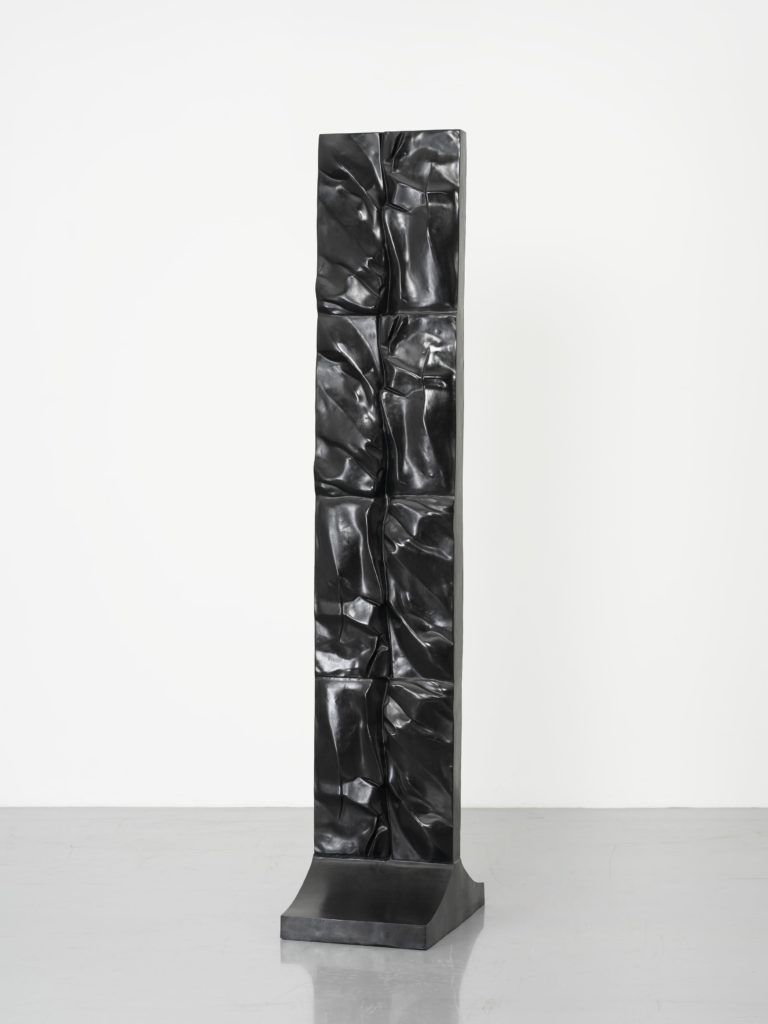 In addition to the sculptures, six works on paper will be presented in the booth, all made in 2020. Using a technique she has used since the 1970s, Chase-Riboud creates different graphic formations pierced directly onto paper using silk thread, reminiscent of handwriting or hieroglyphics. A celebrated poet and writer, the artist approaches these works similarly to her automatic writings and poems, akin to a visual, surrealist train ofthought, also reflected in the titles of the works, such as 'One who has loved, remembers that he has loved…'and 'l fall away from distant stars.' Speaking of handwriting in her work, the artist says, 'They are parts of drawings. I mean, they are handwriting and they are drawings done with fiber, but also as a kind of repetition of the kind of handwriting I used as embellishment for the charcoal drawings. The drawings and the poetry areone. They are almost inseparable. I never know where one begins and where one ends.'
ABOUT THE ARTIST
Born in Philadelphia, PA in 1939, Chase-Riboud currently resides between Paris and Rome. Chase-Riboud's sculpture and drawings are in museum collections around the world. She holds the distinction of being the youngest artist to enter the collections of MoMA, which first acquired her work in 1955 when Chase-Riboudwas 15 years old. Her work resides in the permanent collections of many major institutions, including the Tate Modern, London; SF MoMA, San Francisco CA; Virginia Museum of Fine Art, Richmond VA; Menil Drawing Institute, Houston TX; Guggenheim, New York NY; Glenstone Museum, Potomac MD; Smithsonian National Museum of African American History and Culture, Washington D.C.; General Services Administration, NewYork NY; Berkeley Art Museum and Pacific Film Archive, University of California, Berkeley CA; The Metropolitan Museum of Art, New York NY; Museum of Modern Art, New York NY; National Collections of France; Newark Museum, Newark NJ; New Orleans Museum of Art, New Orleans LA; New-York Historical Society Museum,New York NY; Philadelphia Museum of Art, Philadelphia PA; The Studio Museum in Harlem, New York NY; YaleUniversity Art Gallery, New Haven CT; and Baltimore Museum of Art, Baltimore MD.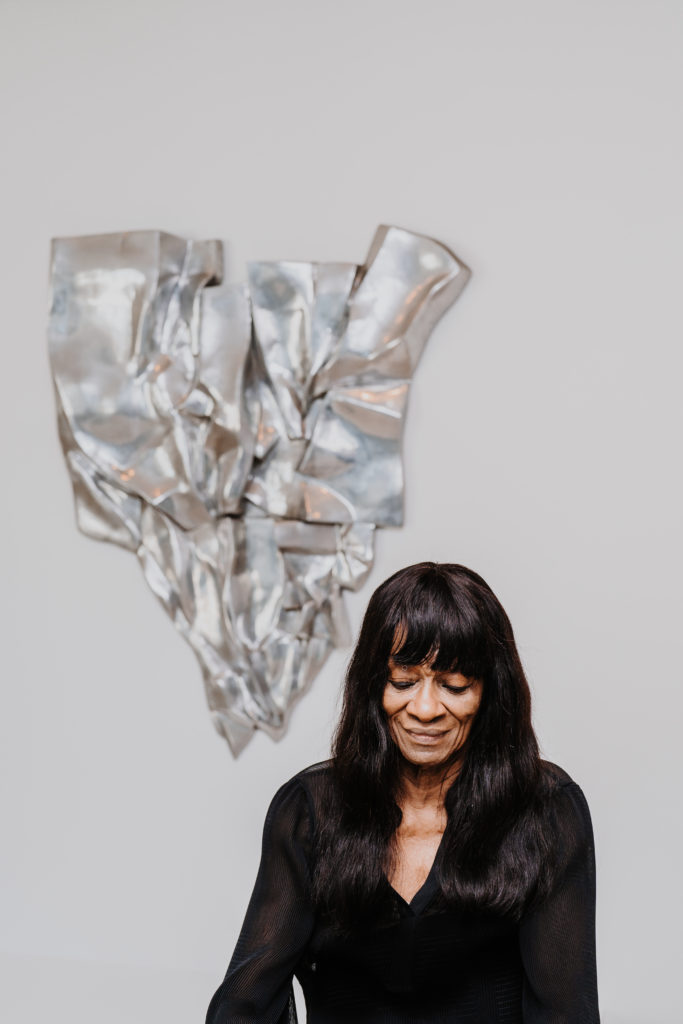 Parallel to her visual art and sculptural practice, Chase-Riboud is lauded as a poet and writer of historical fiction. Her literary oeuvre includes nearly a dozen prize-winning novels and collections of poetry, to which she recently added her memoir 'I Always Knew,' published in 2022 by Princeton University Press. This genre-breaking bookis based upon the letters Chase-Riboud sent to her mother over a 30-year period. As part of the artist's gallery representation, Hauser & Wirth Publishers will collaborate with Chase-Riboud on her literary projects. Chase-Riboud is the recipient of numerous awards and honorary degrees, including the Chevalier de l'Ordre des Arts et des Lettres by the French government in 1996 and the Grand Prix Artistique from the Simone and Cino Del Duca Foundation in 2021. In 2022, she was awarded the Légion d'honneur, France's highest order of merit.
Frieze Masters – D01
Hauser & Wirth returns to Frieze Masters with a presentation that focuses on one of the great luminaries of 20th-century art,Philip Guston(1913 – 1980), coinciding with the travelling Tate Modern retrospective 'PhilipGuston' opening 5 October 2023. The booth will present a selection of important paintings and works onpaper dated from the early 1950s until the late 1970s, including a rarely exhibited early abstract work 'OchrePainting I' (1951) and the major late figurative painting 'Calm Sea' (1977), which is placed in dialogue with 'Black Sea' (1977), held in the collection of Tate and featured in the Tate Modern exhibition. The booth will also bring works by modern masters who were working in and around New York at the same time as Guston. These include artists from the gallery's roster such as Louise Bourgeois, Eva Hesse, Maria Lassnig,Lee Lozano, Jack Whitten, Alexander Calder, Frank Bowlingand more. Once again, the gallery will partner with Moretti Fine Art for the fair.
Recommended