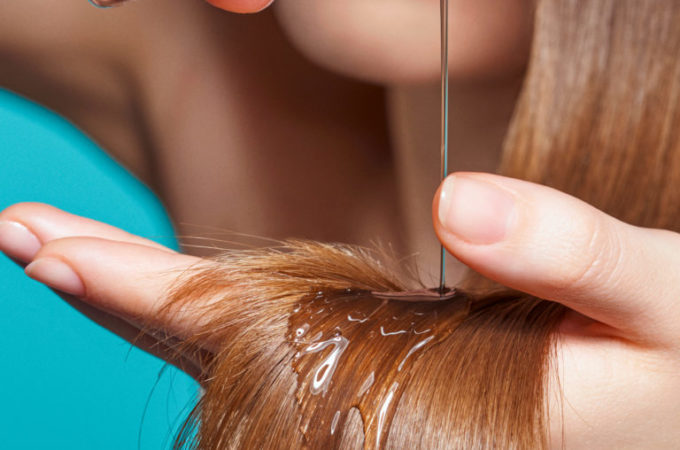 LA BIOSTHETIQUE – STRUCTURE REPAIR – Restructuring Hair Line

RESTRUCTURING LINE
At La Biosthétique, we're well aware of the miraculous action of oils, which is why we've been using them for a long time now for intensive hair care – in the salon, but also at home with Structure Repair.
Structure Repair is the result of decades of expertise in the powers of nature
and the professional skills of today's La Biosthétique. The rich formulas are designed to intensely care for dry, damaged hair and reduce breakage. Soothing castor, cocoa, argan and lecythis seed oils soothe porous structures by replenishing lipid and moisture reserves over the long term. The power of the oils is reinforced by Rose of Jericho extract, which invigorates the hair by intensely moisturising it.
Six specific formulas and the exclusive in-salon Oil Therapy treatment meet the care needs of sensitive hair. They nourish and repair damaged structures and help hair regain suppleness, vitality and silky shine, for a long time to come.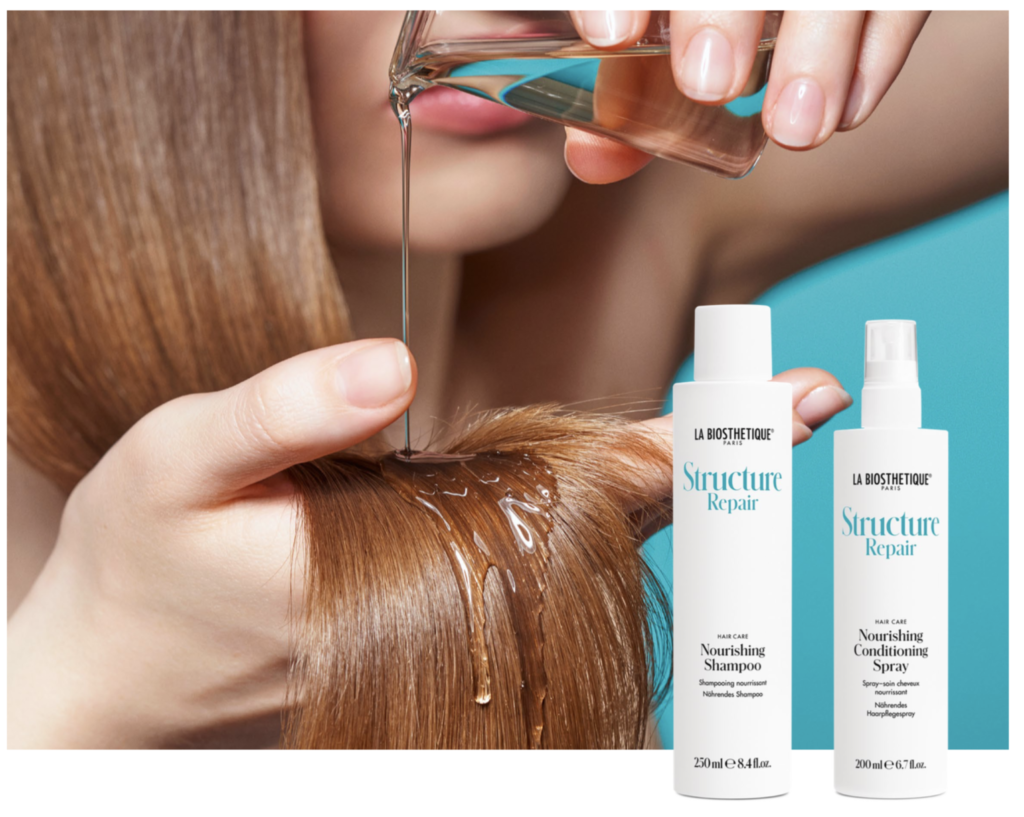 The oils
CASTOR OIL
protects hair from dehydration, making it supple and restoring its natural shine, a sign of good health.
LECYTHIS SEED OIL
moisturises and cares for hair thanks to its high content of unsaturated fatty acids and vitamin E.
CACAY OIL
nourishes and repairs hair, leaving it silky and frizz-free.
ARGAN OIL
moisturises and sets the hair. Vitamins and good fatty acids make hair more resistant, supple and shiny.
ROSE OF JERICHO EXTRACT
intensely moisturises hair to restore elasticity, suppleness and natural shine.
Specific active ingredients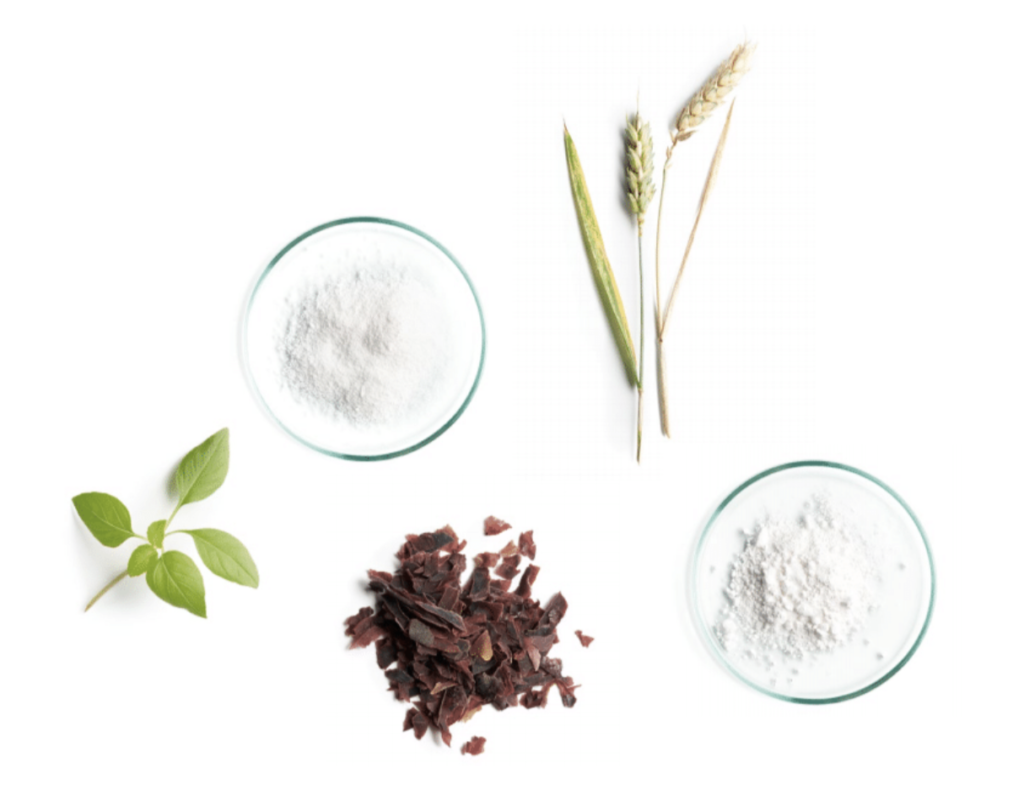 In the NOURISHING CONDITIONER and NOURISHING MASK, VEGAN CERAMIDES reduce breakage and repair hair. By sealing the hair cuticle, they restore the hair's water-repellent properties. In the NOURISHING MASK, BAUME DE TOLU helps to reduce split ends by forming a long-lasting, soothing protective envelope around the hair shaft. In HYDRATING DROPS, LONG CHAIN HYALURONIC ACIDS form a film, moisturising and smoothing the scale layer, while LOW MOLACE HYALURONIC ACIDS penetrate deep into the hair to lock in moisture.
In the HYDRATING DROPS, RED ALGAE nourishes and repairs the scale layer, strengthening the hair by moisturising it and leaving it shiny.
Structure Repair products
NOURISHING SHAMPOO
Rich shampoo acts like a comforting bath for dry hair damaged by excessive heat from styling appliances and external aggressions. Its beneficial foam gently yet effectively cleanses the hair and scalp. Rose of Jericho extract intensely moisturises brittle fibres, improving the elasticity of every hair strand. Argan oil provides essential nutrients, restructures weakened hair and restores its vigour. With each nourishing shampoo, hair becomes noticeably healthier and easier to style. Hair regains its vital suppleness and the surface is soothed and smoothed, making frizz and brittle ends a distant memory.
After shampooing, the scalp feels wonderfully soothed, and perfectly cared-for hair looks radiant.
250ml €29.50
(recommended retail price)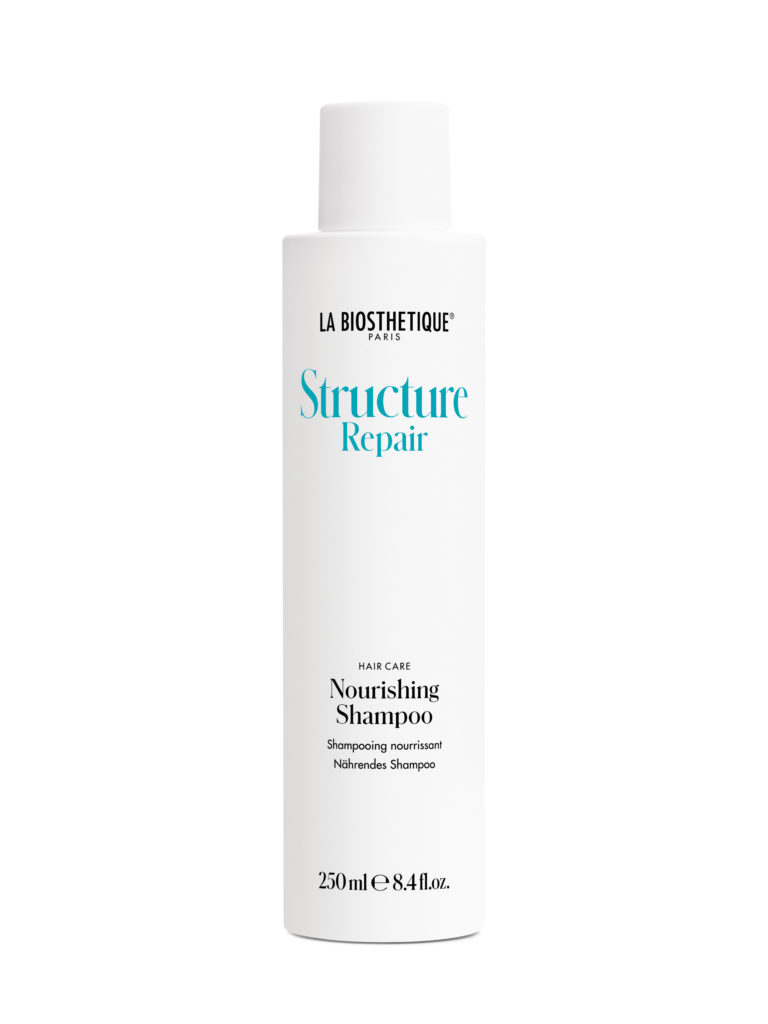 NOURISHING CONDITIONER
If dull, damaged hair is transformed into radiant hair in just a few minutes, it's not due to magic, but to this intensely nourishing and moisturising conditioner. A combination of Panthenol and Rose of Jericho extracts provides the ultimate dose of deep hydration. It helps damaged hair regain its radiant shine. Vegan ceramides regenerate dry, brittle structures, closing the scale layer and making hair less brittle. Thanks to the nourishing power of argan oil and castor oil, the hair receives the nutrients it needs. Nourishing Conditioner gives dry hair damaged by external aggressions such as heat from styling appliances and pollution a complete treatment to help it regain its full vigour.
200ml €34.50 (recommended retail price)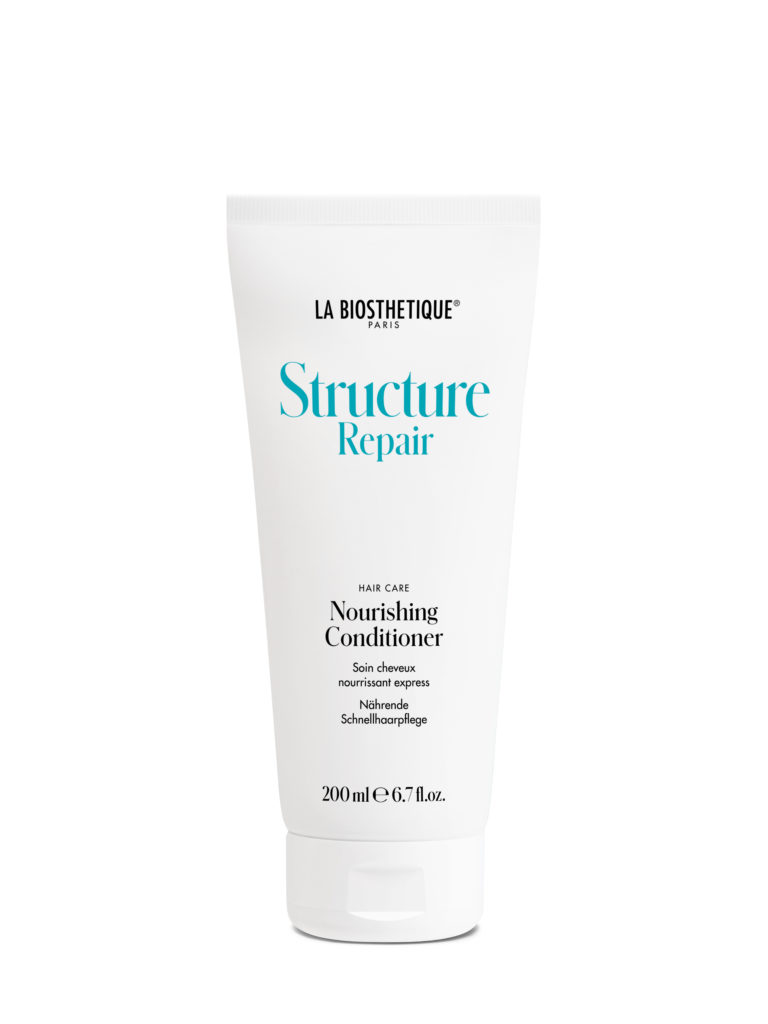 NOURISHING CONDITIONING SPRAY
Who hasn't dreamt of soft, supple hair that detangles effortlessly and is easy to style? Unfortunately, the reality is quite different, especially when you use heated appliances to style your hair. Hair is dry, dull and unruly until the fine mist of Nourishing Conditioning Spray magically transforms it into the hair of your dreams. All thanks to an ultra-concentrated leave-in formula. A nourishing cocktail of lecythis and cacay seed oils cares for hair right down to the ends, thanks to vitamin E and unsaturated fatty acids.
It moisturises and locks in moisture, leaving hair silky without weighing it down. At the same time, wheat peptides repair damaged fibres and improve hair quality. Rough the moment before, hair is easy to style and radiates vitality.
200ml €32.50 (recommended retail price)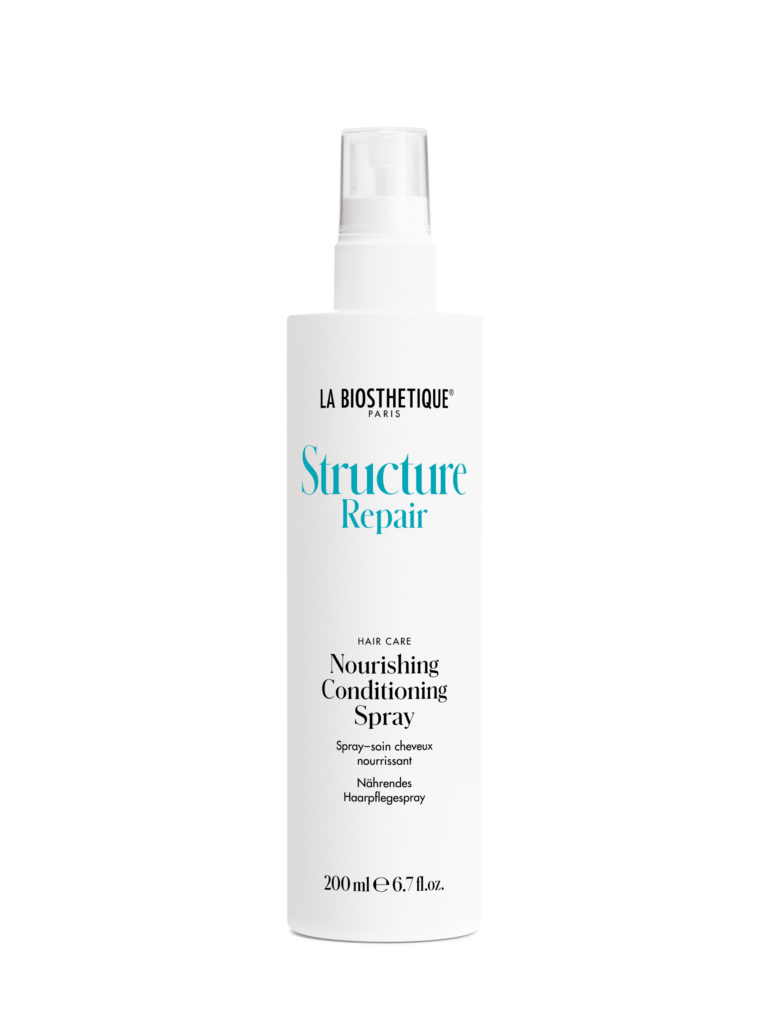 NOURISHING MASK
Severely damaged hair needs to be cared for. The intensely regenerating Nourishing Mask provides porous structures damaged by excessive heat from styling appliances or external aggressions with the nutrients they need to regain their vital suppleness. This powerful mask penetrates deep into the hair shaft and strengthens hair from root to tip. A combination of castor, cacay and lecythis seed oils replenish the hair's lipid reserves thanks to their high content of unsaturated fatty acids and vitamin E. Vegan ceramides repair damaged hair structure, seal the outer layer of scales and reduce breakage.
Tolu balsam, derived from balsam resin, envelops the hair shaft in long-lasting, protective care. Perfectly nourished and strengthened, hair is incredibly soft and silky, without losing any of its volume.
100ml €38.50 (recommended retail price)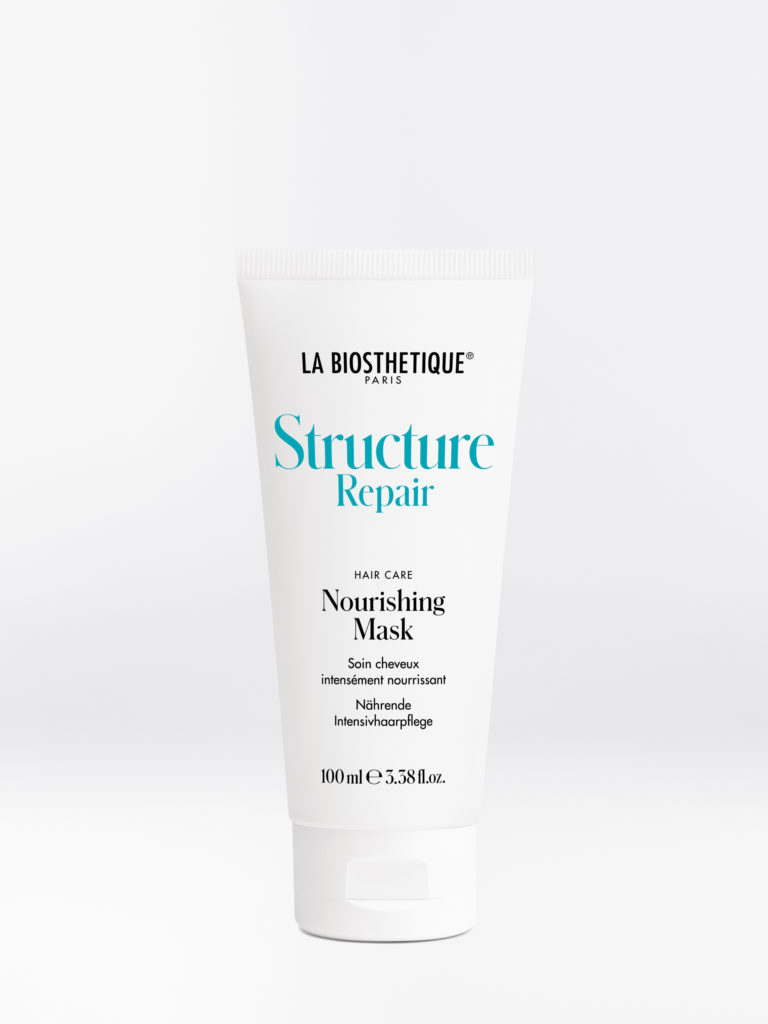 Recommended