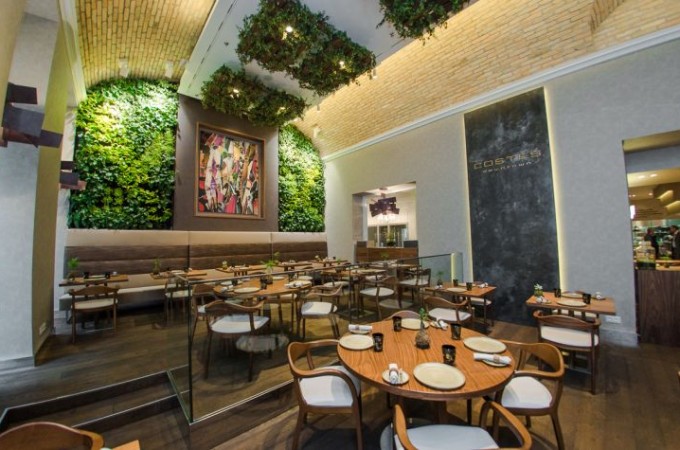 Loose your mind at the Costes Downtown Restaurant in Budapest
When in Budapest make sure you absolutely drop by the Michelin-stared Costes Downtown restaurant, which is located in the famous Prestige Hotel in the heart of Hungary's capital Budapest.
To tell you one thing up front: It's a total MUST to treat yourself to a table when in town.
And here is why.
1. The Ambiance
When entering the Costes Downtown you feel, every cell of your body immediately getting into a deeply relaxed, happy mood. Relaxed, because you know that your gastronomic mind is about to be blown and happy, because you can simply rely on the fact to finish this luxury trip for your taste buds satisfied. You just know.
Nothing in this restaurant feels staged, everything falls into place perfectly. So by the end, it's like waking up from a long needed, deep sleep. Only that you are still living your dream.
Alongside natural materials like stone walls, botanic decoration and tableware in the colors of the elements, you find both travellers and natives becoming one with each dish along the menu.
Only in 2015 opened this restaurant, a bigger, but more laid back version of the mother restaurant "Costes restaurant" its doors to the unforgivable world of gastronomic critics in the heart of Hungary's capital Budapest. It was hard to prove it's way out of the first and Michelin-star-awarded restaurant's shadow, but soon it got the popular Michelin star award itself in 2016.
It is open every day of the week, offering breakfast, lunch, and dinner at our usual standard of quality. These standards are overseen by executive chef Miguel Rocha Vieira from Portugal, and the daily operation is run by chef Tiago Sabarigo.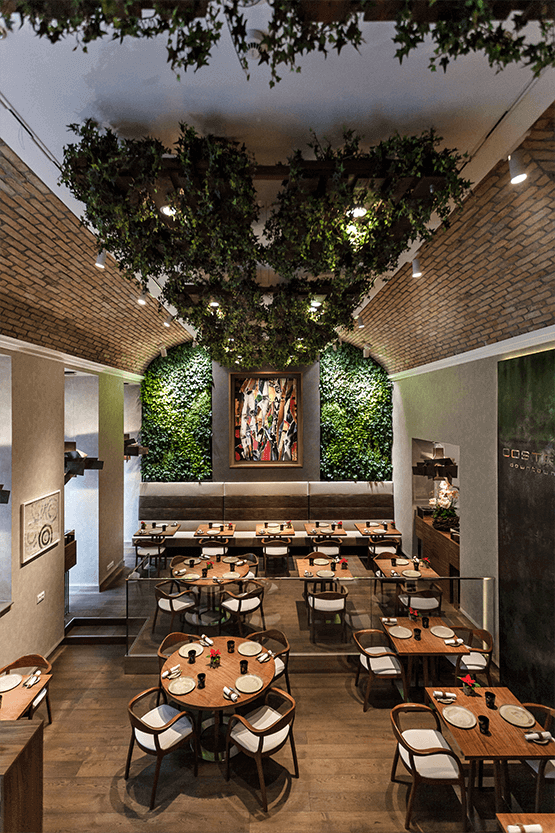 2. The Menu
"Quality gastronomy without compromises."
The Menu is just a perfection! Each dish is highly aesthetically served with a wine pairing. You will have your own Sommelier who will serve you the perfect wine for your exclusive dish. At this moment we would like to thank Madame Rita Radler, who has been our Sommelier for the night. She will go the extra mile for you to round up your course menu.
In this gourmet restaurant the chefs will serve you a very distinctive menu. The number of sittings is of course, depending on your choice, but be assured that you will be spoilt with contemporary appetizers followed by extraordinary main courses and customized dessert plates. The menu will of course change with the seasons.
STARTERS
We started with some esquisite starters, which took part of a carefully chosen menu by the two chefs. The kind of taste explosion that we experienced next, prepared us for what was coming next along head the menu. At Costes Downtown you eat very slowly, you take your time to discover the perfection and the taste of the pieces of art made in the kitchen of Tiago Sabarigo and Miguel Rocha Vieira .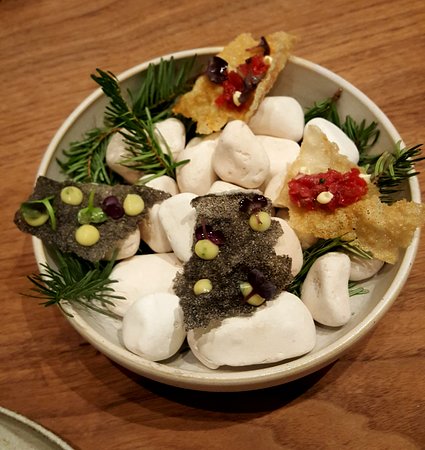 In addition to warm bread with different, homemade butter arrangements, they also serve you these dried delights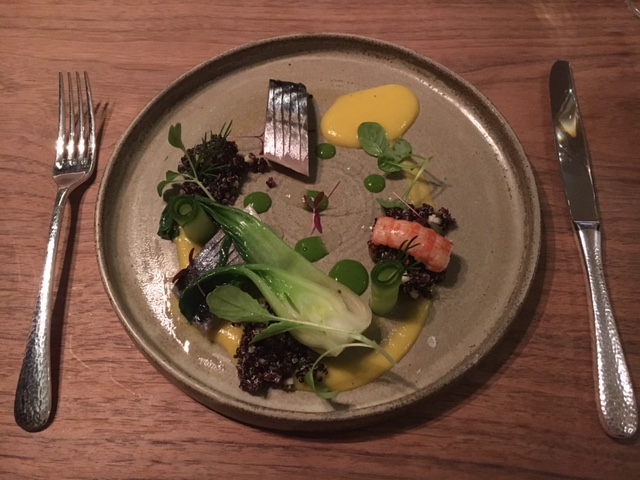 MACKEREL – Cured, Beetroot, Sour Cream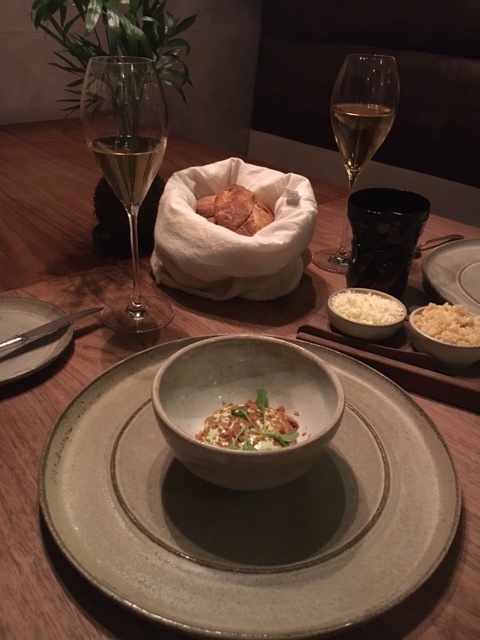 SOUP – Cucumber, Dill
PLATS
As for someone who lives in France I can say that the goose liver we ate at the Costes Downtown can totally compete with its french equivalents. That's saying a lot, the composition of main dish and sides was just so perfect. It literally makes all your dreams come true.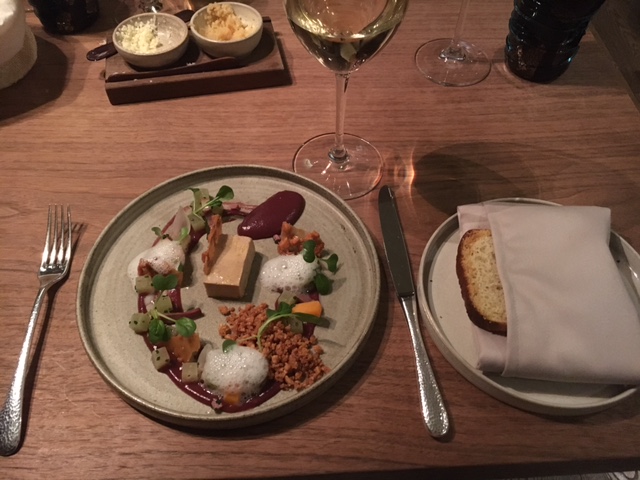 GOOSE LIVER – Terrine, Red Onion, Apple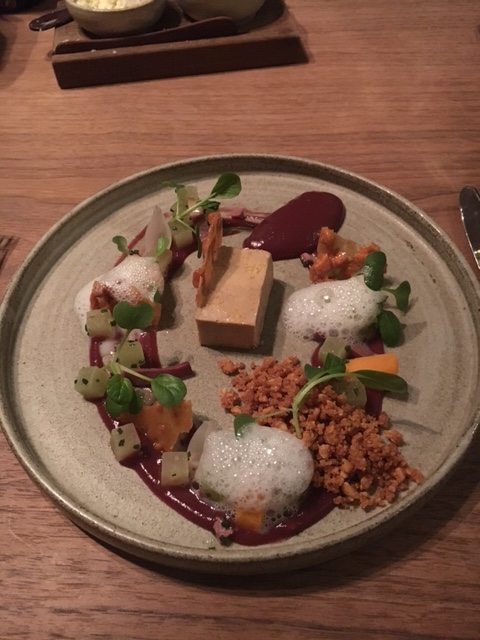 And because it was so delicous, it deserves a close-up: GOOSE LIVER – Terrine, Red Onion, Apple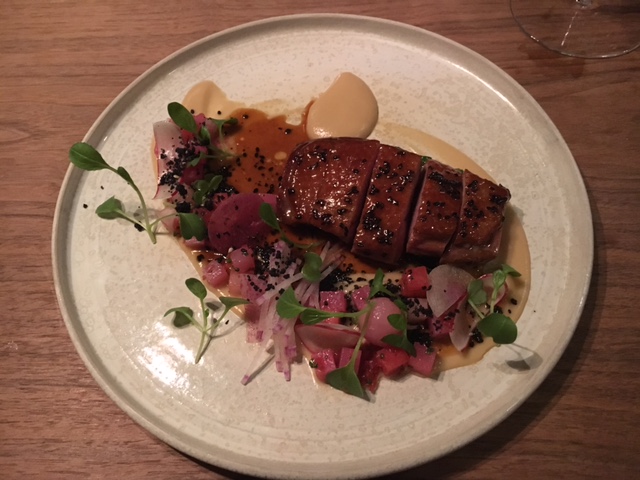 DUCK – Honey Glazed, Radish, Black Sesame
DESSERTS
Dessert-lover or not, the Costes Downtown catapults you directly in the heaven of sweetness. If you haven't experienced a taste-orgasm by now, you for sure will while discovering the dessert menu. Every bite melts slowly on your tongue, while you taste every ingredient like a perfection compsition of your favorite opera piece.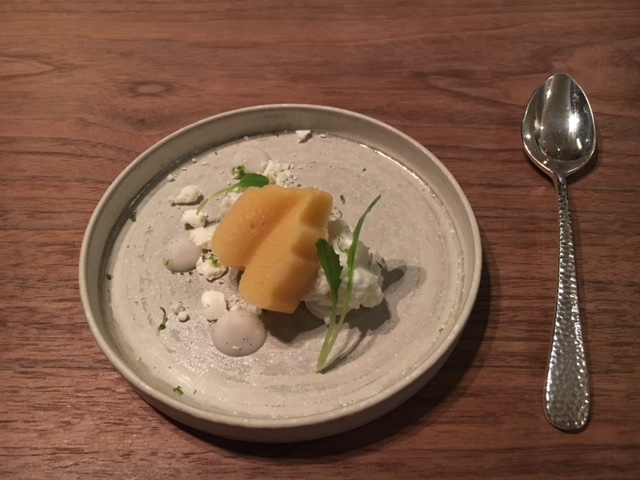 Summer's calling – fresh Sorbet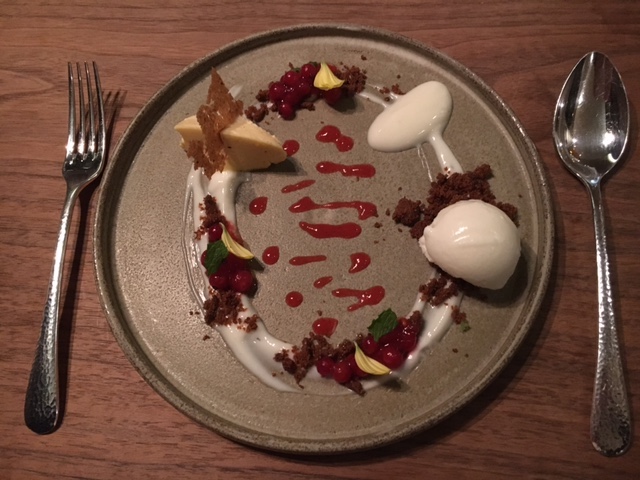 CHEESECAKE – Berries, Rye Bread, Yoghurt Sorbet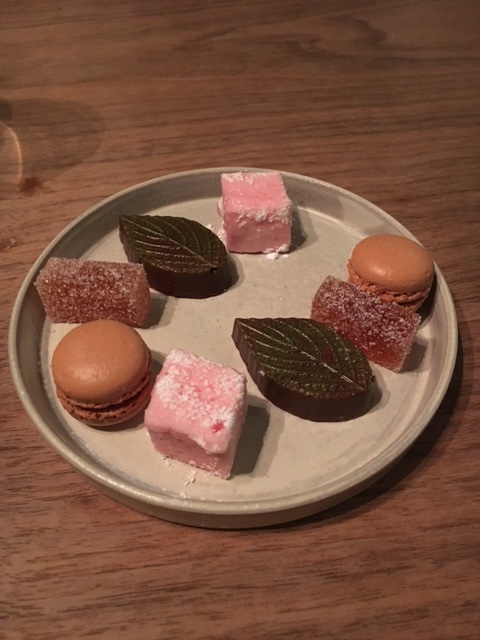 The french touch and sweetest goodbye: Macaron
3. The Service & Staff
We feel like you should know exactly who is responsible for spoiling your taste buds at the Costes Downtown restaurant. Take a close look at Head Chef Tiago Sabarigo and Executive Chef Miguel Rocha Vieira.
The combination Vierra's eye for the detail when it comes to fresh basic ingredients, seasonality and geography and Tiago Sabarigo's experience in working in various high-end kitchens rounds up each dish with love.
The passionate Head Sommelier Péter Pongrácz comes from a long tradition of restaurateur family. He is dedicated to natural wines and wineries and he is eager to present boutique cellar's limited labels.
The service was excellent and sympathetic, not "too much", as it is often the case in high class restaurants. We were delighted to find warm, relaxed but very professional service here. The service is one of those who are formally and properly trained, without being pretentious.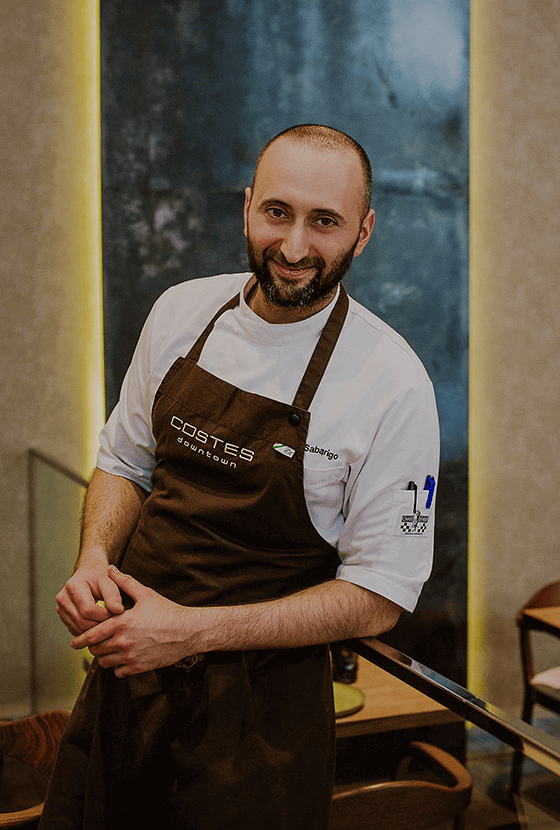 Head Chef Tiago Sabarigo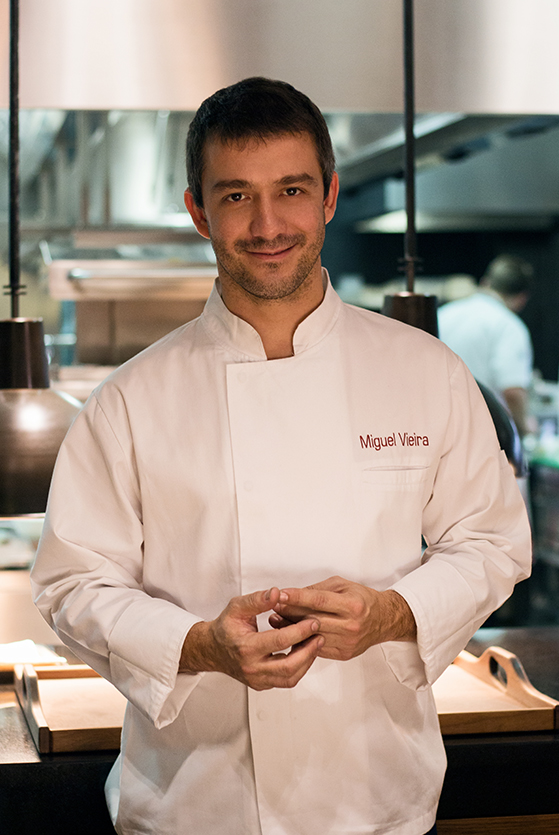 Executive Chef Miguel Rocha Vieira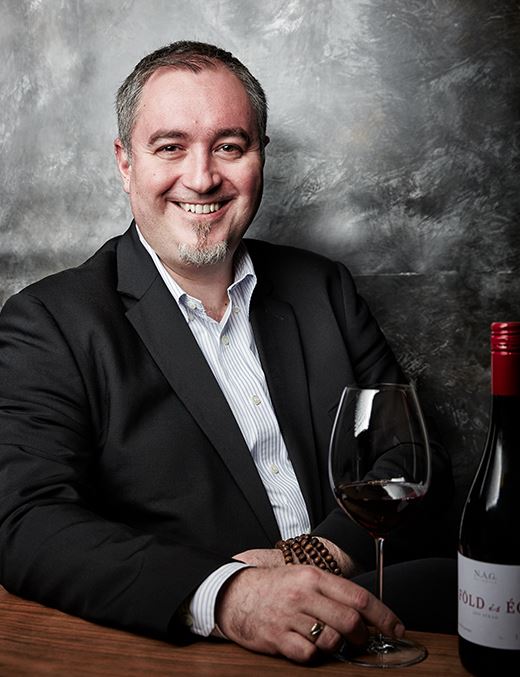 Péter Pongrácz Head Sommelier
While the service, the dishes and the wine built an inseparable trio at Costes Downtown, it would not be complete without the elegance of the decor and the unique touch of the natural arrangements who illuminate the location.
This restaurant everyone should try at least once in a lifetime, it is transformative!
We have two words left: unforgettable & esquisite.
A big THANK YOU to the entire staff at the Restaurant for making our night very special. You made sure we went home with unforgettable memories.
Thank you so much!
Follow CD
Make your reservation here:
***
Costes Downtown
Budapest,
H-1051 Budapest,
Vigyázó Ferenc Street 5
***
Phone: +36 1 920 1015 (Available: CET 10:00-22:00)
Fax: +36 1 920 1015
Information, reservation: reservation@costesdowntown.hu
Recommended