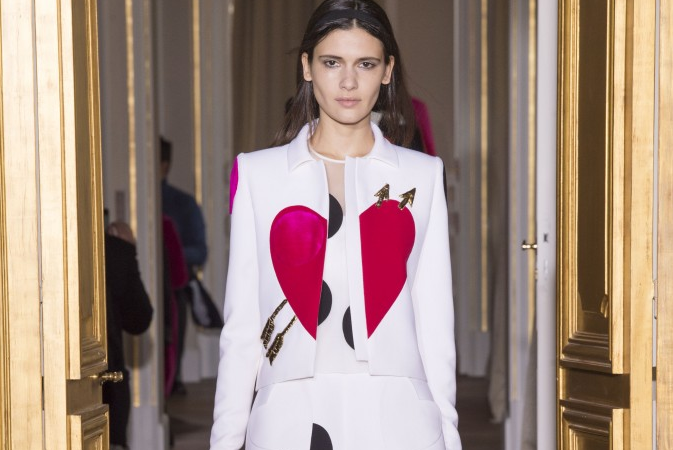 Paris Haute Couture Week – Schiaparelli Spring-Summer 2017

Haute Couture
Spring/Summer 2017
« Chinoiserie at heart »
« The more the body is respected, the better the dress acquires vitality»  Elsa Schiaparelli, Shocking Life, 1954
Opulence and simplicity define Schiaparelli. The collection explores this defining essence through the strength of each of its founding elements, with lightness and glee. A new purity appears this season. The focus is on endlessly dividing, getting to the core and revealing sensuality and subdued exuberance.
Japanese kimonos and Chinese hanfus, worn at home by Elsa Schiaparelli, echo her creations: splendour with a rigorous cut. Their fabrics, colours, prints and textures make one almost forget their perfect geometrical architecture. Pop graphic shapes and a strong femininity borrow from Guy Bourdin and Jean Cocteau what the bold Far-East aesthetic seem to hide. The small red lips of a geisha evoke a vibrant shocking pink heart. Playing with such expressive visuals allows the House symbols such as pierced hearts, padlocks and suns to be centre-stage.
Ultra-saturated colours and delicate hues alternate in a subtle way. They show a fresh breath, full of energy. A lobster dress displays the painstaking craftsmanship of patched inserts. Scales of golden jacquard set with beads form an evening mini-cape morphing a shell with samurai armour. A scarlet sun warms up the iridescent plissé of a dark night lamé. A graceful organza is moulded with petals to bloom into an ethereal dress. Hand-painted silk drape around the body like a sensuous Japanese etching come to life.
photocredits: Schiaparelli
Recommended