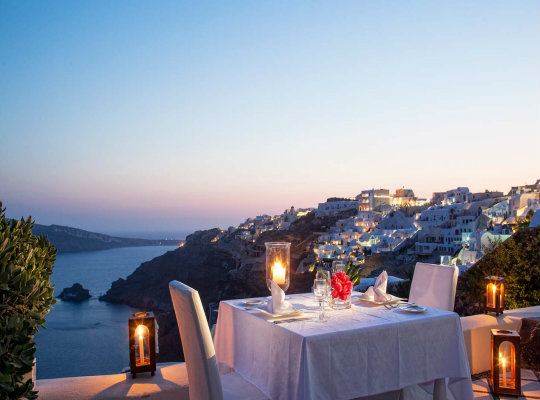 Romantic Dinner in Oia, Santorini @Petra Restaurant
Best Honeymoon Destination 2016
If you are looking for a breathtaking location for dinner and drinks, the Petra Restaurant in Oia, Santorini, is the place. Oia is a scenic village on the north west edge of the Santorini island within the Cyclades, a picturesque town beloved by artists and the tourists.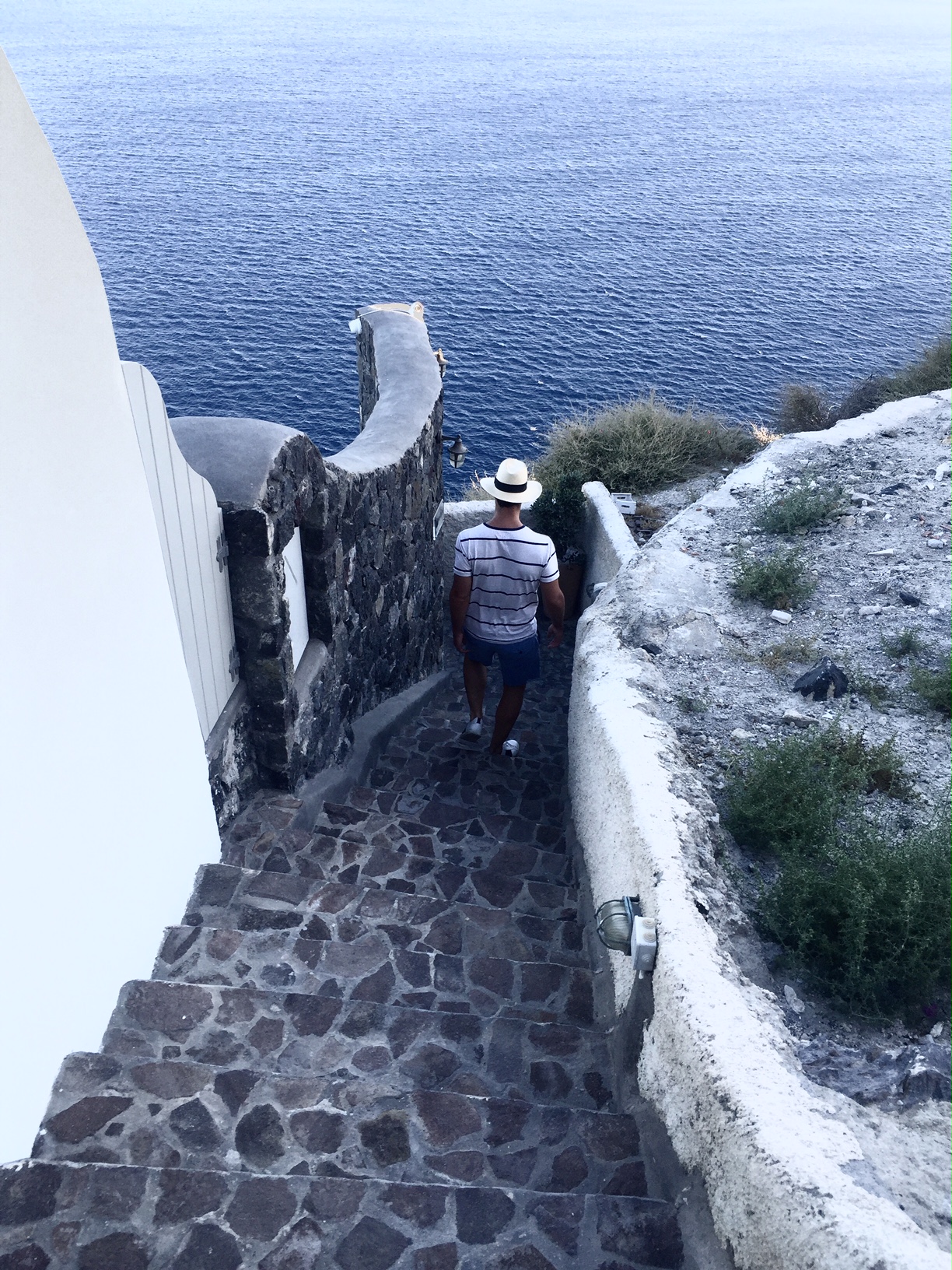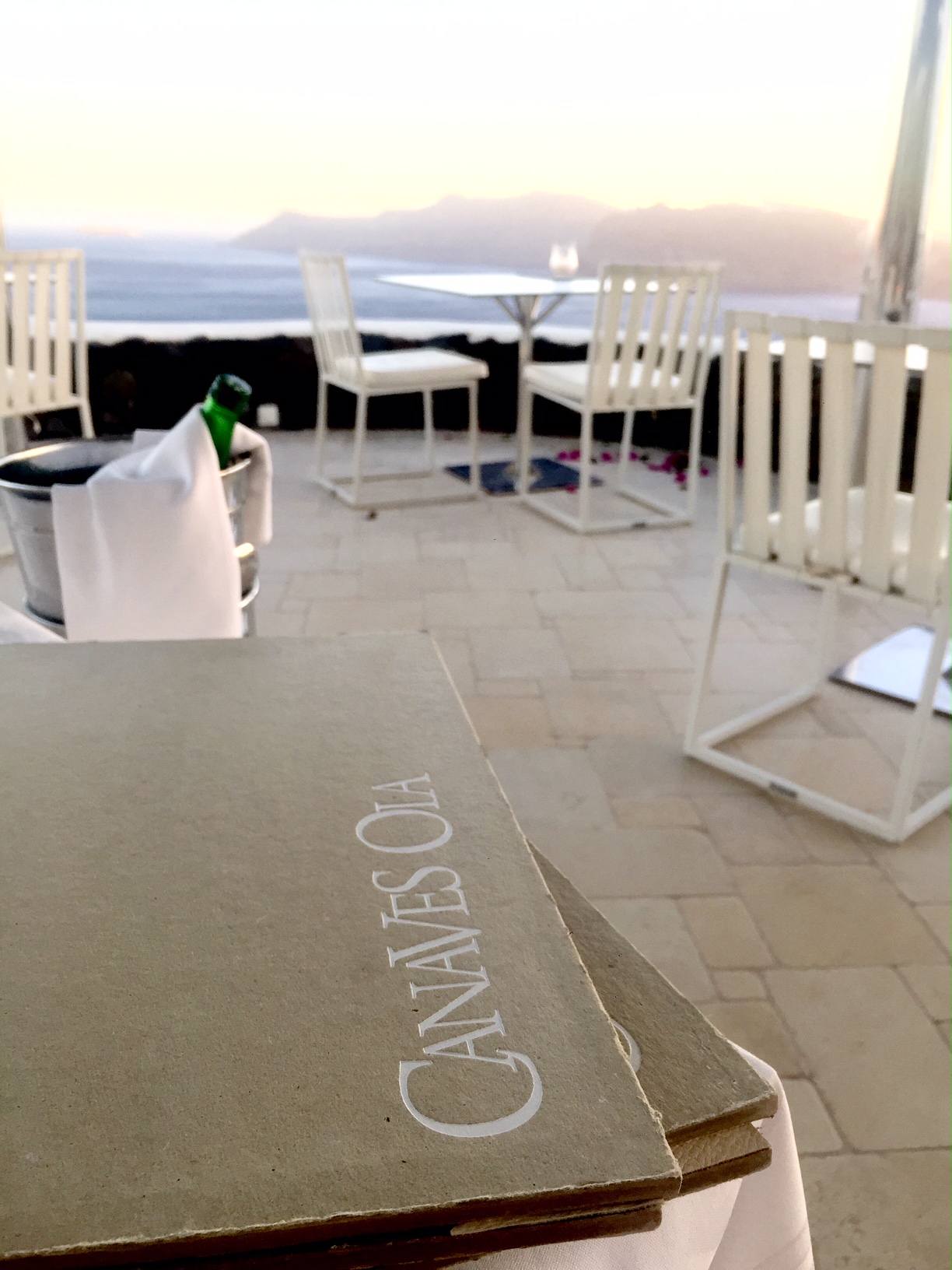 The Restaurant is part of the Canaves Oia Luxury Properties (Small Luxury Hotels of the World ™), situated on the northwest tip of Santorini, which welcomes guests to a world of exquisite charm and indulgence. Canaves Oia Santorini refined elegance and impeccable services within the majestic aura of the Aegean and weddings made at Canaves Oia are worldwide known as a fairy tale dream came true for many couples throughout the world.
The idyllic surroundings of the town have a complex of white washed blue domed churches and charming, traditional Cycladic houses and cave houses that are carved into the rock face on top of the cliff. It is set in a location which provides excellent views of the sunset over the Caldera.
The Petra is the perfect spot for a sophisticated culinary experience with a choice of fresh fish or lobster in a romantic, candlelit ambience under the veil of stars…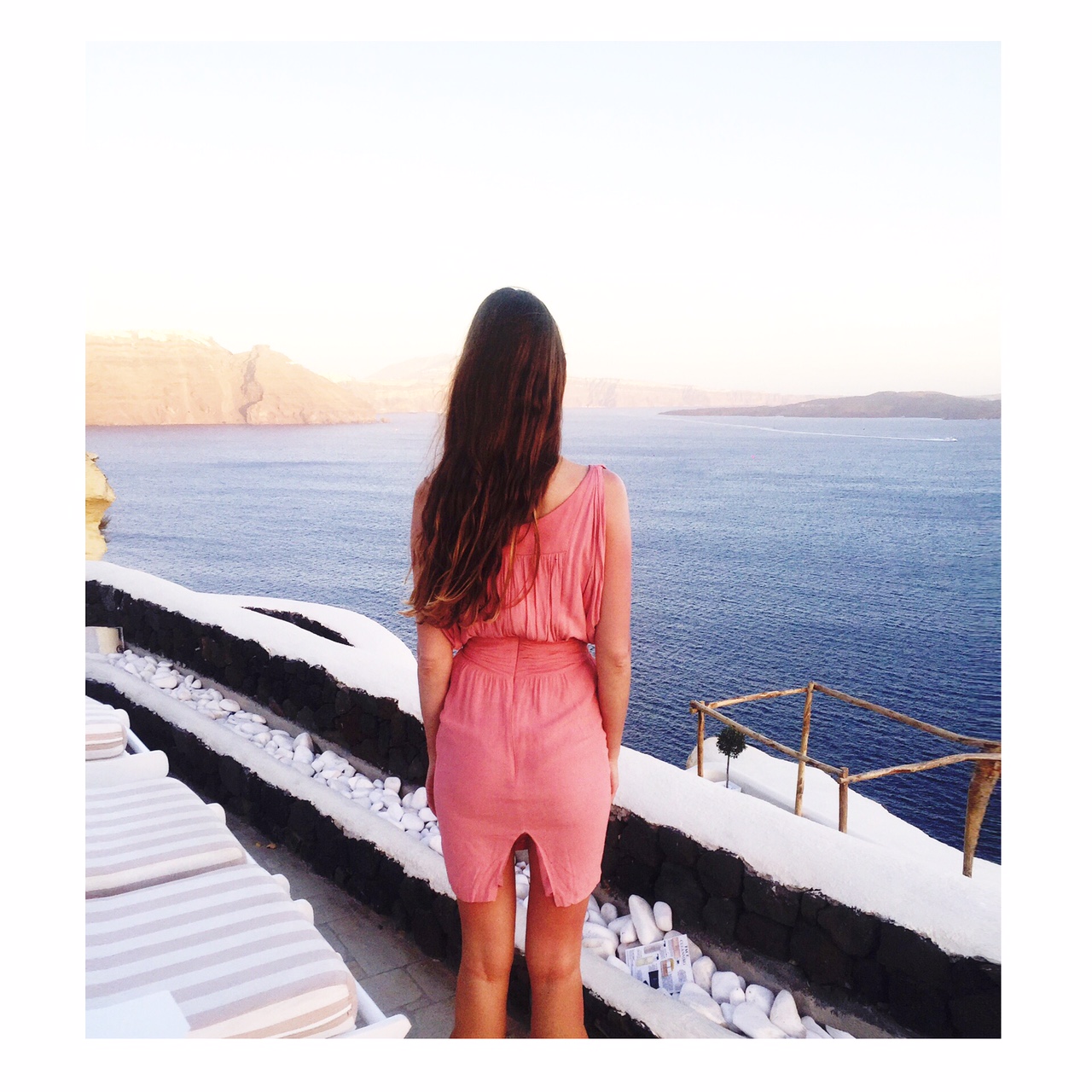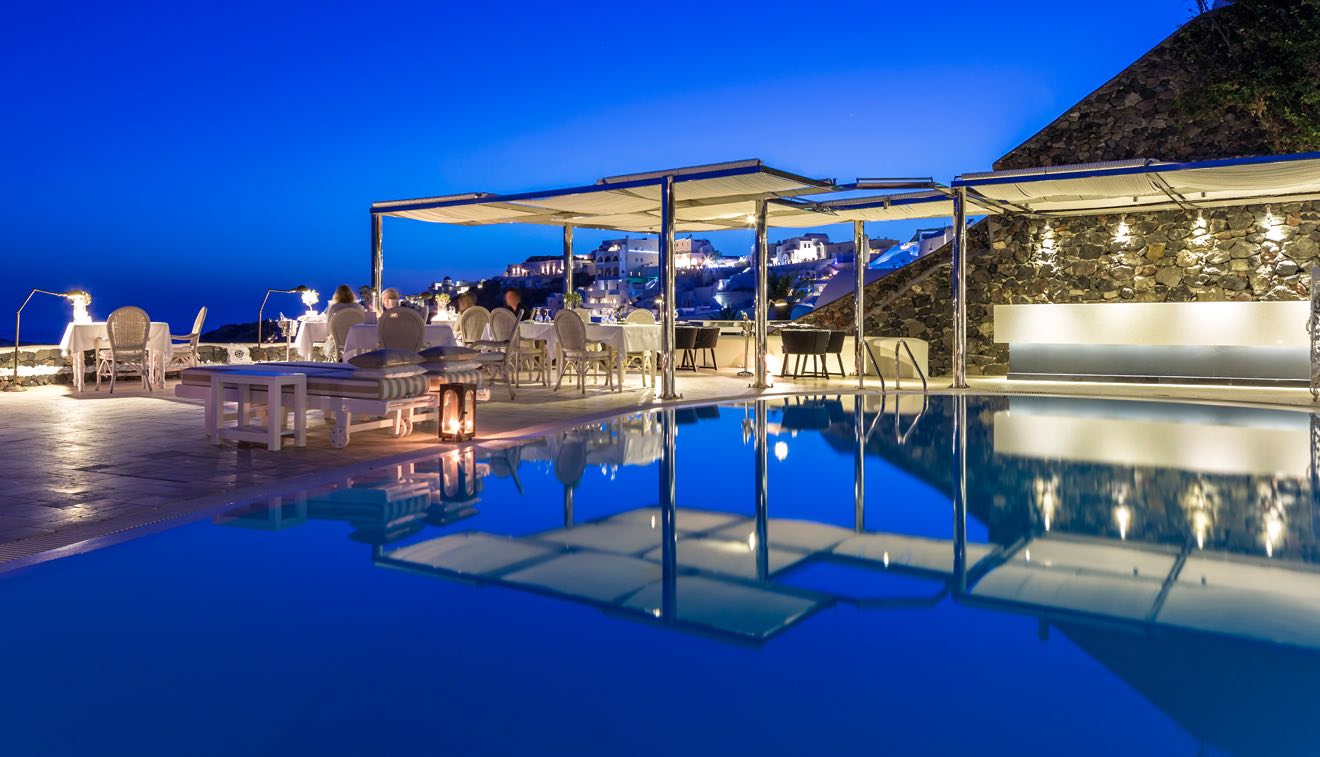 We arrived in the evening just before the sunset and had some cocktails by the pool first, before the friendly staff guided us to our romantic table in a cave with a stunning view over the Caldera. Make sure you try one of their signature cocktails, they are very good!
When we went over to our table, we could not have asked for more intimacy and romantic atmosphere, it was a movie scenery. Before we ordered, they offered us a very tasty bread dip made out of local sun dried tomatoes and Greek olives, both were gone in a second.
The menu offers Greek and Mediterranean dishes, such as Santorinian Fava, topped with caper blossom, onion, tomato confit and olive oil, or grilled Shrimps in a creamy frumenty sauce and sweet caper dressing, that we had chosen as our appetizers.
As main course we went for some fish, the Pesto crusted Salmon, cooked in olive oil confit and served with steamed vegetables and red pepper sauce, & the grilled Grouper on a bed of saffron risotto, lemon foam and steamed vegetables.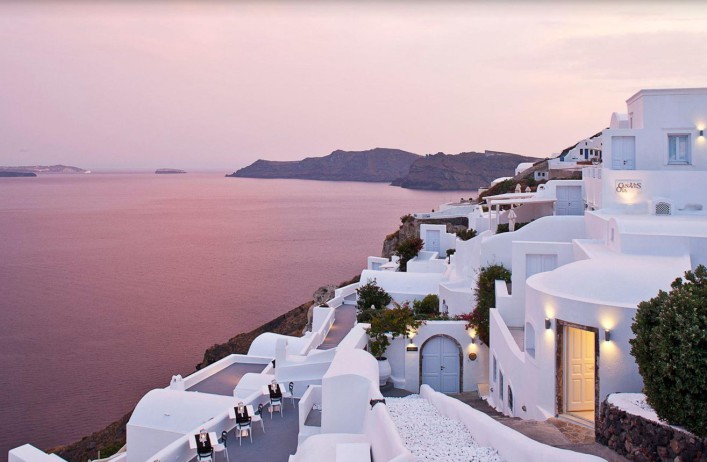 The fish as well as the vegetables had a very authentic and fresh flavour, especially the fish was so soft and juicy that it was almost melting in the mouth and the fact that the vegetables were steamed gave them that tender-crisp.
While tasting our gourmet food, we watched the sun go down and slowly it became night…
While the candlelight was shimmering softly in our private cave, we took our last treat:
Profiterole with Vanilla ice cream and chocolate sauce on top.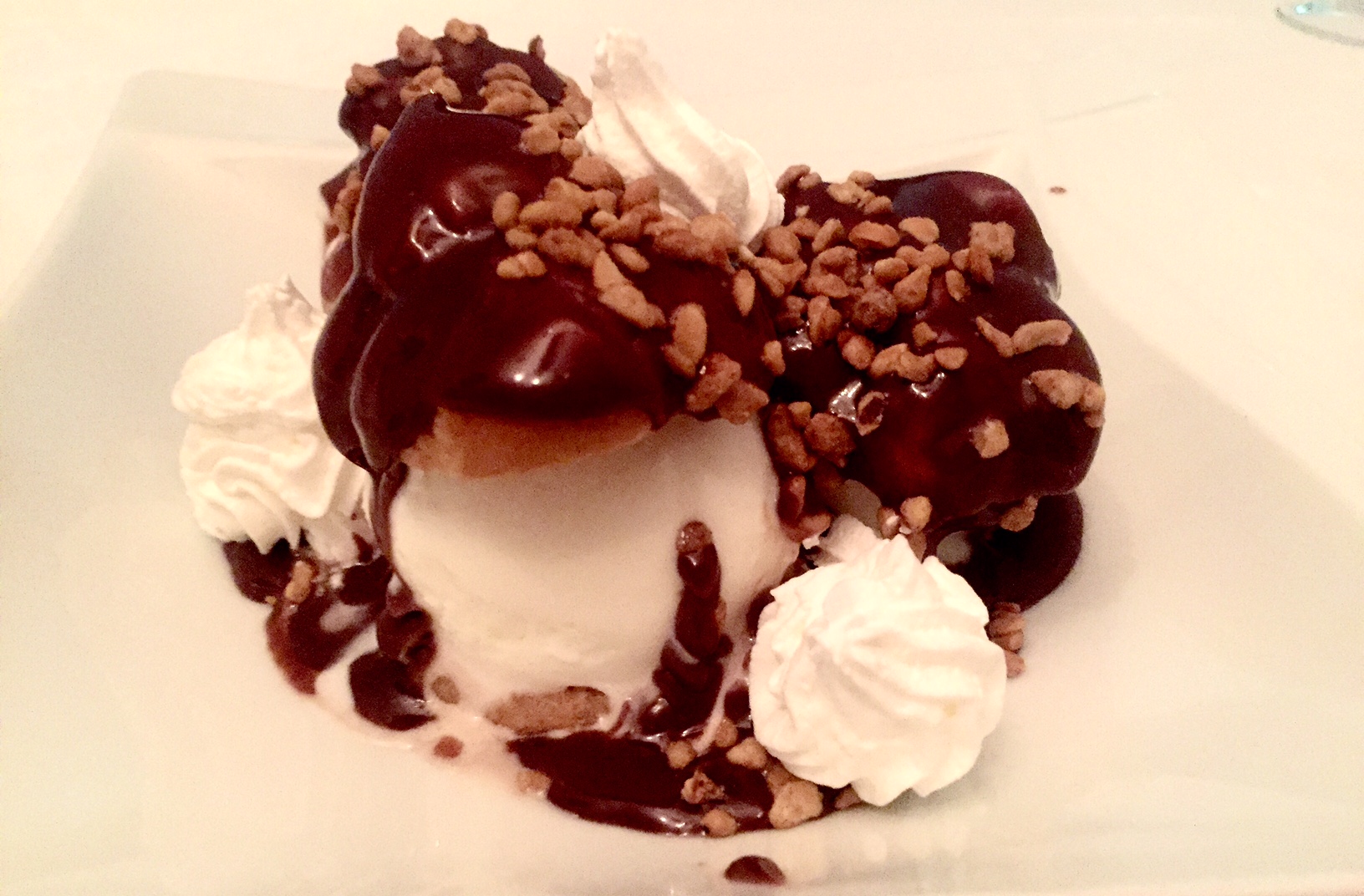 _____________
Happy End
 * * * * *
We highly recommend this place for a unique & romantic dinner for couples.
If you want to book a table, click here.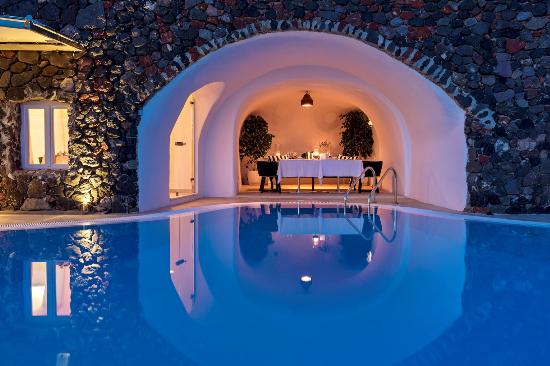 *
Contact Informations
Tel: +30 22860 71453
info@canaves.com
Recommended