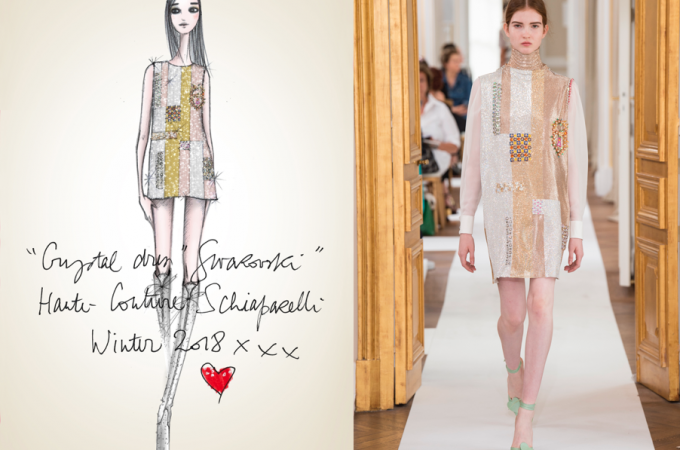 Schiaparelli Haute Couture – La robe Crystal²
Schiaparelli Haute Couture
A collaboration between Schiaparelli & Swarovski
The Crystal² dress
Schiaparelli introduces the Crystal² dress as part of its Fall/Winter 2017-18 Haute Couture collection.
Starting in the mid-1930s, Elsa Schiaparelli was one of the first designers to ever use Swarovski crystals in her Haute Couture embroideries. Today, Swarovski and Schiaparelli collaborate on a special project combining Haute Couture savoir-faire and a creative vision where crystal becomes as functional as it is decorative.
The Crystal² dress shows crystals on crystals. For the very first time since the creation of Swarovski's Crystal Fine Mesh, it is embellished with a 3D crystal embroidery.
Inspired by Sophie Taeuber-Arp's geometrical works, Schiaparelli design director Bertrand Guyon created a dress cut in a hand-made patchwork of Swarovski Crystal Fine Mesh embroidered with clusters of multi-coloured crystals. The graphic composition plays rectangle of pavé crystals in white, yellow and pink shades of gold to reveal an iridescent dress of over 4.7 million facets reflecting light.
Recommended