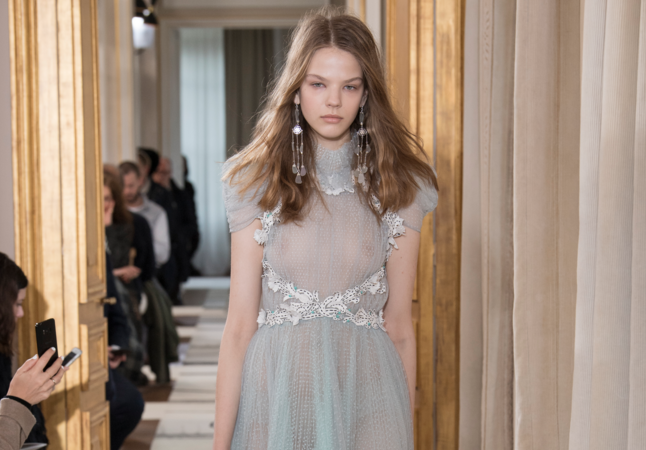 Schiaparelli Haute Couture Spring/Summer 2018
"Pagan goddess, a summer night, dream mythology"
"Sweltering Africa and languorous Asia,
A whole far-away world, absent, almost defunct,
Dwells in your depths, aromatic forest!
While other spirits glide on the wings of music,
Mine, O my love! floats upon your perfume."
Charles Baudelaire
A pagan myth. Nature. Nubian tales and Moorish legends. Far away kingdoms where women exhale regal grace and elegance. Merging this imaginary world with hints of the Elizabethan era and fragments of Mediterranean civilisations' munificence, the season explores raw materials transcended by extremely refined savoir-faire. The blending of African and European cultures reveals a collection of contemporary deities or modern apparitions of a cosmopolitan femininity.
Praising the work of the hand as it transforms ordinary synthetic or natural materials into ethereal sensuality. The prowess of the atelier infuses poetry into linen, raffia, nylon and plastic shopping bags when woven with silk, embroidered with Swarovski mother-of-pearl beads or braided with feathers. Fresh yet strong silhouettes play with infinite textures. This eclecticism creates a renewed opulence epitomizing the quintessence of the house's style, with subtlety and passion.
Lightness and transparency translate the soul of Elsa Schiaparelli's pagan collection and the allegory of the Tree of Life. Graceful butterfly wings flap in fil coupé jacquards, 3D prints, hand-painted motifs, embroidered guipure or tufted chenille. Beetles play with cobweb-like lace while insects run through delicate fabrics. An animist spirit seems to bring jackets in python marquetry embellished with padlocks to life.
Legendary jinns' smokeless fire persona lights up silk chiffon with incandescent colours. The blazing heart of a shocking pink gown alternates with subdued or bold hues such as sunset earth, savannah ochre, desert rose or crisp, summer white.
Recommended