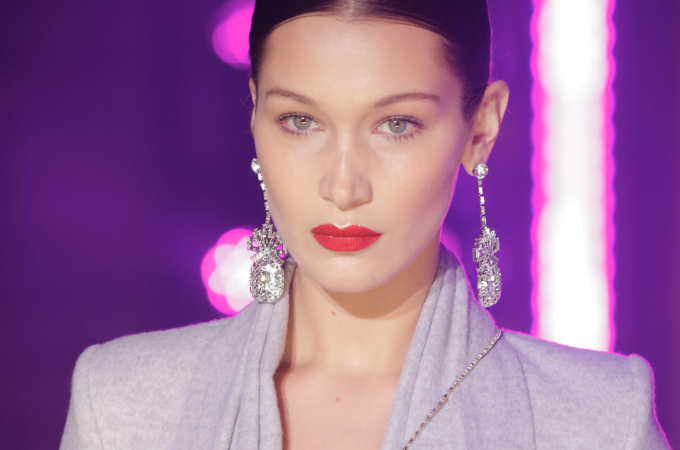 SWAROVSKI AT NY FASHION WEEK – Jason Wu, Alexander Wang, Brandon Maxwell and Snow Xue Gao
BRANDON MAXWELL, ALEXANDER WANG, JASON WU, SNOW XUE GAO USING SWAROVSKI CRYSTALS FOR THEIR FALL WINTER 2018 COLLECTIONS
New York, February 11, 2018 – Brandon Maxwell presented his Fall/Winter 2018 collection at Jazz at Lincoln Center this evening during New York Fashion Week, utilizing over 146,0000 Swarovski crystals within jewelry, bags and broaches.
Maxwell focused his jewelry on two main motifs – pineapples and knots.. He featured Swarovski crystal in pineapple ea rrings, broaches, and mini bags, as well as in knot earrings and bangles. This is the first season Maxwell's jewelry was designed entirely in-house.
Maxwell commented: "Because the design and concepts of the garments are purposely quite simple,, they need the accessories to give them context. Partnering with Swarovski allows us to explore new ideas and elements that layer the look and better inform who the woman is and where she is going. We used pineapple a lot this season which is a sign of welcome and peace, and we felt that encrusting the pineapples with crystals h elps bring this symbol to life."
A limited number of the Swarovski crystal jewelry pieces are now available for purchase at
www.brandonmaxwellstudio.com
credits runway images :Dan Lecca / backstage: Jason Lloyd Evans
__________
New York, February 10, 2018 – Alexander Wang presented his Fall/Winter 2018 collection at 4 Times Square today, incorporat ing thousands of Swarovski crystals in to his d esigns for shoes, handbags, sunglasses and tights.
Wang used Swarovski Crystal Fine Mesh to embellish a variety of accessories that appeared on the runway during his last sh ow at New York Fashion Week.
xcredits runway images :Dan Lecca / backstage: Jason Lloyd Evans
_____________
New York, February 9, 2018 – Jason Wu presented his Fall/Winter 2018 collection at Spring Studios incorporat ing over 25 ,0000 Swarovski crystals throughout his collection, and embellishing a variety of silhouettes including coats, tops, dresses and skirts.
For Fall/Winter 2018, Wu drew inspiration from various design objects and the works of Ett ore Sottsass and Michele de Lucchi , exploring a rhythm of functionality and innovative design found in objects like the typewriter Sottsass designed for Olivetti in the late 1960s.
Wu's creations include d clusters of mixed crystals assembled like hanging fruit on various garments made with hand – pleated crepe de chine and satin . Crystals were also hidden within the irregular folds of the pleats on satin dresses and double – face d wool coats with a satin finish to create an even more luxurious texture.
Wu also showcased pieces from his Spring/Summer 2018 'Mosaic' jewelry collection with Atelier Swarovski. Wu has also designed the 'Prisma' Collection, a versatile everyday range inspired by 'Mosaic', which will be more widely available in stores.
Select pieces are available for purchase at Swarovski boutiques and at atelierswarovski.com.
credits runway images :Dan Lecca
______________
VOGUE TALENTS WINNER SNOW XUE GAO EMBELLI SHES FALL//WWINTER 2018 COLLECTION WITH THOUSANDS OF SW AROVSKI CRYSTALS AT NEW YORK FASHION WEEK
New York, February 09, 2018 – Designer Snow Xue Gao presented four crystallized looks as part of her Fall/Winter show at New York Fashion Week.
Emerging talent Gao is becoming known for blending masculine and feminine influences in her womenswear collections. Her Fall/Winter collecti on is an interplay between twisted tailoring and traditional Chinese eveningwear, with colorful floral and plaid fabrics.
Gao used Crystal Fine Mesh, crystal beads and pendants to embellish four crystallized looks, including a black long – sleeved minidress, a flowing pink maxi – dress, a checked pearl blazer and a striped trouser suit..
In September 2017 Snow Xue Gao was announced as winner of the Vogue Talents competition, supported by Swarovski, in Milan. The designer was awarded the top prize for her crystalized look, which responded to the competition's 'Sparkling Water' theme, exploring the relationship between women and water.
image credits: Gong Cheng
Recommended