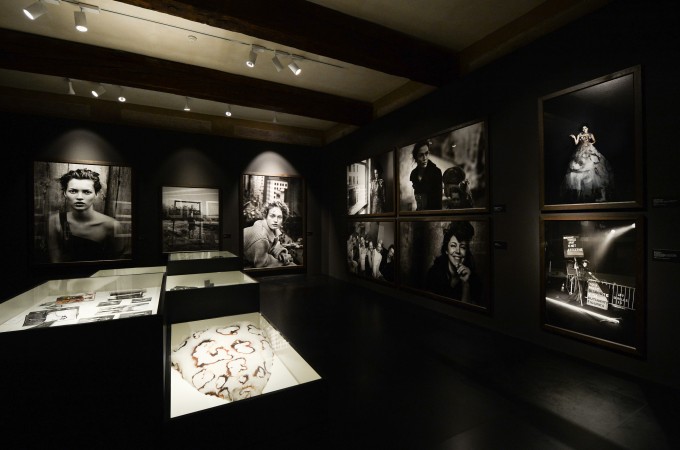 SWAROVSKI CONTINUES ITS PARTNERSHIP WITH PETER LINDBERGH FOR HIS INTERNATIONAL EXHIBITION: A DIFFERENT VISION ON FASHION PHOTOGRAPHY
THIRD VENUE: LA VENARIA REALE, TURIN, ITALY 
Swarovski is very proud to support the international touring exhibition Peter Lindbergh: A Different Vision on Fashion Photography as premium partner. The exhibition produced by the Kunsthal Rotterdam and premiered last winter, was exhibited at the Kunsthalle Munich for its second stop over the summer and now arrives at La Venaria Reale. Already seen by close to 325.000 visitors, the exhibition can be visited from October 7, 2017 through February 4, 2018 in Turin. The show is curated by Thierry-Maxime Loriot and presents a major survey of the work of this unique and highly influential photographer.
Celebrated for his iconic, often cinematic images and widely regarded as one of the most influential fashion photographers of our time, Peter Lindbergh has enjoyed a multi-faceted, forty-year career that continues to this day. He is best known for the introduction of a new realism in photography, which plays with the notion of the authentic, strong and self-willed woman, from femme fatale to heroine, redefining the standards of beauty. This extraordinary, singular vision completely changed the course of fashion photography.
A Different Vision on Fashion Photography is an ode to Peter Lindbergh's distinctive oeuvre from 1978 to the present day. The show has a thematic approach, marking his creative development and focusing on the passions he developed over the years. Eight different sections have been devised: Supermodels, Couturiers, Zeitgeist, Dance, The Unknown, Darkroom, Silver Screen and Icons.
A Sparkling Exhibition
Peter Lindbergh fine art prints featuring Swarovski crystals will be on display within the exhibition as well as a unique platform encrusted with Swarovski Crystals Rocks. Also presented is a striking ball gown from Giles worn by Helena Bonham Carter, featuring cleverly burnt-edged holes embroidered with Swarovski crystals; a stunningly intricate haute couture cage corset by Jean Paul Gaultier embellished with Swarovski crystals in Jet, modeled by Milla Jovovich for a Vogue Italia series made in collaboration with American artist Jenny Holzer. Jovovich is also shown as wearing a pantyhose created by Viktor & Rolf encrusted with statement crystals. Versace makes an appearance in an intriguing photograph of model Shirley Mallmann androgynously attired in tuxedo jacket and pants, together with a gamine Natalia Semanova wearing a mini slip-dress shimmering with Swarovski crystals.
Curator Thierry-Maxime Loriot explains his concept: "This exhibition presents the unique aesthetics of one of the most imaginative and visionary photographer of our times—not only for the happy few of the fashion industry and the art world, but as celebration of creativity and the avant-garde, with a relevant and necessary message for all about individuality, beauty, ageism and humanity." Describing Swarovski's role in the exhibition, he says: "Lindbergh's democratic vision is expressed in partnership with Swarovski, who have generously supported this project and share the same humanist values as Lindbergh, and in many of Lindbergh's timeless photographs of designs that demonstrate Swarovski's mastery on couture pieces created by leading couturiers."
"A wonderful exhibition in a special year: the Tenth Anniversary to the opening. The Reggia di Venaria is proud to host one of the greatest fashion photographers in its exhibition's rooms. La Venaria Reale once again declares its attention to photography and fashion, with this awesome exhibition dedicated to Peter Lindbergh," says Mario Turetta, Director of La Venaria Reale.
Peter Lindbergh: A Different Vision on Fashion Photography can be seen at La Venaria Reale, Turin from October 7, 2017 through February 4, 2018.
The Exhibition 'Peter Lindbergh. A Different Vision on Fashion Photography' was developed by Kunsthal Rotterdam in collaboration with curator Thierry-Maxime Loriot and Peter Lindbergh.
Recommended