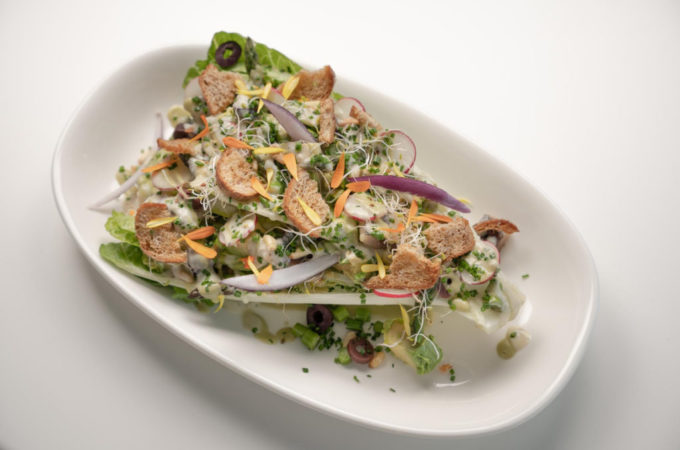 The Romaine Lettuce Salad – SHA Wellness Clinic Edition
Learn how to make an extraordinary salad with a healthy and easy recipe
created by the chef of the SHA Wellness Clinic.
FOR TWO PEOPLE:
INGREDIENTS
1 medium romaine lettuce
1 avocado
15 Kalamata olives
2 green asparagus
6 baby carrots of different colours
2 radishes
30 g basil
30 g chives
15 g chervil
Sea salt
40 g shiro miso
Organic grainy mustard
1 clove of garlic
15 g pine nuts
200 ml organic soy yoghurt
15 g rice syrup
10 g agave syrup
juice of 4 limes or 1 lemon
10 g herbes de Provence
10 g garlic powder
10 g onion powder
1 shallot
50 ml extra virgin olive oil
50 ml organic grape seed oil
Basil sprouts or other
20 g wholemeal bread
2 smoked sardine fillets
*Gluten – Sesame – Fish – Nuts
PREPARATION
Wash and remove the unsightly leaves from the romaine lettuce. Cut them lengthwise and set them aside.
Prepare the Ranch sauce: blend the soya yoghurt with the Provençal herbs and the miso shiro, the garlic powder, the onion powder and a spoonful of lemon juice for 5 minutes in the Thermomix or equivalent. Strain through a fine sieve and set aside. Adjust the salt to taste.
Blend the French shallot, garlic clove, herbs, mustard, a little lemon juice, the rest of the agave syrup and salt for 5 minutes to a smooth cream in the Thermomix or equivalent as well.
Whip like a mayonnaise on speed 4 with the olive oil and grape seed oil. Strain through a fine sieve and set aside.
Prepare the condiments: cut the avocado into medium-sized squares and set aside with the olive oil, salt and lemon juice in a chilled bowl. Chop the olives and set aside. Chop and sauté asparagus and carrots with salt and virgin sesame oil and set aside. Slice the radishes and place in ice water for 5 minutes. Toast the pine nuts and medium-sized diced bread at 165ºC for 7 minutes in the oven and set aside. Chop the remaining chives.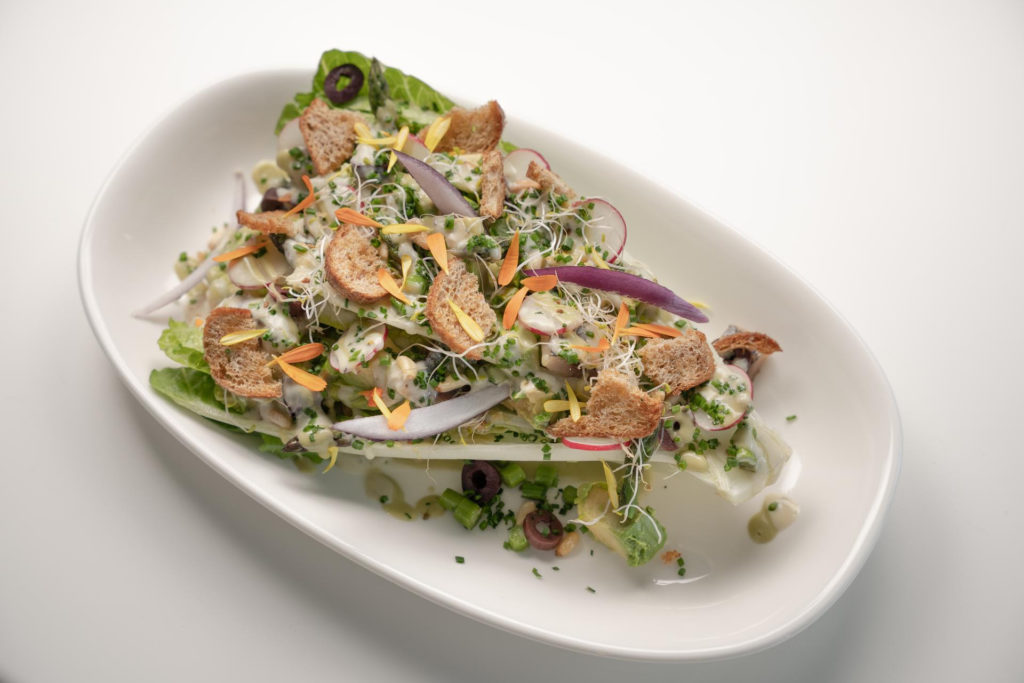 DRESSING
In a shallow dish, start with the romaine and place the ranch sauce between each leaf, then repeat with the herb sauce. Arrange the ingredients as desired, trying to create volume. Top with vinaigrette, chives and basil sprouts.
BOOK YOUR HEALTHY STAY WITH SHA WELLNESS CLINIC
Recommended