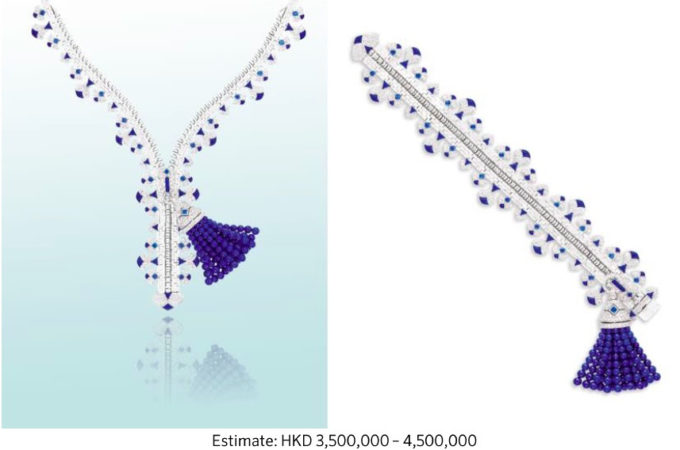 Van Cleef & Arpels Rare and Unique "Zip" Necklace/bracelet offered at Phillips' Hong Kong Jewels Sale
A Rare and Unique Diamond, Sapphire and Lapis Lazuli 'Zip' Necklace/Bracelet, by Van Cleef & Arpels to be offered at
Phillips' Hong Kong Fall Sale of Jewels and Jadeite
Exhibition: 22-24 November | Auction: 25 November
JW Marriott Hong Kong
HONG KONG – 8 October 2019 – This fall, Phillips auction house is proud to offer a rare diamond, sapphire and lapis lazuli 'Zip' necklace, one of the most innovative and sought after jewels ever created by Van Cleef & Arpels, at the sale of Jewels and Jadeite on 25 November in Hong Kong.
Van Cleef & Arpels' legendary 'Zip' necklace is the most iconic and truly original jewel created with an intriguing and storied history. Legend has it that in 1938 the Duchess of Windsor suggested to Renée Puissant – the Maison's artistic director and daughter of Alfred Van Cleef – to create a jewellery piece based on the zip fastener. The idea to translate a zipper into an elegant piece of jewellery was proven to be technically challenging. Even with the exceptional prowess of Van Cleef & Arpels, who also famously invented the emblematic mystery-setTM, it took their craftsmen more than a decade to perfect the 'zip' mechanism. The first-ever 'Zip' necklace made its debut in the 1950s, with a design that allows it to be zipped open as a necklace and zipped together into a bracelet.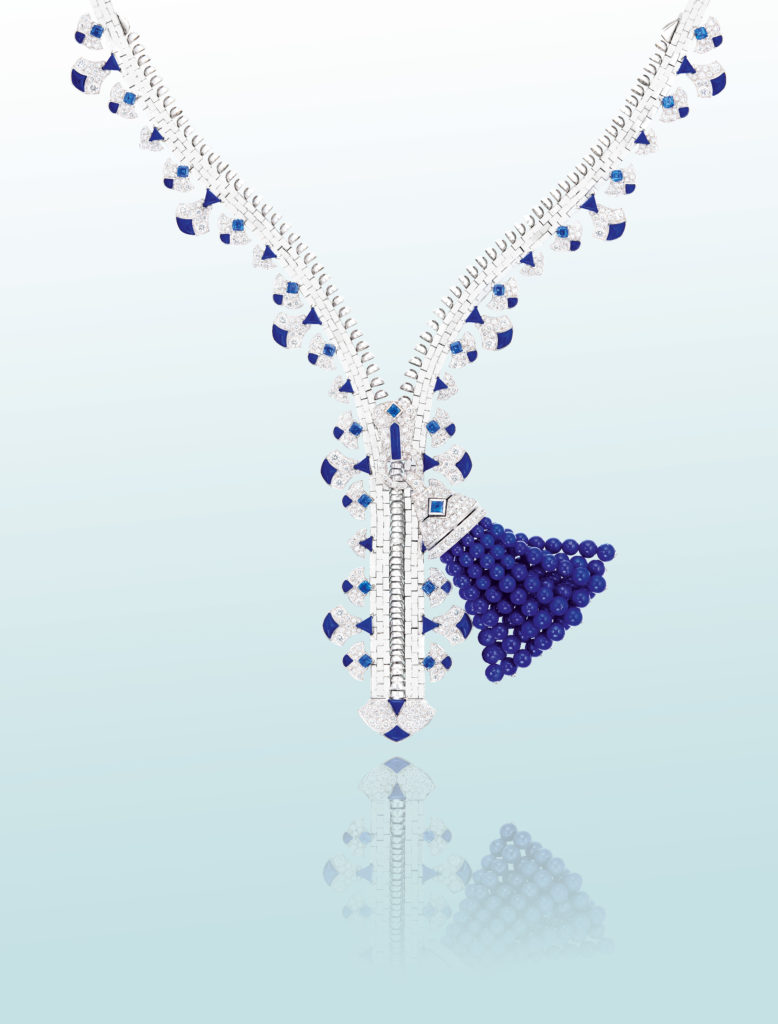 As the most brilliant example of craftsmanship and design created by the Maison, very few examples were made since the 1950s, which could be explained by the amount of time required to complete one necklace – anywhere from 400 to 1200 hours with skilled craftsmen. The 'zip' is composed of a series of tiny gold or platinum cups held by hooks, which mesh with each other when brought together by a sliding closure. Aside from the technical mastery, the versatility of a zip necklace was also the reason for its iconic status in the high jewellery world. In recent years, Van Cleef & Arpels revisited the design and created a limited number of 'zip' necklaces, experimenting with various lengths, different closure configuration and daring colour combinations of gemstones.
This 'Zip' necklace on offer at Phillips' Hong Kong Fall Sale, studded with an elegant palette of blue gemstones and diamonds, belongs to the very few examples that appear in international auctions. It is an exemplary jewel honouring the original idea where it is convertible into a bracelet with an attractive lapis lazuli tassel charm. The white gold set with a refined tone of ultramarine gemstones is a perfect mix of sophistication and glamorous modernity. At the heart of this masterpiece is the originality in the Maison's creation and highly specialized and exclusive artistry. The 'Zip' necklace is so limited in production that it is rarely seen on red carpet events. The most recent appearance was in 2015, when Australian actress Margot Robbie was graced by a vintage example set with sapphires that was of a similar design to the one being offered in this auction.
Recommended