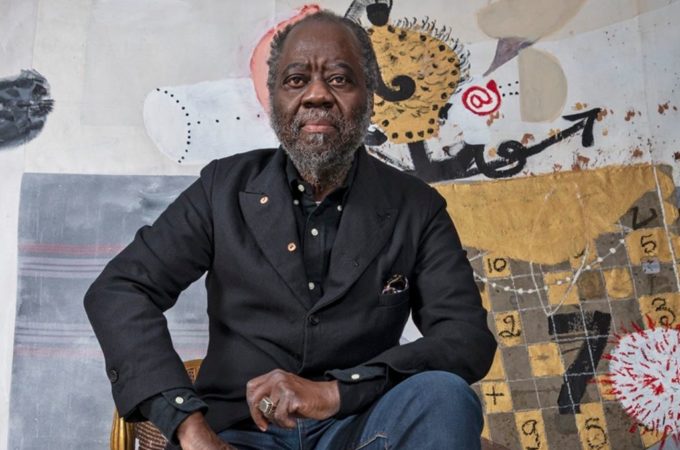 Almine Rech – Ouattara Watts exhibition – 9 June – 29 July 2023 – Paris, Turenne

Ouattara Watts
9 June – 29 July 2023
Paris, Turenne
Like the 'intercessors' who appear in the titles of some of his paintings, Ouattara Watts' work is placed at the confluence of civilisations and aims to reconcile worlds. His work links geographies and forms of ancestral aesthetic heritage, establishing a complex dialogue between cultural and iconographic systems. Watts' visual languages are strikingly beautiful and expansive, but also retain a complex structure of references, signs and correlations. It is almost fifty years since the artist moved from Abidjan to Paris (in 1977) to study painting at the École nationale supérieure des beaux-arts. Ten years later, he moved to New York, where he has made his home. His first exhibition in the United States was at the Berkeley Art Museum in 1994, curated by Lawrence R. Rinder.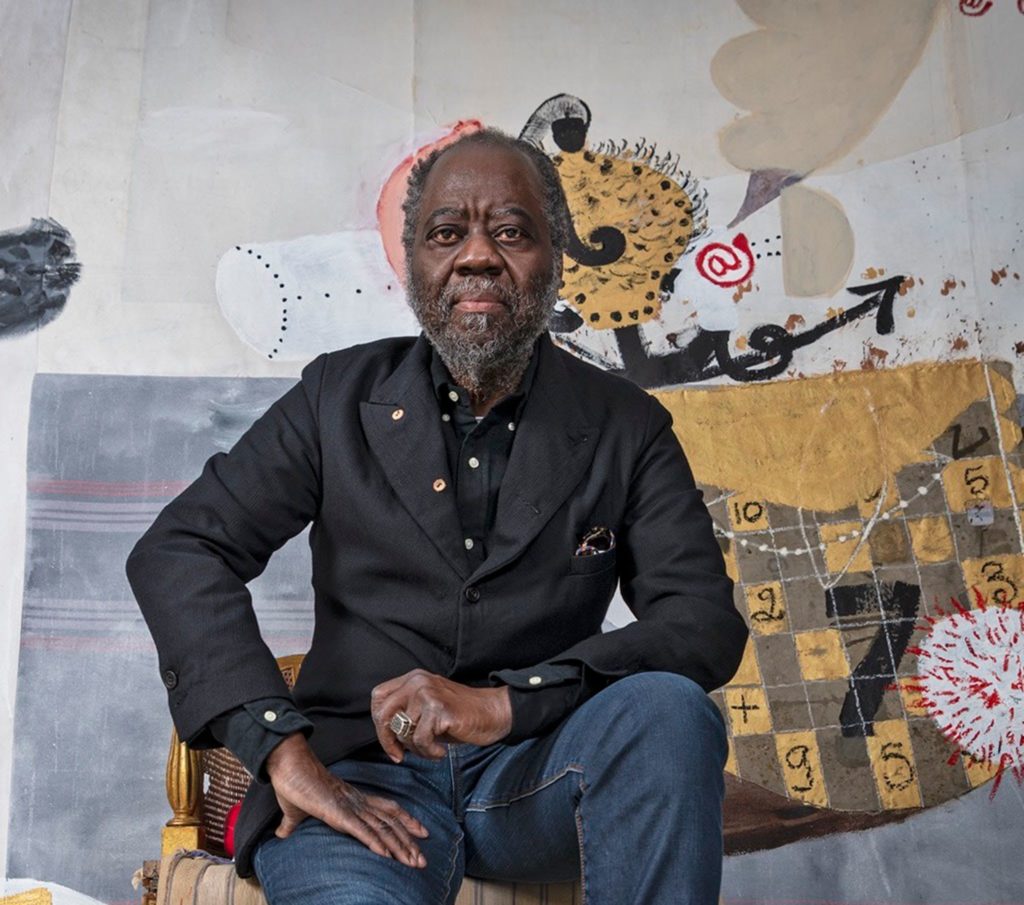 Portrait of Ouattara Watts
Rinder, who subsequently selected works by Watts for the Whitney Biennial (2002). In the same year, Okwui Enwezor exhibited three of Watts' major paintings at Documenta XI (2002), just after including him in his landmark exhibition "The Short Century:
Independence and Liberation Movements in Africa, 1945-1994′ (2001-2002). Since then, Watts has pursued a remarkable body of work, virtuosically composing and manipulating richly textured and coloured painted surfaces on an often monumental scale, without abandoning work on paper in watercolour and gouache, and incorporating found objects and collage. If we consider Watts' work from the perspective of European and North American art history, it can be placed in dialogue with abstract expressionism (by Mark Rothko and Jackson Pollock, in particular) and neo-expressionist figuration. However, he goes radically beyond these categories, integrating these points of reference into vast polyphonic aesthetic architectures.
Through the iconography he distils, Watts highlights interconnected histories and heritages, superimposing systems of signs and establishing correlations. With an early interest in the history of ancient Egypt and Greece, as well as the ancient knowledge systems of West Africa in the Dogon, Bambara, Senufo, Baule, Yoruba and Dan cultures, among others, he explores common elements at the crossroads of societies and knowledge, while reactivating and making visible erased cultural constellations. When he met Watts in Paris in 1988, Jean-Michel Basquiat was attracted in particular by his knowledge of the spiritual traditions of West Africa. Basquiat had visited the Korhogo district in the north of the Ivory Coast, a region from which Watts' family originated and where Watts had often visited as a child and been initiated into Senufo spiritual practices. Basquiat was keenly interested in these sacred traditions and their links with Haitian voodoo. A trip to the Ivory Coast was planned with Watts in 1989, but did not take place due to Basquiat's death.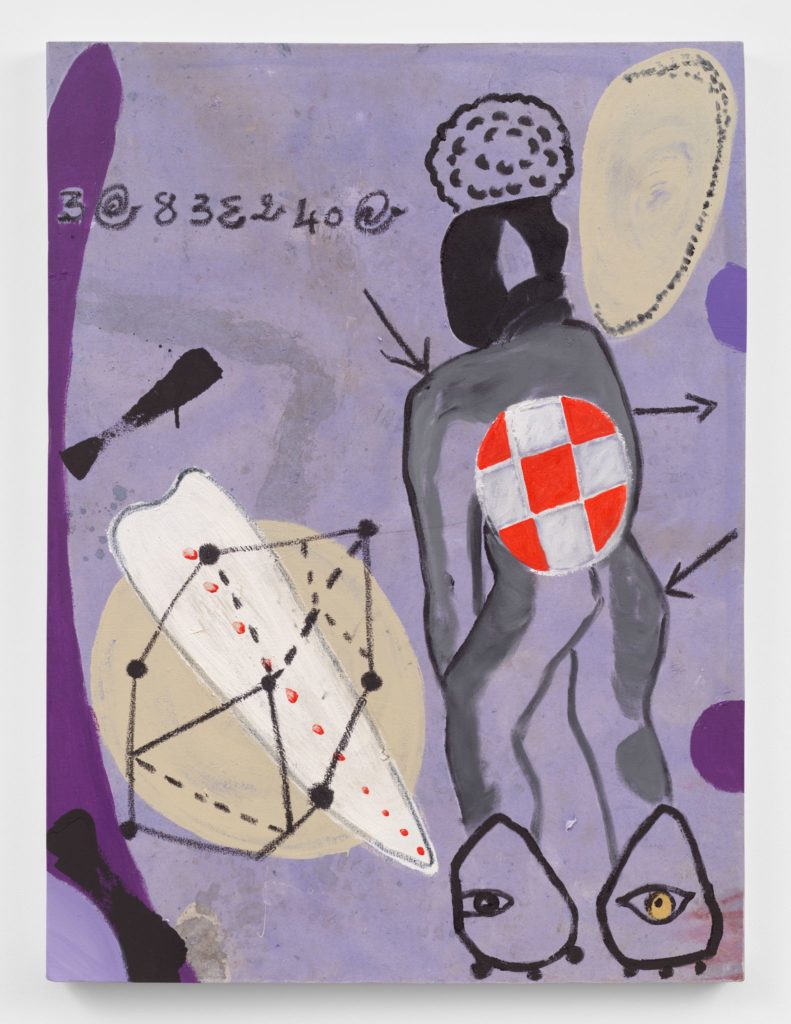 Ouattara Watts The Traveler, 2018
During his years in France, Watts studied the influence of West African sculptural traditions on modern European artists, notably Brancusi, Picasso, Modigliani and the Surrealists. His work regularly features images related to this research, to which mathematical symbols and equations have been added since the 2000s – references to science and technology, as well as to Sufism and other spiritual and esoteric forms, including elements of Amharic and Aramaic script, Egyptian hieroglyphs, Bambara and Arabic. Watts points out that mathematical elements make it possible to tackle many subjects and to include coded information in his works, with numbers sometimes representing a sentence or a word (1). In the painting Farafina (2007), for example, the numbers inscribed on the canvas refer to the numbers assigned to the African slaves sent to the Americas and to the Jews deported to Auschwitz. There are also numerous allusions to great musicians such as Fela Kuti, Salif Keita and Aretha Franklin, John Coltrane and Sun Ra, to name but a few.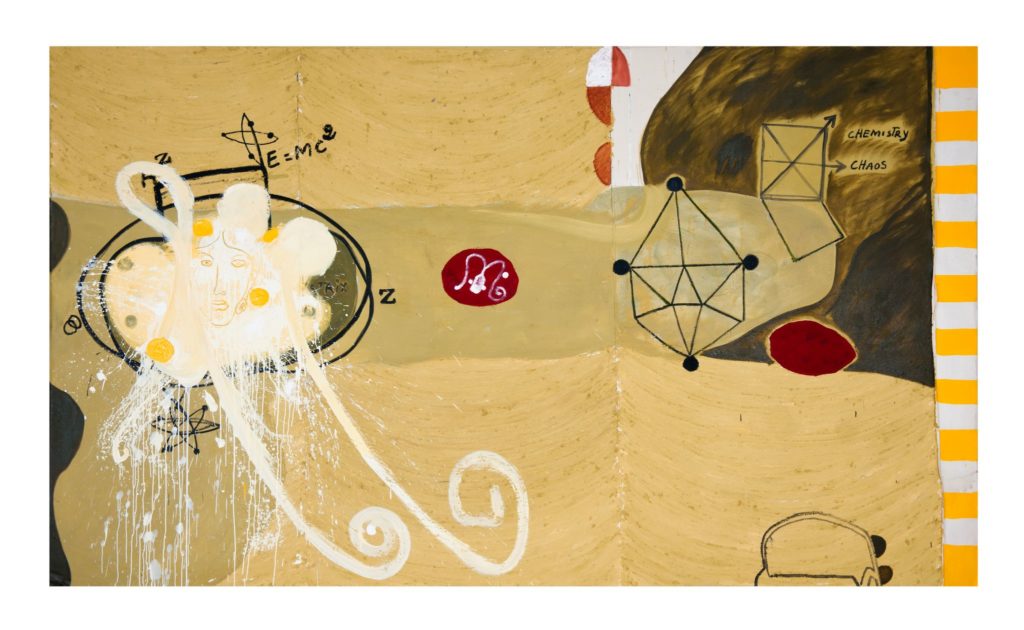 Ouattara Watts Vertigo, 2011
Swing also features prominently in his work, in the form of large splashes of paint in the foreground. Poets such as Baudelaire, Rimbaud and Allan Ginsberg rub shoulders with current world politics, from the Berlin Conference of 1884-85, at which the European colonial powers divided up the African continent, to the story of the Senegalese Tirailleurs.
Colour plays an essential role in Watts's work, with hues of orange, yellow, red, blue, brown, black and green – colours that are reminiscent of landscapes, earth, minerals and clay architecture, but that are at once bright and unexpected. The artist creates his own pigments, including "Watts blue", which is reminiscent of indigo.
He also creates his own brushes, although he often works with his bare hands:
"I like this contact with the material, the paint, and I work with my body, using circular movements borrowed from Sudanese architecture from the time when clay mixed with shea butter enabled houses to stand for several generations. I work with textile materials (bags of cocoa, coffee, etc.) that I add to the surface to build up layers, superimpose and create relief". (2)
His rich compositions combine colour, gesture and the superimposed textures of fabric and wood. Organic forms, cosmic spirals and geometric tracings direct the viewer's eye to the four corners of the canvas; the elements are repeated, generating dynamic spatial rhythms.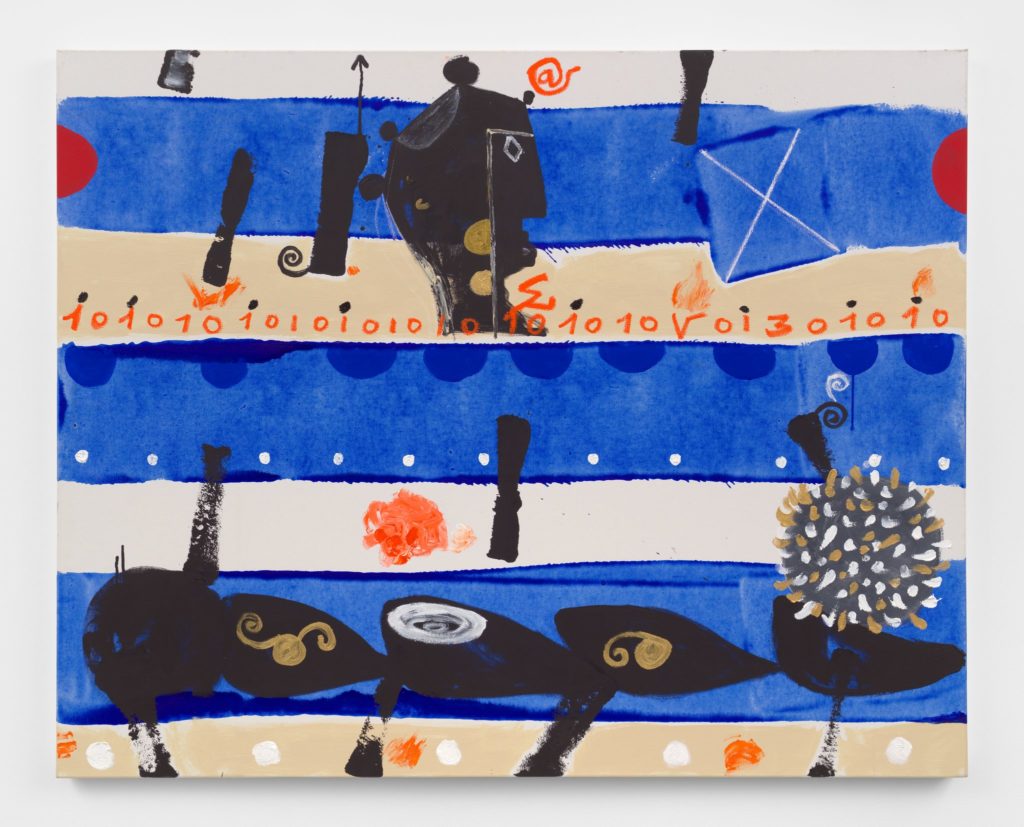 Ouattara Watts Parole de Masque, 2022
The artist has often spoken of the importance of music in his creative process, where a form of absorption in listening creates the right conditions for concentration and fluidity in the painting: "For me, music is like the sun, it's light and energy. It brings the receptors to life" (3). As well as jazz (Coltrane, Davis, Monk, Ellington, Parker, to name but a few), Ouattara Watts is particularly fond of the contrapuntal polyphonic and polyrhythmic musical forms of Central Africa, which have been passed down for thousands of years and existed long before the advent of European polyphonic music around the 12th century. The artist said: "The music of men, in the metaphorical sense, can be likened to chaos, a romantic, poetic whirlwind of silent voices that take on shapes and colours, and release impulses. The work needs to be done, because Africa has a lot to say, but nothing has been said or heard! The man who wants to be committed cannot escape listening to the world" (4). In Watts's paintings, deciphering the countless references is not a prerequisite for entering fully into the mystery. Opening the doors of the senses is the key to the emotional and spiritual alchemy that permeates his works: "What I paint, always, is the cosmos". (5)
– Kathryn Weir
Notes :
(1) Ouattara Watts, personal communication, April 2023.
(2) Hafida Jemni, "What painting hears from music. Conversation with Watts Ouattara
", Afrikadaa, no.10, December 2015 – February 2016, pp.102-107.
(3) Hafida Jemni, 2015-2016.
(4) Hafida Jemni, 2015-2016.
(5) Ouattara Watts, personal communication, April 2023.
Recommended