Champagne + Detox = SPA @ Adlon Kempinski Berlin
SPA-must-do when in Berlin.
There are many ways to detox your body and soul. But none of them is as good as the SPA at the Adlon Kempinski Hotel in Berlin. When we went to the Adlon day Spa, we were served green tea, fruits and a hot towel to clean our hands upon arrival. Afterwards, we were guided to the Spa Suites.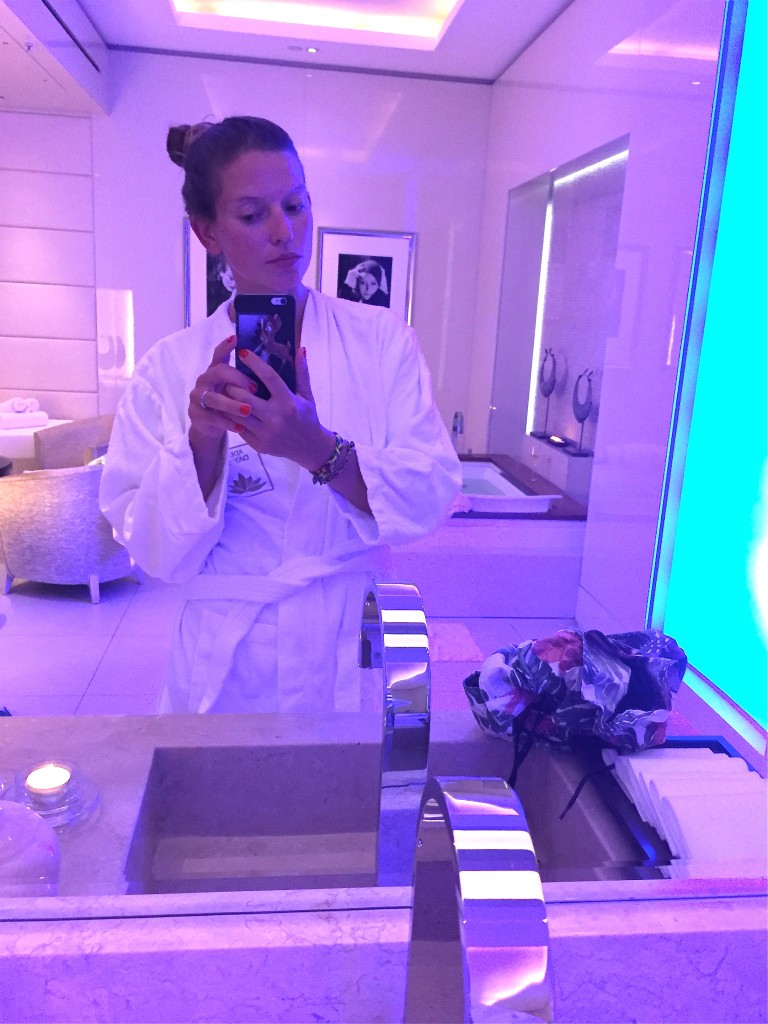 But first, let me take a selfie.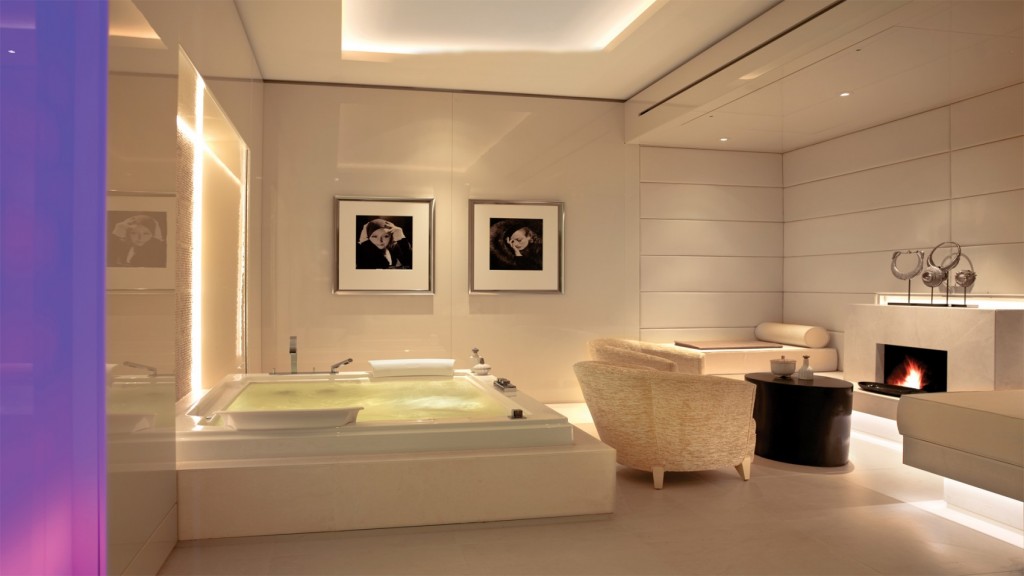 We took the "Escape for two" package with the 90 minute Balinese massage with lemon grass oil for two persons including a refreshing coffee peeling and 60 minutes Private Spa suite for two persons.
Spread over an area of 900 square meters, the Adlon Spa by Resense offers its guests eight luxurious treatment chambers with heated massage beds and light sources. A special feature is the heated Watsu-Pool at 35 degrees Celsius.
The noble ambiance of the Adlon Spa by Resense is created by interior designer Anne Maria Jagdfeld. Luxury elements can be spotted throughout all areas of the spa, such as top-quality organic materials like oak wood, tessellated marble, hand-woven carpetry and consoles made from ray skin.
There are three private spa suites at 45 square meters of which two have exclusive whirlpools (we had such a suite). These suites are a highlight for couples.
In a separated manicure and pedicure room both guests can enjoy hand and foot treatments simultaneously. Meditation and yoga space with Vijay!!
We spent a great deal of time at our suite with the sauna, the whirlpool and the champagne.  It was great for relaxation.  This is perfect for honeymoons or any other special moments.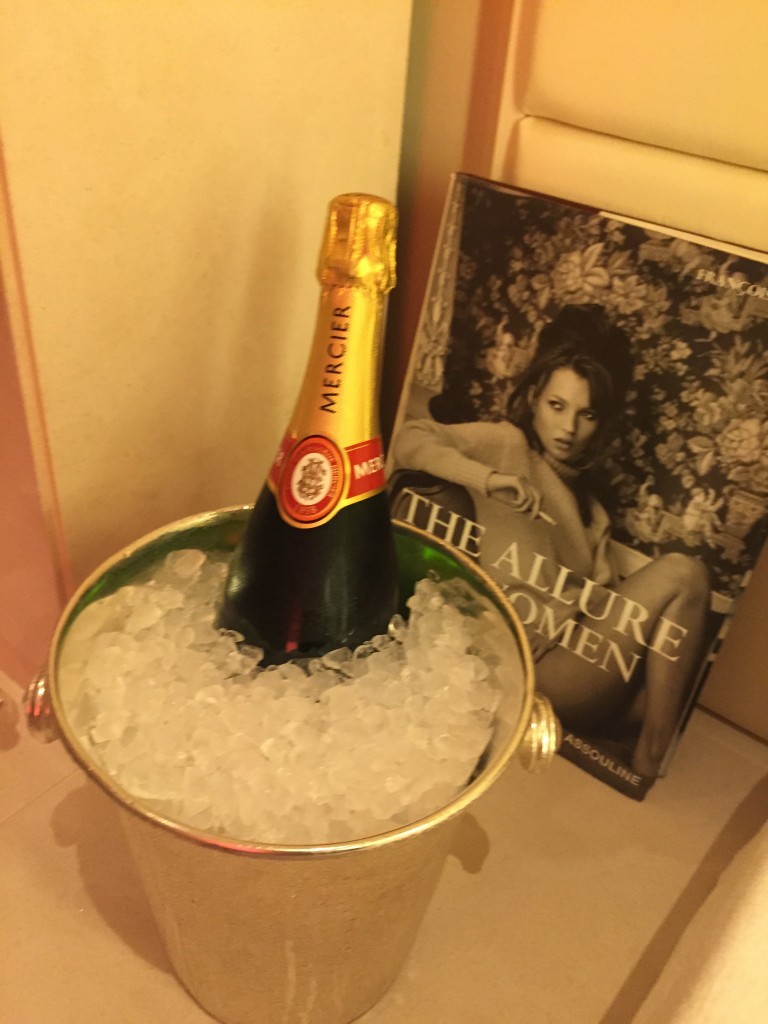 Kate & Champagne
Afterwards we had a Balinese massage, of which we are the biggest fans ever. It's quite breathtaking.
The Balinese full body massage is the combination of a stimulating body coffee scrub (good for orange skin/detox) and intensive deep tissue massage. Slow and flowing movements alternate with firm pressure. A cozy warm environment, the fragrance of aromatherapy oils and gentle sounds help to let go of everyday life and recharge your batteries (90 minutes €155).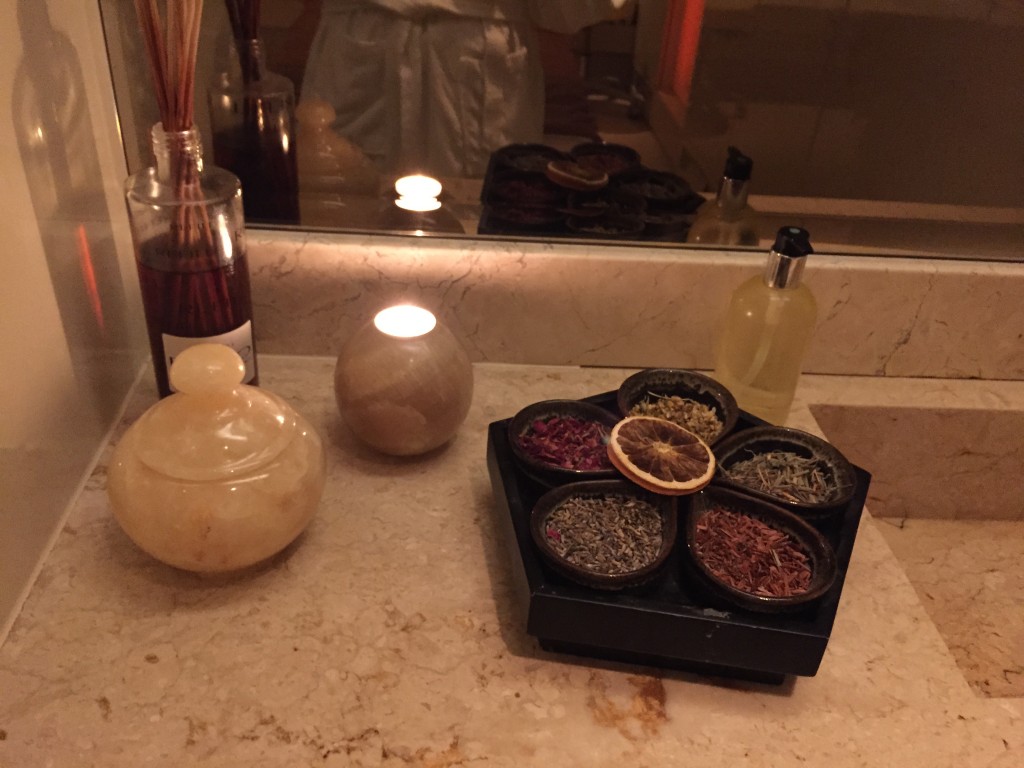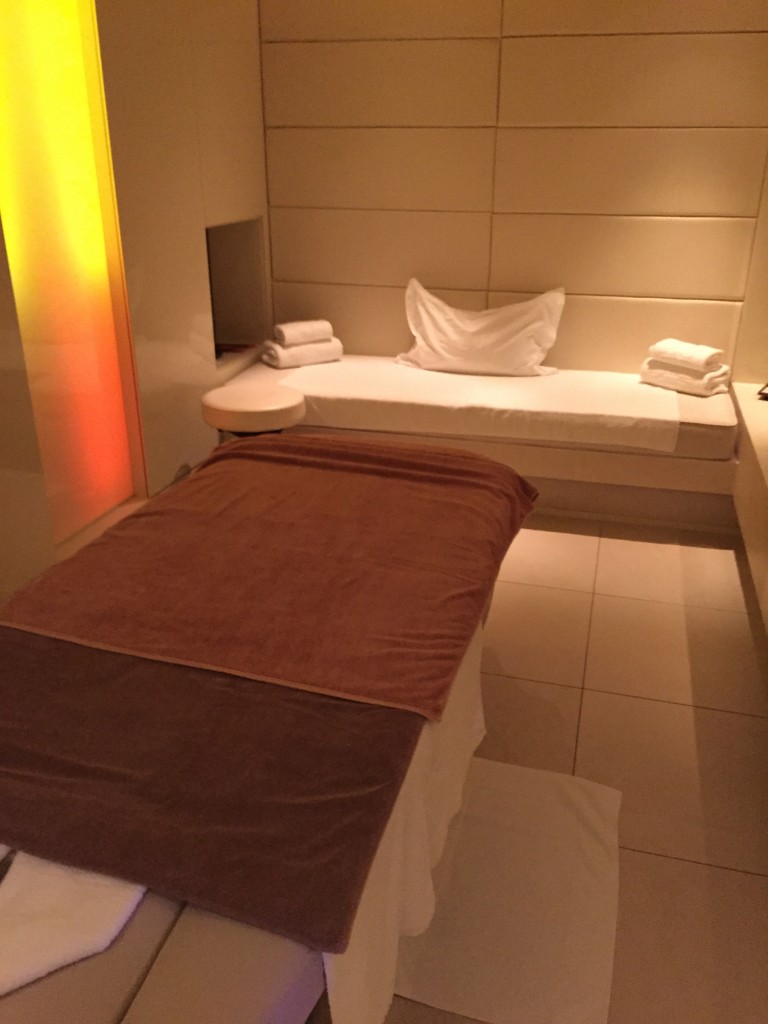 It's one of the best massages and is so deeply satisfying. It is relaxation to the fullest.
Take a green tea afterwards (it will wake you up a little), as you will feel in trance after the treatment.
The Adlon Spa offers many other treatments, such as Swedish massage, Traditional Thai massage, Shiatsu, Lomi Lomi Nui, Indian Head Massage, Foot Reflexology, Monaco Hot Stone massage, Aromatherapy Massage, Ayurvedic Massage and also great facials.
Swiss premium brand at the Brandenburg Gate
 The Adlon Spa by Resense is now exclusively offering first-class anti aging beauty treatments of the world-renowned Swiss cosmetic producer la prairie. Besides exquisite treatments there is also a collection of premium products available of la prairie at the Adlon Spa by Resense.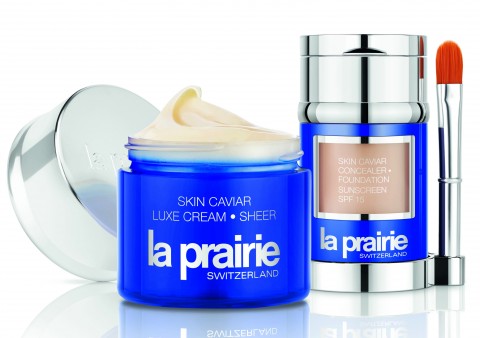 "The launch of la prairie at our Adlon Spa by Resense is the perfect symbiosis of tradition and innovation, for which both luxury brands stand for," announced Benedikt Jaschke, hotel director of the Hotel Adlon Kempinski. "We are delighted to be able to offer such high-end products."
Sole purpose of all offered la prairie treatments is the prevention of the skin aging process and the maximization of the physical well-being of the client. One of the most succesful product lines of the brand is the Skin Caviar Collection of which the Adlon Spa by Resense offers an exclusive treatment.
Our 3 favorite offers:
Slimming Treatment
This firming and body shaping treatment is an anti-cellulite programme with an intense massage to activate the metabolism. Grapefruit purifies the skin whilst black pepper stimulates the blood circulation and cypress has a draining effect. This treatment improves the body's contours, smoothes and tones the skin with the aid of herbal antioxidants and enzymes. In order to achieve optimal results, it is recommended to apply the Daniele de Winter PERFECTING BODY KIT which is free of synthetic colors, fragrances, parabens and mineral oils several times a week for a whole month.
Green Tea Body Wrap
This firming body treatment mineralises and detoxifies the body with a green tea and herbal body wrap. Reducing cellulite, it leaves skin smoother giving a sleek tighter body contour.
Event Spa Suite
Bachelorette
The exclusive event spa suites are equipped with a coloured light wall, Finnish sauna,  steam bath, wardrobe, shower, WC and sound system. For a bachelorette party, the spa suite is an ideal place to meet with your friends before the wedding. In our bachelorette package, we were given snacks and one bottle of champagne as well as two express manicures or pedicures, two express facials and two back massages for 30 minutes each.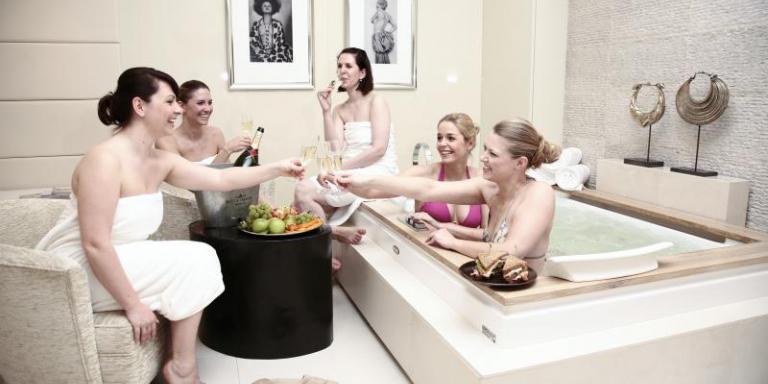 What else ladies?
This SPA is magical.
Go there & check in to cloud number 9.
Thank you to the great therapists who made this trip unforgetable.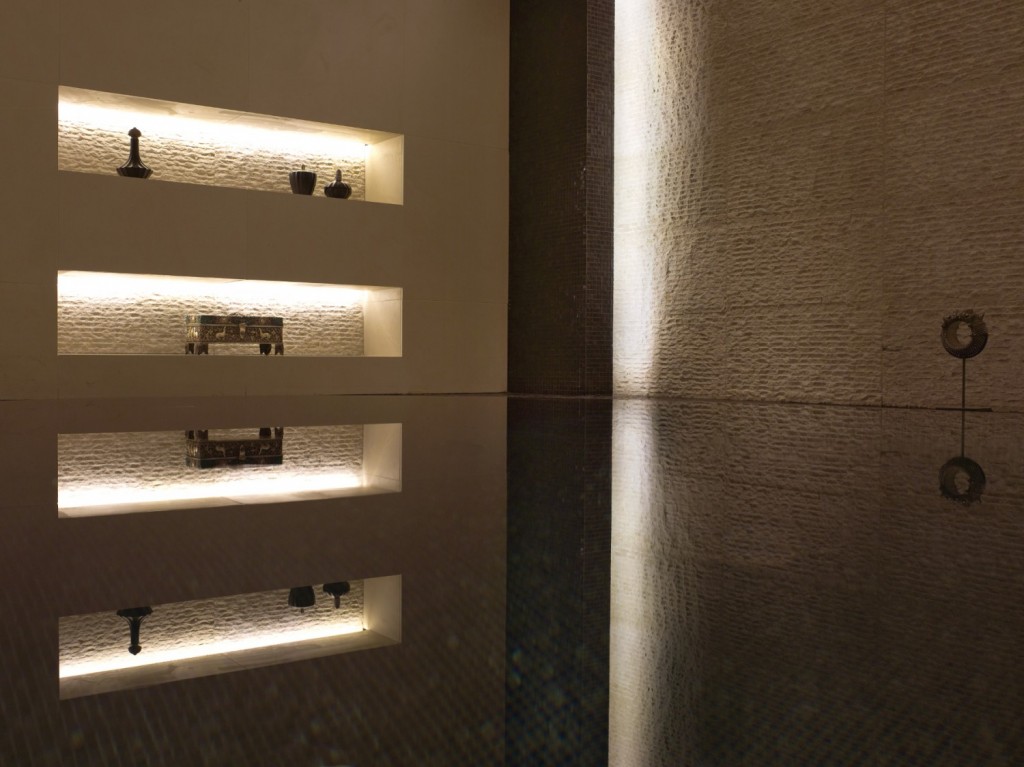 Adlon Spa by Resense
Behrenstrasse 72
10117 Berlin
Opening hours: Tuesday-Saturday  9am – 9 pm & Sunday-Monday  9am – 8pm.
Bookings
+49 30/2261 1220
spa.adlon@kempinski.com
x
by Shari
Recommended