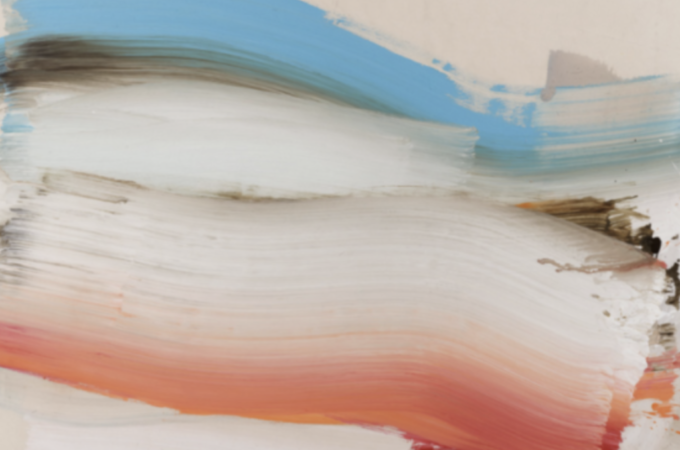 Hauser & Wirth at Art Basel Miami Beach 2021

In celebration of the return of Art Basel Miami Beach IRL, Hauser & Wirth brings together a striking selection of contemporary and historical works that reflect the vitality of the gallery's American program.
The booth will foreground work by artists based in the United States such as Rita Ackerman, Larry Bell, Nicole Eisenman, Roni Horn, Matthew Day Jackson, Christina Quarles, and Henry Taylor.
The presentation will also include notable historical works by Ed Clark, Philip Guston, and Luchita Hurtado, among others. An online presentation will launch simultaneously to the fair, allowing global audiences an opportunity to engage with the works on view from the comfort of their home.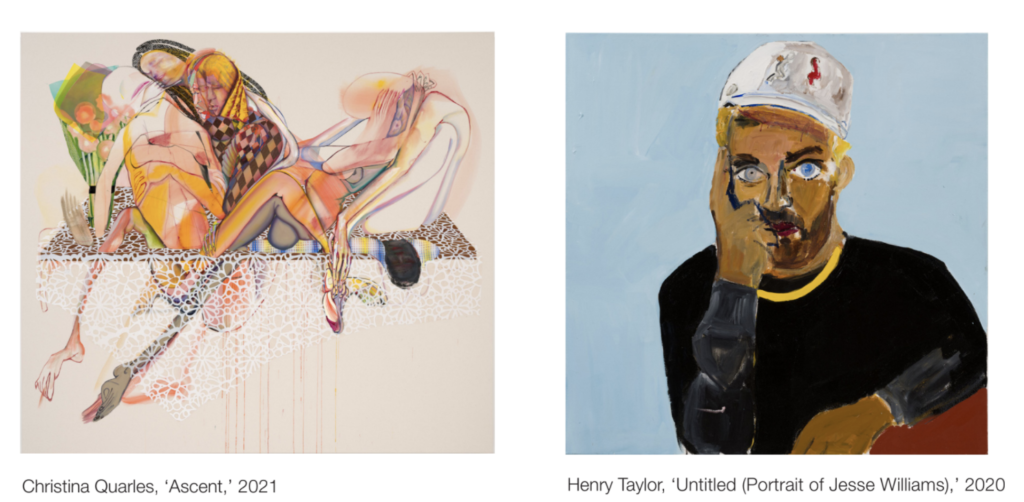 Contemporary highlights will include 'Untitled (Portrait of Jesse Williams)' (2020) by Henry Taylor, an enigmatic glass sculpture by Roni Horn, 'Mama, Good Samaritan' (2021) from Rita Ackerman's ongoing 'Mama' series – currently featured in her exhibition at Hauser & Wirth Monaco – and 'Bridal Veil Falls (after Bierstadt)' (2021) by Matthew Day Jackson. Day Jackson's never-before-seen, large-scale painting reinterprets Albert Bierstadt's famous Yosemite Valley oil landscape through a diverse application of materials like wood, paint, epoxy, urethane plastic, and lead.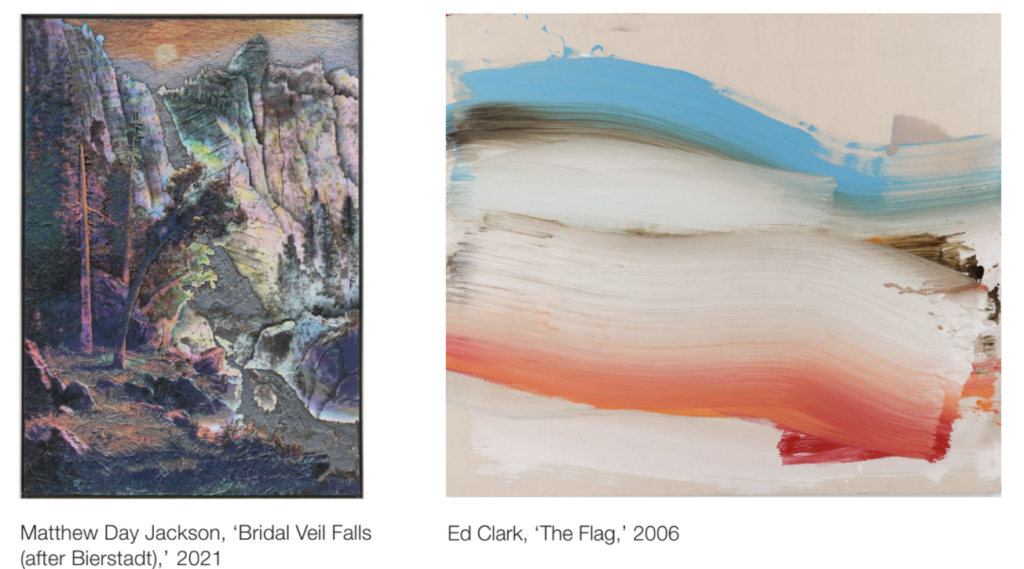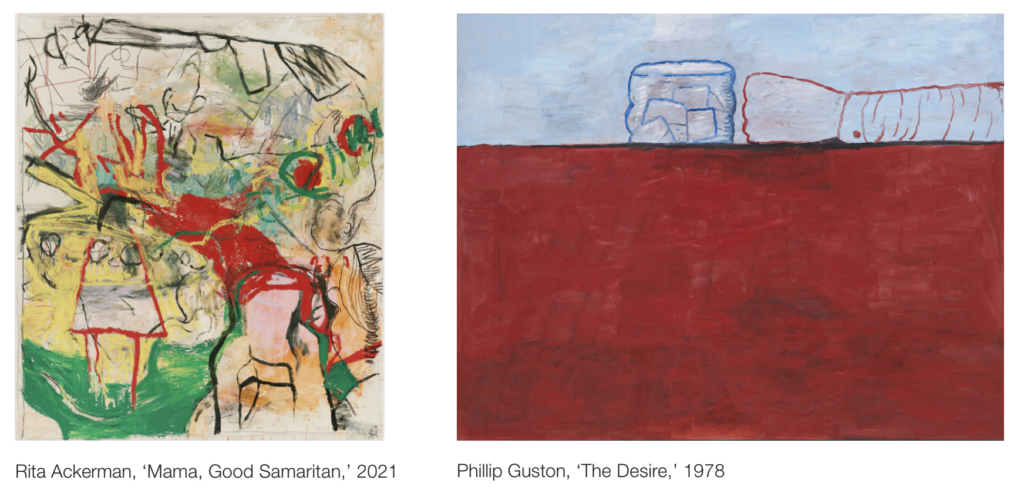 A focal point of the presentation will be Nicole Eisenman's bronze work, a maquette for their permanently installed, monumental public sculpture titled 'Love or Generosity,' located in front of the new courthouse in Amsterdam. Another highlight will be a brand-new painting by Christina Quarles, 'Ascent' (2021), which features colorful figures whose limbs, torsos, and faces collide and merge with one another on top of a surface draped in an intricate lace textile.
Historical masterworks on view include a vibrant green and yellow abstract oil painting by Luchita Hurtado from 1975, 'The Desire' (1978) by Philip Guston, and 'The Flag' (2006) by Ed Clark – a beautiful example of one of the central motifs from the artist's practice, featuring broad strokes of color made with a push broom, painted on canvas laid flat on the floor. An exhibition of works by Clark will open at Hauser & Wirth London on January 18th 2022.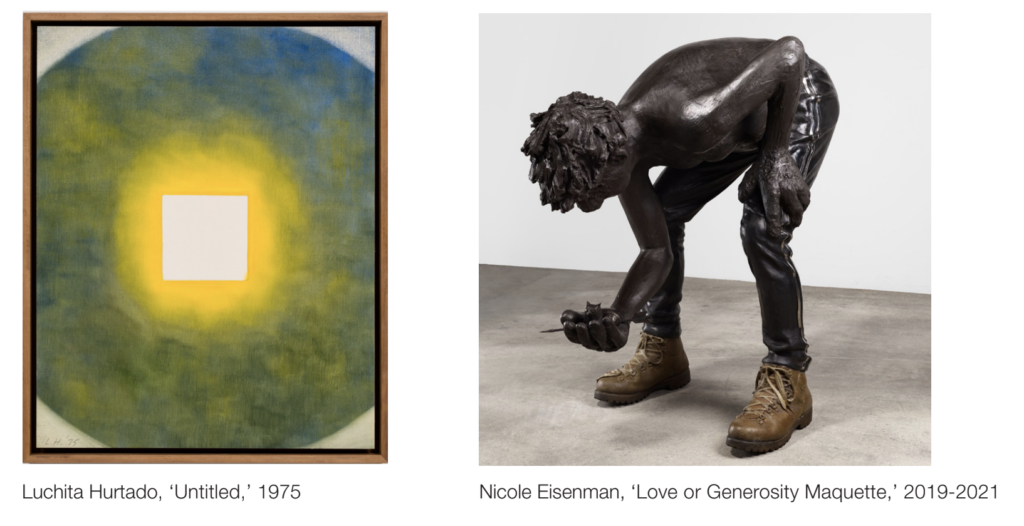 Booth F11, 30 November – 4 December 2021
Available online hauserwirth.com from Tuesday 23 November 2021
Recommended