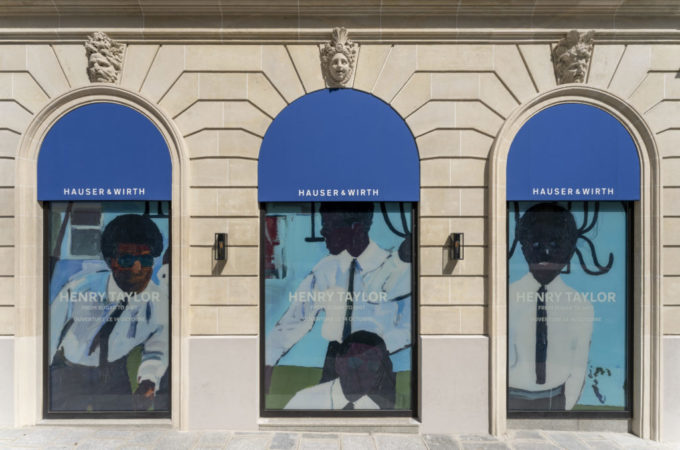 HAUSER & WIRTH PARIS | Henry Taylor FROM SUGAR TO SHIT, 14 October 2023 – 7 January 2024
Hauser & Wirth to inaugurate its new Paris location
with a solo exhibition by Henry Taylor
Opening date: 14 October 2023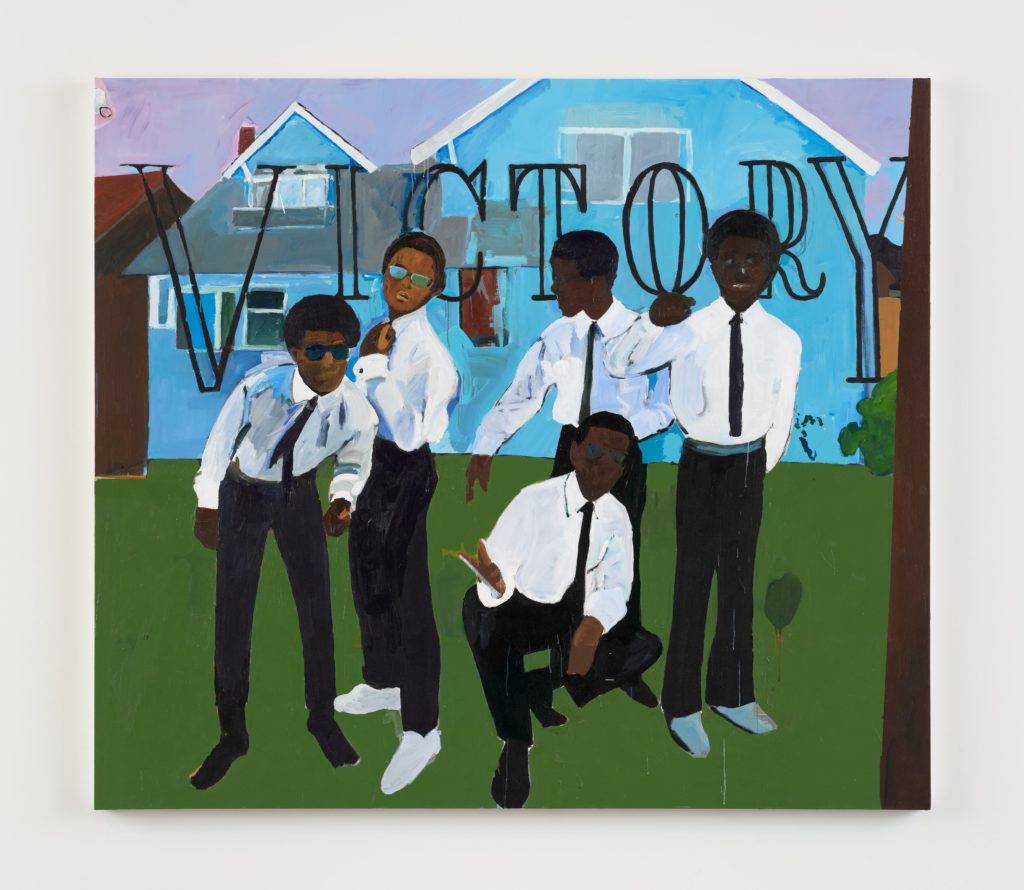 Marc Payot, Iwan Wirth and Manuela Wirth, Presidents of Hauser & Wirth, are pleased to announce that the gallery's new Paris location will open on 14 October 2023 during the lead-in to Paris+ par Art Basel. Hauser & Wirth's inaugural exhibition in Paris will debut new works by critically acclaimed Los Angeles artist Henry Taylor, whose major career survey arrives at The Whitney Museum of American Art in New York on 4 October 2023 and will remain on view through January 2024.
Occupying an entire neo-classical hôtel particulier dating from 1877, Hauser & Wirth's Paris address, 26 bis rue François 1er, is situated on the right bank of the River Seine, close to the Champs-Élysées in the 8th arrondissement.
Henry Taylor's exhibition will comprise a wide range of works encompassing the remarkable breadth of his practice, from painting to sculpture to installation. Throughout his four-decade career, Taylor has simultaneously embraced and rejected the tenets of traditional painting, creating a visual language unique to his practice that defies categorization. The artist's vast body of highly personal work is rooted in his encounters with and perceptions of the individuals and communities closest to him, often framed with poignant or pointed historical and contemporary cultural references. In preparation for his October exhibition, Taylor will extend his studio practice to Paris for a residency in the city during the months of June and July.
As in Hauser & Wirth's existing locations, the gallery will establish meaningful local partnerships to create an inclusive learning program as an integral part of the presence in Paris.
In addition to Henry Taylor's premier at the gallery's new location in Paris, other major exhibitions of Hauser & Wirth artists will be on view in the city, including a solo exhibition of works by Mike Kelley hosted by Bourse de Commerce Pinault Collection from 12 October 2023 until 19 February 2024.
Séverine Waelchli, based in Paris since 2005, will join Hauser & Wirth as Senior Director, France with oversight of the new gallery in Paris. In addition, she will have oversight of Hauser & Wirth's presence and gallery in Monaco, which opened in 2021. Following a Masters in art history at Ludwig-Maximilians- Universität, Munich, Waelchli began her career at Sprüth Magers Gallery. She went on to head up the Paris office before taking on senior roles at Yvon Lambert Gallery and most recently at Thaddaeus Ropac Gallery.
In the lead up to this show, Taylor extended his studio practice to Paris for a residency in the city during the months of June and July 2023. During this time, Taylor has drawn inspiration from the unparalleled array of historical art collections contained in the city, such as the Musée D'Orsay where he was surrounded by the work of French Impressionists, Expressionists and Fauvists who have inspired him since an early age. Taylor's studied awareness of his art historical predecessors is continually prevalent throughout his work, having previously painted versions of works by Pablo Picasso, Marcel Duchamp, Philip Guston, Gerhard Richter, David Hammons and Glenn Ligon, among others.
Sculpture plays an important role in this exhibition and as part of Taylor's practice. The process involves energetically building, stacking and affixing a vast array of collected objects together, from bottle caps to toilet paper rolls, to create a holistic record of his everyday routine and the materials that define them.
Taylor's work is primarily about relationships and how they impact our lives. While people figure prominently in his work, the artist rejects the label of portraitist. The paintings in this exhibition include subjects from all walks of life and historical context, frequently featuring family members, as seen in 'I got brothers ALL OVA the world but they forget we're related' (2023), a group portrait of Taylor's brothers painted against a graphic backdrop displaying the word 'VICTORY,' resembling the logo of the classic American bubble gum brand. Taylor is known for his playful visual and verbal punning, as symbols slip between different representations in his work: the allusion to bubblegum is a nod to the subjects' youth, while also celebrating their graduation day. Additionally on show, 'Father, Son, Fun' (2023) depicts Martin Luther King Jr. playing baseball with a child, ''Another country,' Ben Vereen' (2023) portrays American actor, dancer and singer Ben Vereen and a painting made during Taylor's time in Paris in homage to Josephine Baker, the American-born French dancer, singer and actress, often considered to be the first Black superstar. Taylor's choice of subject—from memory and archival materials to the live sitter—is firmly dependent upon his sense of connection driven by empathy. His sumptuous depictions, painted rapidly and loosely, capture his subject's nuances and mood with gestures and passages of flat, saturated acrylic colour offset by areas of rich and intricate detail. The intensity with which he paints is reflected by his brushwork: a network of kinetic strokes that seek to capture a feeling before it flees. Taylor's subjects, which range from members of the Black community to symbolic objects representative of historical struggle, span the breadth of the human condition; each work is a holistic visual biography and permanent record of a person or people's history.
Marc Payot, President, said, 'The opening of our Paris gallery is the realization of a long-held dream, one we've shared with our artists since the founding of Hauser & Wirth thirty years ago. For centuries Paris has fostered cultural ferment and breakthroughs, placing down a welcome mat for creators of every stripe from around the world. The city has supplied so much inspiration to our artists—from those like Louise Bourgeois and Pierre Huyghe who were born there, to those who arrived from elsewhere like Takesada Matsutani, Alina Szapocznikow and Ed Clark, among others—that their careers would be unimaginable without it. Paris is home to a uniquely sophisticated public, an incredible concentration of outstanding museums, and a community of ambitious, astute collectors and patrons. Together, they offer the ideal audience for a rigorous and conceptual program like ours. It's a thrill and an honor for Hauser & Wirth to inaugurate a beautiful new space in this context. We are excited to become an active participant in Paris and to contribute to this vibrant city we love so much."
About the Paris Location
Hauser & Wirth's gallery in Paris at 26 bis rue François 1er extends over 800 square meters and four floors of a neo-classical hôtel particulier that formerly housed La Maison Decour, a decorative arts gallery, until the 1940s. The conversion of this site by Paris-based architecture studio Laplace, a longstanding collaborator of the gallery, continues Hauser & Wirth's longstanding commitment to the adaptive conservation of historic buildings, hereby reinstating the double-height, six-meter-tall ground floor gallery and authentic elements of the space, including the spiral staircase and its original handrail. The walls of this staircase will feature a specially commissioned site-specific installation by artist Martin Creed.
Materials sourced locally in France, including the distinctive Croix Huyart stone to be used for the entranceway of the gallery, and used in the construction of most historical buildings in Paris, have been selected to reflect and amplify the building's historical luster. The principal story of the façade has neoclassical detailing, including a series of three four-meter-tall arched windows and banded rustication, and the upper stories have Corinthian pilasters, balconies and scrolls with a balustraded terrace above.
____
Recommended