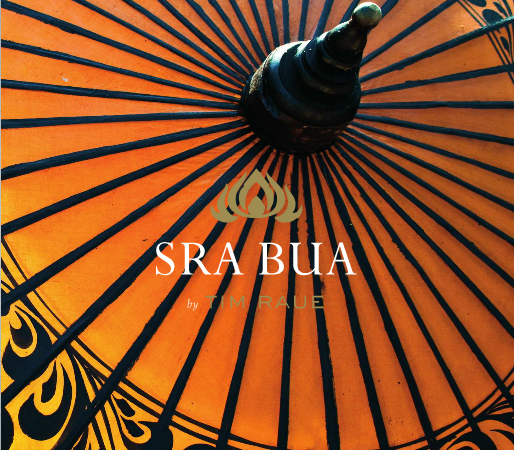 Hotspot in Berlin – Drink n' Dine at SRA BUA by Tim Raue
"Live to eat, not eat to live."
During our stay at the Adlon Kempinski Hotel in Berlin we had the chance to try one of their restaurants, the SRA BUA by Tim Raue.
Tim Raue has an individual style. He mixes the European technique of cooking or plating with Asian flavors.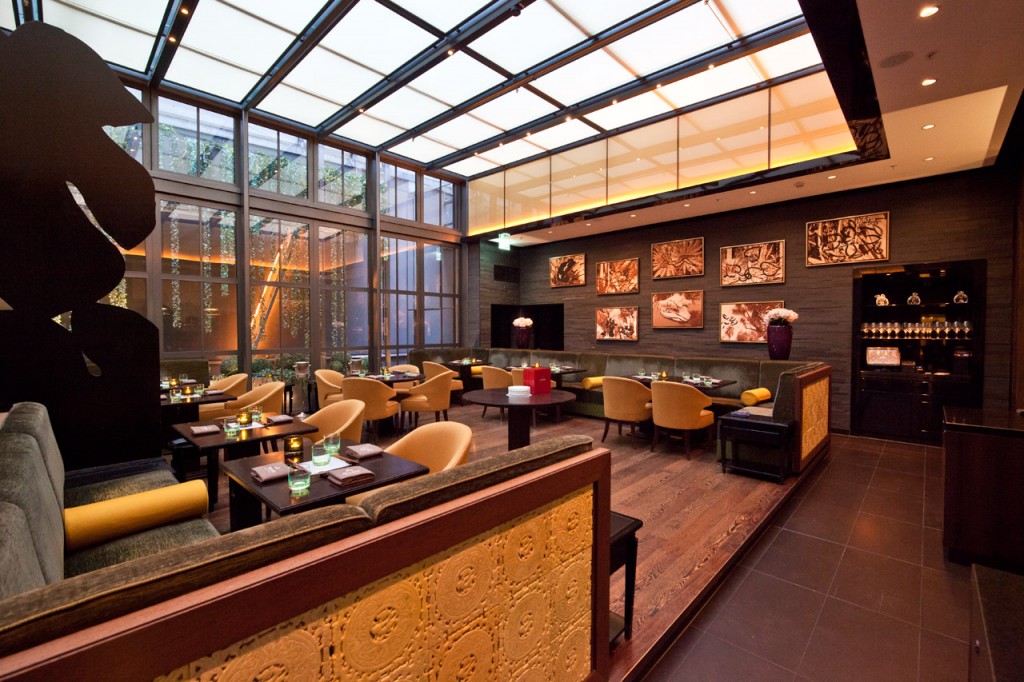 "Sra Bua" – the Thai word for lotus pond – has not only provided the name for the trendy Berlin restaurant, "Sra bua by Tim Raue" but is also a synonym for its ambience and mood. The restaurant combines the diversity of Asian cuisine with the distinct culinary signature of top chef, Tim Raue. The Berliner is the proud owner of 2 Michelin stars and 19 Gault & Millau points, which is significant for the extraordinary culinary concept.
"My first visit to Asia was like being in paradise.", he says and this is what he transformed into the SRA BUA.
A little Paradise is Berlin.
At the age of 28 he went to Asia for the first time. He went to Bangkok, Singapore, Hong Kong, and Tokyo, the great four places to go. He got in touch with all these four different Asian types of cuisine, and he fell absolutely in love…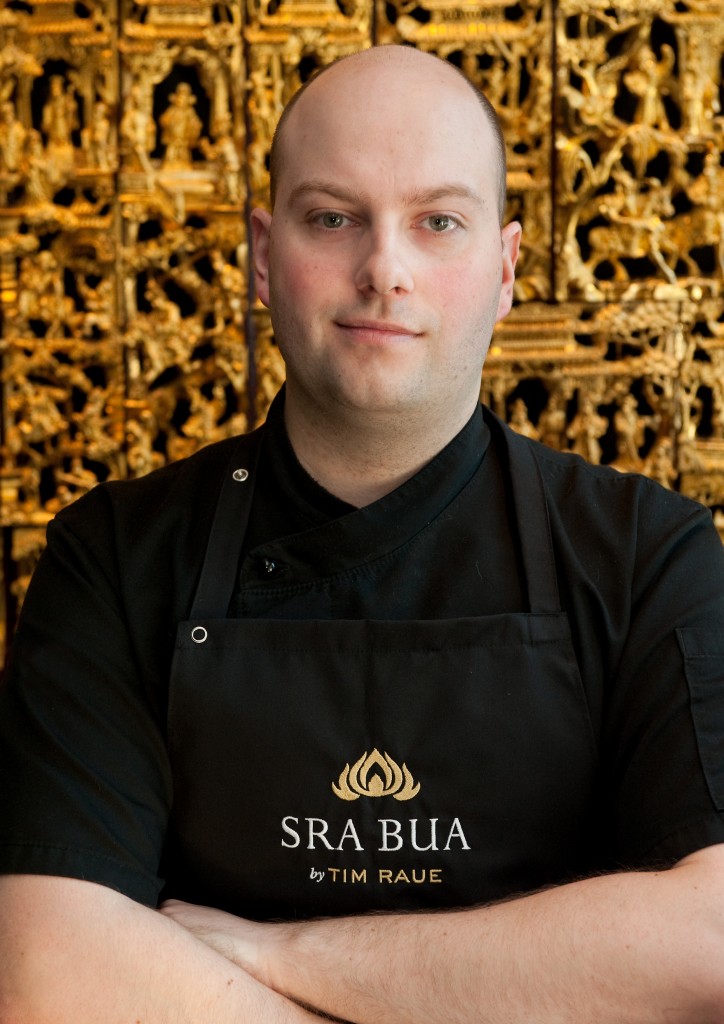 What about the ambience of this place?
The ambience is luxurious yet unpretentious: cosy benches and small lounges, photographs selected by the editions gallery LUMAS and tables laid in a simple purist style ensure that you immediately feel at ease. The sliding doors covered with silk in the style of an old Japanese tea house bring a touch of Asian flair to the restaurant. And the ceiling-high window elements hand-carved in China from ancient patterns protect the privacy of the guests within but at the same time arouse curiosity from outside. Don't miss to go to the restrooms, they are more tan beautiful.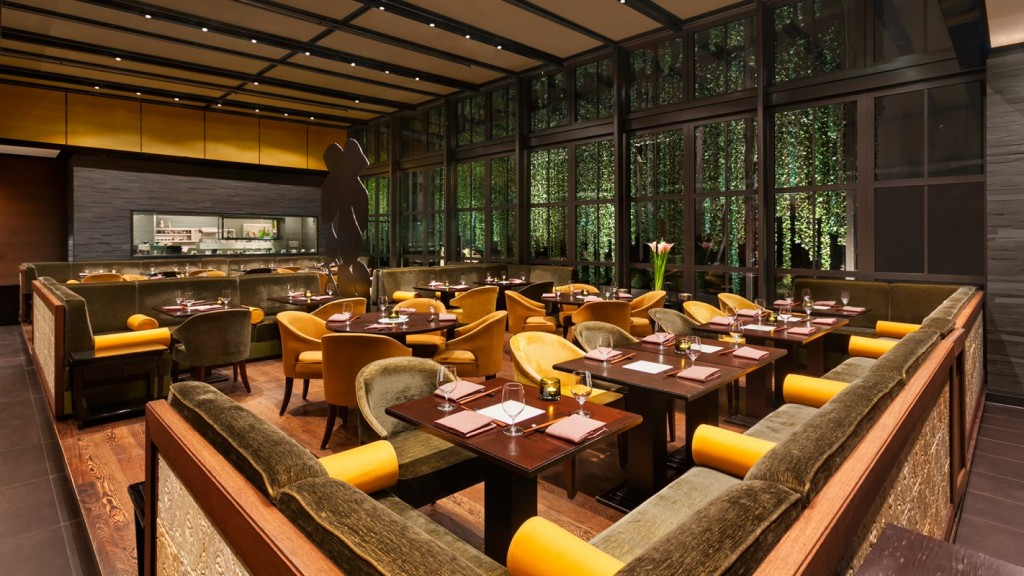 Well then, a good night starts with exquisite, flavourful cocktails, right?
So we started with the Bar of SRA BUA.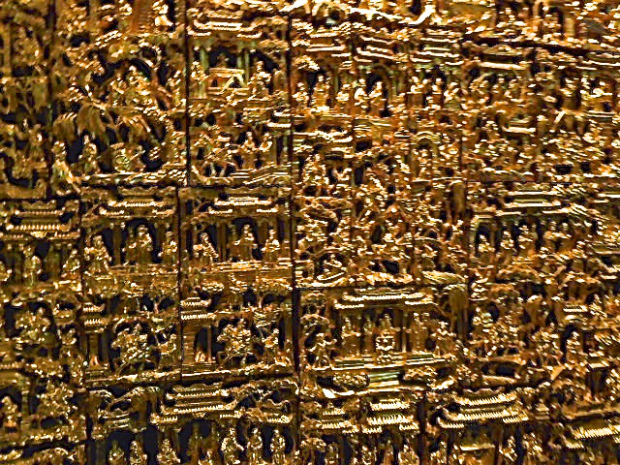 We've been around a bit and tasted great cocktails everywhere, but these cocktails were simply the BEST in Berlin we had so far. The lovely and very competend barmaid was asking us what we liked and made us some customized cocktails, which made us really happy! This is the place to experience bartending at the highest level with a distinct Far Eastern mood. Sra Bua Bar turns night into day!
But that bar is not only about good cocktails, we fell in love with the interior design straight away. The ambience reminiscent of the colours, art and styles of Asia. After this delightful start we went over to the restaurant.
What about the menu?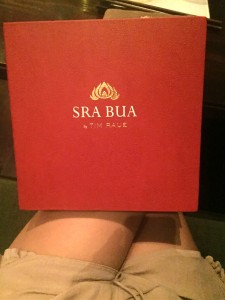 There is a great emphasis on fish and vegetables in the menu. The dishes are correspondingly light and above all simple; there are seldom more than four components on the plate. Furthermore all dishes bear the typical Raue signature: intensive flavour, precise with a perfect balance between sweetness, acidity and spiciness.
We had a fantastic tasting menu with wines from germany, that changed with every course.
When the journey began, we startet here…
Watermelon with cucumber and dashi – with some sparkling Sake (Fukuyu) from Japan.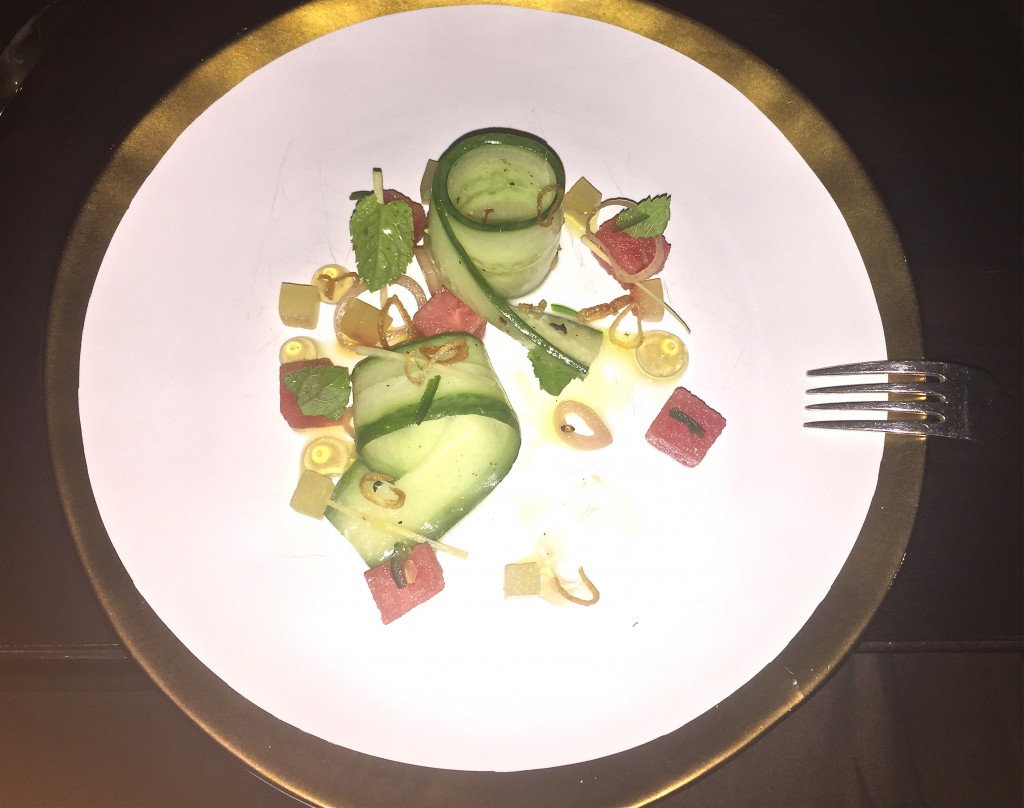 Palm hearts with scallops, almond milk and avocado – also with Fukuyu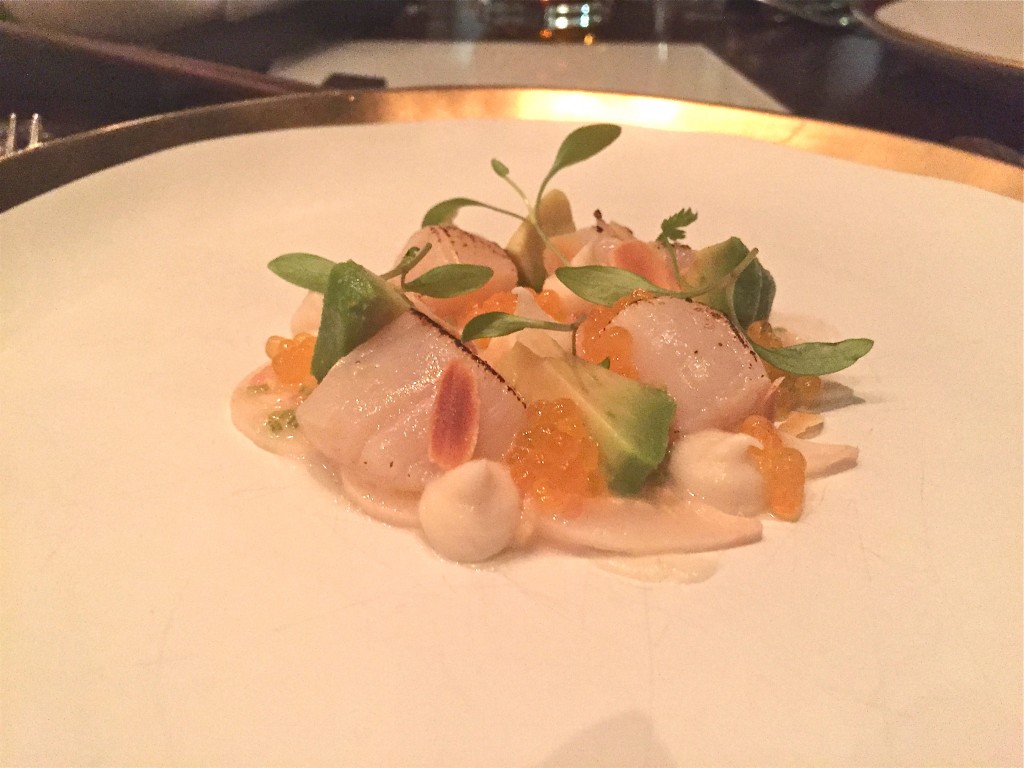 "Castel Franco" (Burrata with mango) –  with some Riesling Spätlese "Kalkenstein"  from Baden, Germany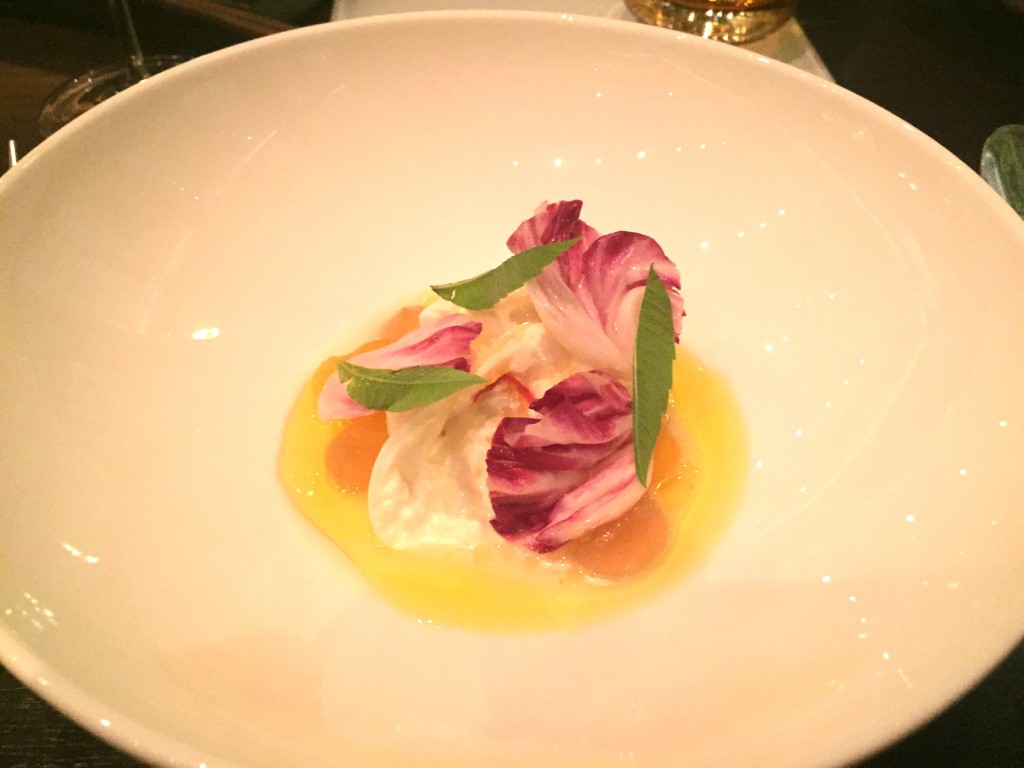 One of our favorites
The Sole with Yuzu-beurre blanc and lettuce – with Pinot Gris from Pfalz, Germany
No picture of this one, it's the surprise…
Guinea fowl with thom kha gai and grilled corn – with Pinot Noir Rose Kabinet from Baden, Germany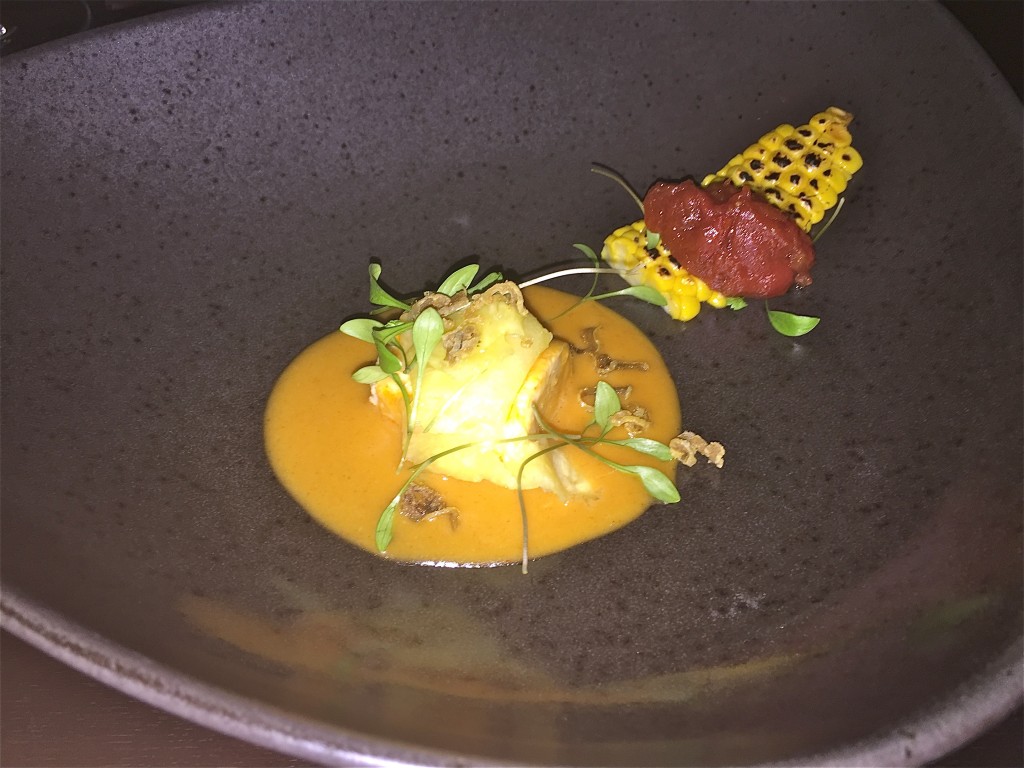 "Thai Duck" with rhubarb and topinambour – with Pinot Noir, Battenfeld Spanier from Pfalz, Germany
The softest meat ever.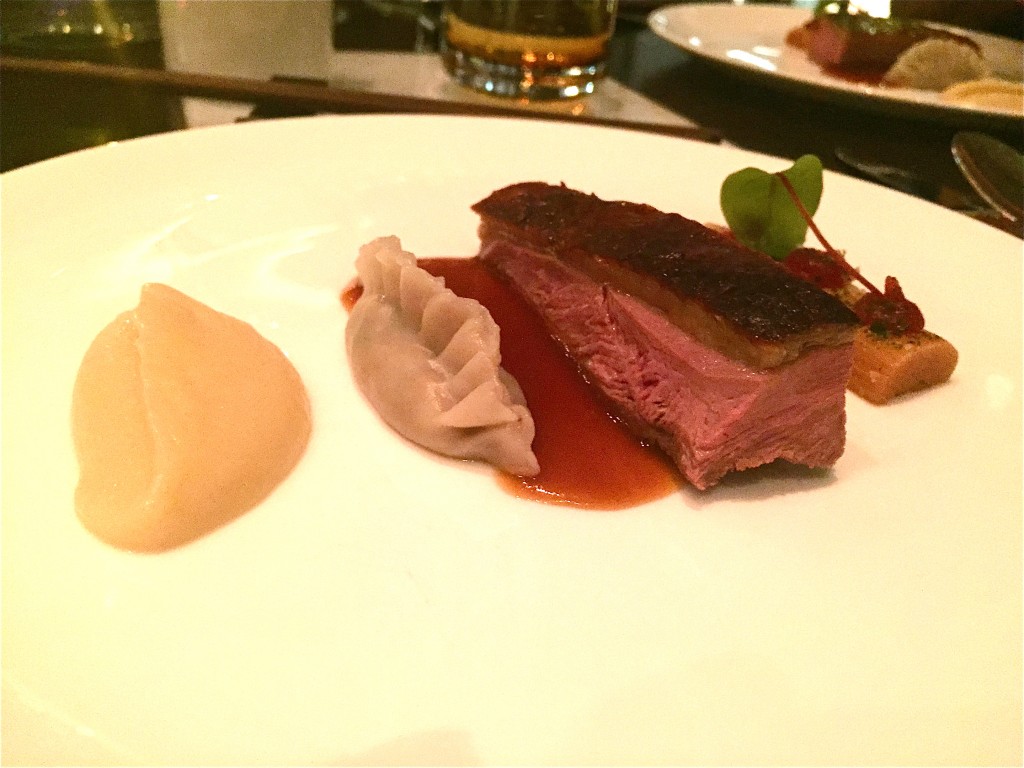 Flanksteak "Manny's Beef" with cabbage turnip and sake – with TRE, Brancaia, Maremma from Toscana, Italy
Mamma Mia.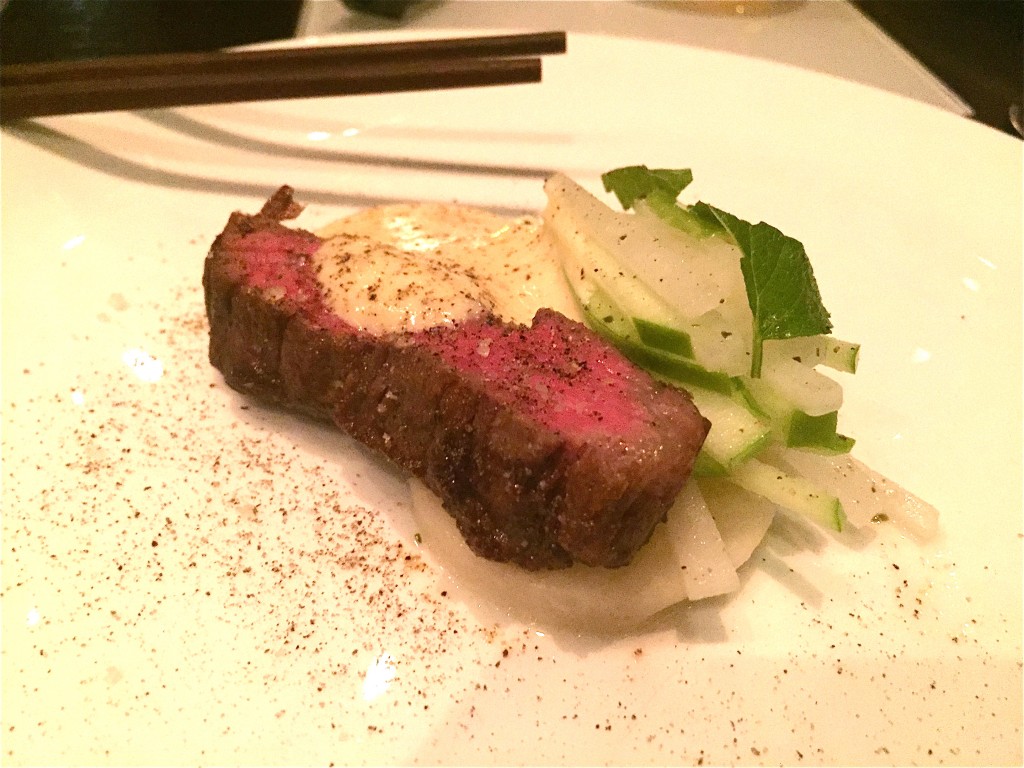 Last but not least…
"Vietnamese Coffee" with cherry and vanilla with a Pineau des Charentes, Maxime Trijol, Cognac from France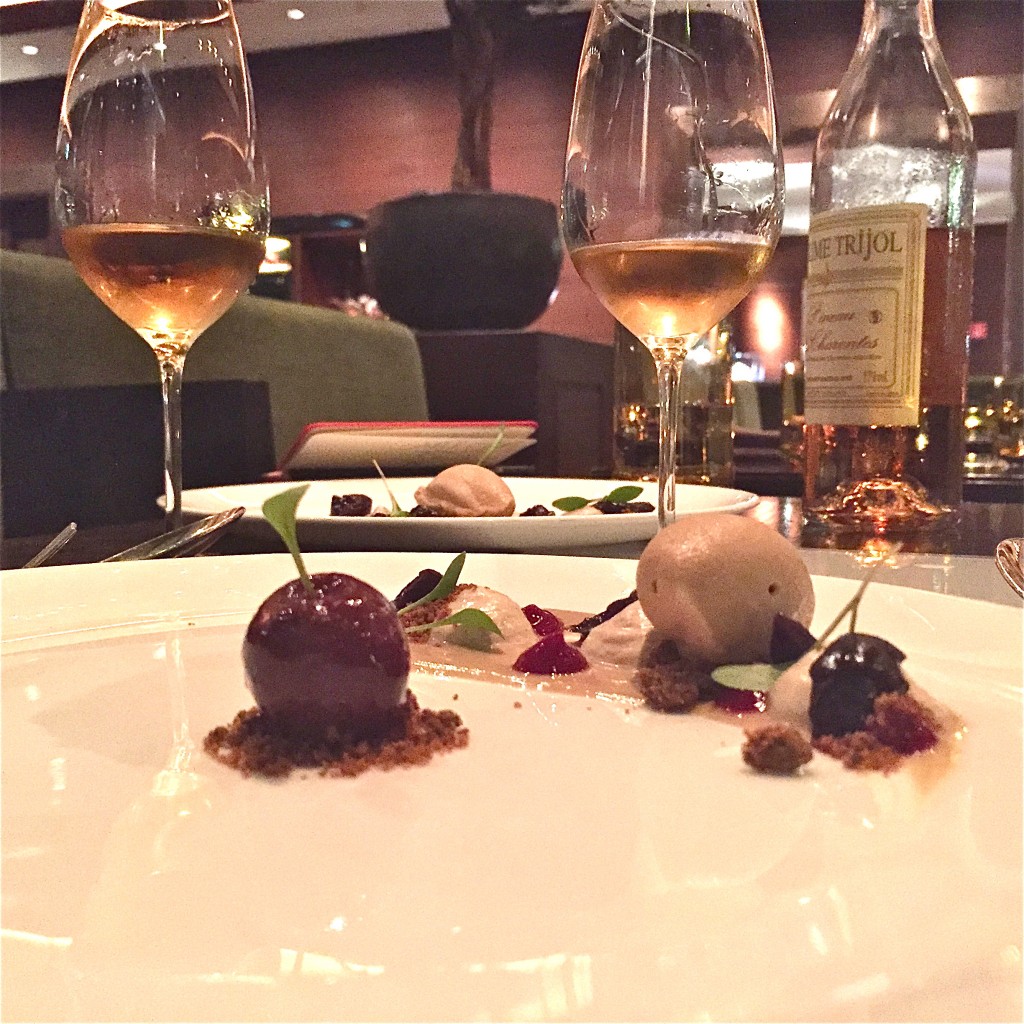 This menu was a wonderful journey with the best products you get in Berlin. The Duck, the Sole and the Flansteak were our favorites. The wine selection to every dish was also well selected.
And the service?
Fast, observative, very polite.
We had a lovely lady who spoke perfectly english.
It was all together wonderful and delicious. Moments we won't forget.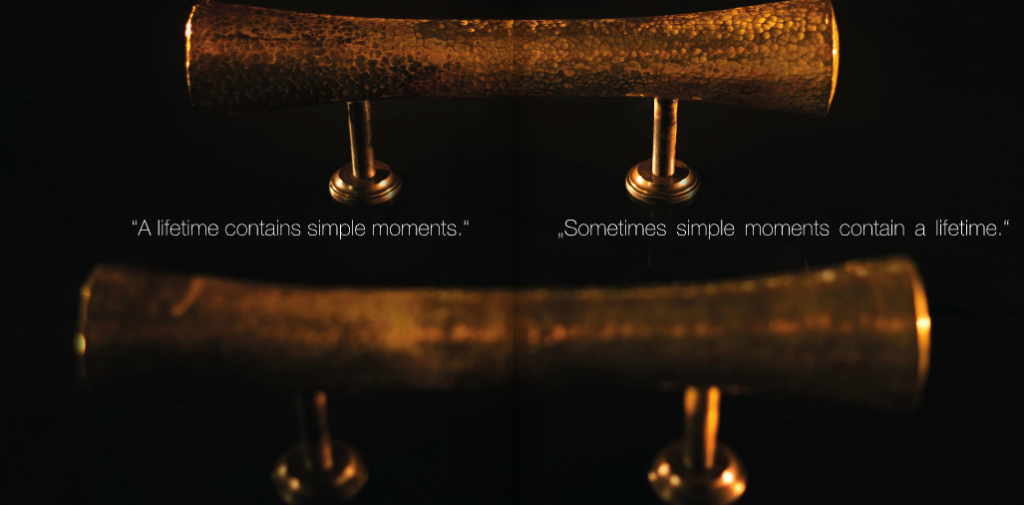 Thank you to the SRA BUA team for taking so good care of us!
We highly recommend this Hotspot and all the dishes we had. If you like asian gourmet cuisine, this is the place to be. And the cocktails are a must!
Good to know:
Meal prices:  Menu 68 € – Carte 40/77 €
A interesting wine list
Wheelchair accessible
Air conditioning
No dogs allowed
Recommended