SWAROVSKI STAR BY DANIEL LIBESKIND RAISED ON TO ROCKEFELLER CENTER® 2019 CHRISTMAS TREE
For the second year, the Rockefeller Center Christmas Tree will be adorned with Libeskind's stunning architectural design, featuring 3 million Swarovski crystals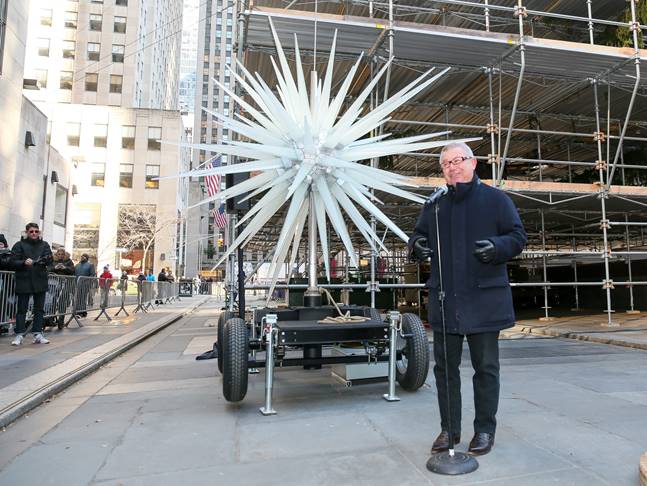 For the second year, the Rockefeller Center Christmas Tree in New York City will be topped by the Swarovski crystal star designed by renowned architect Daniel Libeskind.
Libeskind's Star, which debuted in 2018 to wide acclaim, is crafted from 3 million dazzling Swarovski Crystals on 70 illuminated spikes. The Swarovski Star's asymmetrical, geometric form showcases Swarovski's innovative technology, weighing 900 pounds and measuring 9-foot 4-inches in diameter. This vision of the holiday star is by Daniel Libeskind, known for architectural works including the Master Plan for the World Trade Center, the Jewish Museum in Berlin, and more. A brilliant symbol of holiday joy, the Swarovski Star radiates across New York with a message of hope, unity and peace.
A to-scale replica of the Swarovski Star will also be on display in Rockefeller Center, allowing visitors the opportunity to marvel over the intricate detailing and precision craftsmanship that Swarovski is known for. The Star will be accompanied by a retail pop-up where visitors can purchase seasonal Swarovski items, including a Libeskind-designed ornament collection.
Nadja Swarovski, Member of the Swarovski Executive Board, commented:
"We are excited to raise the Swarovski Star with Daniel Libeskind at Rockefeller Center for the 2019 holiday season. This iconic design shines out across New York City with a message of peace and joy for all."
Recommended