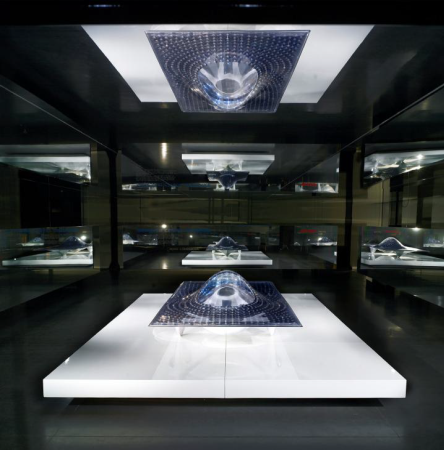 SWAROVSKI SUPPORTS ROSS LOVEGROVE EXHIBITION AT CENTRE POMPIDOU
"CONVERGENCE"
By Ross Lovegrove
Centre Pompidou/Galerie 3
April 12 to July 3, 2017
Swarovski is proud to support the work of much awarded Welsh-born industrial designer Ross Lovegrove as the main sponsor of his exhibition at the Centre Pompidou, Galerie 3, in Paris. The exhibition, a celebration of the "Convergence" of art, design and science, takes place from April 12 to July 3, 2017. The exhibition, entitled Convergence, explores the work of the designer as he draws inspiration from nature and evolution. Lovegrove, who has always made use of digital technology, takes an environmentally informed approach to design. The Paris exhibition explores his philosophy of a sustainable approach to creativity, design and nature. Included in the exhibition are several of his projects with Swarovski, among them his celebrated solar car, inspired by the intelligent engineering in the space industry, which features 1,000 specially cut crystals mounted via 3D printed transparent supports onto 1,000 polycrystalline photovoltaic panels. Also on display is Lovegrove's 'Swarovski Generator House' project, where the designer explores the possibility of viable off-grid lifestyles.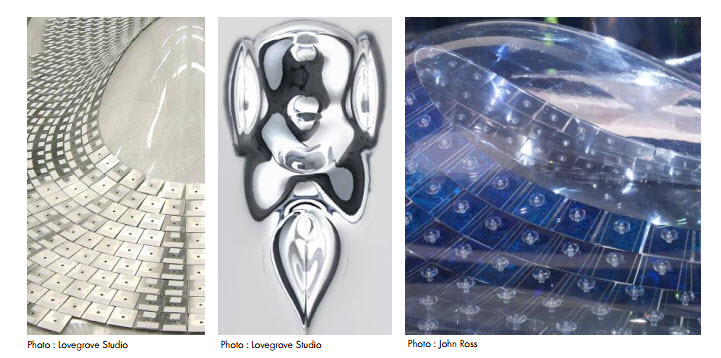 Swarovski, with its deep commitment to supporting creativity and innovation, has enjoyed an ongoing collaboration with Lovegrove and is pleased to support this important exhibition as main sponsor.
ROSS LOVEGROVE AND SWAROVSKI
The work of acclaimed Welsh-born designer Ross Lovegrove is celebrated at an exhibition titled Convergence at the Centre Pompidou in Paris from April 12 to July 3, 2017. The industrial designer has been the recipient of numerous international awards. His work has also been included in the permanent collections of various design museums around the world including Museum of Modern Art in New York (MOMA), the Design Museum in London and the Vitra Design Museum Weil Am Rhein, Basel, in Switzerland. Lovegrove's work sits at the convergence of art, design and science, and his collaborations with Swarovski range from an exploration of how solar energy can be harnessed to achieve perpetual motion in car design, to the possibility of realizing a clean off-grid existence through innovation. Ross Lovegrove comments:
"My work with Swarovski has focused on promoting innovation by speculating on the use of crystal in unexpected ways. Crystal has unique properties of refraction and dematerialization that are highly legitimate mediums for the convergence of art and design."
THE SOLAR CAR
Lovegrove's Swarovski Crystal Aerospace project, which saw the construction of his solar car, has been widely exhibited in the context of art, design, technology and transportation. Inspired by the intelligent engineering deployed by the space industry, he designed the car to incorporate 1,000 specially cut crystals mounted onto 1,000 polycrystalline photovoltaic panels via 3D printed transparent supports, which resulted in two states of crystal in unison. Through this process, sunlight is amplified and evenly distributed onto the solar panel to optimize the solar gain. The entire upper skin of the vehicle generates electricity, which is stored in internal lithium batteries. The vehicle promotes progressive and intelligent engineering, which uses materials, science and physics to create supremely beautiful objects.
ROSS LOVEGROVE AND SWAROVSKI SWAROVSKI GENERATOR HOUSE
Following his work on the solar car, Lovegrove then turned his attention to looking at a paradigm shift in the way we live. The result was the Swarovski Generator House , elements of which are also on display at the Pompidou Centre Convergence exhibition. Lovegrove believes that in an age of accelerated social networking and developments in off-grid lifestyles, it is possible to encourage increasing numbers of people to live outside cities. Using energy independent technologies, people could enjoy the benefit of residing in nature while at the same time, remaining connected to human activity and culture.
SWAROVSKI CRYSTAL PALACE
Ross Lovegrove has also contributed to the Swarovski Crystal Palace project, which was commissioned by Nadja Swarovski to reinvent the chandelier in a modern design language. He launched his 'Crystal Aerospace' chandelier at Salone del Mobile, Milan in 2006. The designer's 'Liquid Space' chandelier followed and was first displayed at Design Miami, Miami, in 2008.
SWAROVSKI AND SUSTAINABILITY
Throughout its history, Swarovski has endeavored to remain true to its founder Daniel Swarovski's vision of a responsible company that has at heart not only its employees' wellbeing but also that of the environment and society as a whole. This vision drives the company's dedication to producing beautiful products using responsible methods that respect the wellbeing of people and the planet. The Swarovski Crystal Business is a member of the United Nations Global Compact (UNGC), and its strategy aligns with the ten principles in the areas of human rights, labor, environment and anti-corruption. The global Swarovski Waterschool education program has reached 257,000 children on the world's greatest rivers, and the Swarovski Foundation, set up in 2013, works to support culture and creativity, promote wellbeing, and conserve natural resources to achieve positive social impact.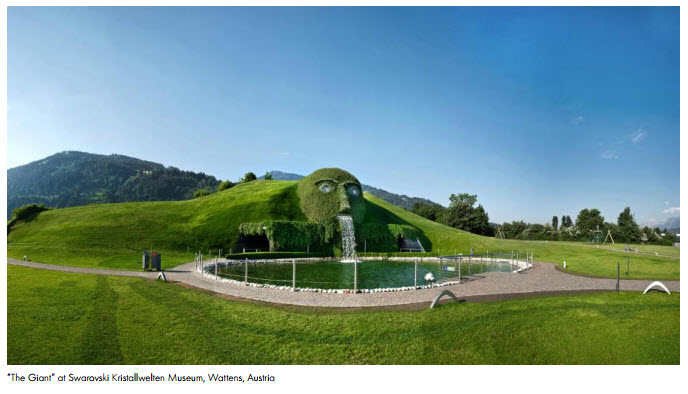 Recommended