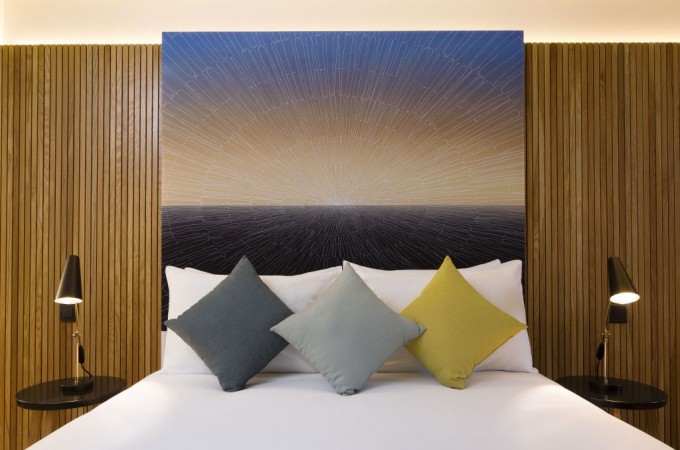 The Drawing Hotel, a New Place to feel the Pulse of Contemporary Creation
WHEN IN PARIS…
We suggest to visit this lovely place. If you love art, good cocktails and Paris, you should stop by at the DRAWING HOTEL.
The Drawing Hotel is above all a place of artistic experimentation where customers are the privileged viewers. Much more than simply providing accommodation the team has created a space filled with life right in the heart of Paris. Hotel guests and locals can all enjoy a drink or an exhibition, and even see varied forms of contemporary drawing on all five floors.
A worthwhile destination in itself, the entire building is teeming with life and creativity. Interacting and actively sharing are key words in this cultural environment of the most sought-after kind in Paris.
CONTEMPORARY DRAWING
The Drawing team is dedicated to making the hotel a genuine place of life, where contemporary drawing is considered an independent art form. The establishment's managing director Carine Tissot, who also heads up the contemporary art fair DRAWING NOW PARIS, has given carte blanche to 6 artists, including a duo, to intervene on the floors, walls, and ceilings of the corridors on each floor.
The artists thereby ensure unique experiences that are distinct to every floor. The artists extend their works through chosen motifs that replicate details of their work in the rooms on 'their' floors, such as on the carpets and headboards. Lek & Sowat, Abdelkader Benchamma, Clément Bagot, Françoise Pétrovitch, and Thomas Broomé all responded to Carine Tissot's carte blanche invitation to create freely, as they wished, using their personal drawing techniques and artistic practices.
17, RUE DE RICHELIEU – A PLACE TO FEEL THE PULSE OF CONTEMPORARY CREATION
Alongside its highly contemporary decor the building moreover contains the first private art center in France to be entirely devoted to drawing. Run as a non-profit organization, the 'Drawing Lab Paris' has 150sqm-space on the lower ground level, where artists can explore the manifold potential of drawing as an art form. The exhibitions are open to all hotel guests, and mediators are happy to provide information. The hotel and the art center have separate entrances on Rue de Richelieu.
The same reception area welcomes hotel guests as well as art center visitors, and the Drawing Shop which is also located on the ground floor creates another physical connection. The Drawing Shop is to become the foremost outlet for contemporary drawing in Paris, and offers a wide range of quality items for drawing, plus books, art jewelry, and original works and prints by artists. The Drawing Hotel's D.Bar is open until midnight on Wednesdays through Saturdays.
Everyone is welcome to enjoy its curated drinks menu, and the mixologist Kévin Ligot prepares signature cocktails for the Thursday evening 'Drawing Drinks' (Drawing Apéros). The inner courtyard and patio allow guests to benefit from the garden as a wonderful place to unwind. As of 11:30am, the breakfast area and patio transform into a luxurious tearoom for a relaxing moment that is open to all. It is the ideal place to find peace and calm for a professional appointment or to partake in gourmet delights at the end of the day.
THE D.BAR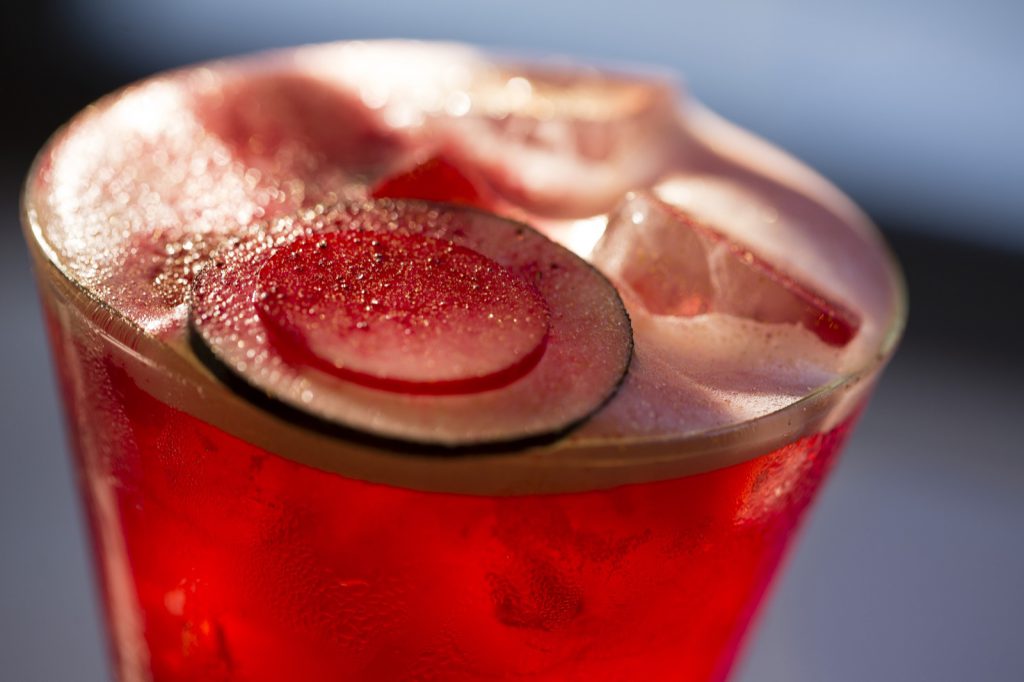 About Kévin Ligot
In 2009, Kévin left Brussels to embark on a working trip around the world. Amsterdam, London, Bangkok, Monte-Carlo, and other destinations have all contributed to shaping the mixologist he has become. In 2015, he arrived in Paris to work at Manko Paris when it opened. Kévin draws his inspiration from the world of gastronomy and from his personal collection of cookbooks. Self-taught, he creates delicious cocktails that combine character and elegance. Today, he is a key component of the new D.Bar. That is where he now makes the art of mixology come to life. He serves a curated drinks menu for you to choose from. Next to enjoying a signature cocktail of his or even a tasty blend of Master Tseng's tea, it is of course also possible to enjoy more traditional drinks at D.Bar.
The tea master and the mixologist: Master Tseng's point of view "When I met Kévin Ligot, he struck me as a savvy blend of inventiveness, discipline, inspiration, courage, and curiosity with a zest of determined tenacity, all brought to life with the enthusiasm of a true researcher. I listened to him passionately explaining how he prepares cocktails, the ingredients he chooses, their combination, and the expected effect of every new additive, with each providing a nuance like a touch of color in a modern painting. Mixing, mixing many things, that is Kévin's profession. "Mixomania." After all, why would I not let him mix my teas without my getting involved, like when ingredients get placed into the hands of a great chef? Entrust them to him so he may take them far, all the way into his world where elements collide, merge, shed light on one another, and trigger a big bang of flavors." Yu Hui Tseng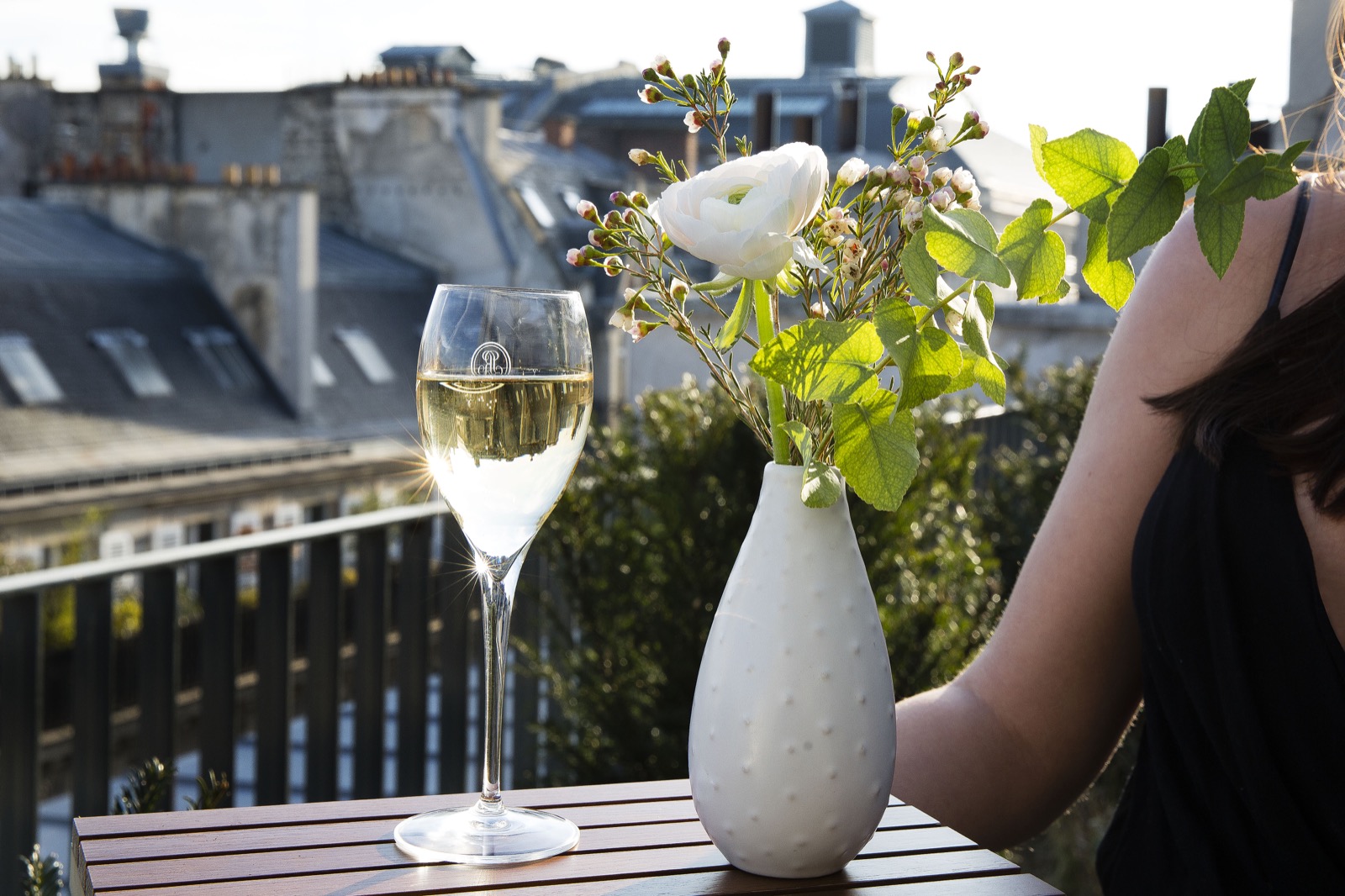 OUTSIDE, ON THE GABLED ROOF AND FAÇADE
Even the hotel's gabled roof provides room for a sculpture, which allows art to spread into the streets of Paris. The building's developer commissioned the artist Stéfane Perraud to create a monumental artwork for the roof and façade. The work Perraud produced features in the City of Paris' 'Art in the City' (l'art dans la ville) circuit and is a part of the 'One Building One Work' (1 immeuble 1 œuvre) program of the French Ministry of Culture. Stéfane Perraud thereby already brings the graphic arts to life on the building's exterior which sends a powerful signal to all passersby Thanks to this, a steel sculpture that climbs up the façade like ivy, picks up high-frequency radio waves that reach us from the sky, sometimes from distant lands. Recording these waves throughout the day produces marks that can be compared to seismic recordings. They generate a new drawing every day.
The Drawing Hotel is also an eco-responsible establishment. We use LED light bulbs, avoid wasting water, are in compliance with environmental standards, and engage in CO2- compensation. All these measures are essential to protecting the environment in 2017.
ROOMS AND SUITES
The forty-eight rooms and two suites have been designed as real living environments. They are warm, luminous, and contemporary. Alongside creations by the artists, they also hold furniture by international or French designers and manufacturers like Cassina, with lights by DCW Editions. NIDO Architecture has chosen pastel colors such as sky blue, and a selection of lamps close connected with the artistic universe of a particular floor.
A detail from each corridor's artwork is repeated on the carpets and on the headboards in the rooms. Every chosen motif has been meticulously crafted with the intention of fully meeting requirements for comfort, and all rooms provide Rituals beauty products. Above the 5th and last floor, a verdant rooftop terrace provides a calm view over the rooftops of Paris as a perfect escape from the city's hustle and bustle.
The One – 13sqm single room A room with a single bed and all necessary comforts. A single room filled with peace and light.
Drawing Classique – 17m2 Double room with a bed that sleeps two. Everything you need for two people along with the Drawing Hotel's exclusive services.
Drawing Superior – 20m2 Room with a Queen Size bed and walk-in shower in a warm and contemporary atmosphere.
Drawing Deluxe – 23m2 Room with a King Size bed, a bath, and a walk-in shower.
Junior Drawing Suite – 25m2 This is one of two suites at the Drawing Hotel. Located on the top floor, it provides all necessary comforts with a king size bed, bathtub and walk-in shower. Its view across the rooftops of Paris further encourages guests to partake in the pleasure of relaxation.
Thomas Broomé Suite – 28m2 The Thomas Broomé Suite is the only suite created by one of the artists. It fully immerses guests into his creative world. Its view over the rooftops of Paris and overall comfort thanks to its King Size bed, bath and shower in shades of blue selected by the artist.
THE ART CENTER – THE DRAWING LAB
Founded by Christine Phal and the Endowment Fund for Contemporary Drawing (Fonds pour le Dessin Contemporain), the objective of Drawing Lab Paris is to endow contemporary drawing with enduring means for sustainable practices. It is a private art center dedicated to the promotion and dissemination of contemporary drawing. It is above all going to be a place of experimenting with drawing in all its forms, by providing contemporary artists with the possibility of exploring drawing's full spectrum. With this in mind, artists can make use of 150 square meters of space, including a screening room to show animated drawing projects.
Drawing Lab Paris will allow independent curators to present emerging or established artists' work as received and selected upon this call out for submissions. All proposals are subject to a rigorous selection process by the international art committee which is comprised of key figures from the world of contemporary art and the contemporary drawing scene. At the rate of four exhibitions a year, the center hosts curated projects by national and international artists. Exhibitions held within this venue will be relayed to international institutions to increase awareness of the artists show. Exhibition catalogues can be purchased in the center's bookstore.
In parallel to every exhibition, Drawing Lab Paris will organize events that enable audiences to learn about and deepen understanding of contemporary drawing thanks to conferences, artist interviews, curator talks, films, and more. Creative workshops for young audiences and guided tours for groups and individuals will further inject vitality into discussion around the topic. Drawing Lab Paris is located on the lower level of Drawing Hôtel, founded by Carine Tissot. Her special relationship with this spot in the vicinity of major cultural sites, including the Louvre, the Musée des Arts Décoratifs and the Centre Pompidou ensures both local and international exposure.
17 rue de Richelieu, 75001 Paris
01 45 38 51 15 info@drawinghotel.com
From 240 € / per night
Access :
Bus : line 21, 27, 39, 48, 67, 68, 81, 95 stop Palais Royal – Comédie Française Metro : Pyramides, line 14 / Palais Royal – Musée du Louvre, line 1 and 7
Recommended