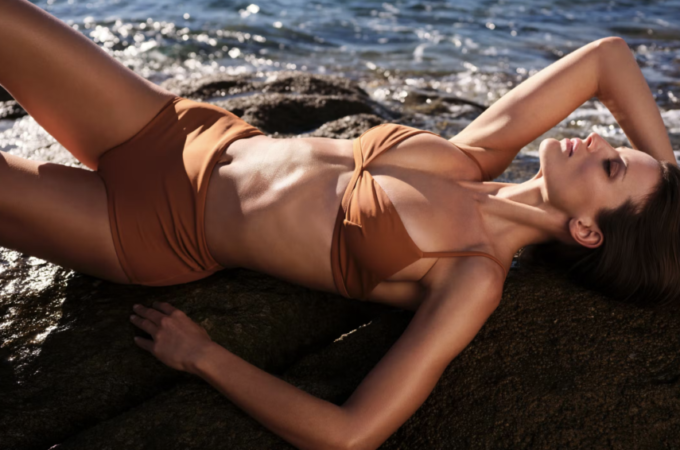 THE SUN? YES, BUT WELL PROTECTED! DISCOVER THE BEST SUNCREAMS OF THIS SUMMER
SOLEIL – Sun protection
La Biosthétique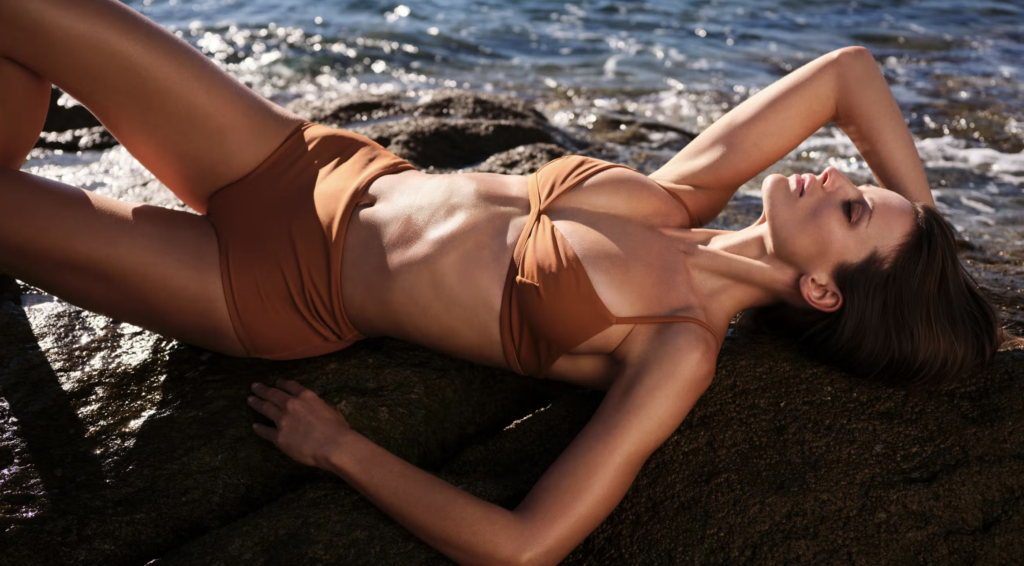 A complete care range that effectively protects skin and hair – before, during and after the sun.
Are you ready for summer and to protect your skin in the best possible way? We are, thanks to La Biosthétique. Discover the best suncreams of this 2022 summer, we promise you won't be disappointed.
The sun? Yes, but well protected!
Highly effective UV protection, a variety of pleasant textures and a summery fragrance make Soleil the ideal skin and hair care range to enjoy the sun at its best.
The Soleil range turns the need for sun protection into a real pleasure. Thanks to the ease of application of its protective sprays, lotions and creams, their pleasant, nourishing texture and their sensual, summery fragrance, there is no need to choose between pleasure and reason. The eight products for the skin and four for the hair offer the obvious advantages for La Biosthétique of high-tech cosmetic products with scientifically developed formulas containing precious natural active ingredients.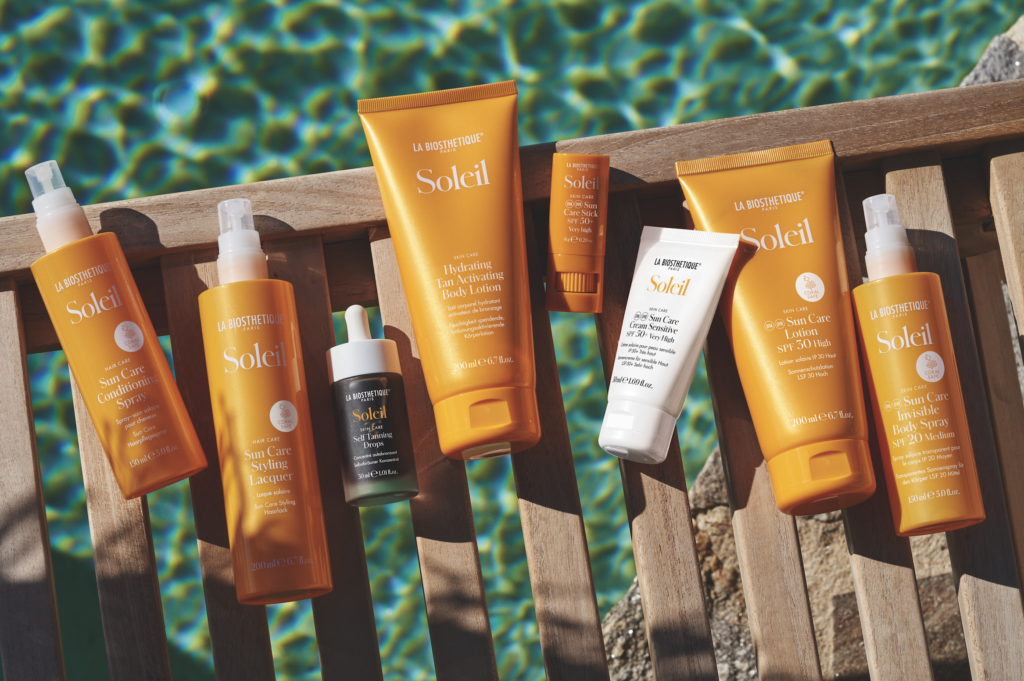 A complex of sunflower seeds and natural antioxidants from rice and rosemary protects against UV rays and reduces existing damage. Depending on the mode of action, ultra-modern and environmentally friendly UV filters, a tanning activator, moisturising, soothing and nourishing active ingredients are added to the light summery formulas and make Soleil an ideal skin and hair care range for all those who do not want to take any risks with their appearance and health when they are exposed to the sun.
Soleil – the active concept
A complex of sunflower seeds and natural antioxidants from rice and rosemary neutralises free radicals generated by UV rays and has both a protective and a restorative effect. Photostable UV filters cover the entire UVA/UVB spectrum without destroying the seabed or bleaching coral. The products are certified Coral Safe and carry the label logo.
Soleil – the fragrance
Behind the unique fragrance of the Soleil range is Geza Schön, one of the most creative and internationally renowned German perfumers of her generation. The fresh and sensual composition settles with a summery lightness on the skin and hair.
Its fruity cocktail opens with top notes of lime, orange, mandarin, bergamot and galbanum and and spreads its sparkling scent.
In the middle notes, the fragrance combines floral notes of rose, orange blossom, tuberose, yellow iris, jasmine, freesia and orchid. The base note combines deliciously creamy vanilla and tonka bean with the addictive sensuality of benzoin, patchouli, cedar and sandalwood, to unfold all the facets of summer.
Soleil – Protects skin, hair and the environment
For La Biosthétique, tolerance is not just about the skin. The brand is also committed to using active ingredients that have a low environmental impact, in other words, that are very well tolerated by nature in order to protect the environment. The brand is therefore constantly investing in the research and development of its sun protection products. All the UV filters used are evaluated according to strict independent criteria for their skin and hair protection properties and their environmental impact. Only filter combinations that meet these requirements without compromise are used. As proof of this, the sun protection products carry the Coral Safe label. This certifies that La Biosthétique products do not contain any oxybenzone (benzophenone-3) and octinoxate (ethylhexyl methoxycinnamate) UV filters, which are suspected of destroying coral reefs and causing coral bleaching. This ensures that the sunscreen products comply with Hawaii's Coral Reef Law, which has been in effect since law, which came into effect on 1 January 2021.
Soleil – 12 products for the beauty of your skin and hair before, during and after exposure to the sun
Soleil – before sun exposure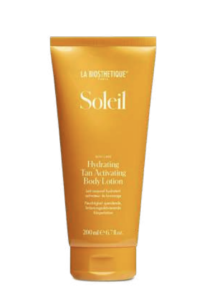 HYDRATING TAN ACTIVATING BODY LOTION
The lotion supports the natural tanning process by accelerating the pigmentation of the skin and stimulating the formation of melanin. In a very short time, the tan is intensified and beautifully evened out, while an active complex of natural radical scavengers and vitamin E acetate protects the skin from photoaging. Biomimetic minerals provide moisture. The biomimetic formula allows an optimal penetration of all the active ingredients into the skin and a very good skin tolerance and excellent efficacy. The lotion prepares the skin perfectly the skin for the sun!
200 ml 31,90 € (indicative price)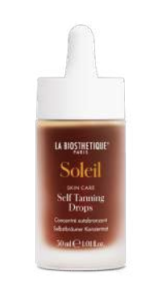 SELF TANNING DROPS
For a natural, tailor-made tan, simply mix a few drops of the self-tanning concentrate into your day cream. The natural active ingredient Dihydroxyaceton (DHA) reacts with the proteins and amino acids in the upper layer of the skin and gives it a light tan. Plant sugar alcohols regulate the moisture content of the skin, giving the skin a new skin's moisture content, perfectly highlighting its newfound glow. For a healthy, even result and a complexion as if caressed by the sun.
30 ml 25,30 € (indicative price)
Soleil – During sun exposure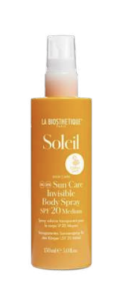 SUN CARE INVISIBLE BODY SPRAY SPF2O
From the very first spray, the water-resistant and transparent spray effectively protects the skin from sunburn thanks to a combination of ultra-modern UV filters. The sun protection spray does not only protect the surface of the skin, but the complex of sunflower seeds, natural antioxidants and rosemary extract even fights sun-induced skin ageing on a cellular level. A tanning activator ensures an intense, long-lasting tan. The nourishing texture of this skin care oil and its sensual summer fragrance provide the perfect summer pleasure.
150 ml 30,80 € ( indicative price)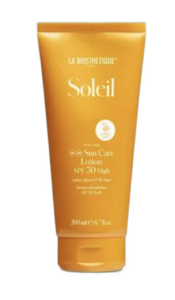 SUN CARE LOTION SPF30
The water-resistant lotion is ideal for people with sunburned, light and sensitive skin. But it is also suitable for people who tan easily and want to protect themselves from the harmful effects of too much sun, thanks to a combination of the latest UV filters. The complex of sunflower seeds, natural antioxidants and rosemary extract fights photo-ageing and chronic sun damage on a cellular level. A tanning activator provides the skin with a particularly intense and long-lasting tan and long-lasting tan, which is perfectly enhanced by the creamy, nourishing texture quickly absorbed.
200 ml 38,50 € (indicative price)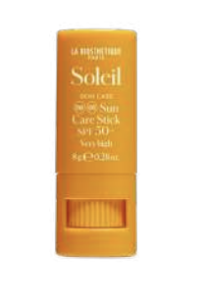 SUN CARE STICK SPF50 +
With its balanced complex of UVA and UVB filters, which act on the skin immediately upon application, this practical stick can be carried anywhere and protects the skin immediately and effectively from the sun. The creamy, water-resistant texture and a delicate vanilla aroma also make it particularly easy to apply to the lips.
The white streak-free formula with nourishing vitamin E, jojoba oil and Japan wax effectively and gently protects the skin from the sun while leaving a pleasant, silky feel.
8 g 24,20 € (indicative price)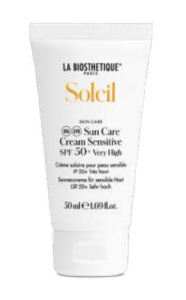 SUN CARE CREAM SENSITIVE SPF50 +
The latest generation of UVA and UVB filters provide highly effective sun protection, the active complex of sunflowers, antioxidants and rosemary fights free radicals, provides intelligent cell and DNA protection and combats skin photoaging. Quickly absorbed nourishing ingredients also keep the skin soft and moisturised for a long time. The neutral-scented cream can be combined with a day cream, spreads easily like an oil on the skin without shine, and is easy to apply.
The neutral-scented cream can be combined with a day cream, spreads easily like an oil on the skin without shine, stickiness or white marks and is proven to be suitable even for sensitive skin.
50 ml 25,30 € (indicative price)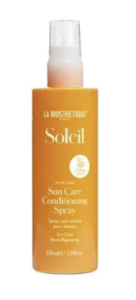 SUN CARE CONDITIONING SPRAY
Sun Care Conditioning Spray protects and nourishes the hair immediately thanks to its water-resistant formula, which is permanently fixed to the hair structure. Sunflower polyphenols have a preventive and regenerative effect against the harmful effects of UV rays, while UV filters provide additional protection against discolouration. An ester complex and a polymer tone up stressed hair and give it elasticity, softness and shine. Upon application, hair is nourished, perfectly protected from the harmful effects of the sun and smells like summer.
150 ml 24,00 € (indicative price)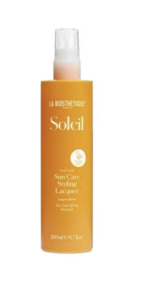 SUN CARE STYLING LACQUER
This non-aerosol hair lacquer distributes itself ultra-fine in the hair, dries quickly and sets all styles in an airy way. Hydrophobic UVA and UVB filters protect the hair's sensitive keratin layer, an integrated nourishing factor gives the hair extra protection and a shimmering shine. For a variety of creative summer looks, Sun Care Styling Lacquer can be used on both dry and slightly damp hair. As soon as it is sprayed on, the hair is protected from drying out due to external influences and discolouration. The hair is reliably fixed.
200 ml 22,90 € (guide price)
Soleil – After sun exposure

AFTER SUN HAIR & BODY SHAMPOO
The after sun hair & body shampoo gently cleanses the hair and skin after sun exposure. It frees the hair and skin from aggressive residues, reduces the dryness caused by the sun with maximum moisture and soothes rough and brittle hair structures. Sunflower extract neutralises free radicals generated by UV rays and protects the hair from pigment loss. The hair colour is preserved and remains brilliant for longer. Hair and skin are nourished, soft to the touch and smell of the delicious summer scent of the Soleil range.
250 ml 20,90 € (indicative price)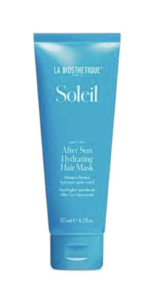 AFTER SUN HYDRATING HAIR MASK
As an express or intensive treatment, the hair mask soothes and revives structures weakened by the sun, intensely moisturises and repairs the hair shaft. Sunflower polyphenols neutralise the free radicals generated by UV rays and protect the hair from future harmful effects of UV rays. A nourishing, UV-absorbing polymer enhances the sun protection with insoluble UV filters that remain on the hair until the next shampoo. The deeply nourished lengths are shiny, supple and perfectly protected.
125 ml 21,10 € (indicative price)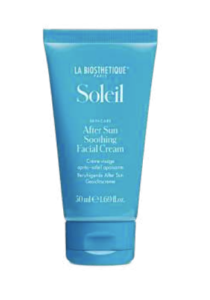 AFTER SUN SOOTHING FACIAL CREAM
The moisturising and refreshing formula soothes and relaxes irritated facial skin immediately after application. Skin-regenerating active ingredients stop the free radicals caused by the sun's rays and thus protect the cellular DNA from lasting damage. The intelligent active complex of sunflower seeds and rosemary extract activates the skin's defence system, protects against skin photoaging and chronic light damage. Stressed skin regains its youthful elasticity and a soft, comfortable feeling.
50 ml 32,55 € (indicative price)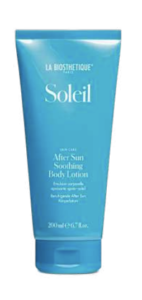 AFTER SUN SOOTHING BODY LOTION
The nourishing lotion quenches the thirst of sun-damaged body skin, moisturises it and reduces redness. The intelligent cell and DNA protection of sunflower seeds and natural antioxidants promote skin repair and protect it from photoaging and the chronic harmful effects of light. Thanks to its biomimetic base with components of the skin's own hydrolipidic film, all the active ingredients penetrate the skin ideally and are effective. The skin is relaxed and regains its elasticity and softness.
200 ml 30,80 € (indicative price)
www.labiosthetique.fr
Recommended