Joseph Walsh, Paris, XXIII – The designer's first exhibition in Paris
Joseph Walsh, Paris, XXIII
First solo exhibition in Paris,
coinciding with Paris+ and Design/Miami Paris.
From 14 to 22 October 2023
29, bd de la Tour Maubourg, Paris 7e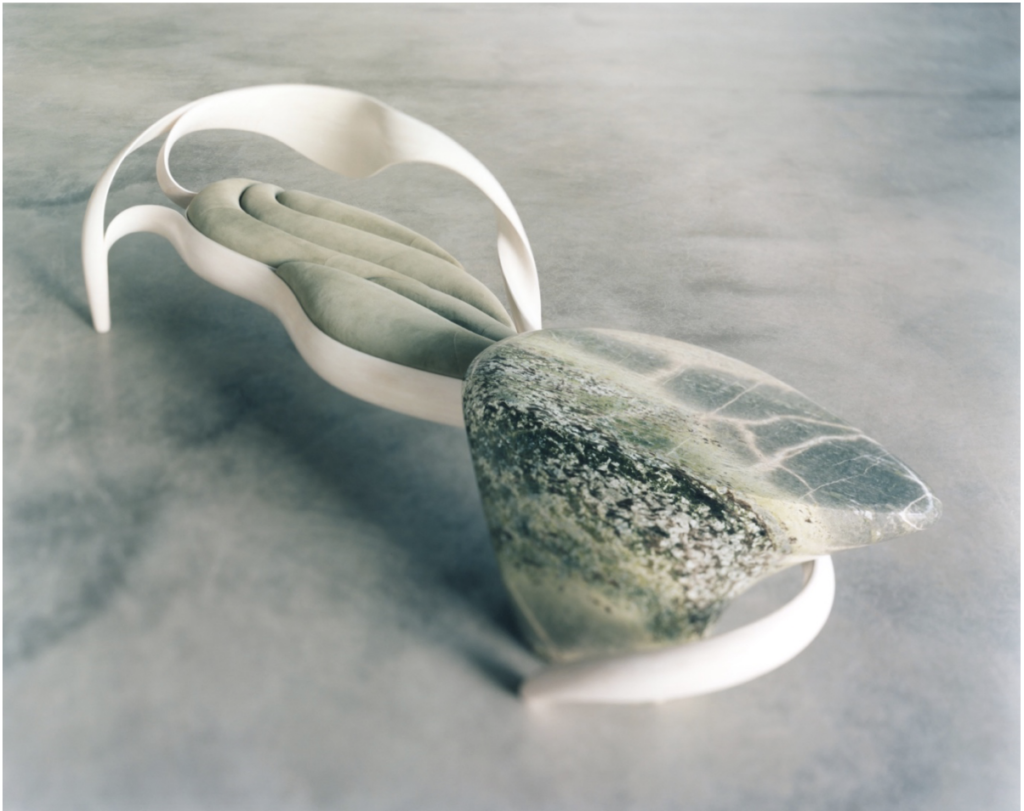 Introduction by Cloé Pitiot, Curator at the Musée des Arts Décoratifs
"An ode to the living, Joseph Walsh's works magnify the traces of the past. The wood species, chosen with care, are deployed in space with a rare virtuosity. Thanks to the designer's dexterity, they curve, turn and dance through space with infinite lightness. They offer our world, victim of the right angle, the hope of a return to the organic and sensuality of lines. Joseph Walsh invites design to take a new path. At the start of the 21st century, his works propose a return to the organic, a praise of the living, a celebration of human rhythm and the hand. For him, performance is not about doing more and doing it faster, but about a new relationship with time and the human being. The tool returns to its rightful place, serving the intelligence and rhythm of the hand. By sharing know-how with experts from all over the world, Joseph Walsh has created a unique international workshop in the heart of the Irish countryside. A haven of peace and reflection, a place of creation that embraces some of the principles of William Morris, as expressed in William Morris or the Beautiful and Creative Life: 'sharing rather than competition, equality rather than domination, beauty rather than artifice, quality rather than profusion'" – Cloé Pitiot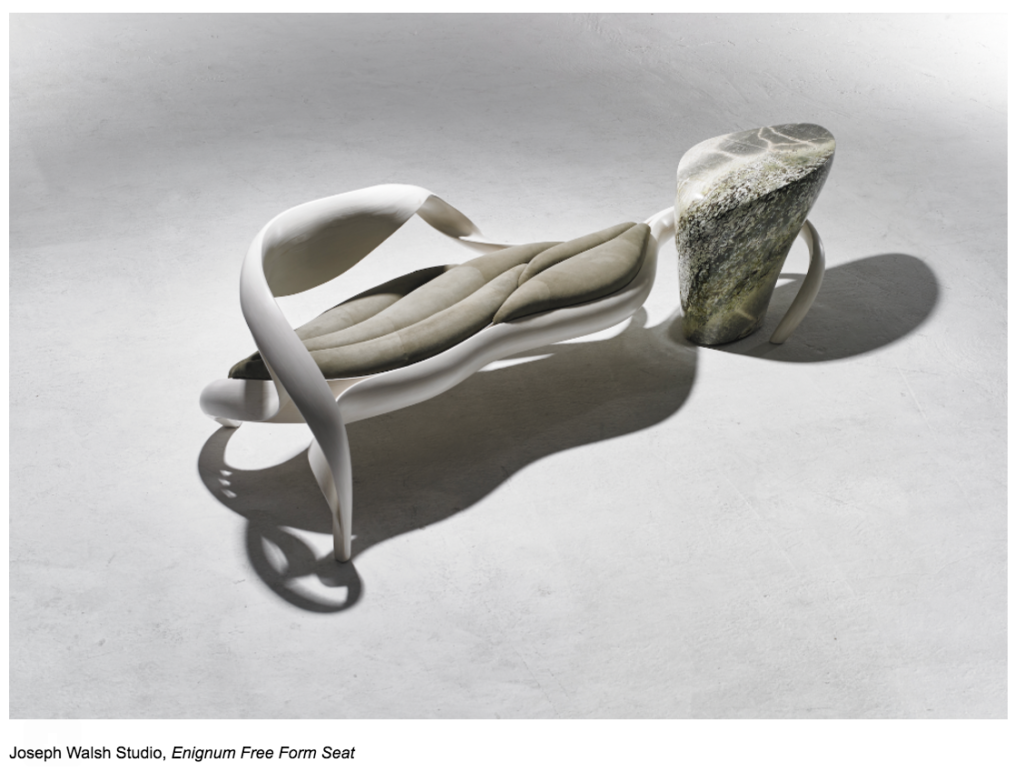 The Joseph Walsh Exhibition, Paris, XXIII
From 14 to 22 October 2023, Joseph Walsh will present a monographic exhibition in France, coinciding with the rich Paris art week that sees the opening of the second edition of Paris+ by Art Basel and the first edition of Paris+ by Art Basel.
A self-taught creator celebrated as a major figure in international design, a virtuoso of curve, contortion and modulation, Joseph Walsh transcends traditional rules of craftsmanship to develop a unique vocabulary.to develop a unique vocabulary. Deploying bold and expressive forms in a wide range of materials, Joseph Walsh invents new methods and processes of high craftsmanship in his studio nestled in the Irish countryside, in Cork, on the south-east coast of Ireland.
The exhibition Joseph Walsh, Paris, XXIII presents a selection of models, drawings and emblematic one-off pieces created over two decades of experimentation and innovation.
Among the unique pieces patiently crafted by the master craftsmen of the Joseph Walsh Studio over hundreds of hours, the exhibition brings together a selection of seats from the Enignum series in ash, including a previously unseen bench that has already been acquired by the Musée national des Arts Décoratifs; chairs in stained wood from the studio's most recently developed series, Gestures; and an extraordinary monumental table from the Lumenoria series.
Joseph Walsh's rich contribution to the international design scene has been recognised by an honorary doctorate from University College Cork, a major commission for the National Gallery of Ireland, and the acquisition of works by many major international collections, including the Metropolitan Museum of Art in New York, the Centre Pompidou in Paris, and the Cooper Hewitt in New York.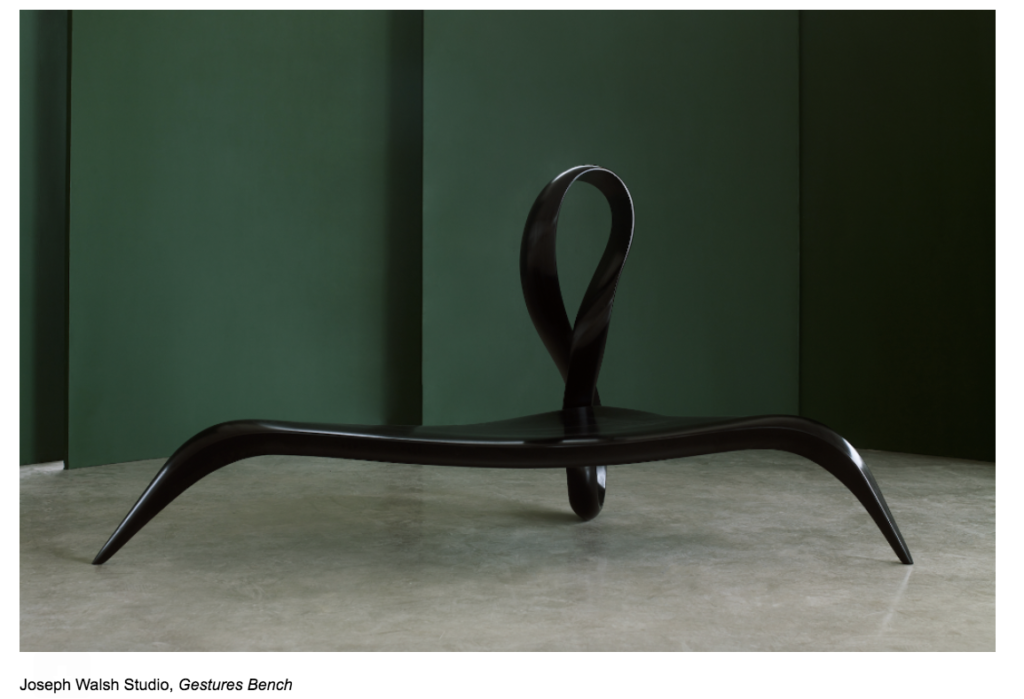 Conversation with Joseph Walsh
How has your language evolved from your early work to the present day? Where does your creative process originate?
Although a common vocabulary can be seen in all my work today, this wasn't always the case. Initially traditional and vernacular, my approach to design has evolved towards a more personal interpretation. In my early work, there was a specific source of inspiration, and I worked with different styles. Today, in the studio, we have developed a more rounded and complex vocabulary, a design language that exists in its own right. We constantly have to relearn materials, shapes and colours. We regularly return to the same subjects but in different ways, reinterpreting techniques. We are constantly learning, looking for new ways of doing things. I've accepted that design is not an end in itself, that it evolves during the manufacturing process. This new approach has led us collectively to change our perspective, both within the studio team and with our clients. At the origin of the creative process, my drawings are more like a form of writing. They are a process in themselves, a way of germinating the final idea. We always keep the first sketch, no matter how bad or strange, close by as a reminder of where we started. That way we can see how the piece has evolved along the way.
How would you describe your unique approach to craft, innovation, materials and form?
Our primary material, at the end of the day, is time. We work with all materials – wood, metal, stone – as sets of successive formations and layers, so that the final result is equal to the time taken to make it, to the patience required to achieve a perfect result. For me, form is emotion, and emotions are at the heart of form. While materials are physical realities, combined with the value of time, shapes are above all the expression of feelings, of a unique narrative.
unique narrative for each piece. I try to inject this expressive, almost romantic dimension into my work.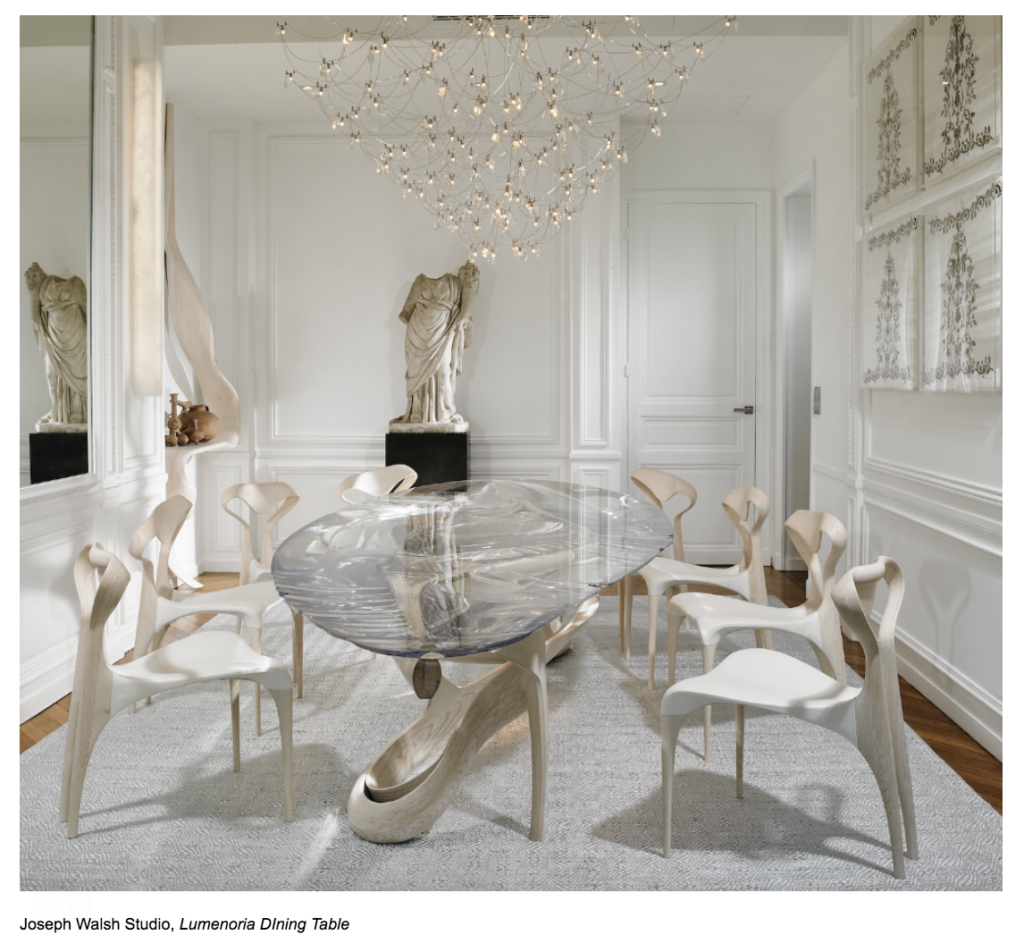 What balance do you strike between your quest for innovation and your deep understanding of craftsmanship?
As a studio, we are committed to a desire to progress, to surpass ourselves. As craftsmen, we have found a new way of working that allows us to go back to the origins of things, and to propose a new path in creation that is not just a simple development of what we have already done.
Innovation allows us to extend our research into materials. It leads us to invent new working methods, each time pushing the parameters to a level that had not been experienced before. Rather than blindly pursuing innovation, we seek to take a small step further each time. This is our quest for the unique.
How attached are you to high quality craftsmanship and the creation of unique pieces?
I don't believe in the idea of designing high quality pieces on a large scale. It's counter-productive. If we spend more energy making things, we get a healthier society. If we produce things ourselves, or value the production that comes from excellence, we consume less.
The act of making teaches us the value of things. The manufacturing process engages our energy, and whereas consumption is a very short-term act. In the studio, we develop a very artistic conceptual phase, followed by a design phase that focuses on manufacturing, on techniques and the creation of a method. If you create something that is relevant and unique, that unites these two phases, you transcend all typologies.
What is your relationship with the studio's environment in Fartha, County Cork, Ireland, at a time when the studio has expanded worldwide?
When I was younger, I didn't think I would establish myself so firmly here. I thought everything happened somewhere else. But creation requires space and time. When you go where you think everything happens, time and space are very expensive. I wanted to give myself time to do things. In the 2010s, I explored the idea of moving to Milan. But my work would have changed, I think I would have moved towards a more industrial approach to design. I realised that I had to put all my energy into my work here in Cork. Taking advantage of a number of factors, I was able to develop the space and the team here.
Today, I can't imagine creating a similar space anywhere else. Whereas big cities create their own space and impose their own rhythm, here time seemed to stand still.
How would you like to contribute to the history of design? How do you project yourself onto the international design scene?
It's essential for me not to think too much about the international scene.
When I was younger, I thought we were so far away from the world of design here in Ireland. Now I see what a dynamic and exciting phase the development of the studio has been. I think that today's globalised society, paradoxically, would no longer allow me to succeed in such a project.
My studio is closer to a cookery school than an industrial design studio. I want to be part of a generation of designers capable of looking to the future, of combining design, architecture, craftsmanship and high quality in all areas, making my contribution in the same way that a chef passes on his knowledge, over time. But I don't believe in the concept of heritage. Every iconic piece was designed by someone for someone. At the studio, each of our pieces was designed for someone. We wish them a certain kind of durability, but they were first made for women and men, in the present time.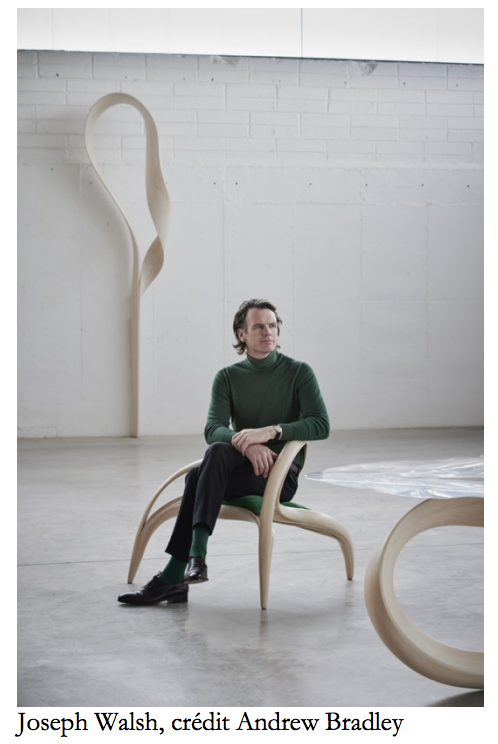 ABOUT Joseph Walsh
An international designer from Ireland, Joseph Walsh cultivates a singular approach that reflects his attachment to expression through material and form.
Joseph Walsh was born in County Cork, on the south coast of Ireland, where he established his own studio and workshop in 1999 and where he is still based today. Self-taught, he began his passion for fine craftsmanship by visiting master craftsmen throughout Europe, developing his own expertise in woodworking and an in-depth knowledge of materials.
From his earliest experiments, Joseph Walsh transcended the traditional rules of craftsmanship to develop his own creative language, made up of new manufacturing methods and processes, whose daring and
The bold, expressive forms he created in a wide range of materials are now emblematic the world over.
Joseph Walsh's rich contribution to the international design scene has been recognised by an honorary doctorate from University College Cork, a major commission for the National Gallery of Ireland, and the acquisition of works by many major international collections, including the Metropolitan Museum of Art in New York, the Centre Pompidou in Paris, and the Cooper Hewitt in New York.
Recommended