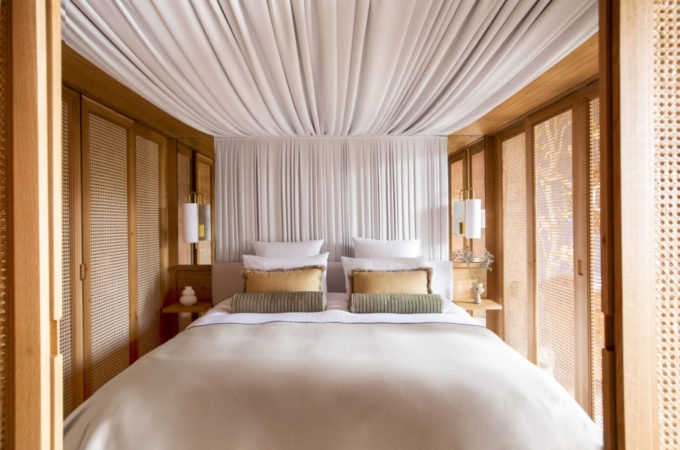 Arnaud Behzadi decorates the suites of the Relais Bernard Loiseau in Burgundy

Three new suites at the legendary Relais Bernard Loiseau in Burgundy decorated by architect Arnaud Behzad
The Loiseau family presents the first stage of an ambitious renovation projectfor the historic Relais & Chateaux in Saulieu in Burgundy, a project entrusted to the architect Arnaud Behzadi. The renovation of the hotel's suites was revealed early June 2022. Designed as «cocoon» suites, this project is based on the sublimation of the colours and materials which are characteristic of the Burgundy region. The building of the Relais Bernard Loiseau is U-shaped, with wings housing the 32 bedrooms, the restaurant and the spa. At the heart of this building, a botanical garden, designed by Dominique Loiseau, gives rhythm to the seasons.
Arnaud Behzadi chose to accentuate this dialogue with nature, and to ritualize sleep patterns. The bed becomes a sleeping case: «Le Cocoon»: thus offering a gentle ceremonial that accompanies bedtime and continues throughout the night, immersing the guests in a sort of «bird's nest»! Arnaud Behzadi overlays the narratives, mixing the materials, and respecting the family philosophy. He preserves the spirit of the place: «innovationin tradition», Bernard Loiseau's motto. Arnaud Behzadi skillfully provides an approach steeped in past and present histories, while at the same time shaping the future.
Innovation: The «cocoon» of the Relais Bernard Loiseau suite
The choice of materials for the bedrooms was based on the natural lighting of the spaces, with the addition of the tones of the Morvan, already used in the house. The combination of these two elements gives the rooms a refined and warm atmosphere, bathed in light. The interior decoration reflects the dishes of the two-starred chef Patrick Berteron, who offers his guests a true culinary experience. The idea is to feel at home in the suites while living a unique experience of intimacy and calm.
This renovation will continue in 2023. A second stage will later take place with the transformation of all the hotel rooms, the renovation of the kitchen, the restaurant, the lounges and the reception area.
ABOUT Arnaud Behzadi
Arnaud Behzadi decided to set up his own eponymous structure in 2019 after successful collaborations with other
agencies. Arnaud Behzadi designs and develops varied and exciting interior projects and has previously worked on Parisian hotels and restaurants including Hôtel Grand Powers and Hôtel Les Jardins du Faubourg in Paris.
Architecture according to Arnaud Behzadi never begins with a blank page but is composed of a multitude of analysis, conceptions and ideas with many layers.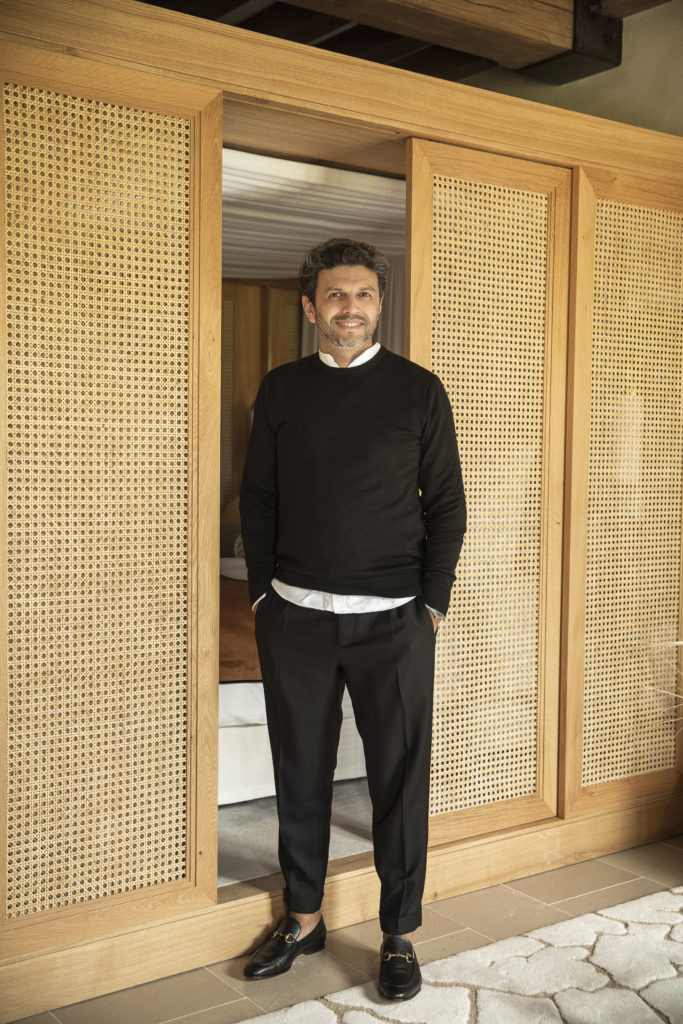 Recommended