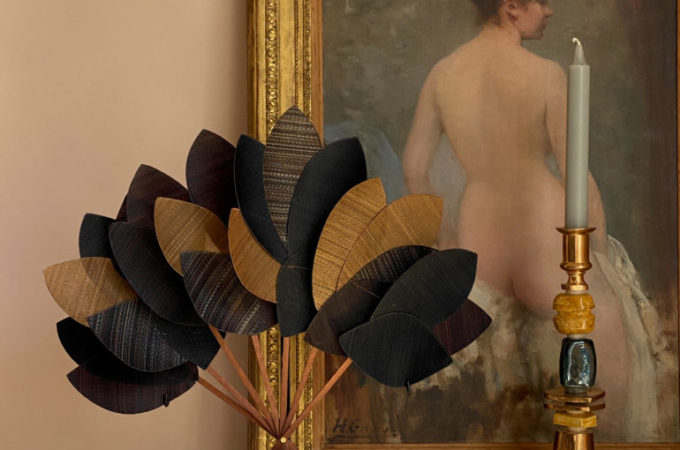 FRENCH ART DE VIVRE W/ DUVELLEROY & MÉTAPHORES

Duvelleroy and Métaphores are combining their respective expertise as fan-makers and weavers in an exceptional collaboration.
The "Panache" capsule collection cleverly exploits the various technical components of horsehair in the form of three highly decorative fans. Panache refers both to the bundle of raw horsehair delicately held together by its cotton knots, and to the first strand of a fan. "Panache" also symbolises a certain French art de vivre, dear to Métaphores and Duvelleroy.
For almost 200 years, the two houses have shared a singular relationship with time, which has no hold on the age-old gestures of their craftsmen. A suspended time, but anchored in the present by this encounter that shakes things up, questions and opens up new challenges.
A SHARED DESIRE FOR A FEELING OF LIGHTNESS
The silhouettes designed by Emilie Paralitici, Métaphores' creative and image director, draw their inspiration from Duvelleroy's heritage and grammar of shapes. Woven horsehair offers both delicate vibrancy and remarkable strength. Each fan reflects a subtle balance between brutalism and refinement, between pure lines and the interplay of materials.
"Airy and dense at the same time, horsehair fibre sublimates even the darkest colours thanks to its natural luminosity. An ideal material for exploring new applications in the world of design". Emilie Paralitici
THE FAN, A SUBTLE BALANCING ACT
Founded in 1827 and revived in 2010, Maison Duvelleroy perpetuates the savoir-faire of the fan, an object that is both functional and highly technical.
The strands set the rhythm.
Each frame is made by a craftsman from a precious type of wood.
Like a spine the frame provides support and movement.

The fabric leaf gives wings.
The weave of horsehair presents unprecedented constraints for Duvelleroy, due to its robustness and rigidity.
The non-pleated shapes make it possible to play with this difficulty to create unique fans that combine aesthetics and function.
WEAVING HORSEHAIR, A SAVOIR-FAIRE THAT IS UNIQUE IN THE WORLD
The Manufacture Le Crin, founded in 1814, has been perpetuating the precise gestures of an exceptional skill for over two centuries: horsehair weaving, which has been awarded the Entreprise du Patrimoine Vivant (Living Heritage Company) label.
Le Crin is the heir to a carefully preserved know-how derived from a patent registered in 1787, and is now the only workshop in the world where horsehair is woven by hand.
The precious secrets of this constantly evolving craft are passed on with passion. A singularity shaped by time. A long and inescapable time, because only a few dozen centimetres can be woven each day.
Making fans from horsehair weaving requires patience and precision. The way the material is woven allows the light to filter through delicately, playing with superimpositions and airy fringes.
RIBBON FAN
Unique piece
Horsehair weaving and fan assembly made in France
Ebony frame made in Spain
Hand-trimmed ribbons made from:
Paddock C0435: Graphite 004, Whisky 003 and Gaël Satin: 22 Chestnut
Dimensions: Amplitude: 51 cm Height: 27,5 cm
Price: 3500 euros
RAMAGE FAN
Unique piece
Weaving of horsehair and fan assembly made in France
Mahogany frame made in Spain
Laser-cut leaves in Paddock C0435 fabric: Black 007, Graphite 004, Whisky 003 and Rosewood 008.
Dimensions: Amplitude: 40 cm Height: 31.5 cm
Price: 3500 euros
FAN ÉCLAT
Unique piece
Horsehair weaving and fan assembly made in France
Bokapi frame made in Spain Salicorne fabric C0516: Fauve 001
Dimensions: Amplitude: 45 cm Height: 26,5 cm
Price 3500 euros
Recommended