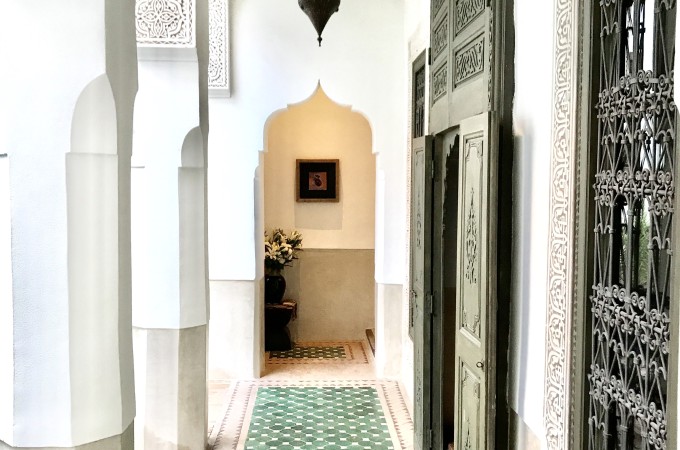 A 1000 and One Nights at Riad Farnatchi
A Thousand and One Nights. . .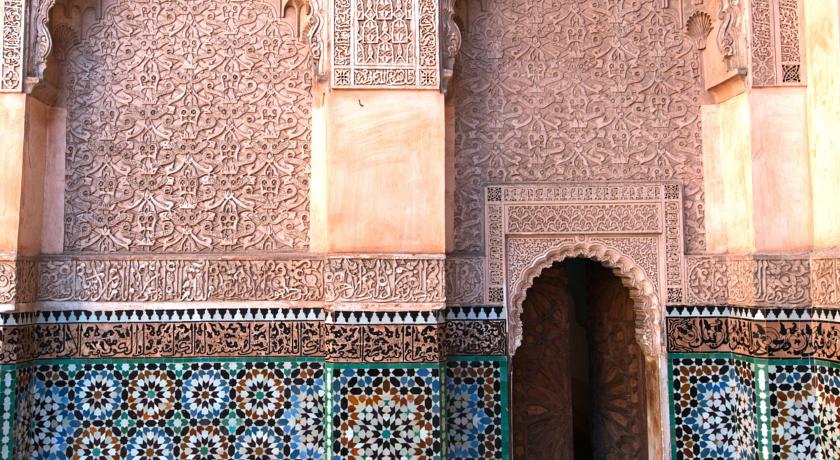 _
What a lovely idea to escape Paris for a little weekend. I was craving for some sun and warm weather, but I didn't know what exactly would expect me, as it was our first time at the Riad Farnatchi.
When in Marrakech.
It was already evening when we arrived, but even without daylight this place left me speechless upon arrival. It felt like being thrown into a 1001 nights fairy tale… This place feels like heaven was a place on earth, honestly. And on top, as it is a small luxury boutique hotel in the heart of the Marrakech Medina with 9 suites and 20 staff people, the service level is kept very high. So here we've got this magic place mixed up with outstanding service, I guess that's called #thegoodlife.
_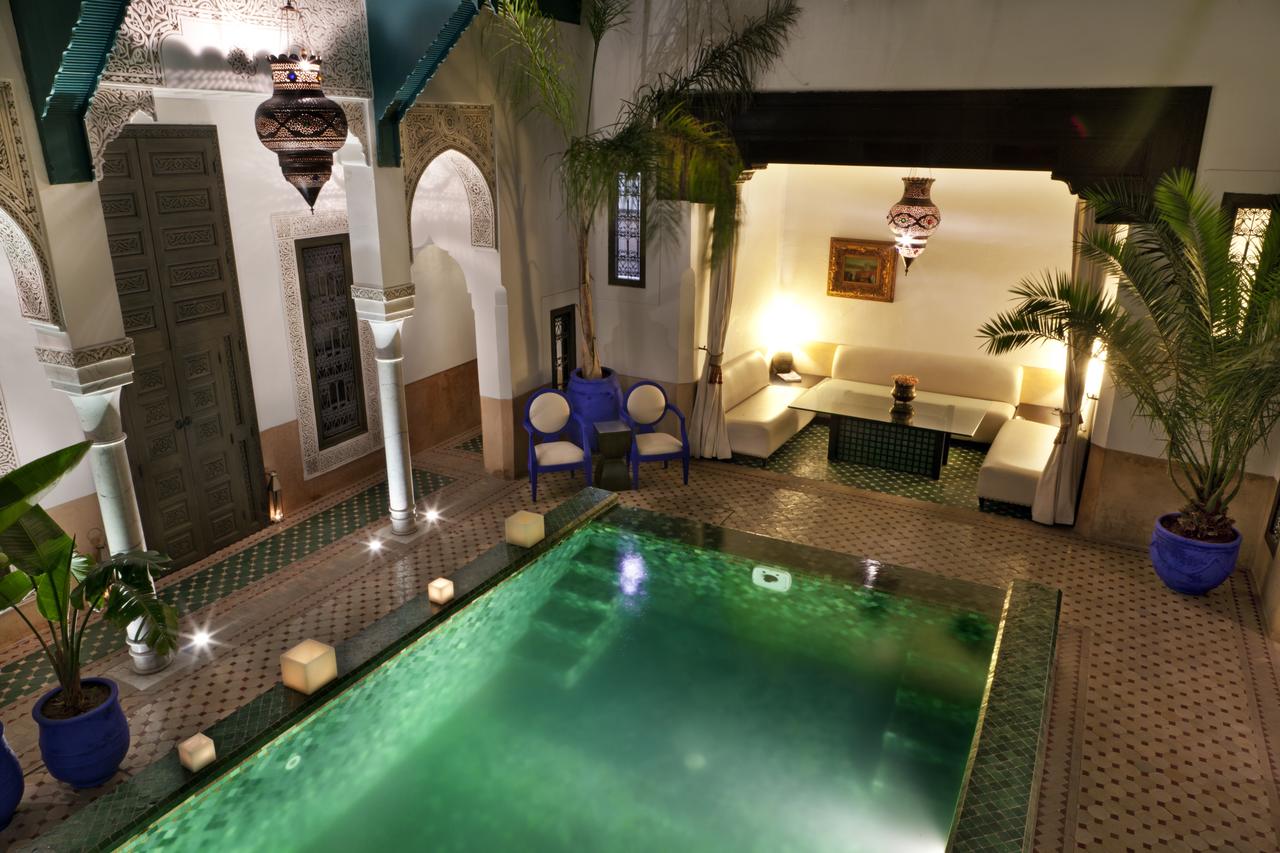 _
And as well as offering a wonderfully personalised service to all it's individual guests, Riad Farnatchi has long been regarded as the finest venue for a private house party in Marrakech's medina.
James Wix originally trained in hotel management with Four Seasons in London and then moved on to The Admirable Crichton, one of Europe's top party planners, which allows Farnatchi to offer a unique level of creative experience. Whether you are looking for the perfect venue for a small wedding or the ideal place to celebrate a special birthday, if the building (and Marrakech) is physically capable of meeting your wildest dreams, he will do his best to ensure that they become a reality at Riad Farnatchi. In December 2013, Farnatchi was proud to be a finalist in a world wide award for hotels that go "Above and Beyond" for their guests.
_______________________________
LA SUITE 8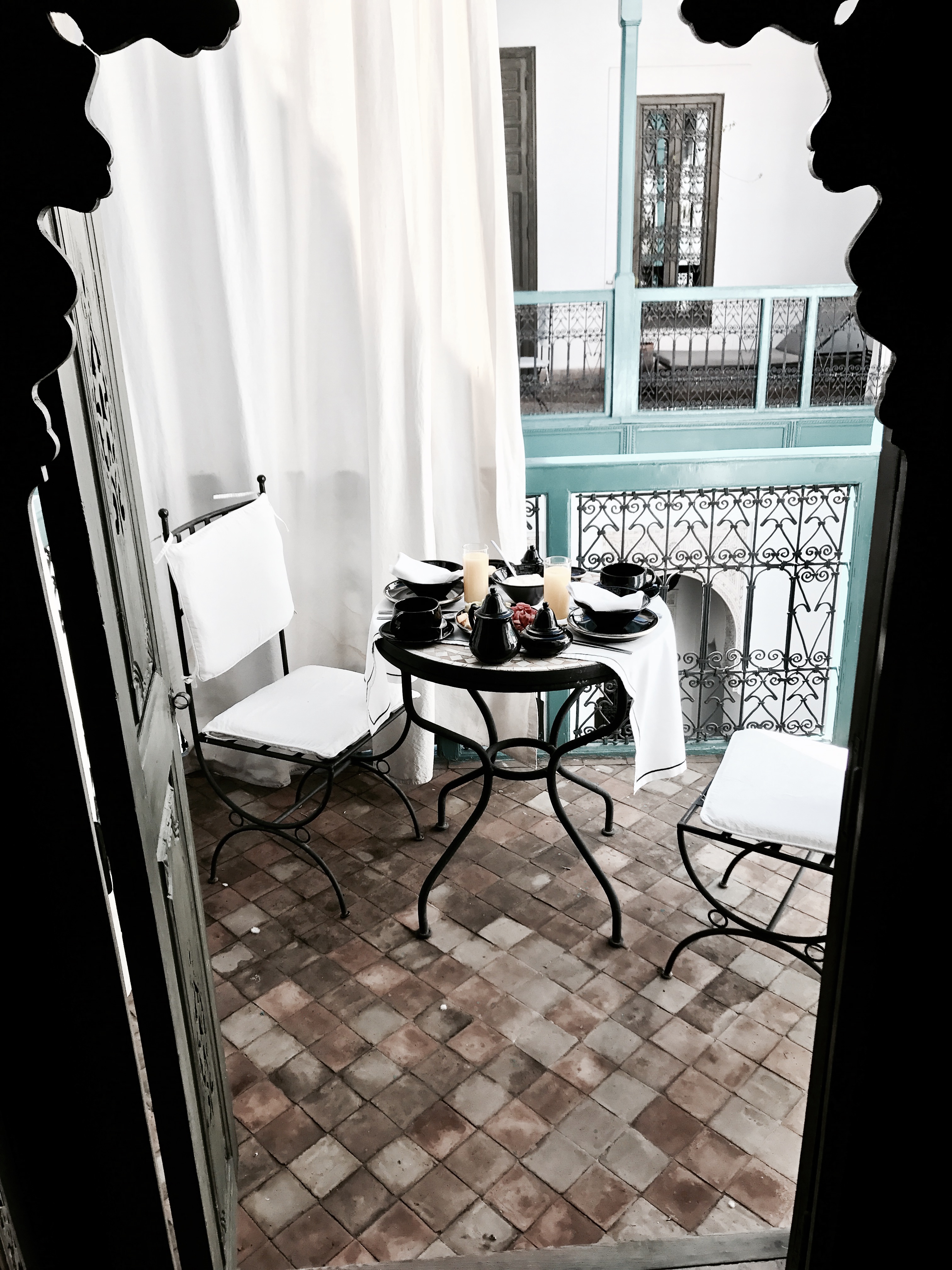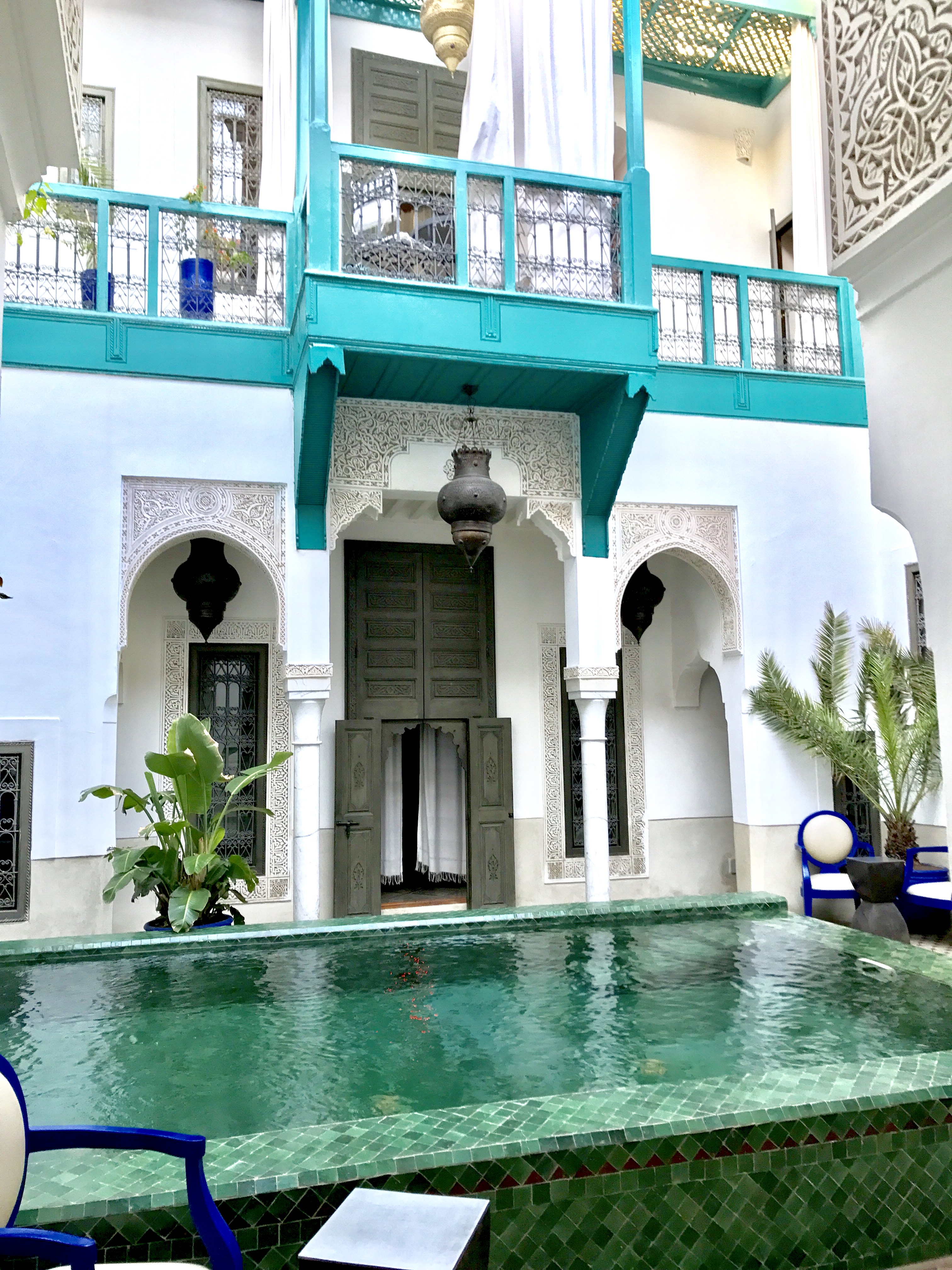 _
We had the chance to stay at the fabulous Suite 8, which you can see on the picture above, that is Suite 8 and its balcony that also screams 'fairy tale'. It has a spacious living room with a cozy fireplace and a this lovely balcony with a view on the courtyard and pool.
The bathroom area is divided in 3 "rooms", one with a beautiful bathtub and a Moroccan round ceiling that looks like a true artwork as it is hand-hammered, another with the walk-in rain shower and then an extra room with the toilet, and everything is made out of beautiful beige marble stone.
_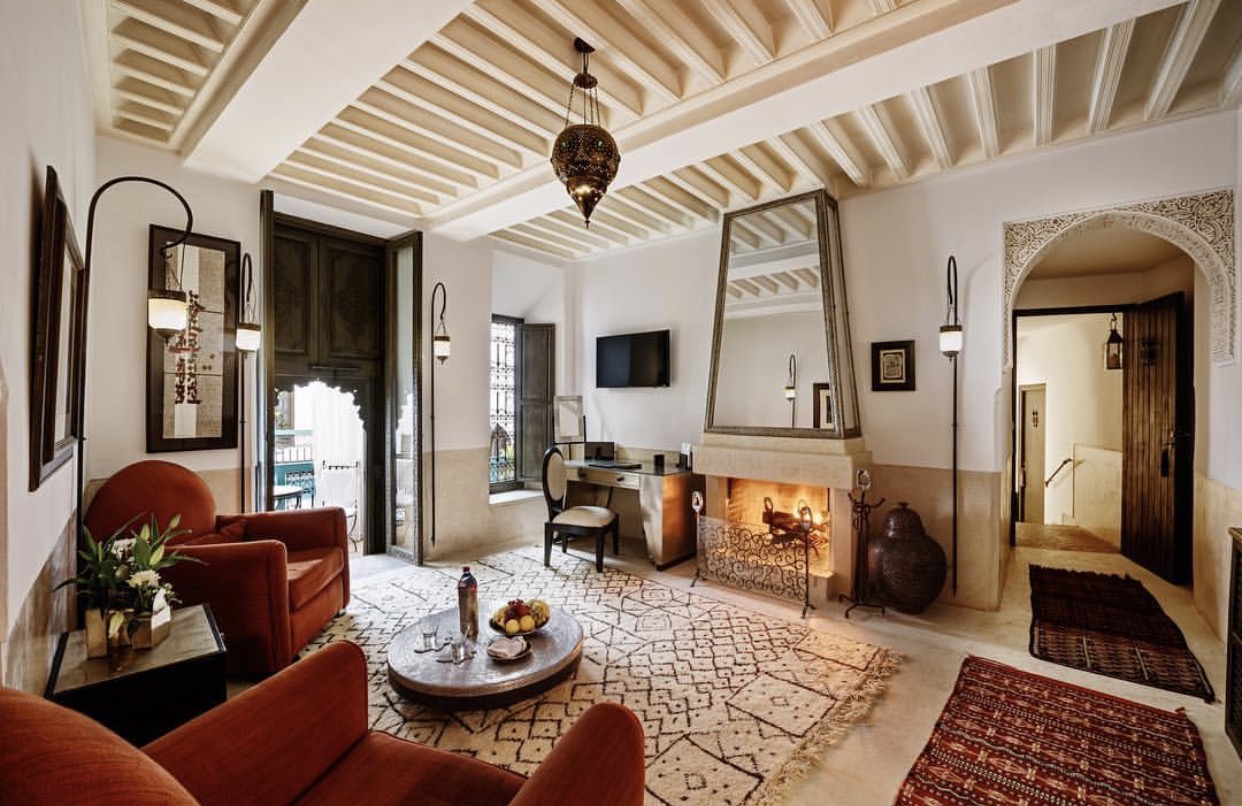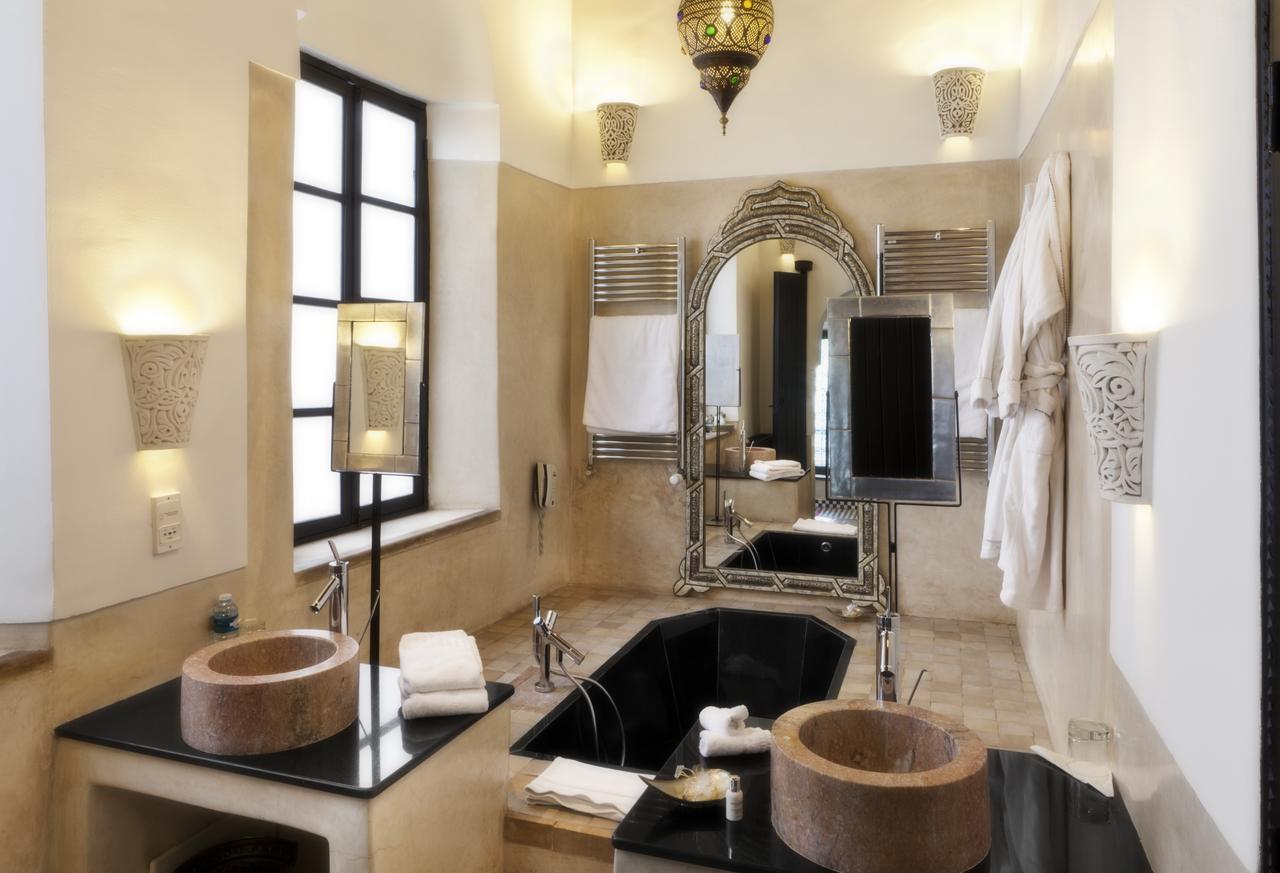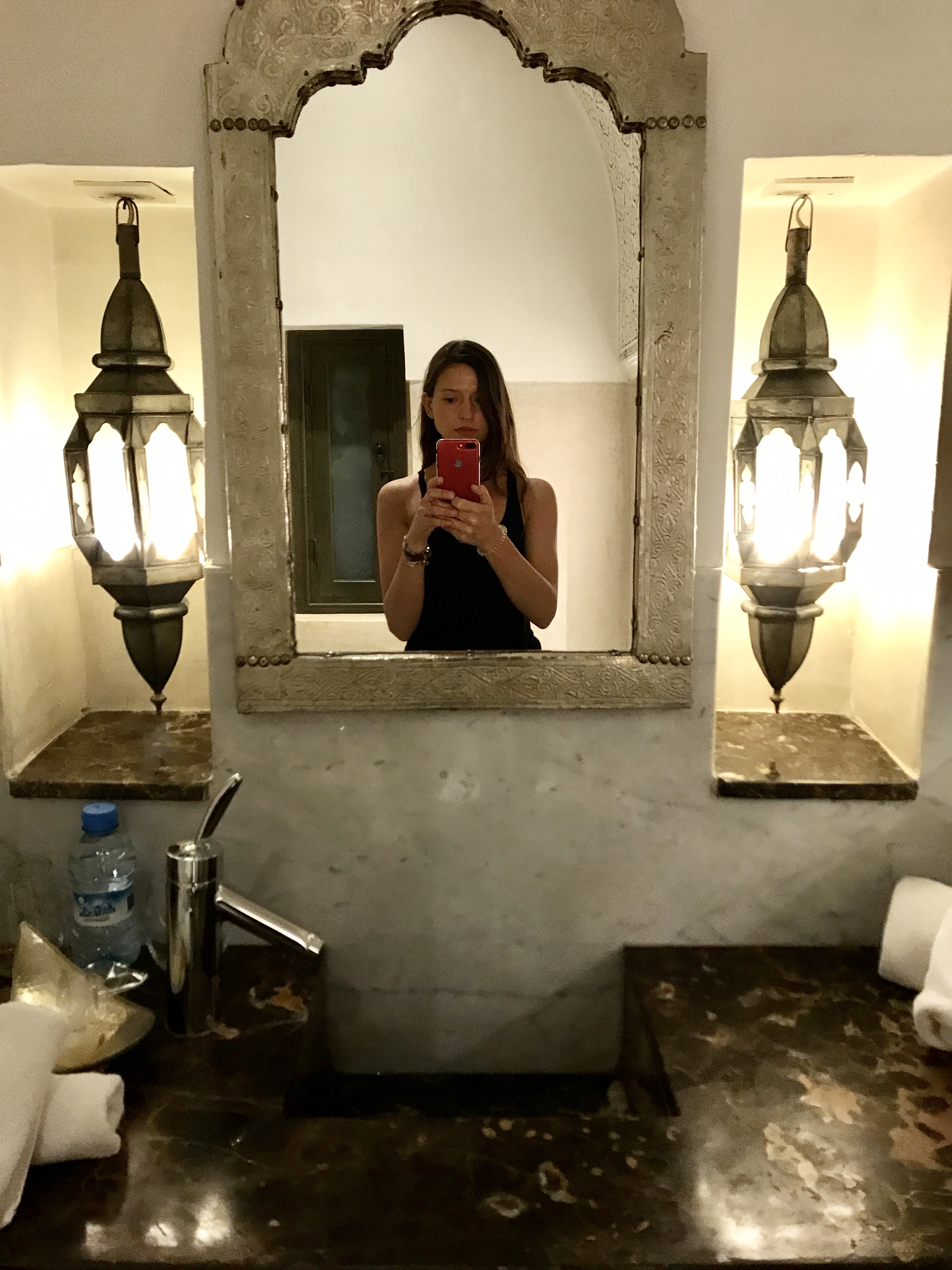 _
On our bed we had a pair of Fez hats and djellabas – traditional house robes – which are gifts by the Riad Farnatchi. I took mine back to Paris and it makes actually a nice pyjama!
 The king size bed with Egyptian cotton sheets is as comfortable as maybe cloud 7 would feel like and from the bed you got another private little courtyard to relax and take some sun, read a book and enjoy the birds singing – for those who like it. Others can enjoy the suite to the fullest when one is 'sun-shy' or day sleepy. You can order movies, watch tv, read, play in the bathtub or order some food. The Riad also has many food opportunities!
_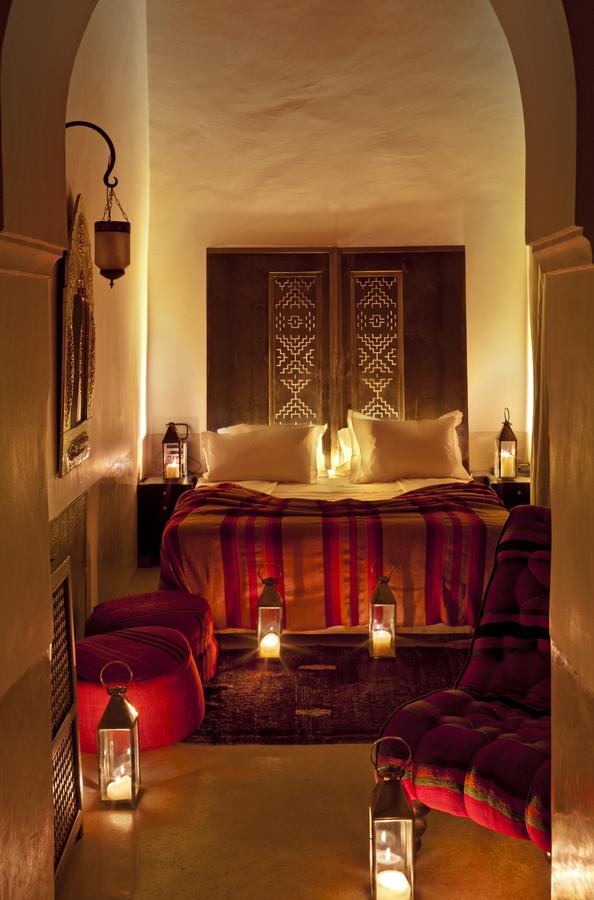 _
It has 2 beautiful candlelit dining rooms with comfortable seating for 24 people, two sitting rooms, two sitting B'hous, and a roof garden, complete with sun loungers, dinning tables for 16 people, and a barbeque. The perfect chill.
There's no minibar in the room but who cares, because every wish can be provided by just a call to the reception. In the late afternoon the staff will also provide you with some little delicious Moroccan delights, perfect for an apéro.
_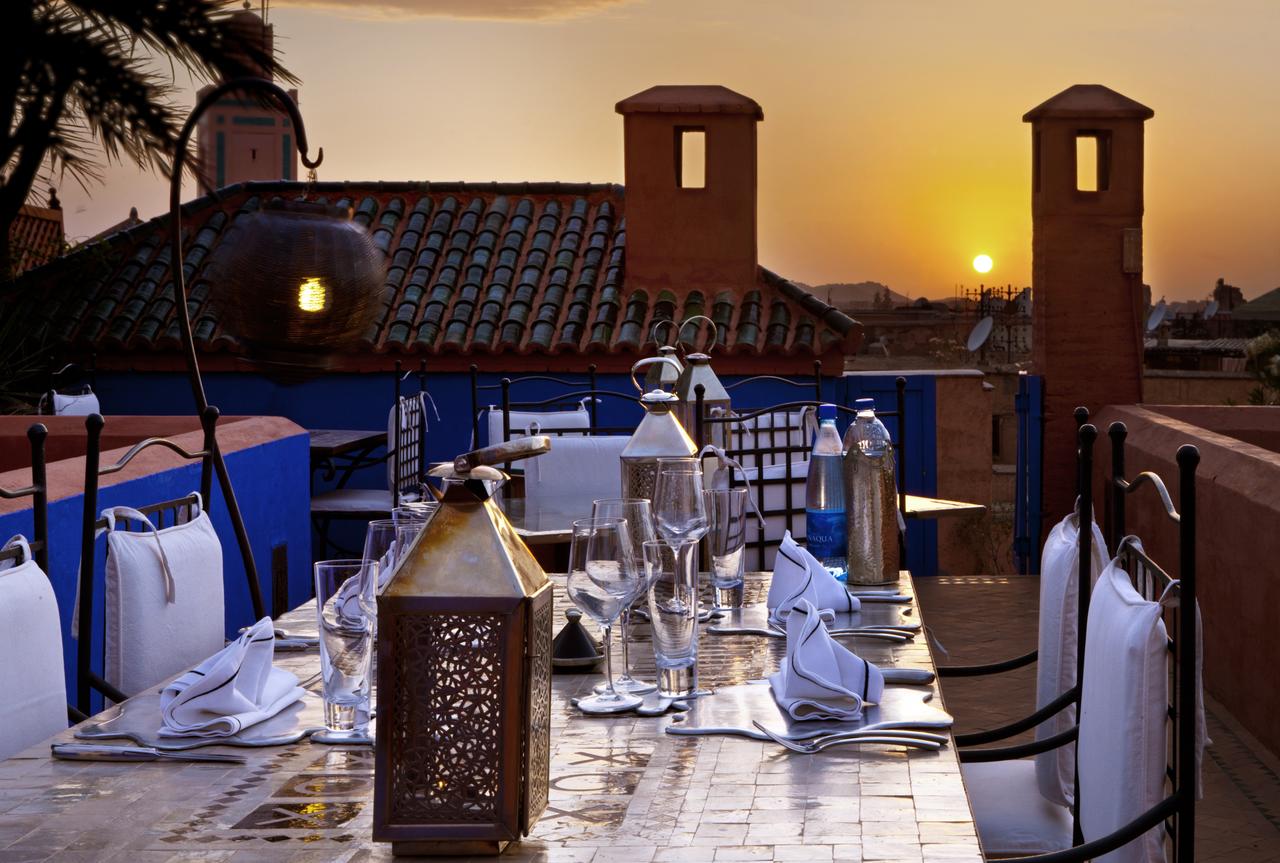 We started the day with a breakfast on the balcony, I actually had to ask myself if I was dreaming, as the beauty of the scenery was kind of surreal. We had Moroccan pancakes, a delicious omelette with veggies, fresh orange juice, coffee and a beautiful plate with fruits. It could not have been any better and the deep feeling of satisfaction got to its peak already in the early morning hour.
_

_
Hammam
My other amazing experience at the Riad Farnatchi was the Hammam at their Farnatchi SPA. First of all, I have never ever seen such a beautiful SPA, this is for sure. The French would say 'La classe'. The interior design is true perfection and so very elegant, I was just sitting there a while being stunned by the surroundings.
It was my very first Hammam in my life so I had no idea what was expecting me.
The architecture and design of this place already blew me off.
I was guided in the white marble steaming room, where I stayed about 20 min. Usually one can stay longer but I suggest for the first time that 20 minutes are sufficient. I had a very sweet lady that took care of me and made me literally feel like a little princess. She pampered my body with several scrubs and washed them off after, in such a gentle and stimulating way. This whole session was about 40 minutes, but it felt like 2 hours which means that I just let myself go and devoted my body and soul to this nourishing and cleansing treatment. This is actually the perfect 'detox' and 'feel well' program, loved it!
This is considered as a must-do when in Marrakech.
_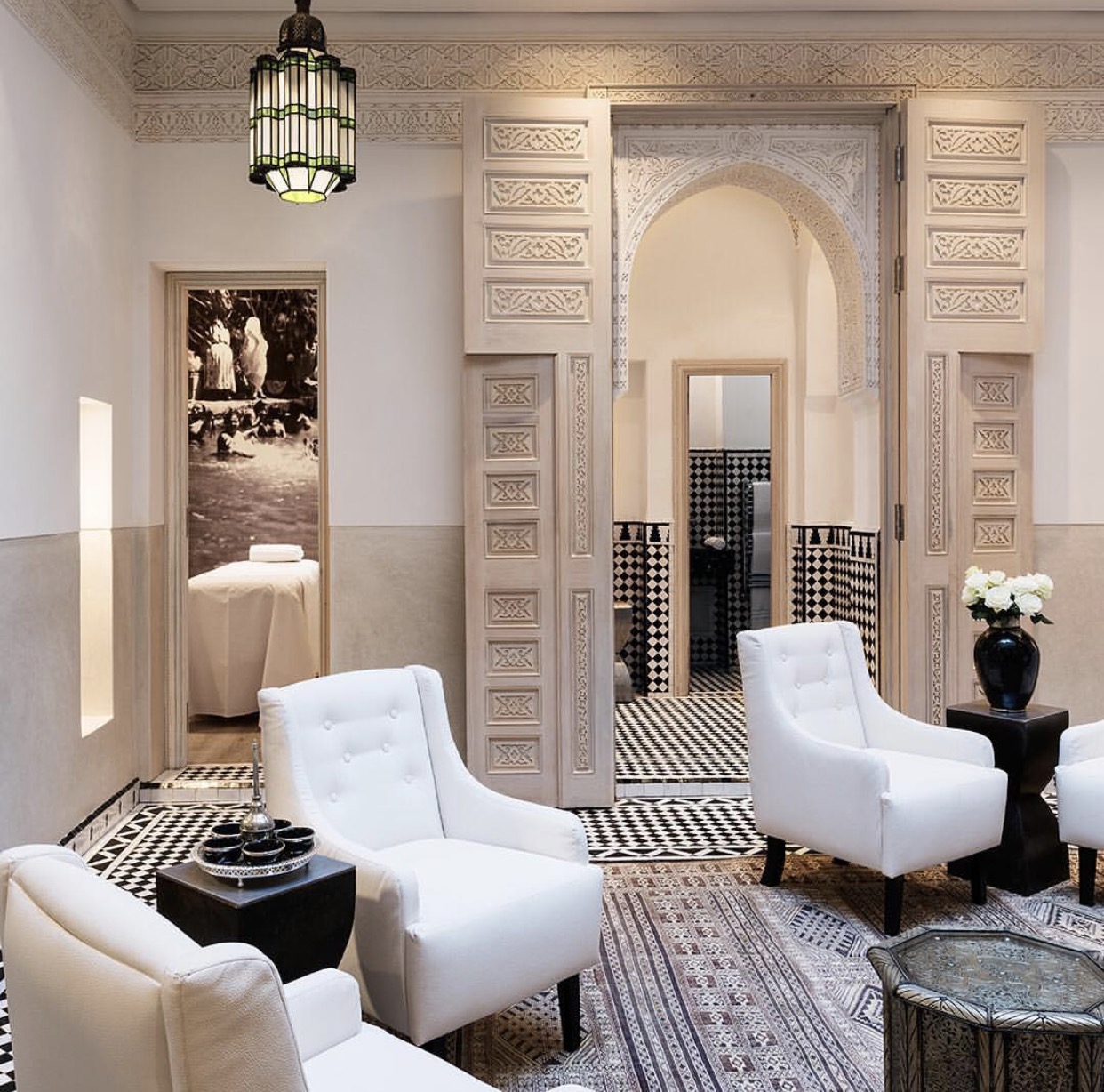 ________________
There's also the new 'Le Trou au Mur' restaurant which you have to try when you'll visit or even better, if you stay at the Riad Farnatchi.
Le Trou au Mur brings a breath of fresh air to the Marrakech restaurant scene. Chic, laid back, fun, relaxed, intimate and comfortable but, above all, totally serious about food.
The décor is a unique blend of superb local craftsmanship with the best of modern European style. Enjoy an early supper on the roof, or dine at any time in the gorgeous air-conditioned restaurant (with a log fire in the cooler months).
With its own traditional clay mechoui oven on view, melt-in-the mouth mechuoi roasts will be a feature, but no less so than a variety of carefully researched old family recipes rarely seen outside private homes. For those who need another Tagine fix, they will have a superb daily special. For those who don't, gourmet burgers and home style classics will be on hand too. Le Trou au Mur will combine the very best of Moroccan home cooking with a few of those comfort dishes that we sometimes just can't live without.
_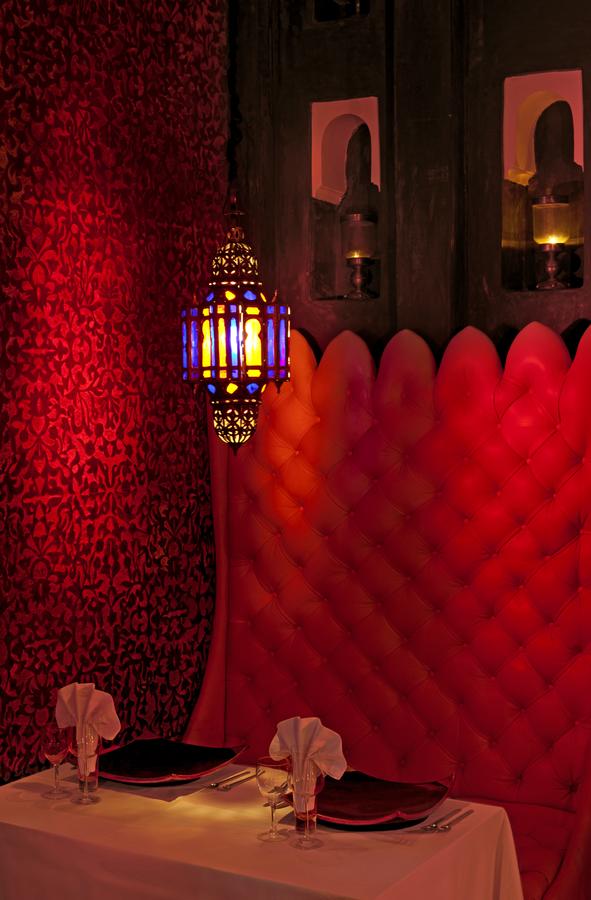 ____________________________
ADVENTURE
If you are only planning on coming for a day or two, then there are certain "must see" places that will take priority and Riad Farnatchi will fix you up with the best guides in town. You will get a taste of Marrakech which will almost certainly result in your returning for more sooner than you think.
Alternatively, you could save yourselves two lots of airfares by staying longer in the first place! They can arrange trips and activities that are quite different to those on offer by the average hotel concierge and which will leave you with a lifetime of memories. Listed in the menu under Adventure, Culture, Something different, Kids and Day trips are just a few ideas to whet your appetite, but if there is anything that you fancy that isn't mentioned here, don't hesitate to ask them. If it can be done in Marrakech, they will not only be able to organise it for you but they will know exactly where to go in order to ensure that you get the very best experience possible. Yes, that all sounds too perfect to be true right?
Well, if you want to live this "dream", just do it.
____

_____________________________________________________________________________________
This place will stay forever in my mind, like a dream, perfect and surreal as it was.
Thank you to James and the wonderful staff of Riad Farnatchi for this outstanding and exceptional experience.
Book your own '1001 night' experience here.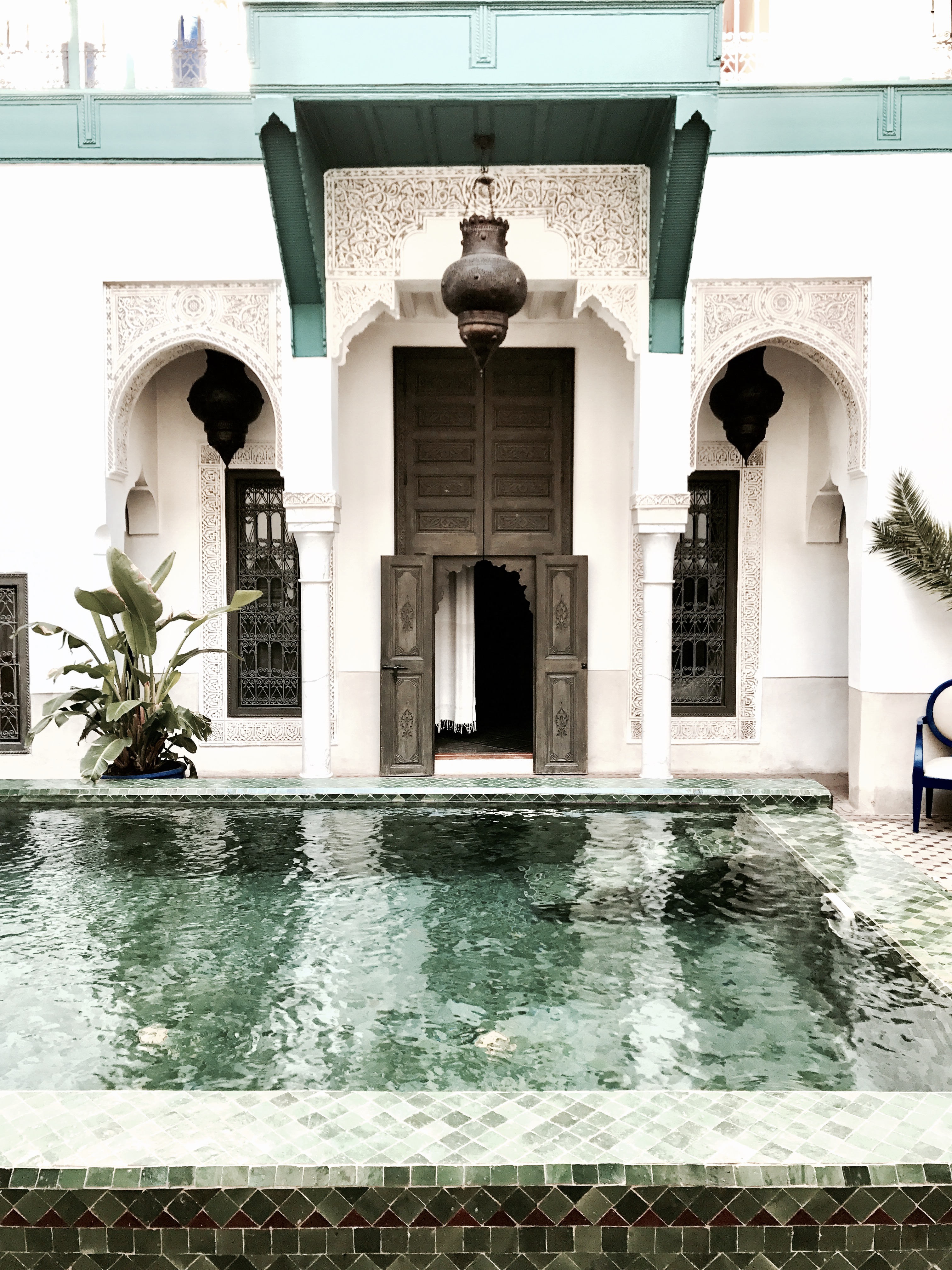 Recommended