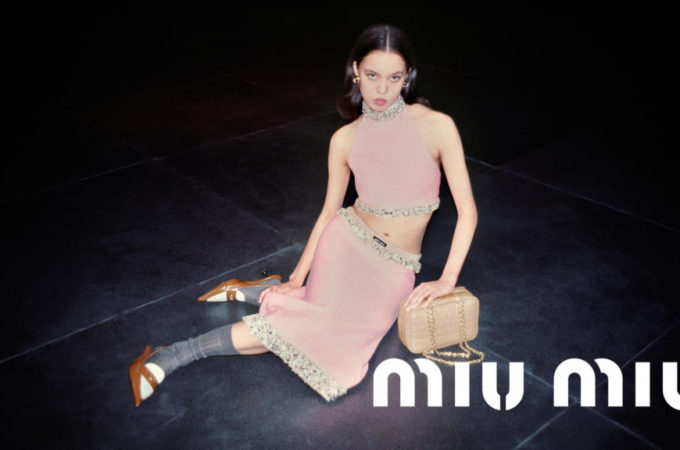 MIU MIU – DAY/NIGHT

Day/Night.
Real/Unreal. A portrait of rebel youth, emerging out of darkness into light – reflected from the surfaces of elegantly subversive clothing. For this collection, Miuccia Prada continues her rediscovery of the Miu Miu identity, drawing on the past to build the future and on codes that are at once familiar – obsessional – and new; personal and universal.
In that same spirit, the tropes of the evening wardrobe merge with those of daywear, specifically uniform, in many guises, sliced and slashed as proportions are continuously reinvented and the character of the looks themselves – and of the people who wear them – come to the fore. Both time and place are indistinguishable, studiously resisting definition.
Skirts are pleated and shirts and jackets radically cropped, leaving midriffs bare. The quintessentially bourgeois tailleur is edged with oversized crystals and merged with a sportswear silhouette. Bright white tennis skirts, with Miu Miu branding stamped onto go faster stripes, are worn low on the hip with brief cardigans in fondant shades.
Sinuous satin tea dresses are sensual, suggestive of the body beneath, but finished with naïve puff sleeves.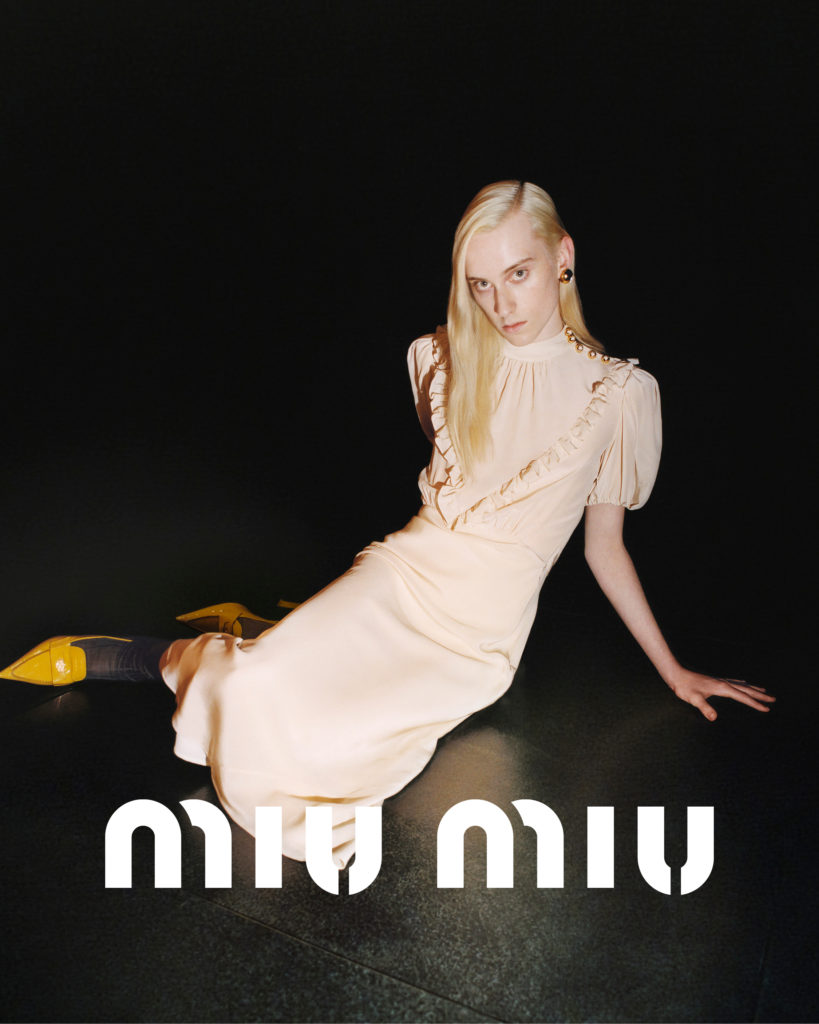 The Miu Wander bag is hugged close to the body: plump and pleasing in iconic matelassé leather.
A provocative play between innocence and experience, an ageless wardrobe, an atmosphere of disorientation and a world difficult to define prevails. Here are clothes to work, play and dance in, wherever and whoever the person wearing them may be. In this way, the clothes are an extension of the self, and the self is expressive of a free spirit, of a community of like-minded beings who identify with each other through a celebration of individuality – a celebration of style.
Creative direction: Lina Kutsovskaya (BeGood Studios)
Photographer: Tyrone Lebon
Stylist: Lotta Volkova
Recommended