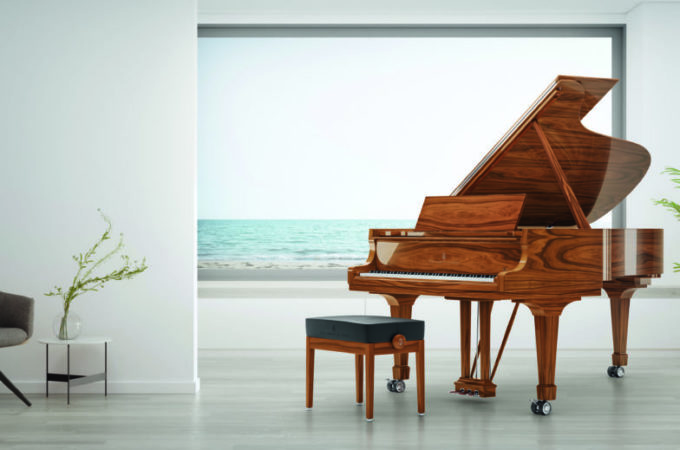 STEINWAY & SONS unveils the stunning MASTERPIECE 8×8 collection

STEINWAY & SONS UNVEILS THE "MASTERPIECE 8X8" COLLECTION
A TRIBUTE TO THE WORLD'S MOST PRECIOUS WOODS THROUGH EXCELLENCE IN CRAFTSMANSHIP
To celebrate the natural beauty of the world's most precious woods, Steinway & Sons has created the MASTERPIECE 8×8 collection, a limited edition of grand and upright pianos in eight different veneers. The quality and unique personality of each species is brought to life.
The edition is limited to eight pieces, each made from a different type of wood: American Walnut, Eucalyptus, Makore, Sycamore, Macassar Ebony, Oak, Olive and Santos Rosewood, giving each piano a unique and singular look. The MASTERPIECE 8X8 collection was handcrafted in the Hamburg factory and took over twelve months to complete.
Steinway & Sons craftsmen have meticulously matched the grain throughout the piano, even on the bevelled edge of the lid. As a finishing touch, each instrument is adorned with a precious pearl that matches the colour of the cast iron frame and finishes: a Tahitian grey pearl or a South Sea pearl the colour of a shell.
All Steinway MASTERPIECE 8X8 grand pianos are B-211 models equipped with SPIRIO | r technology, Steinway & Sons' high-definition reproduction system, which allows a given performance to be reproduced exactly. SPIRIO | r offers new music experiences at home: recording, editing of recorded pieces, connectivity for music sharing, with precise and nuanced reproduction quality.
The number eight has been chosen as a symbol of good fortune. Each piano in the MASTERPIECE 8X8 collection bears a medallion indicating its number in the limited edition and the type of wood from which it was made.
"Wood, the main element in the composition of a piano, is the precious material that our craftsmen treat with the utmost respect. Our veneers are a luxurious outer reflection of a Steinway's inner treasure, and each piano has its own unique sound and rich qualities. By using the world's most precious woods for this limited collection, we are bringing the personality of wood to life in an elegant and subtle way that honours this natural material and embodies our continued dedication to quality and craftsmanship," says Guido Zimmermann, President of Steinway & Sons Europe.
Since 1853, Steinway & Sons pianos have set the standard for sound, touch and aesthetics. They remain the preferred choice of nine out of ten concert pianists as well as many professionals and amateurs.
Recommended