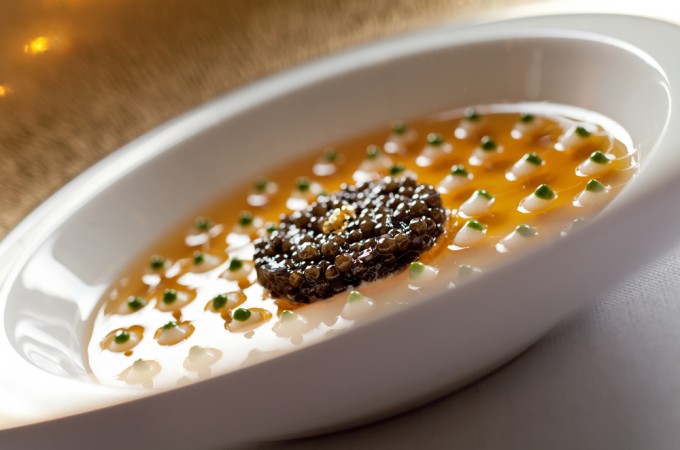 The Perfection of Joël Robuchon in Bordeaux
In our previous article about La Grande Maison we rated the hotel with 6 stars. Not for nothing.
One of the reasons for our rating is the restaurant by Joël Robuchon, which is in the hotel.
This place is actually aiming to get 3 Michelin stars and sure it will…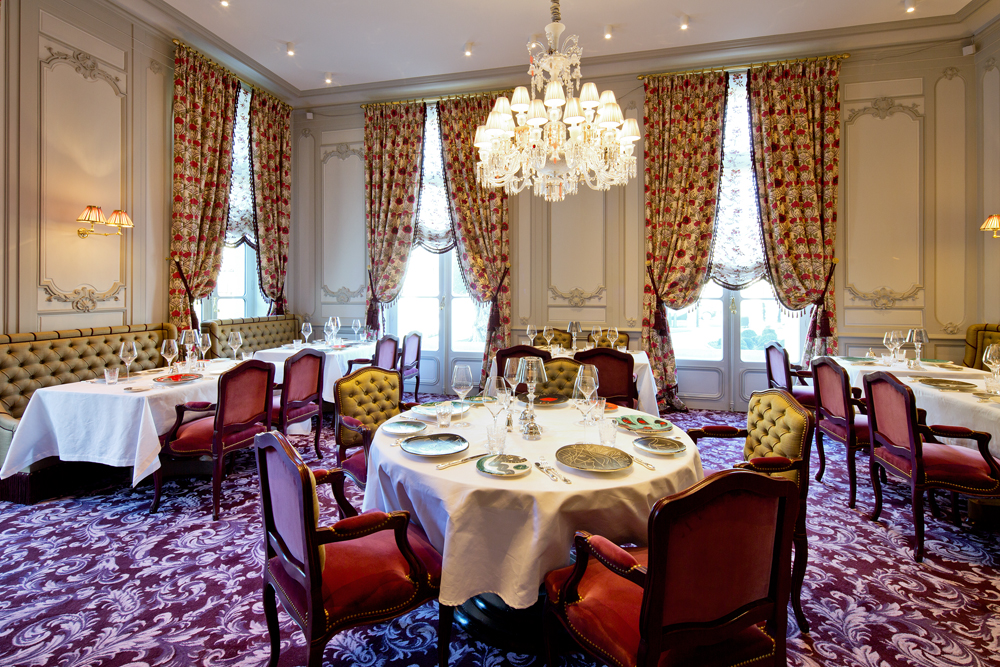 By establishing his restaurant in La Grande Maison, Joël Robuchon offers a new gastronomic dimension to the city of Bordeaux. A return to the land dear to his heart, scrupulously studied, two key words were on the mind of this artisan of boutique haute cuisine: the terroir and the product.
Though establishing his place unusually far from the great capital cities, he is aware, and delighted, to face this new challenge in France; "I'm going to fit myself out with only the best, and my goal is to reach 3-star level. After that, the Michelin Guide will decide."
For this purpose, the great chef appealed to his faithful fellow travellers to manage and lead a kitchen team of fifty persons, including a baker and pastry chef.
– working to put the master's cuisine to music is the Japanese chef Tomonori Danzaki, a faithful friend for 20 years, with whom he had already opened establishments in Tokyo, Las Vegas and Singapore.
– Jean-Paul Unzueta as director, up from Monaco, where he was in charge of Hotel Metropole, housing two of Joel Robuchon's star- awarded restaurants.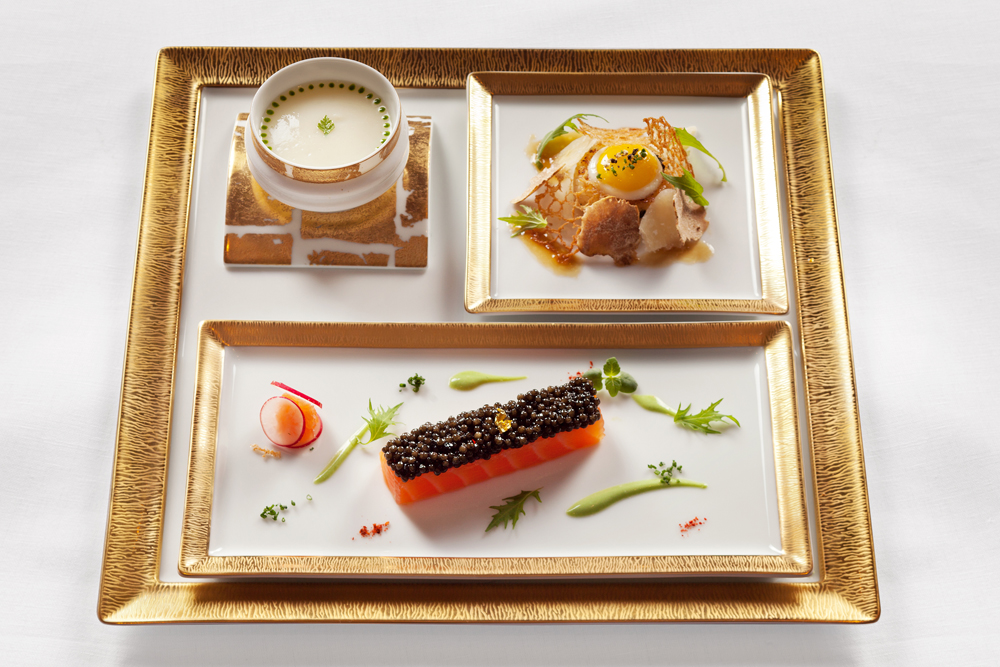 In his gourmet restaurant, the chef has deliberately chosen to focus on innovation, particularly in the composition of very distinctive menu: 4 sittings with 3 very contemporary appetizers, followed by a large main course in the French tradition and custom dessert plates. The menu will of course change with the seasons.
Joël Robuchon also wanted to restore the honour to cutting the food for the traditional main course in the dining room; "it's such a pleasure to see precise cutting in action, and it is a purely French tradition of service that is fully part of our culinary art," he says.
Guinea fowl, chicken, cuts of beef, lamb, duck… but also salmon or sea bass, will be served whole for two. The menu showcases a few signature dishes, the chef's most indispensable creations, the ones that built his reputation, the ones that customers most wish to see again, including caviar jelly with cream of cauliflower; puff-pastry truffle tarts with candied onions and country bacon; duck foie gras with truffles cooked in a luted casserole with celery stock. And of course the famous mashed potatoes, which we tried and it was melting in the mouth.
We could build our own menu by choosing from a selection of appetisers, main courses, cheese (with the famous mashed potato!) and desserts.
The amuse bouche of quinoa was a sign of things to come…
We started with the "Imperial caviar with crustacean jelly and cauliflower smoothness" (Robuchon's signature), followed by a "Gazpacho of tomatoes and cherries with green mustard", "La Langoustine" (outstanding) and Salat "Homard" as starters. At La Grande Maison you eat very slowly, you take your time to discover the perfection and the taste of the pieces of art made in the kitchen of Joël Robuchon.
As main courses we had my favorite fish, the Black Cod, with pak choi, mashed potatoes and a special sauce with soy & Homard. The Black Cod was the best I ever had and the mashed potatoes are famous for a good reason.
Along the dinner are 3 carts; one with the most incredible assortment of breads and literally a mountain of homemade butter, one with desserts from your wildest dreams, and the other with cheeses that would impress any king on this planet…
The service was all around excellent and sympathetic, not "too much", as it is often the case in such places. In high class restaurants the service can transmit a stiff atmosphere and that's what makes me feel less comfortable usually. We were delighted to find warm, relaxed but very professional service here. The service is one of those who are formally and properly trained, without being pretentious.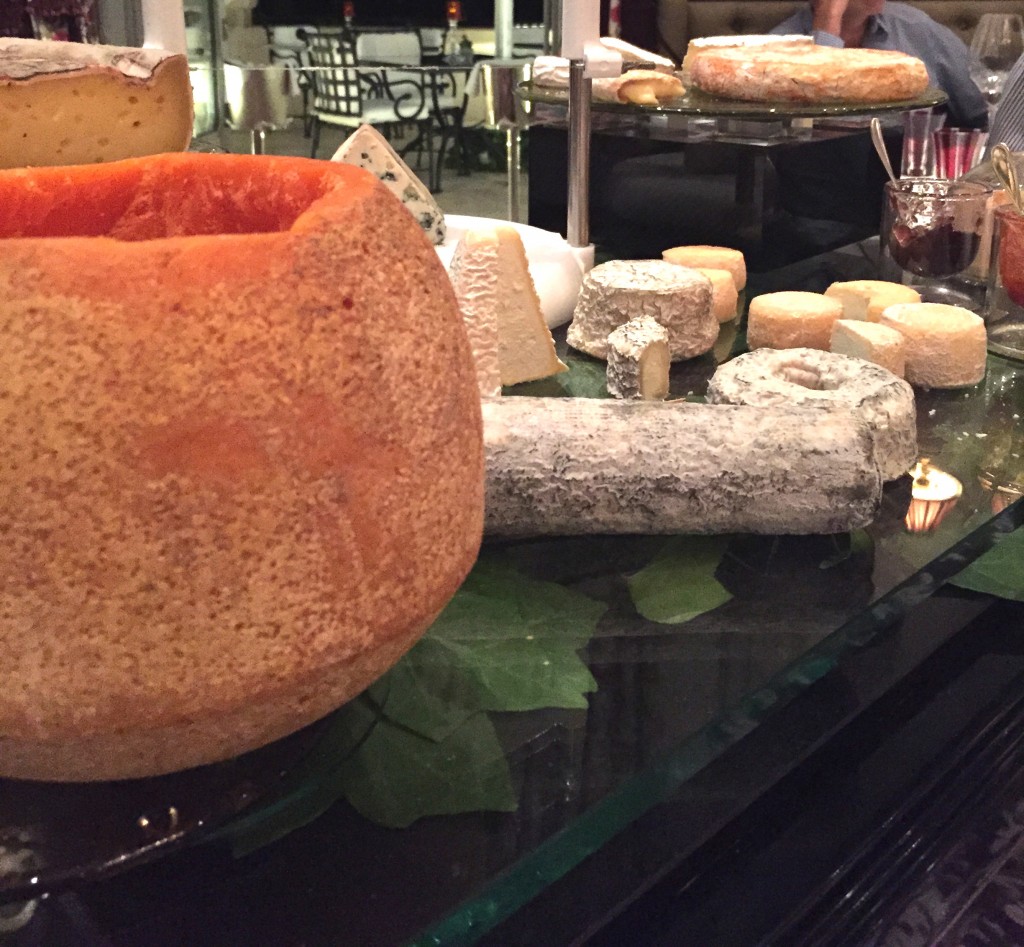 As for the décor, in the three rooms of the gourmet restaurant, the interpretation of Napoleon III style instilled by the designer is elegantly realised: wood panelling and grey trim, carpet and curtains in a varying shades of violet, daylight entering by the high windows or subdued light by evening from the chandeliers and small table lamps from Baccarat.
One of the lounges, the library of the former owner Léon Duguit, is adorned in deep red and violet, its high shelves lined with the restored books of the illustrious jurist. A refined backdrop and warm framing for magnifying lunches and dinners: selected tableware from Christofle, Baccarat glasses and decanters, and the ultimate nod to the art, with presentation plates and bread plates especially designed by Erik Ifergan, from the workshop that housed Picasso's kiln in Vallauris.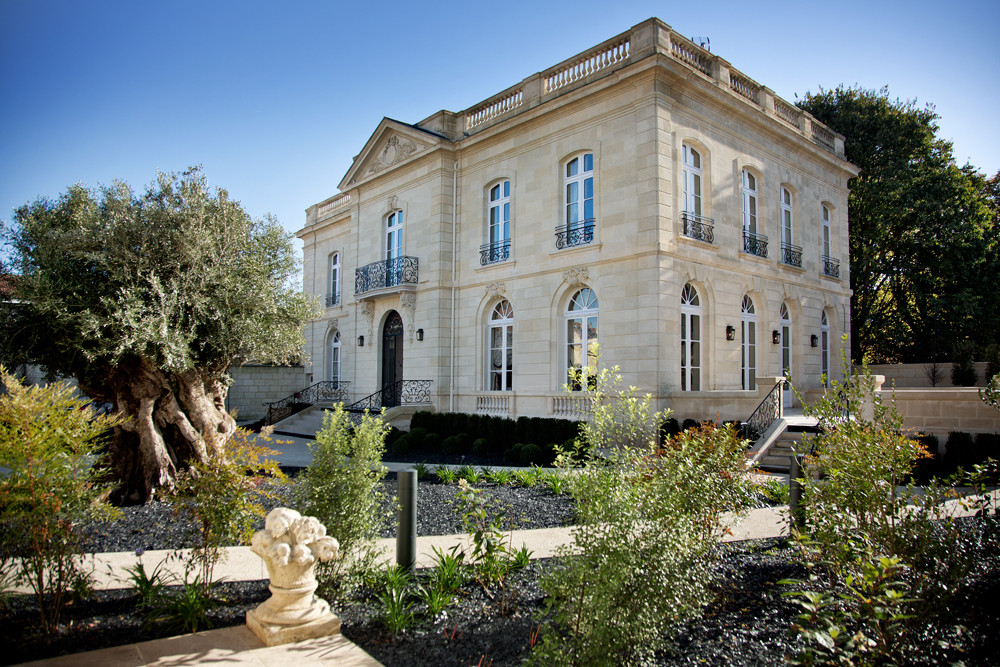 An equally refined atmosphere is found in the "Olivier" room, with a touch of audacity from two sublime works from the private collection of Bernard Magrez, seeming to engage in dialogue with one another, and the blown glass chandelier and sconces from Murano. A more casual spirit, featuring striped armchairs and sofas, in gradients of lilac/violet/plum, and some timeless works framing the fireplace.
The sommelier will offer 259 Bordeaux Classified Grands Crus and other wines of similar calibre such as Pomerol, second label wines, and Crus Bourgeois. A collection doubtless unique in the world. Pinot Noir or Chardonnay lovers can rest assured that they will find the finest Burgundy signatures. There are also a few bottles from our winemaking friends in the Rhone, Alsace, Armagnac or from even further away.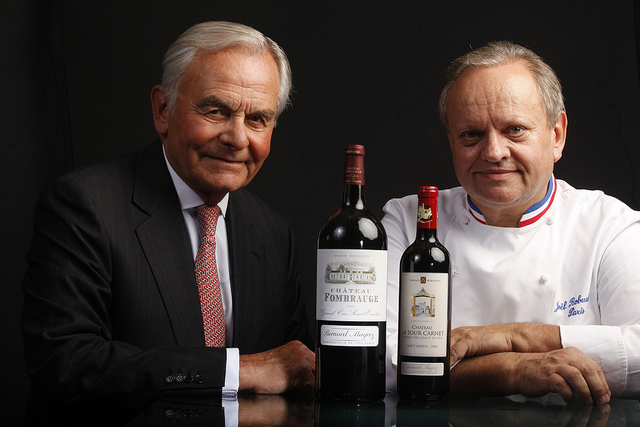 Bernard Magrez (l.) & Joël Robuchon
While the service, the dishes and the wine constitute an inseparable trio at La Grande Maison, it would not be complete without the elegance of the decor and the unique touch of the artists who have illuminated it. Thus making La Grande Maison Bernard Magrez home to all the Arts.
My absolute favorite artist in the Bernard Magrez selcetion: JonOne.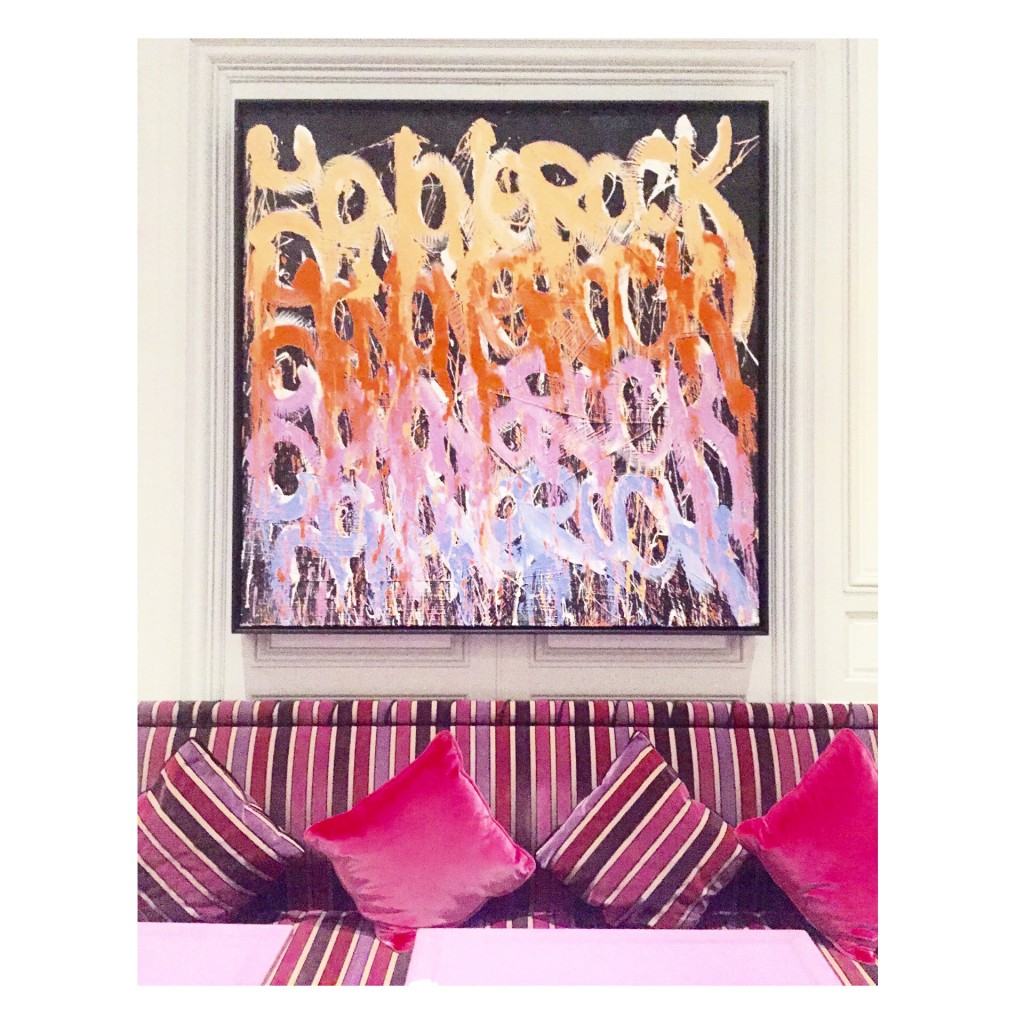 (read more in the next article of the Institut Culturel by Bernard Magrez)
This restaurant everyone should try at least once in a lifetime, it is transformative!
We have two words left: divine & brilliant.
If you are visiting Bordeaux and looking for a prestigious French experience, you should come here (with a certain budget)
Menu at €75, excluding drinks (lunch only)
Menus between €135 and €205, excluding drinks
Tasting Menu at €275, excluding drinks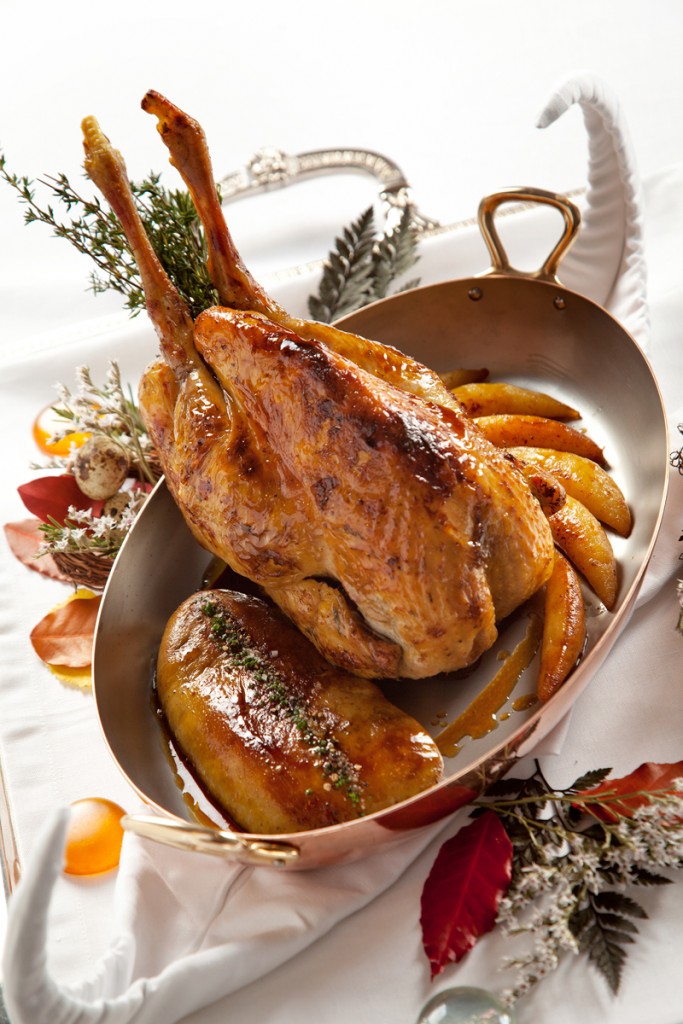 The perfect setting for business lunches, romantic tête-à-tête dinners, family evenings or Sunday lunches, the three dining rooms may also be booked for exclusive use to enjoy complete privacy.
Thank you La Grande Maison, Bernard Magrez and the impeccable service for this amazing experience.
Follow LGM
La Grande Maison de Bernard Magrez
10 rue Labottière
33000 Bordeaux
For reservations:
x
by Shari
Recommended