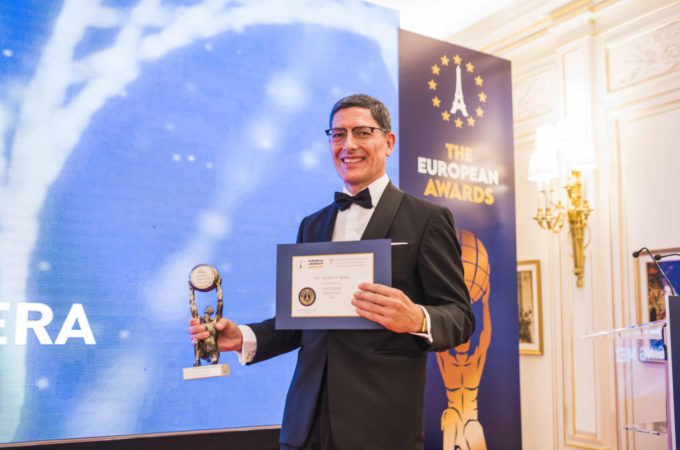 Dr Vicente Mera from the SHA Wellness Clinic receives the European Medicine Award 2021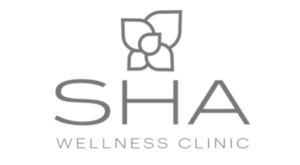 On Tuesday, November 30th 2021, the 2nd edition of the European Awards in Medicine was held at the Ritz Hotel in Paris.
These awards, presented by the Professional and Business Excellence Institute, recognize the career, efforts, commitment and innovation of professionals specializing in different areas of health and promote excellence and knowledge through teaching and research.
Dr Vicente Mera, head of the Genomic Medicine and Healthy Aging Unit at the SHA Wellness Clinic, received the award for the best European doctor in the field of anti-aging medicine. "I am particularly proud to receive this award for two reasons. Firstly because it is a recognition both by medicine and the press. And also because it rewards not only clinical work but also informative work. For this, I am very grateful and I receive it as a stimulus to continue my research."

In 2018, the SHA Wellness Clinic developed a multidisciplinary healthy aging program under the supervision of Dr. Mera, focusing on slowing down and minimizing the effects of aging to enjoy a healthier and longer life. A fully customisable methodology has been put in place based on healthy eating, moderate and supervised exercise, stress management, optimisation of rest and sleep, hormonal balance, depurative and metabolic capacity, analysis of the non-specific and adaptive immune system as well as the study of genetic predispositions. Preventive medicine and the coordinated fusion of new fields of knowledge, such as bio-identical hormone therapy, genomic and epigenetic counselling, telomere and immunosenescence assessment or the application of stem cells and enriched plasma, considerably strengthen the positive impact that each of them would have individually. This holistic approach helps to restore vitality, improve physical appearance and optimise general well-being.
As Dr. Mera states, "Healthy aging is not just the absence of disease, but the enjoyment of optimal physical, mental and emotional health and well-being at any age. We do this by systematically assessing and planning the ageing process, which in the long run improves both quality of life and life expectancy, sometimes with minimal effort. Moreover, the paradigm of ageing has changed. We tend to drive with our eyes in the rear-view mirror rather than through the windscreen, which prevents us from seeing what lies ahead. By taking the present as our vital reference point, we think that the best is behind us. This misguided mentality makes us feel old and worn out at 50, when in fact we have a lot to do. I always give the example of David Attenborough, the British scientist, educator and environmentalist who, at 95, is as active as ever."
In recent years, major advances in various medical fields have led to an increase in life expectancy. Among these, Dr Mera highlights "genetic research with new biomarkers, such as telomere length, bio-identical hormone treatments, detoxification, vitamin supplements and the influence of emotions and the microbiome on the aging process."
About Dr. Vicente Mera
Head of the Genomic Medicine and Healthy Aging Unit at the SHA Wellness Clinic, Dr. Vicente Mera's career speaks for itself. More than 25 years of international experience support this expert in various fields related to aging, such as genomics, nutrition, gut microbiota, immunity, detoxification, physical preparation, stress management, smoking cessation, sleep habits, hormone replacement and nutritional supplements.
Dr. Mera studied in Seville, with the highest score in the residency exam, and specialized in Internal Medicine in one of the most renowned institutions in Spain: The Puerta de Hierro Clinic in Madrid, where he was the head of clinic for six years.
He continued his training in different medical fields in Dallas, Cleveland, Paris, Dubai, Cambridge, Orlando and Okinawa, where he discovered the benefits of the diet and lifestyle of the world's oldest inhabitants. He obtained his ABAARM certification from the American Academy of Anti-Aging Medicine, with theoretical training in London and practical training in Melbourne.
Thanks to his thirst for knowledge and his desire to transmit, he has shared his experience with the medical community worldwide, publishing several articles in prestigious medical journals and actively participating in several Spanish and international associations of internal medicine and travel medicine. His extensive and successful professional career is based on his total dedication to the patient, his meticulous diagnostic skills, his desire to communicate and his talent for integrating and combining the latest evidence-based Western protocols with effective therapies used for millennia by different Eastern cultures.
Recommended