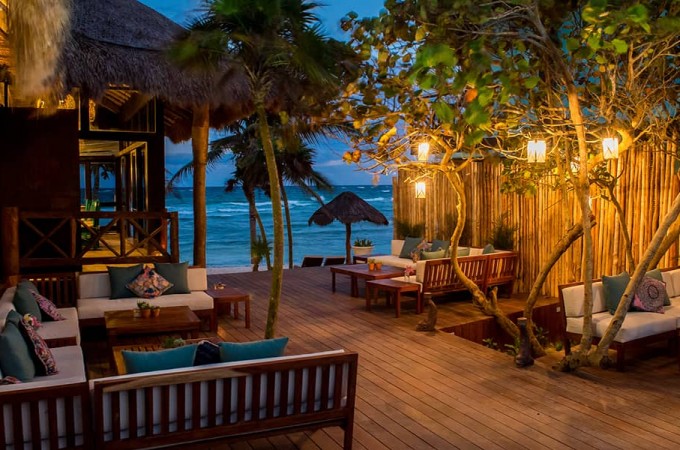 El Pez Tulum or the perfect place to find inner Peace
Who said a stormy day in the Caribbean doesn't have its charm?
When we arrived at the El Pez Tulum Hotel we've travelled around Yucatan, Mexico for already 2 weeks. Full of impressions of mystical Mayan pyramids, exotic animals and delicious food that has no connection whatsoever to the Mexican food you get served back home.
Our visit at the El Pez Tulum was the perfect ending to our dream vacations. Located on the popular Beach strip of Tulum this Hotel is the incarnation of a bohemian hippie chic topped by traditional Mexican elements.
When you enter the hotel lobby you wish you would have packed that cute batik tunica that you left behind at the last-minute in fear of overweight.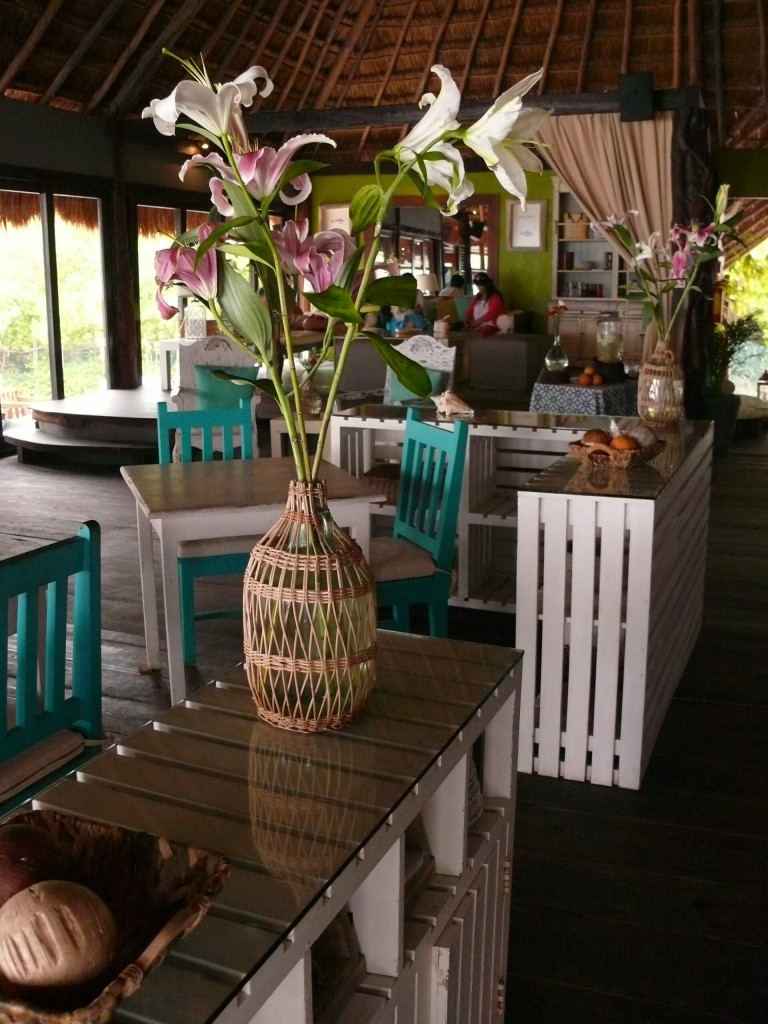 Boho Hippie chic @ El Pez Tulum Hotel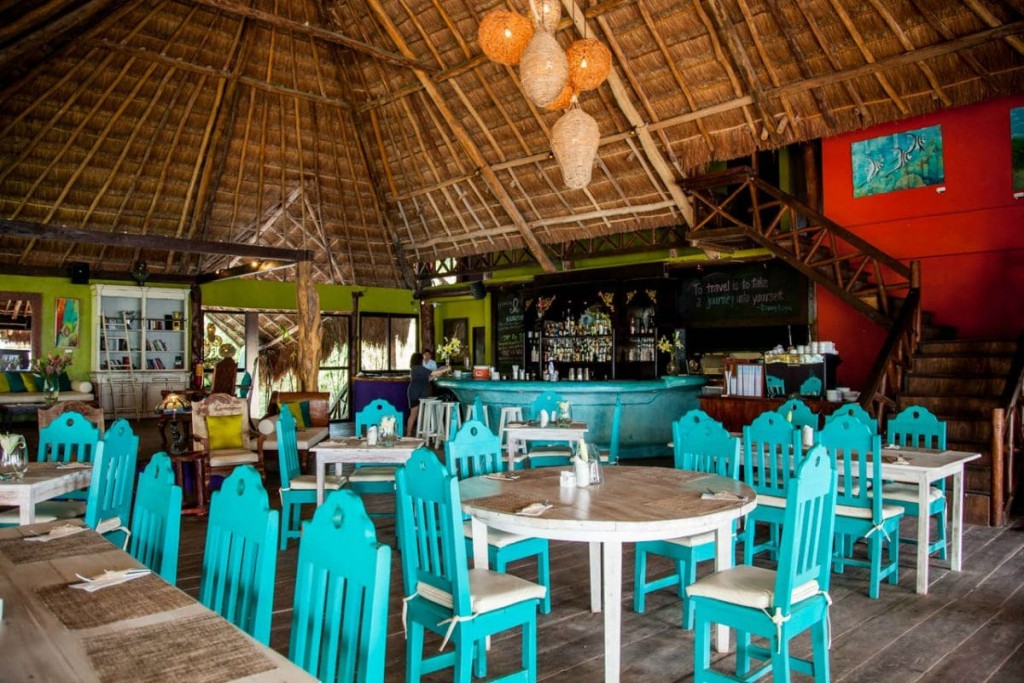 The hotel lobby
Arrival @ the El pez Tulum Hotel
Majorly confused by last night's election of Donald Trump for president of the United States the friendly and professional hotel staff helped us quickly to forget the trouble by welcoming us with a delicious and sophisticated welcome drink.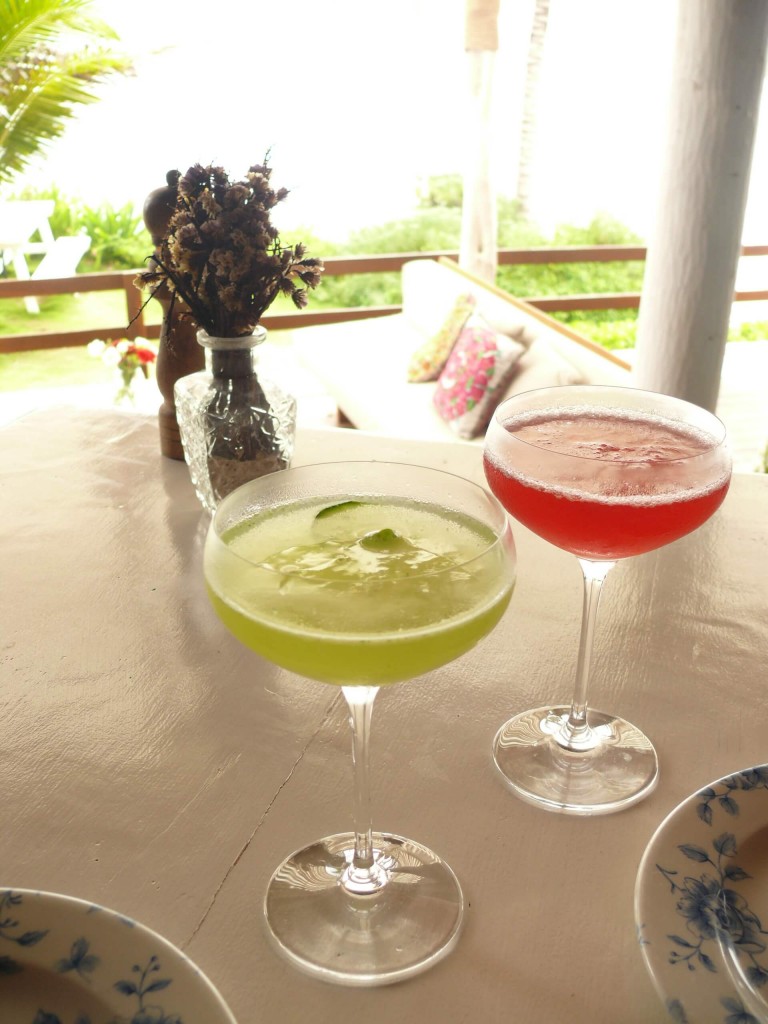 Welcome drinks = Too good to be true
This dream location + the tasteful and exciting interior design = Yoga for your soul.
Our table next to the big, open windows made our minds wander and get lost in the waves that came to a break approximately 5 meters away from us. The light sea breeze filled our lungs with pure happiness and inner peace. Correct, 5 minutes in and we've already found our peace at the El Pez Hotel in Tulum.
After check-in one of the hotel's staff was guiding us to room number 4, the upper floor of one of the bungalows-like beach houses. Each house has two floors and is divided into the upper and the lower level.
During the day you can watch the pelicans hunting for fish in front of your eyes.
Amazing nature!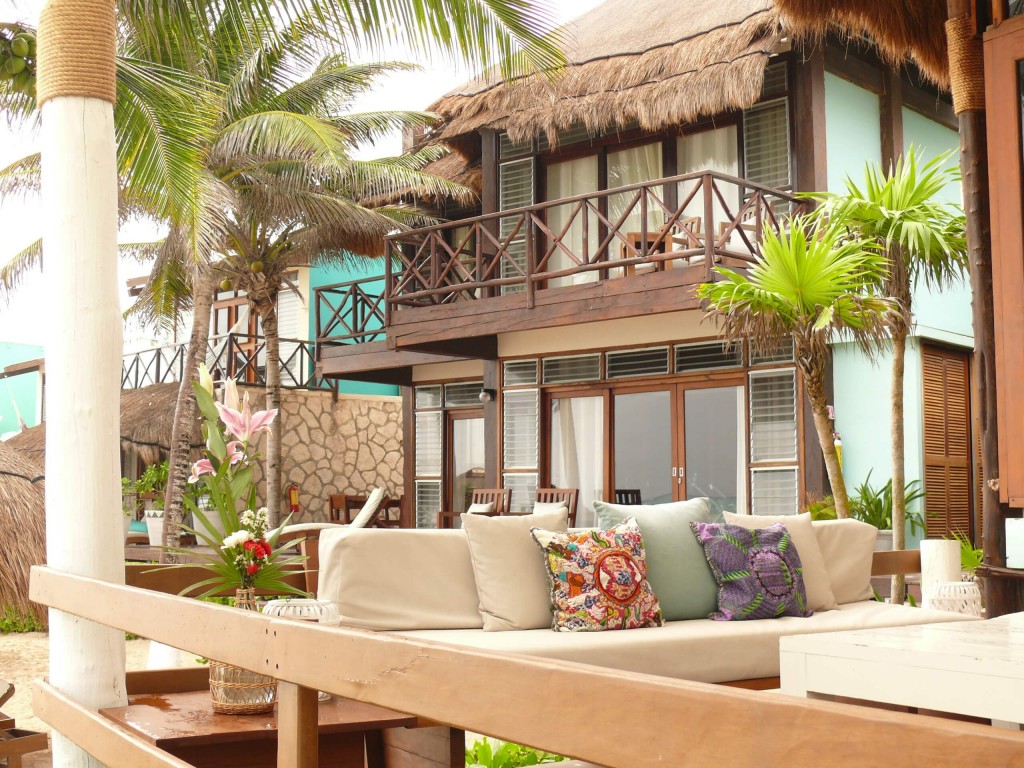 The El Pez in all it's colours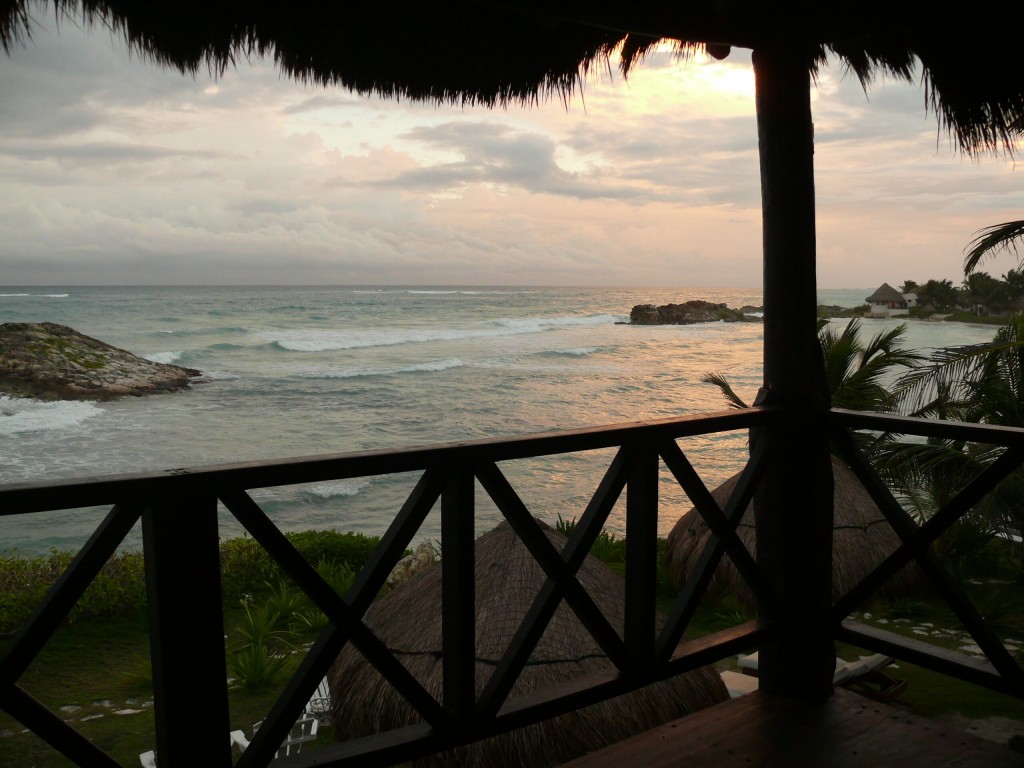 Room with a view
The Room
Sea view and beach front are a high priority at the El Pez Hotel. Each room includes a big terrace with comfortable sunbeds – there is not better place to enjoy the moods of the Carribean sea at the end of hurricane season.
The rooms of the El Pez Tulum combine bright Mexican colours, natural material and bohemian eclecticism. Big king sized beds protected by soft mosquito nets don't only prevent you from undesired sleeping companions, but also fit in this perfect princess-on-a-bean feeling that you get while relaxing on the cloud-like beddings.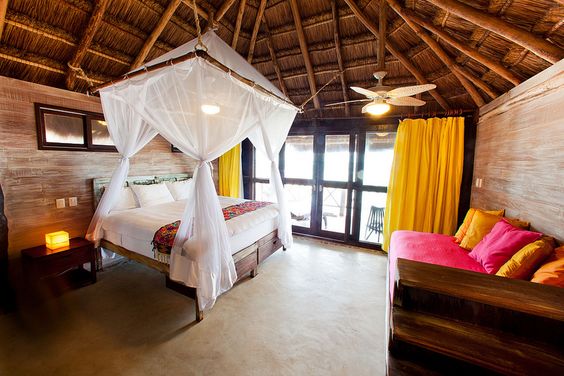 Heavenly beddings
The tasteful bathrooms provide effortless enough space to not get in each other's way when getting rid of the sand on your skin. (Not that the El Pez didn't think about everything, but you can find little fish-shaped ponds in front on each beach house's entrance to wash off your sandy feet from the daily beach walk.)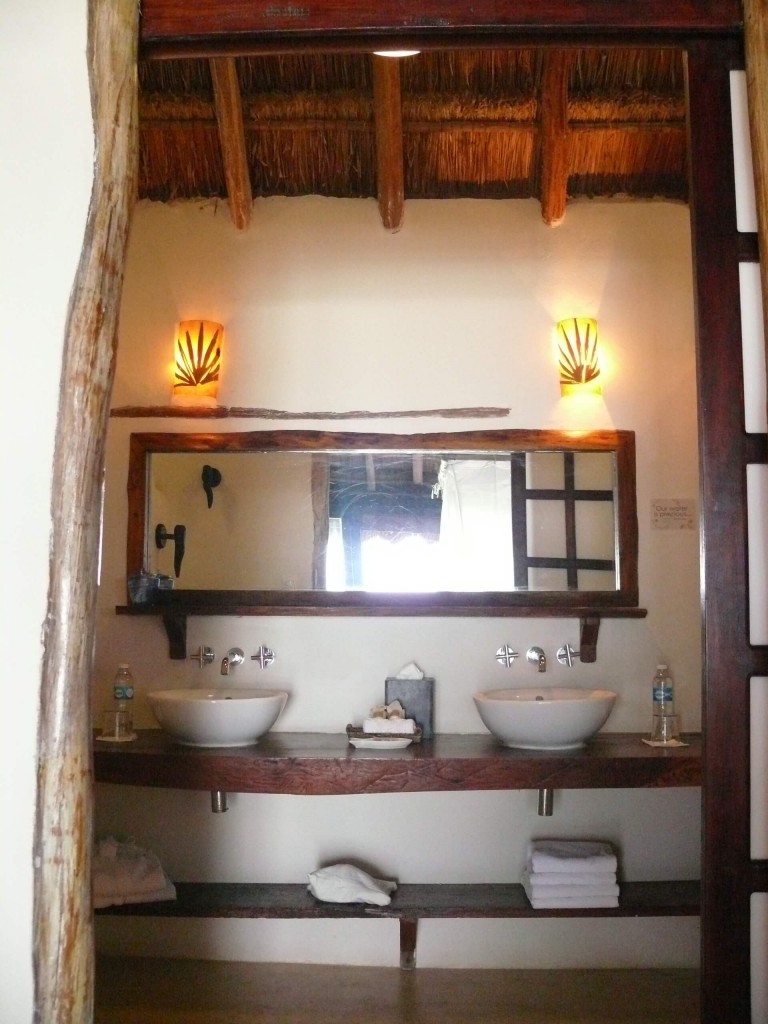 Bathroom for two
"Where is the catch?" some of you might ask, well the only things that you might find hard to get used to is that there are no TVs in the rooms. Instead, it is highly recommended to follow the digital detox and watch the ocean's program that takes place right in front of your terrace windows.
Who likes to, can make use of the Hotel's Turn down service which brings your room a good swipe in the late afternoon and sweetens your relaxed book hour on the terrace with some delicious pastries and a cup of tea.
Cocktail o'Clock
We know it's hard to leave this peaceful spot, but especially at night is Tulum worth a stroll and look around. You can either stay in and enjoy a fabulous dinner in the Carribean themed Hotel restaurant or you can go out and explore Tulum's long beach line full of restaurants, bars and beach clubs.
The friendly Hotel staff will be happy to recommend you some hotspots for every occasion.
Soon enough, you will see that it is absolutely no problem to stay 1, 2 or 3 weeks at the El Pez Tulum surrounded by a beautiful scenery and exciting things to do and discover.
As our personal advice we would like to highly recommend you to skip the Mayan pyramids at the coastline of Tulum and discover the pyramids of Calakmul, not far from the Guatemalan border instead. What you see there goes beyond everything you can ever imagine.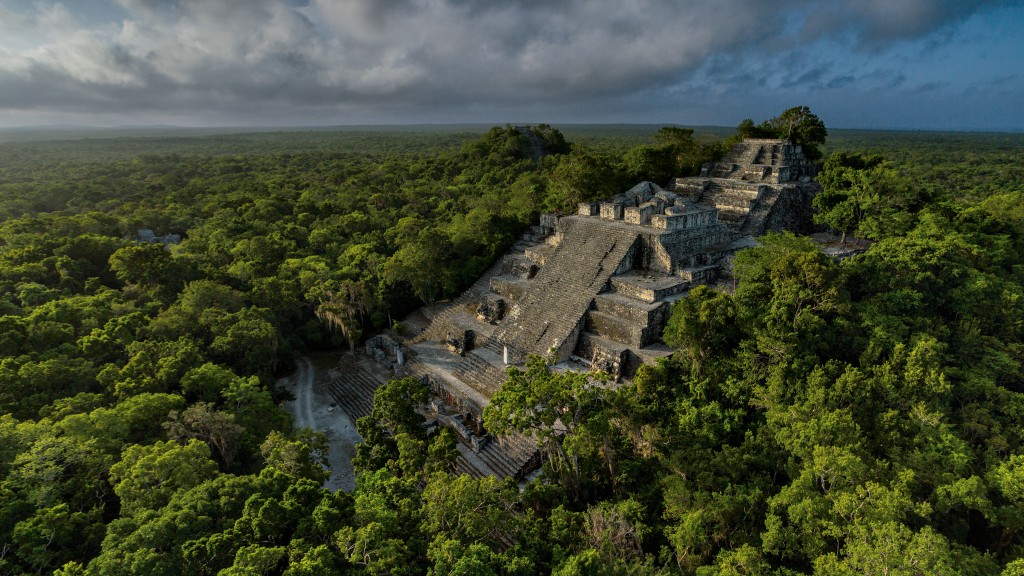 The magical pyramids of Calakmul
For animal lovers, we advise you to stop at Akkumal beach before heading back home. There, you have the chance to snorkel or dive with a colourful variety of fish and sea turtles.
Believe us when we say, that this is something to cross off your bucket list.
 Waking up at the El Pez Tulum
For the Ones that manage to leave these incredibly comfortable beds before 11am awaits a delicious, Mexican breakfast.
After choosing amongst the tables with the best ocean view the waiter will quickly fill your table with freshly brewed coffee, bowls of regional fruits, natural juice of your choice, homemade jam and full grain braid and last but not least self-made cereals with nuts and yoghurt.
Raise your hand if this listing didn't make your mouth water!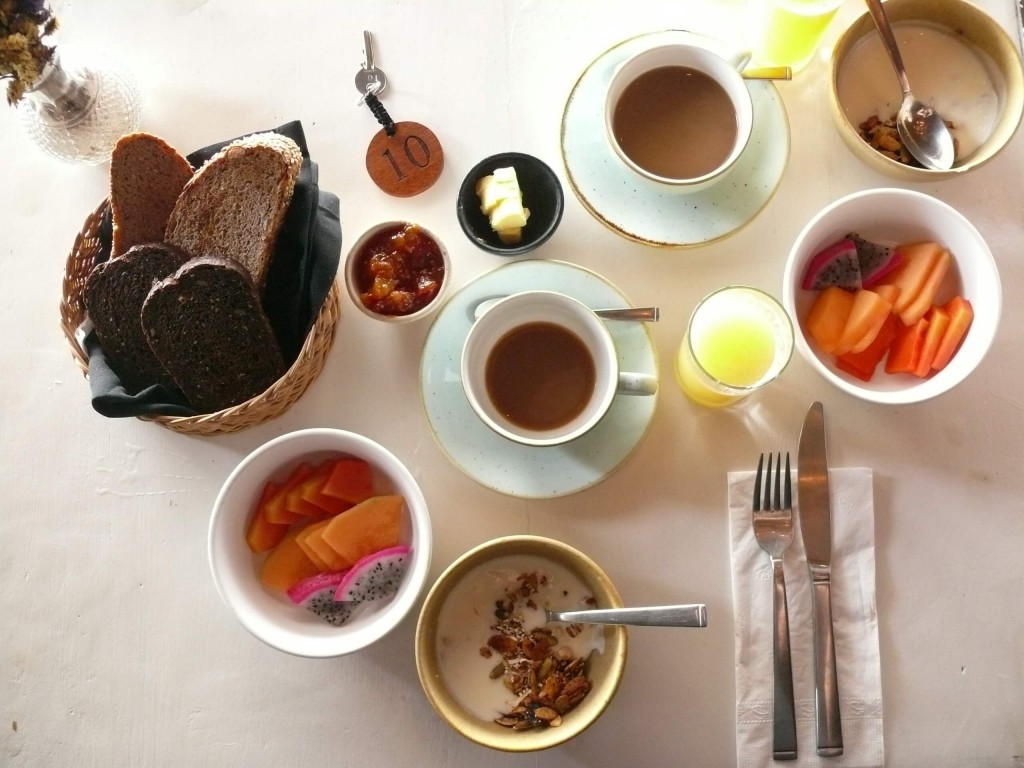 50 shades of breakfast
Who can manage to keep eating after this most satisfying first round, can choose amongst a variety of traditional Mexican and intercontinental plates.
We chose a delicious Omelette refined by tomatoes, onions and the traditional black bean paste. Moreover, we wanted to end our holiday gastronomically the way we started it: with Huevos motuleños.
This Mexican breakfast food is typical for the Yucatán region and is made with eggs on tortillas with black beans, cheese, peas and salsa picante. Absolutely worth a try!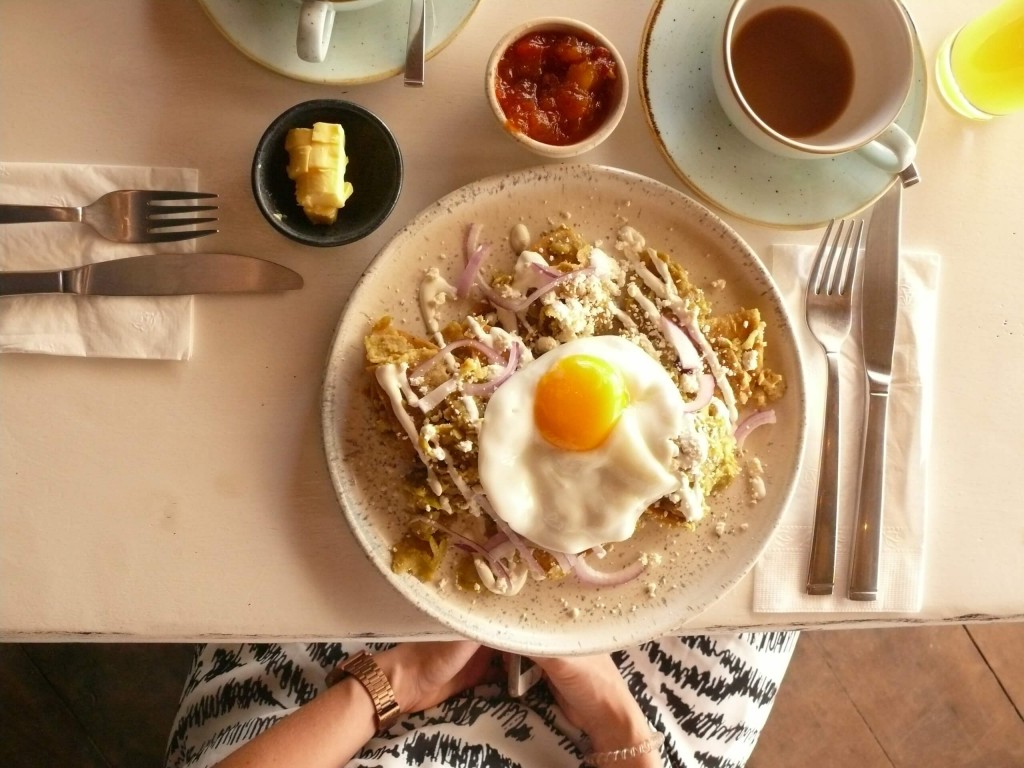 The most famous Huevos motuleños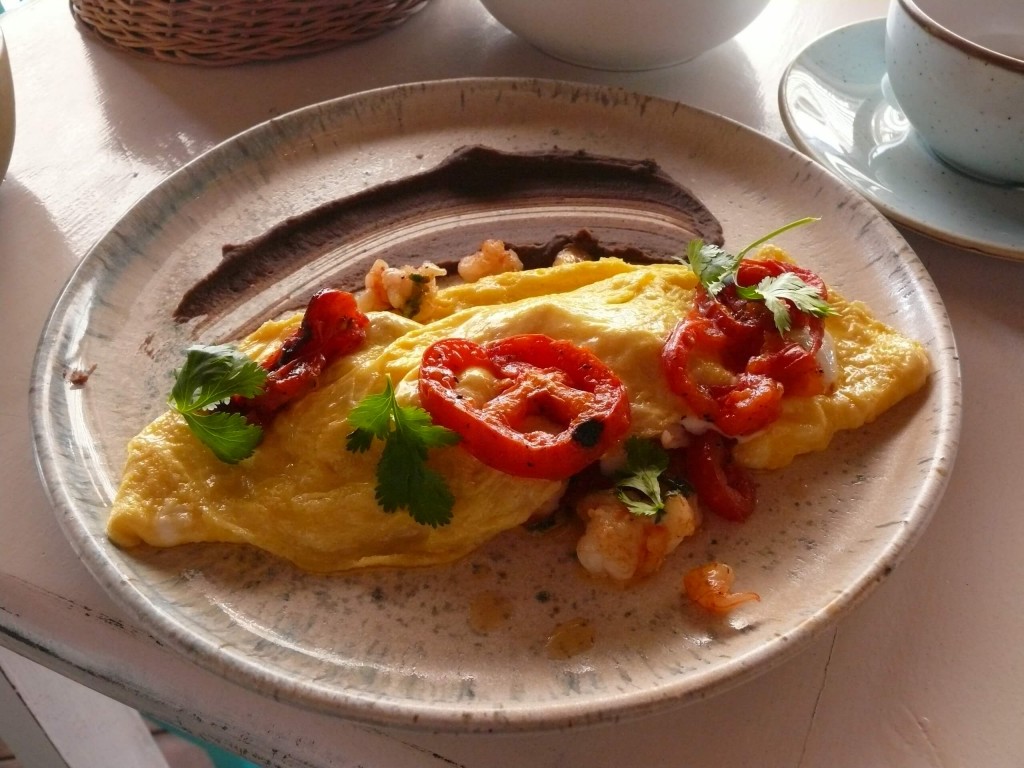 The mouth-watering omelette
When in Tulum this peaceful spot is a must-hangout!
Where to find it?
——
El Pez Tulum Hotel
Carretera Tulum
Boca Paila Km 5.5,
77780 Tulum, Q.R.
Mexiko
——-
Buen viaje et disfrutan.
Love,
H.
Recommended