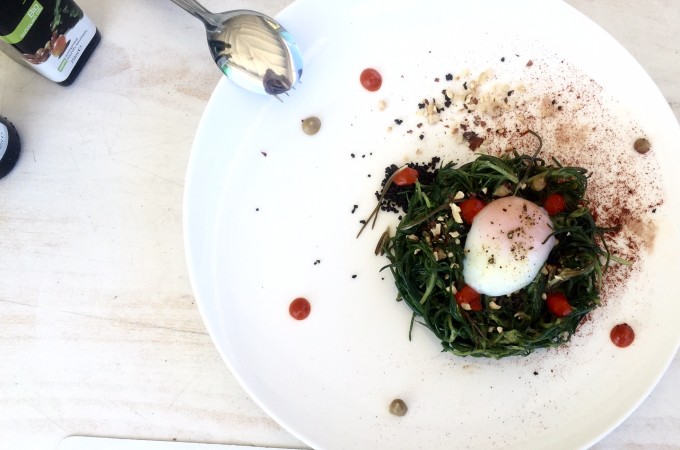 Gourmet Hotspot: Finest Authentic Greek Food in Mykonos @Nesaea
"And above all, watch with glittering eyes the whole world around you because the greatest secrets are always hidden in the most unlikely places. Those who don't believe in magic will never find it."
― Roald Dahl
You have to leave the crowds and ride along the savage coasts of Mykonos to discover this hidden gem.
NESAEA
Near Kalafatis, situated next to the beautiful Agia Anna Beach, the recently opened restaurant is something that you must try, when in Mykonos. This cuisine is extraordinary, unique and consists of creative Greek dishes! Nesaea is a venture by the operators of the hugely popular Nice n Easy Bio Beach Restaurant at Alefkandra Square on the Little Venice seafront of Mykonos Town, where we ate the first night. The food there was so delicious, that we had to follow the owners' advice to try his new restaurant…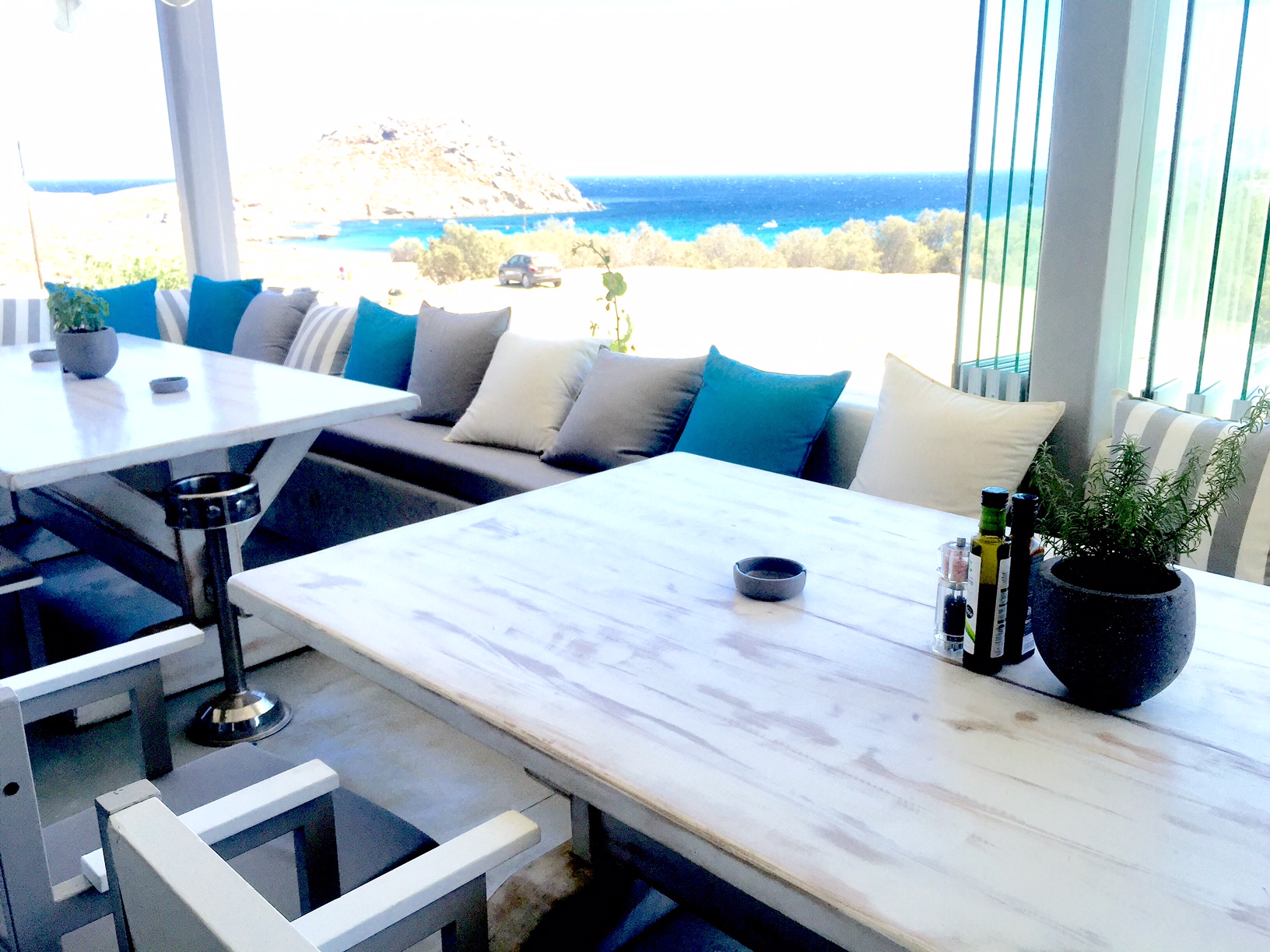 We met Dimitris Christoforidis, one of the owners, who talked to us about his passion for a good and healthy lifestyle that begins with the daily food, as his group only uses fresh, organic and local products from all over the Greek islands in his restaurants. With every bit we tasted our body was transformed into a festival of senses!
 We had a little degustation menu created by the chef Daniel Papatriantafyllou, who combined old Greek recipes with contemporary 'food art' creations and left us speechless with sparkling eyes and a smiling belly.
***
The Starters
Beetroot textures with olive soil, walnuts, kale pesto, xinotyri 'goat' Mykonian cheese, pickled roots, raspberries and beetroot sorbet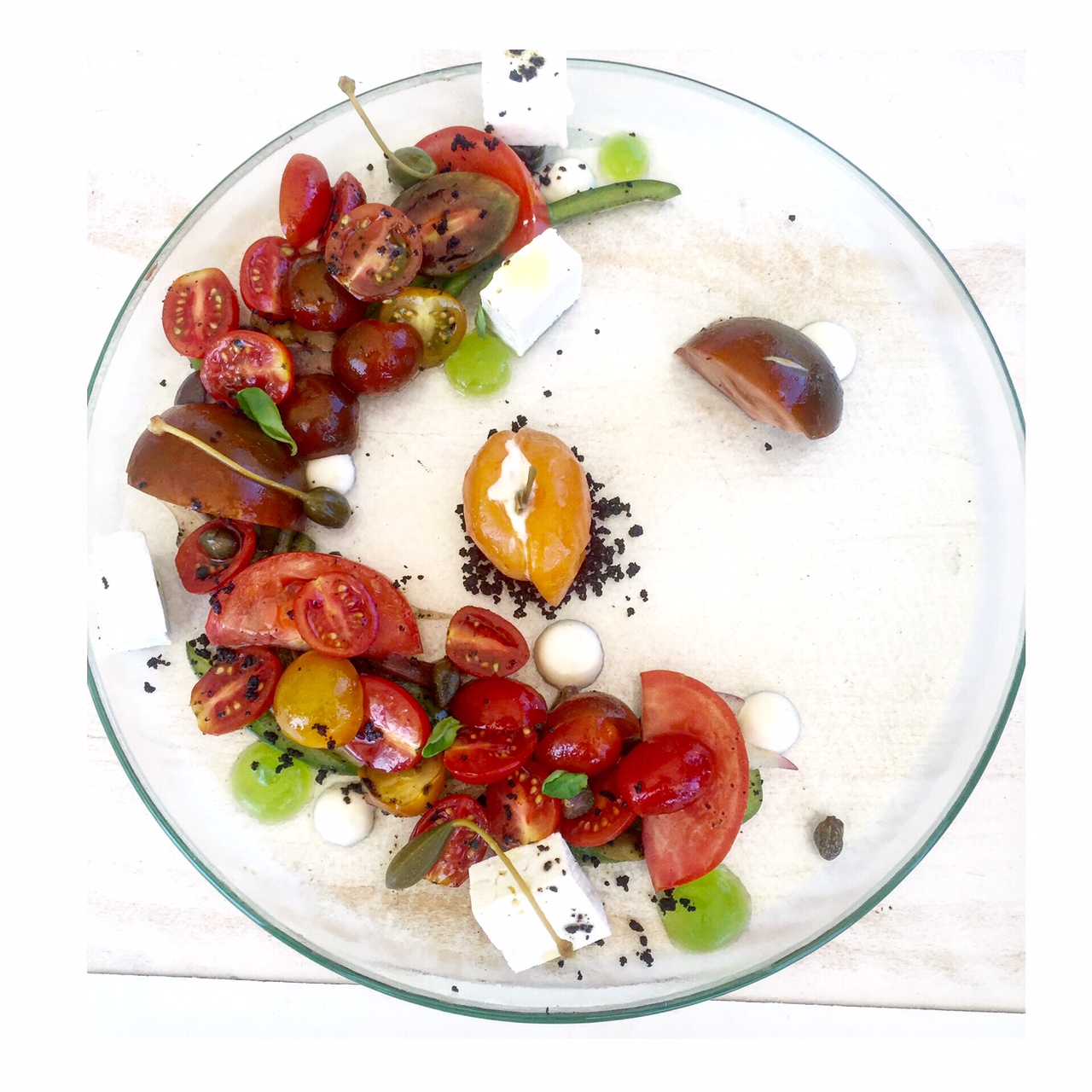 Greek salad with apricot confit in olive oil, cucumber fluid gel and water buffalo feta cheese cream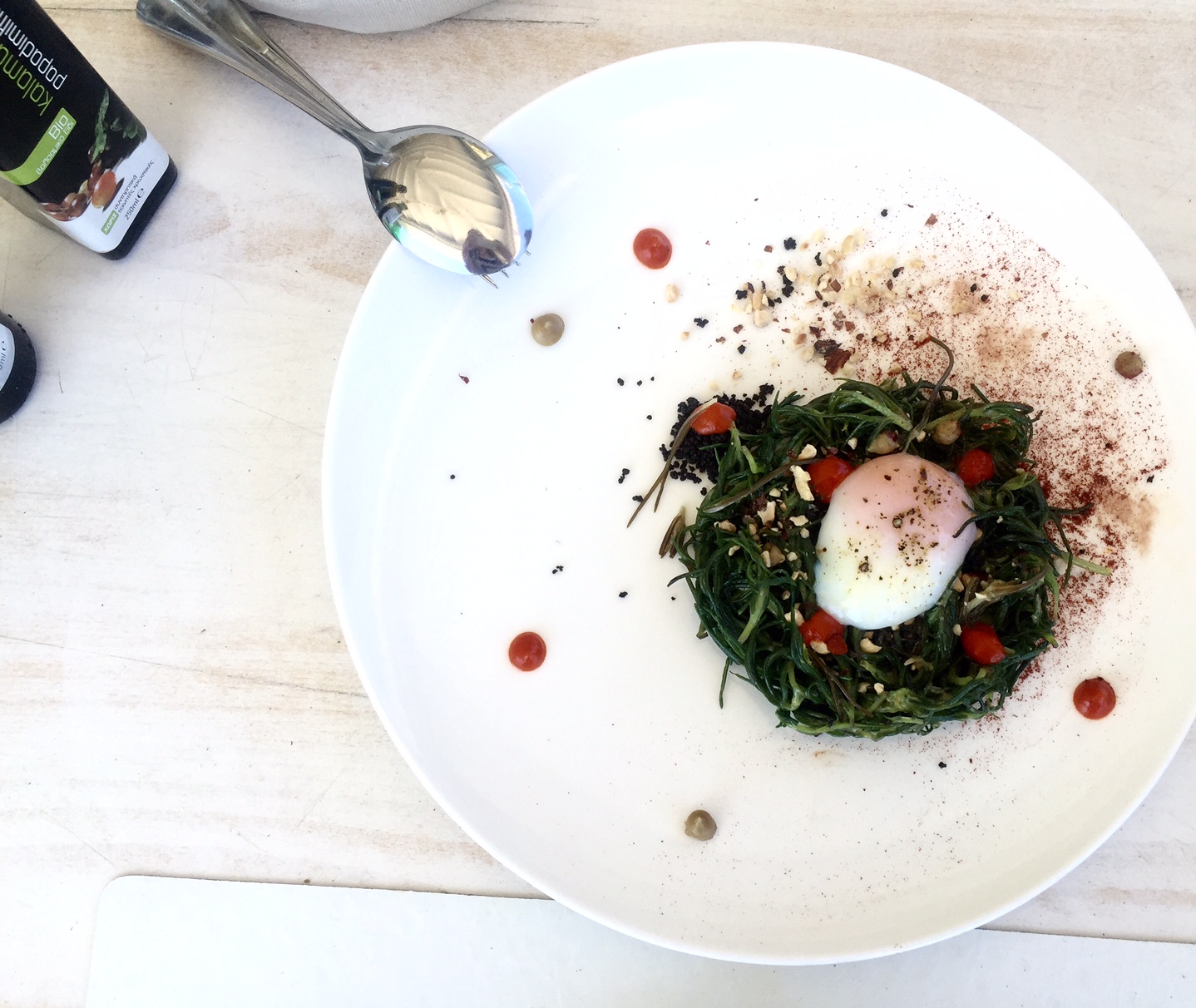 Wild local greens, poached egg, ketchup of red pepper from Florina, smoked garlic puree, hazelnuts and pickled greens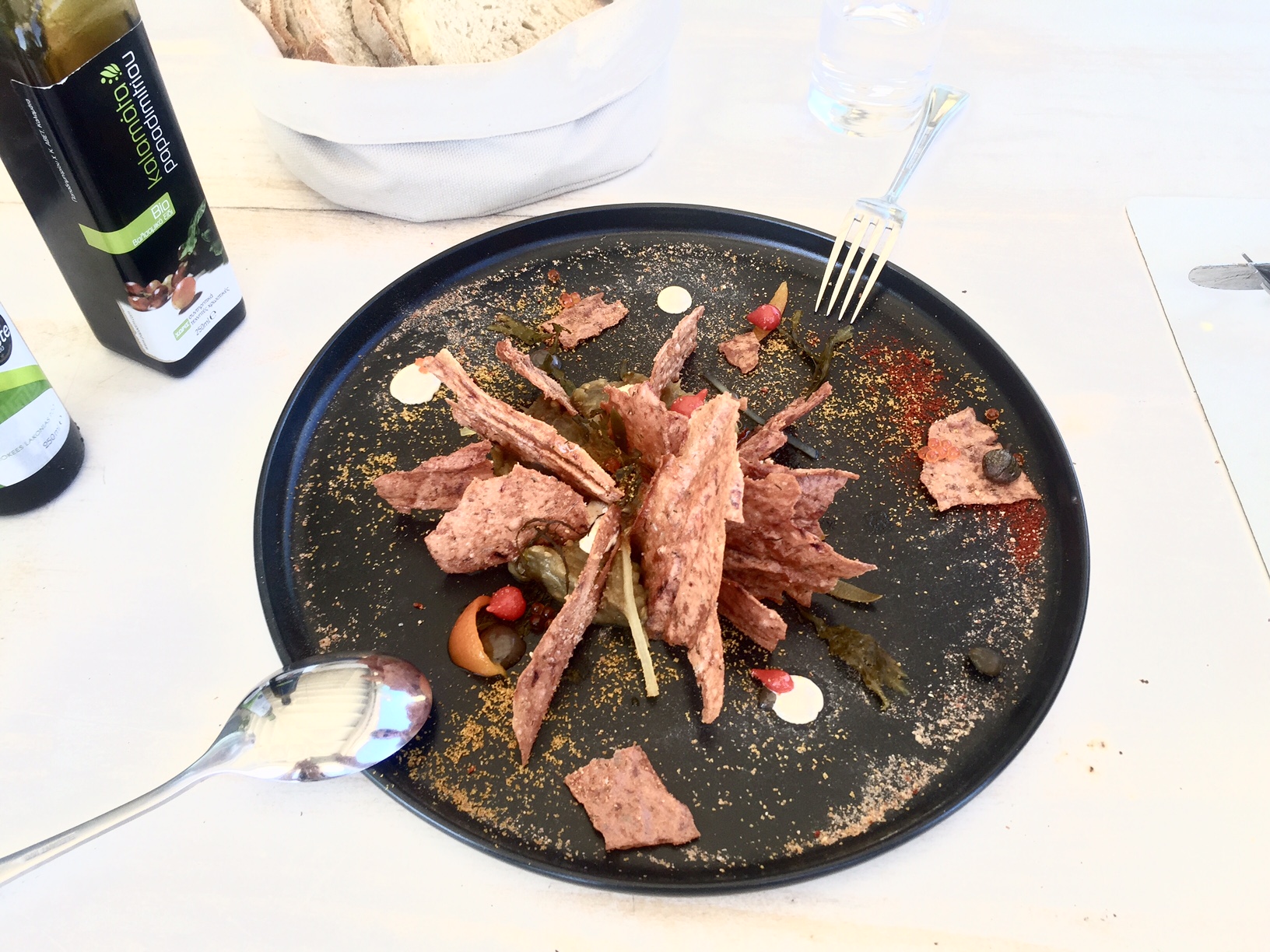 Crispy squid leaf with smoked eggplant puree, smoked paprika, white truffle oil, squid salt, mini red peppers, sea fennel and Cretan seaweeds stafylli
_____
Main Courses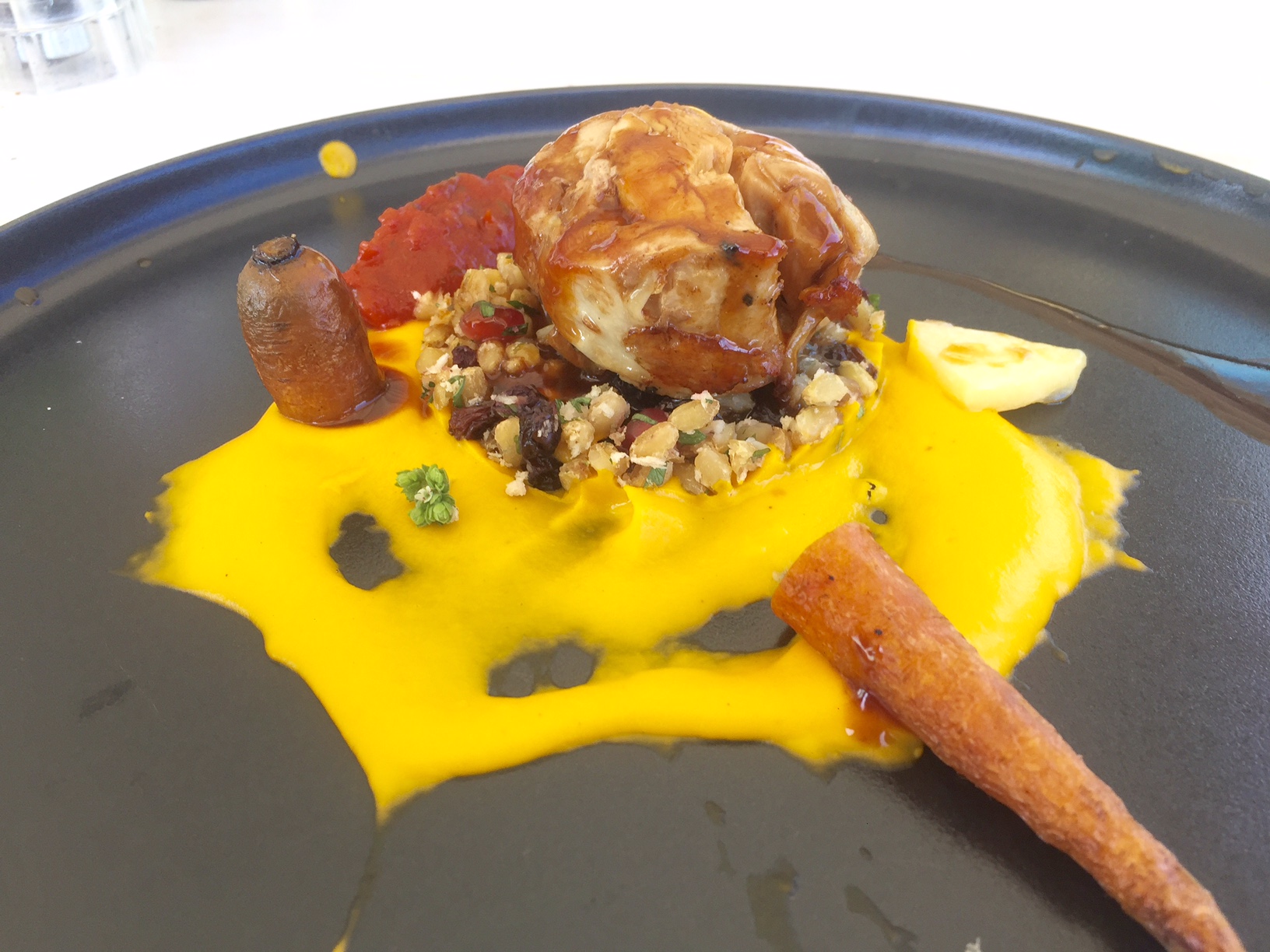 Black chicken from Spain ballotine, carrot cream, mini carrot glaze, wheat salad, smoked butter and chicken jus gravy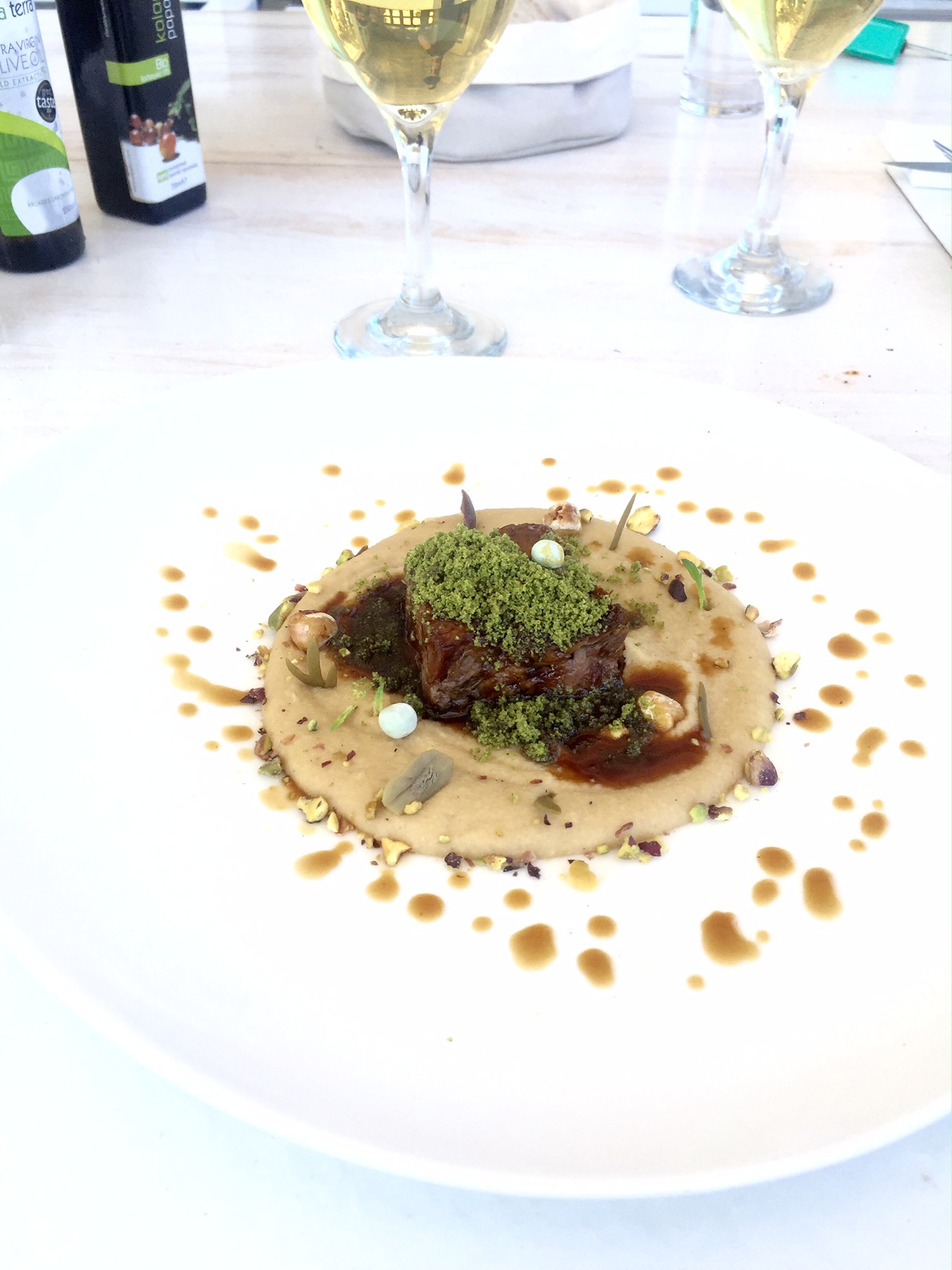 Lamb terrine , chickpeas puree, chickpeas glazed, sea fennel, olives from Kalamata, spearmint, sand of pistachios from Aegina island, spearmint, olive oil and reduced jus d'agneau
Pre Dessert
Chocolate sable with passion fruit curd
Desserts
Frozen 'mantolato', virtual honey comb, coulis from red fruits
Milk chocolate cremeux, caramelized almond, almond sponge and 'Soumada' ice cream
Baklavas with homemade pistachio praline and goat milk ice cream
***
Astonishing taste of haute Greek cuisine with an exceptional presentation!
Every dish from beginning to the end was a journey to food paradise and we experienced something we never had before, and what we would not get anywhere else…
The fresh beetroot, the tasty goat cheese, the taste of the tomatoes, these delicious wild local greens; the squid leaves, the juicy black chicken and that softest lamb we ever had.
A big plus besides the food, which I discovered while I was sitting in this beautifully designed restaurant on my comfortable pillow couch, inhaling the view over the bay & beach: a plug socket, just under my seat! While traveling, I have to charge my phone several times per day and when having appointments, the phone is sometimes left behind the bar, which isn't always the most productive solutoion. The 'Nice n Easy' Group did it the smart way, because this place is also perfect for business meetings with your best clients! At Nesaea you will find many things, where the beauty lies in the details.
Another big plus: The staff speaks an excellent English and are extremely friendly.  The service was just impeccable. After this fantastic experience we went over to the Agia Anna Beach, which is a little hidden treasure with crystal clear water, lagoons and some nice music at the beach!
When I told the chef, that his creations deserve a Michelin Star, he answered: "This is very kind. But you know, I'm not working to achieve a Michelin Star. I love my work, these creations are my babies and I would like to keep the relations with our clients, that is not stiff. With a Michelin Star, things become more severe."
It's impossible not to love this place & its wonderful team.
It's a real joy to have discovered this wonderful place!
Do not leave Mykonos without trying NESAEA, it's a lifetime experience.
 A big Thank You to the kind team of Nesaea, we can't wait to be back!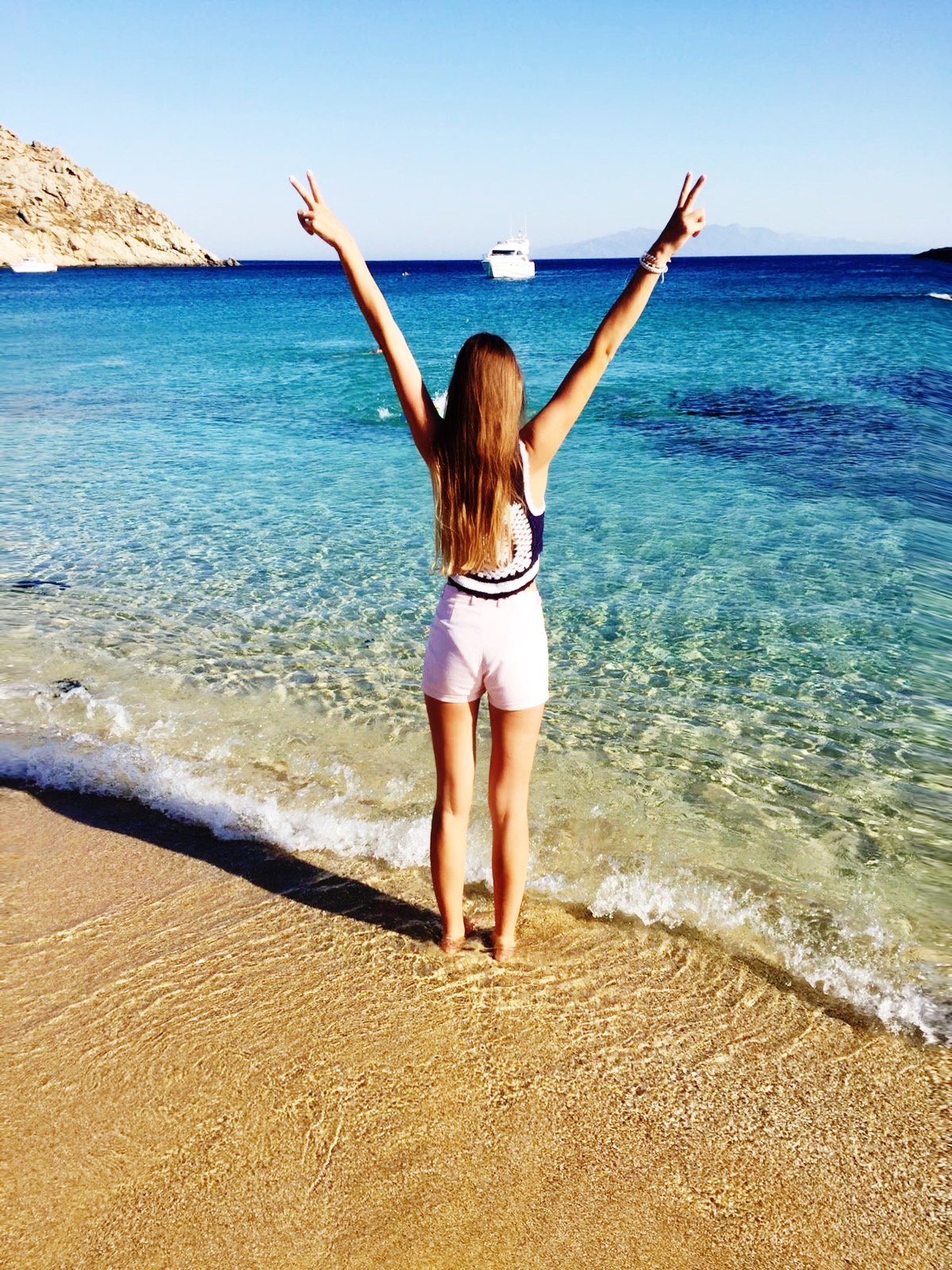 ______________________________
Check their social media!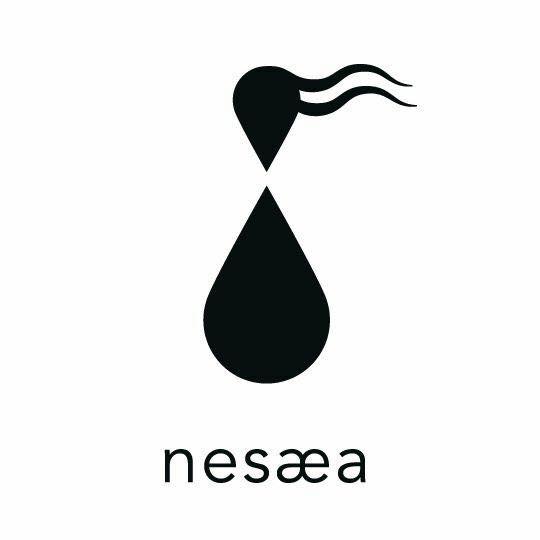 Recommended