HÄSTENS LAUNCHES THE GRAND VIVIDUS, AN EXCLUSIVE COLLABORATION X DESIGNER FERRIS RAFAULI
HÄSTENS LAUNCHES THE GRAND VIVIDUS,
AN EXCLUSIVE COLLABORATION WITH
DESIGNER FERRIS RAFAULI
Hästens, the Swedish manufacturer of exceptional beds, presented the world premiere of the Grand Vividus on September 4, 2020 in Paris at Paris Design Week. Hästens collaborated with international designer Ferris Rafauli to launch its most advanced and evolved product to date, offering an unparalleled level of comfort, refinement and craftsmanship, the result of 168 years of expertise.
Ferris Rafauli, known in the world of design for his innovative projects and the creation of luxurious homes for elite customers around the world, has drawn on Hästens' heritage and long history as a bed and saddle manufacturer to create the Grand Vividus. The result is a continental bed that combines timeless, classic design with Ferris Rafauli's unique style. Entirely handmade by Hästens' finest craftsmen using only the finest natural products, the Grand Vividus is an expression of uncompromising luxury, quality and design and becomes a masterpiece for the bedroom.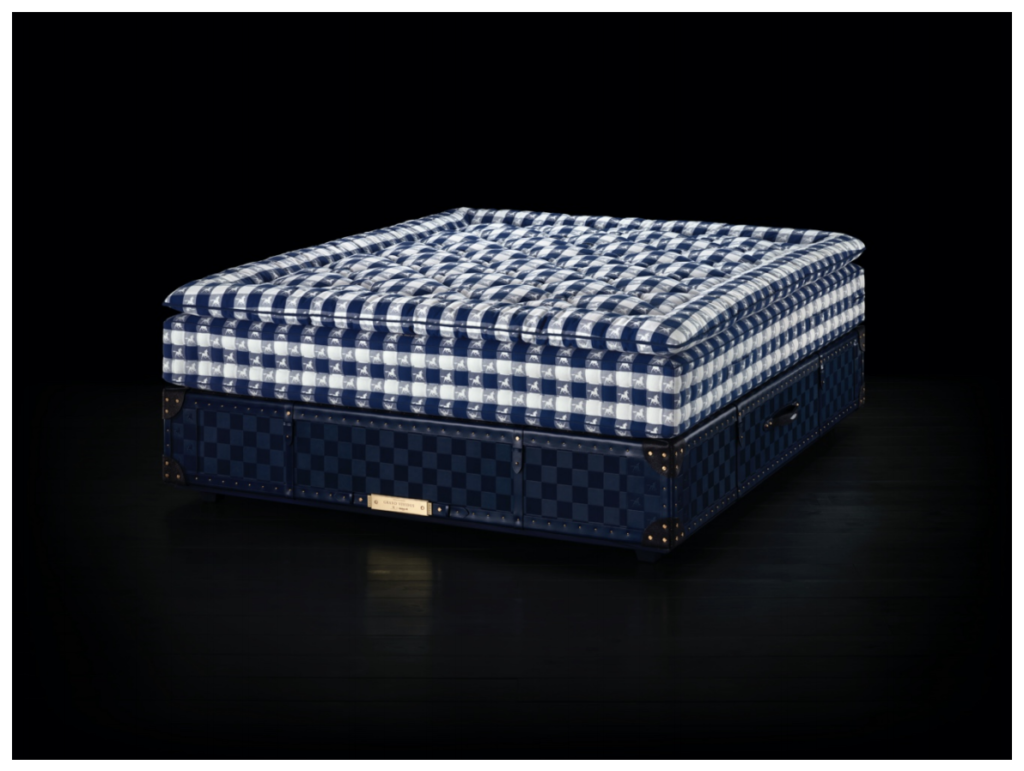 "Hästens is known as the manufacturer of the world's best beds, and our team for world-class projects. Therefore, it made sense for these two worlds to come together to create not only the most comfortable bed to sleep in, but also the most luxurious bed in the world," explains Ferris Rafauli.
Ferris Rafauli followed the idea of developing the layout of the world's most comfortable bed and designing an architectural piece of furniture that would transform a bedroom into a beautiful and opulent space. During the design process, he worked with the same materials used to make the saddle: different layers of burnished leather, suede and metal. These materials are often essential elements of interior architecture and haute-couture fashion, areas that inspire Ferris Rafauli's work.
"The collaboration with Hästens was very natural. We share the same values in design and quality, and we were delighted to live up to them by using the best materials in the world," says Ferris Rafauli.
Ferris Rafauli spent countless hours researching the best fabrics and materials for this collaboration before even sketching the design. The resulting collaboration is a bed that not only celebrates Hästens' heritage, but has undeniably become the world's most lavish interior design project. Unlike most beds on the market today, the Grand Vividus, with its fine leather, polished wood, suede and brass ornaments, as well as its elegant lines, functions as a work of art and a majestic centerpiece for the bedroom.
"Ferris Rafauli is a true master in the design of ultimate luxury products," says Jan Ryde, 5th generation, CEO of Hästens. "He has a thorough understanding of our product because we've been working with him for over 10 years. He's a master of Ultra-Luxury. No one can do it better. Magnify our traditions at Hästens. »
The Grand Vividus bed illustrates a new level of expertise at Hästens. Indeed, the Vividus team in Köping followed the teachings of a Swedish master saddler to create the refined finishes with a absolute precision. Each Grand Vividus contains Hästens horsehair, wool, cotton, linen and slow-growing Swedish pine for a more luxurious result than ever in the Hästens bed, giving it an impressive mass of 622 kilograms (for its 210x210cm version).
Ferris Rafauli has infused his unique sense of finesse and style into the Hästens Grand Vividus, creating a masterpiece of craftsmanship, whose strong personality is enhanced by the unique combination of leather and golden brass, its impressive dimensions and incredible comfort.
_________________________________________________________________________________________
GRAND VIVIDUS BY FERRIS RAFAULI
COLORS:
The Grand Vividus is beautifully crafted in a choice of four colors – Black Shadow, Phantom Charcoal, Natural Shale & Traditional Blue. Each colour choice is matched with vegetable-tanned burnished leather trim reinforced with gold brass rivets, nubuck, stingray and mirror-finish wood trim.
MATTRESS SUPPORT:
Grand Vividus is available in soft, medium, firm and extra-firm mattresses, and can also be ordered in mixed firmness.
Size:
Entirely handmade, the Grand Vividus can be made in sizes up to 3 meters wide and 3 meters long.
Price:
Grand Vividus 210×210 cm
349 000 €
Availability:
Worldwide launch in Paris on September 4th, 2020.
Hästens addresses in Paris :
61 avenue Raymond Poincaré, Paris 16e
84 rue de Turenne, Paris 3rd
_________________________________________________________________________________________
ABOUT HÄSTENS
INSTAGRAM
@hastensbeds
FACEBOOK
facebook.com/hastensbeds
PINTEREST
hastensbeds
Hästens, a Swedish manufacturer of exceptional beds, has taken on the challenge of offering the best sleep since 1852. From generation to generation, the masters Hästens craftsmen are thus committed to perfecting the bedding craftsmanship. Every Hästens bed is handcrafted using only the finest natural materials. As a family business operating in 45 countries with more than 300 partners in Europe, Asia and America, Hästens is today an international player in luxury bedding and is the official supplier to the Royal House of Sweden.
ABOUT FERRIS RAFAULI
Ferris Rafauli is an iconic designer and artist who conceives, designs and builds ultra-luxury homes and lifestyle creations for an elite clientele around the world, including notable families, elite athletes and celebrities in North America and around the world.
For over two decades, Ferris Rafauli has been known for his ability to design and seamlessly integrate architecture, interiors, furniture and landscaping into every project he creates with masterful attention to detail resulting in the ultimate in luxury living. Similarly, Ferris Rafauli has created a complete bedroom solution, with beds, bedding and furniture that not only offer the best sleep in the world, but also make an artistic and architectural statement that every room he has designed for Hästens.
MORE INFORMATION: WWW.HASTENS.COM
Recommended